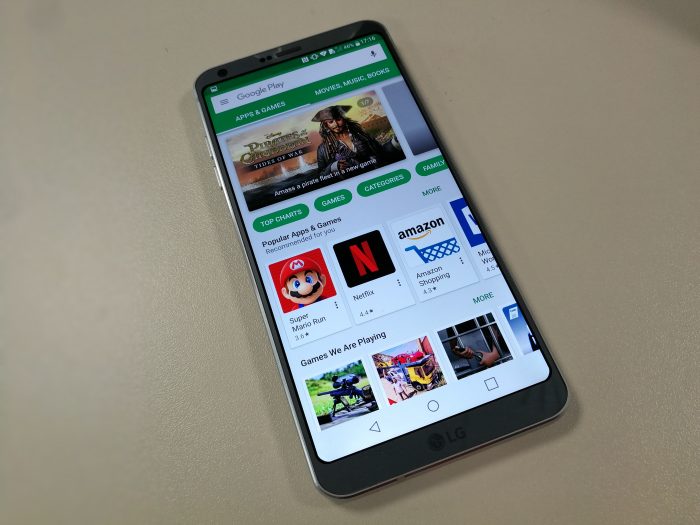 I've gone through some phases with my smartphones. I switched over to Android with the HTC Hero. It was then a succession of HTC handsets before I switched to a Samsung Galaxy device, but since then I've been firmly glued to an LG device. The LG G3 was a great one-handed device and I've still got my very battered and bruised G3 in a cupboard. Then came the LG G4, and I mourned the loss of the wireless charging. Then, with the LG G5 I enjoyed the thing so much that I forgot to review it.
Yes, I liked the G5. There were a few criticisms that I had to agree with though. That whole modular thing didn't really gel with me. Did I slide the battery out? Yes, because I could. No other reason though. I didn't buy or fit any of those toys that plugged into it, and I'm pretty sure not many others did either. Which is why, I think, the G6 has done away with the modular stuff.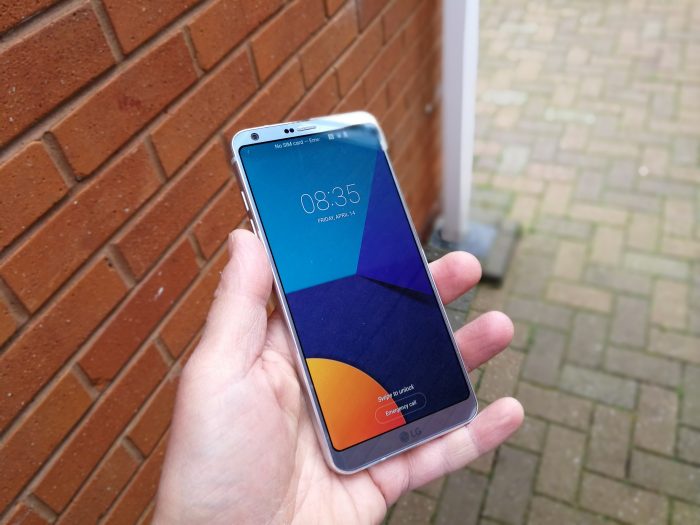 Wait a minute though people, because I need to let you into a secret. See, we've reached a bit of a problem in the evolution of smartphones. The smartphone manufacturers will never admit it, but we have. If they're honest, they'll admit that there's not many more big "leaps" that we can take with smartphones. Go into your local phone shop and most of the phones will have amazing screens, powerful processors and stunning cameras. Many smartphone manufacturers have tried to come up with new ways to differentiate – wearables and those plug-in modular gadgets have been tried. Now LG are pushing hard with a new screen ratio. It's 18:9 but, on this one it was the corners of the screen that I noticed first because of the chassis colour more than anything. They're rounded, and it was something that LG made a bit of a deal about when they launched the thing back in February. They're not just to look nice either. LG tell us that they're to reduce the risk of screen damage if you drop the thing. So nerr..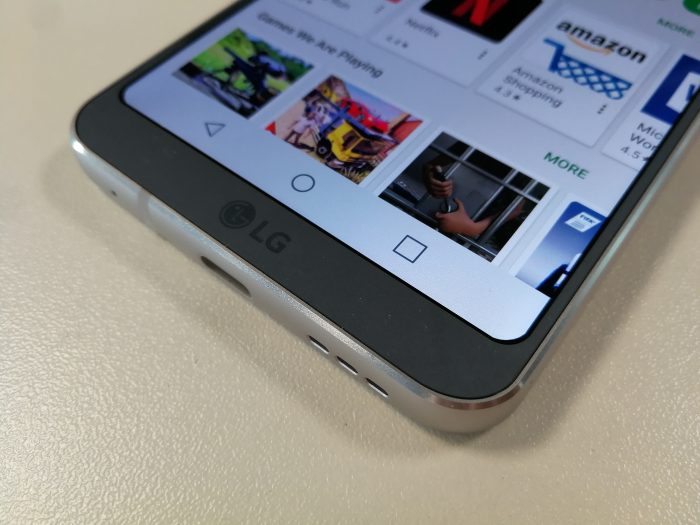 They also wanted it to be one handed but, if you want to multi-task, you're going to have to use two in landscape mode. Especially in this 18:9 format, which means you'll get two perfectly square panels when you use the multi-window option.
The panel is a 5.7″ one, although in this setup it doesn't feel overly massive because it's stretched upwards. Although it looks bigger, the screen hits just less than an 80% screen-to-body ratio.
There's no capacitive buttons and the earpiece gets squeezed in alongside sensors and a 5 megapixel selfie cam.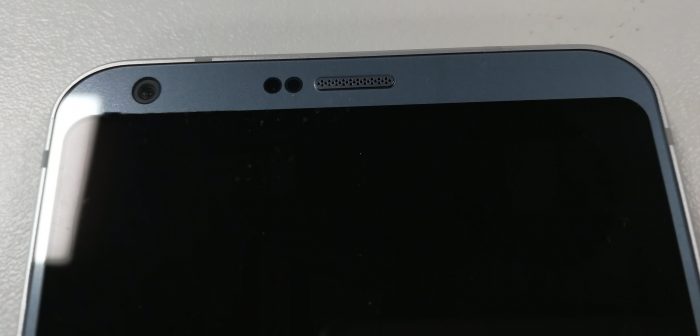 The Korean-made handset has all the panache and style of Chinese-made rivals, with smooth edges which are largely button-free. Sure, on the left side you have those volume buttons but that's about it. Up top is a 3.5mm audio port and the SIM / microSD card tray is on the right, but that's about it. It's a smooth brushed silver edging which is slightly curved but still maintains the "holdability" of the phone (if there's such a word).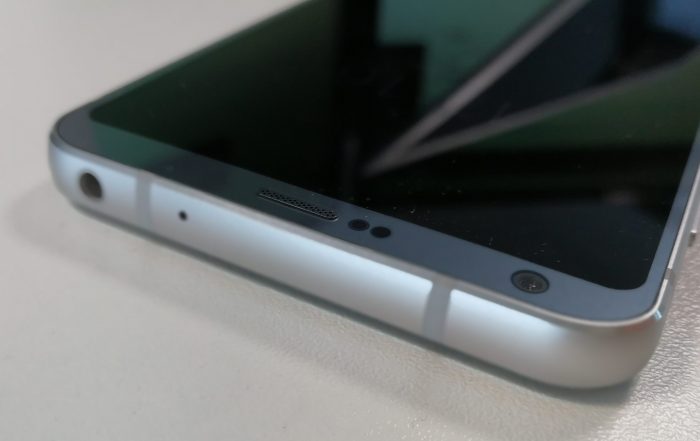 Down at the bottom there's a USB-C charging port. It's the one we're all becoming familiar with and, if I'm honest, I do rather like the fact that I don't need to worry too much about getting my power plug in the right way around.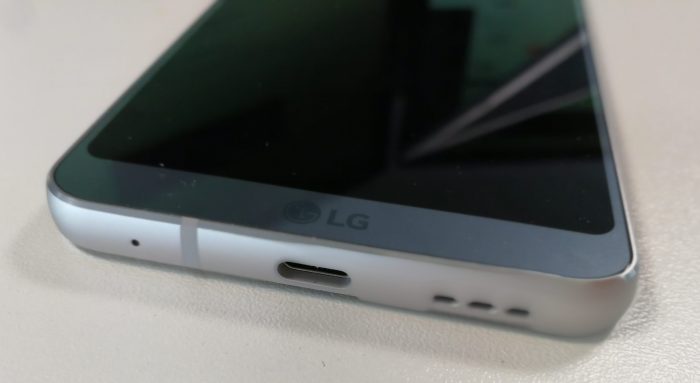 Next to that you'll find a speaker with three pretty sizeable holes. Looking at how they fall away into the chassis it's pretty amazing that this, along with other leading smartphones, can still maintain the water and dust resistance. It can be plopped into 1.5m of water for up to 30 minutes. I wouldn't say that it would survive a dunk in a pool, but it should survive a lot of accidental drops in water.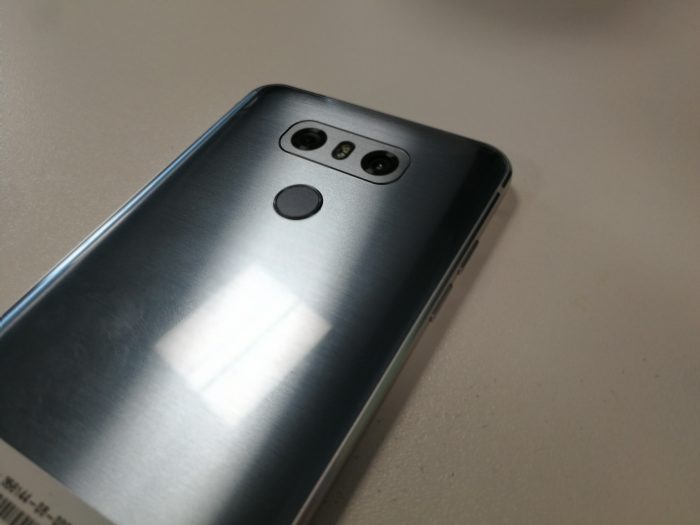 This European version sadly doesn't get the wireless charging that I loved on the G3. On that back panel you'll notice that the fingerprint sensor is still there though. You can press it to activate the screen or you can double-tap the rather beautifully bright display to wake the device. Let's not forget that the screen is always-on too, so you get to see what's happening in your world without having to continually fire up the full colour 1440×2880 pixel screen, which has a ~564 ppi pixel density.
If you have the LG G5 then you may notice something slightly weird happens when you zoom in and it switches from the normal lens to the wide-angle one. There was a "jump" as the resolution changed. Here's that's been fixed, and the matched rear camera resolutions means that you can zoom into your subject without any judder or resolution change. It's rather nice, I must say.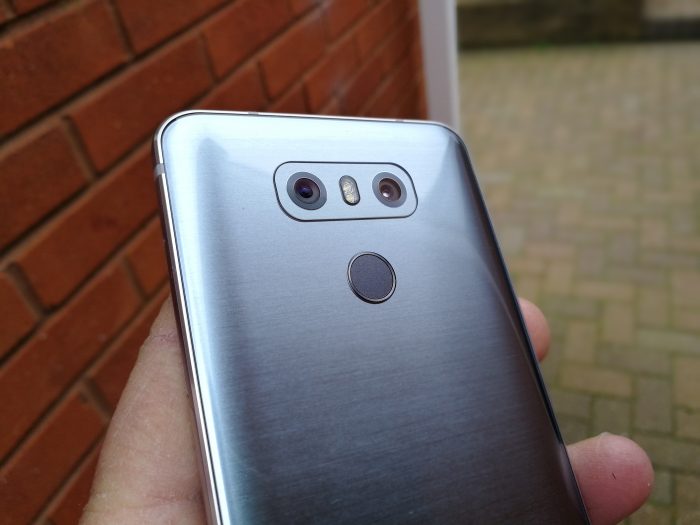 For the uninitiated, there's two cameras because one has a wide angle – like your dash cam – and the other is a more traditional one. The two 13 megapixel cameras work well together. The back panel is a flatter experience that the G5, which had a slightly indented camera setup. Here the flash, the fingerprint sensor and the two cameras are at the same level as the rear plastic cover, which slopes off to the edges ever-so-slightly about 4mm before.
What else can I tell you then ? Well, it's powered by a Qualcomm Snapdragon 821 CPU and there's an Adreno 530 GPU
. That chip also delivers Qualcomm Quick Charge 3.0 and there's power optimizations to help prolong that 3,300 mAh battery. This one, which you can get on EE, has 32GB of on-board storage which you can enhance with a microSD card.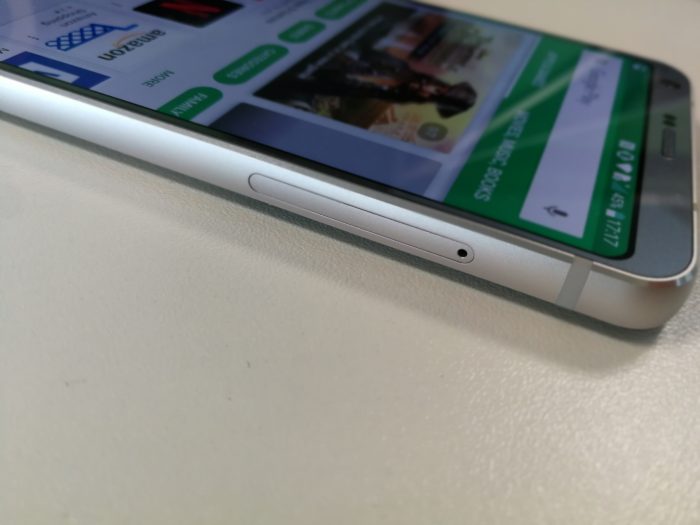 So, thoughts so far? Well, I can't take the battery out, which is a big change from the G5. Also, I've now got a slightly-less-good rear camera (the G5 had a 16 megapixel and a 13 megapixel at the back, whereas the G6 has two 13 megapixel units). This UK version doesn't get wireless charging, which I can forgive in a way (after all, we're not exactly snowed under with phones supporting it) and it also doesn't get the Quad Hi-Fi DAC for improved sound quality which comes on the Korean version. Again, I guess I can forgive this but it does grind my gears a little that versions of the same handset can be so different.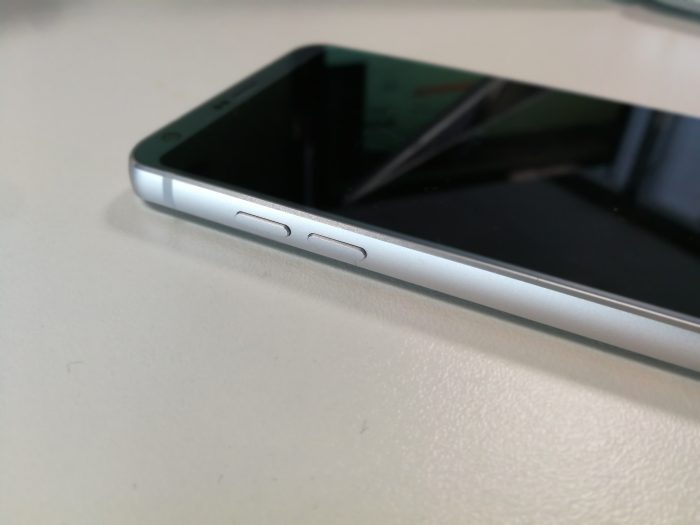 That screen is beautiful. Bright and clever with that dual square-screen magic. Some apps, and I couldn't really find many, will display black bars at the top and bottom because they're not used to the 18:9 layout. In this instance, you can twiddle with the app scaling in the settings. It's a minor irritation and I didn't really bother fiddling too much.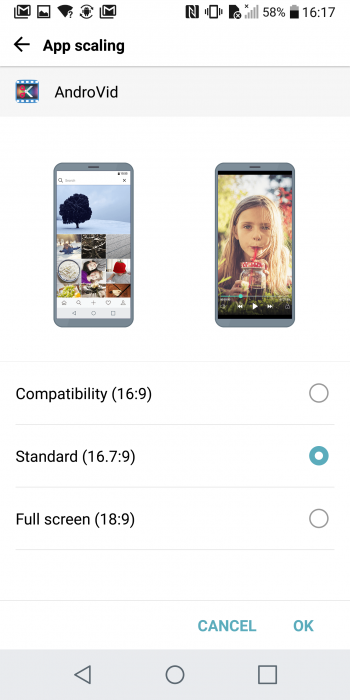 I think it was just nice to have it there more than anything else. Some YouTube videos and games, which are specifically designed for the 16:9 ration we have on TV's and other smartphones, can give you that black bar experience.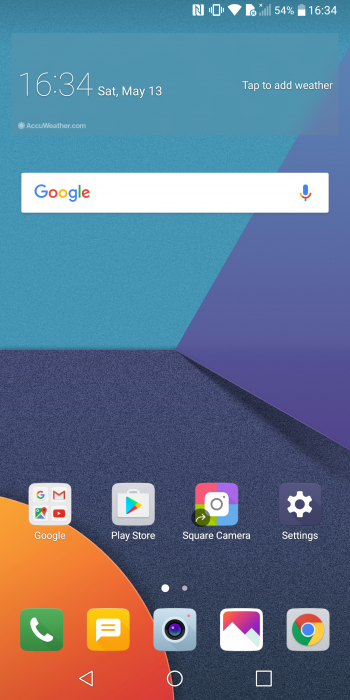 As I'm a bit of a geek, I headed into the settings and found a lot to like. There's a comfort view to reduce eye strain in the evening (this can be activated from the notification panel and you can set the intensity of this too. Other settings include the ability to adjust the size of screen icons, whether you want the always-on display activated, the home screen buttons and there's a range of font options so that you can get it looking just as you want. Add to that the themes and the fact that you can fiddle with even the tiniest of things like the vibration strength and the ability to have individual or grouped ringtones for special contacts. It's fully featured, that's for sure.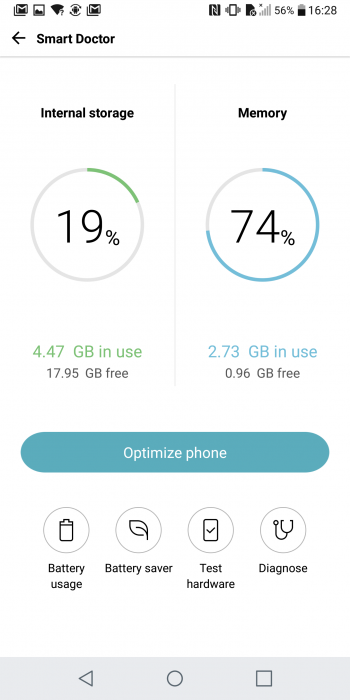 The G6 also includes NFC for your Tap & Pay, a "Smart Doctor" to keep your phone in trim (memory, battery and storage-wise) and the ability to change absolutely everything about the home screen.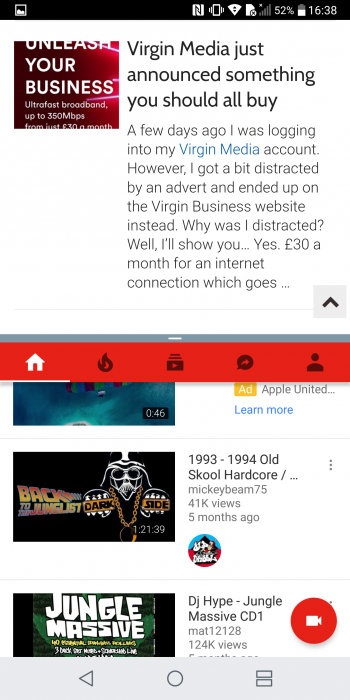 That dual screen capability is something we've seen on many other Android phones, and although it's not a huge leap it does feel a little less cramped thanks to the extra height gained on this 18:9 screen format. Here I'm browsing the web in the top half and checking my mail in the bottom, but I could equally be browsing an important PDF, watching videos on YouTube or looking through the gallery. You activate it by pressing and holding the "Recent Apps" button and then you can either drag down the window to disable or open another app for the bottom section. It's easy enough when you get into it.
Inside the phone it's a gleaming and polished Android 7.0 OS with a smattering of LG apps (LG Friends Manager, LG Health, LG Mobile Switch for transferring data plus an "App trash" system where you can retrieve apps that you may have accidentally deleted). Everything is neatly sorted into folders but, as you'll notice from these screenshots, there's no app drawer. This can be changed though, and if you want that back it's just a simple settings tweak.
Other apps include an FM radio (you'll need your headphones to act as an antenna), the Google-connected contacts, calendar, Gmailm, YouTube, Evernote, Maps, YouTube, Photos, Docs, Sheets, Slides…. and.. that's about it really. My review unit, at least, was relatively uncluttered and I managed to dodge a lot of the LG sign-up screens on first boot, which I appreciated.
The guts of this phone include a sealed battery unit and a Qualcomm Snapdragon 821 chipset. Yes, the very same one we saw in the OnePlus 3T that came out last year. It's not exactly an old CPU, but it's not the newest either. If you ever get in a room with a Sony Xperia ZX owner, you're going to have an older CPU.. and lower resolution camera and no Gigabit 4G.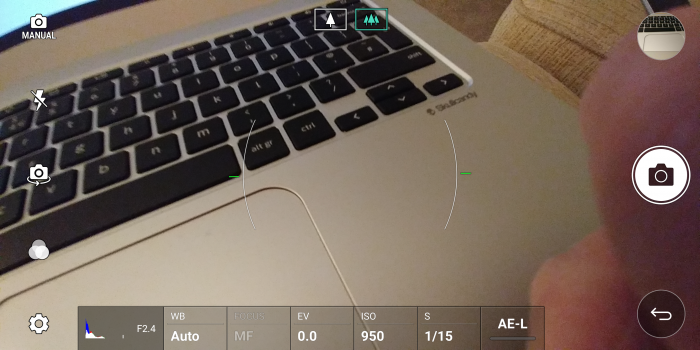 The camera? Well, I've spent a number of weeks using the Huawei P10 and – I have to tell you – I've fell in love with the camera on that thing. Amazeballs. Here the LG G6 camera setup and that new same-resolution lens setup means that you get smooth zooms and a more complete camera package, however – as good and as sharp as the pictures are – if you've got yourself an LG G6 you're going to be taking a little step down in the camera resolution as I mentioned earlier.
There's a stack of camera options, including a "Cheese shutter" and a "Steady recording" option to reduce motion blur. You can also switch HDR on or add a signature to your photos if you're trying to be all professional 🙂 A range of filters are available and you can even do that clever focus tracking that lets you maintain focus on a moving object.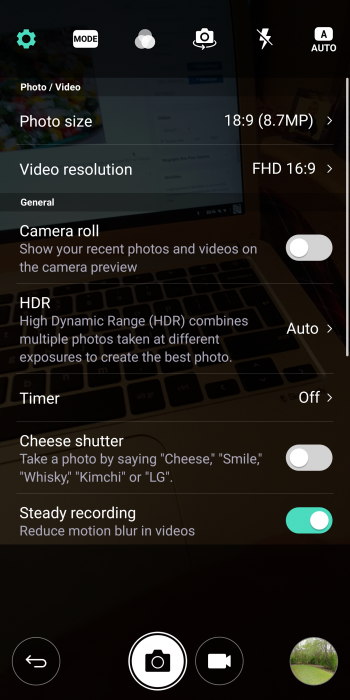 Whether it was my review ("Not for sale") handset I'm not sure, but when I tried to take shots super-close-up, it was sometimes better to move away from the object and zoom in a little, switching lenses back from the wide-angle one, in order to get a better focused shot.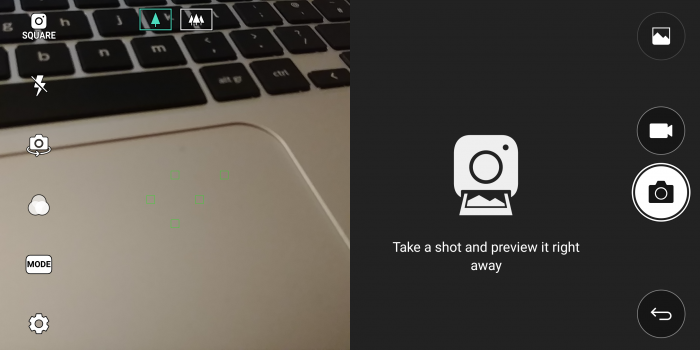 Either way, a very impressive set of example shots here, I'm sure you'll agree..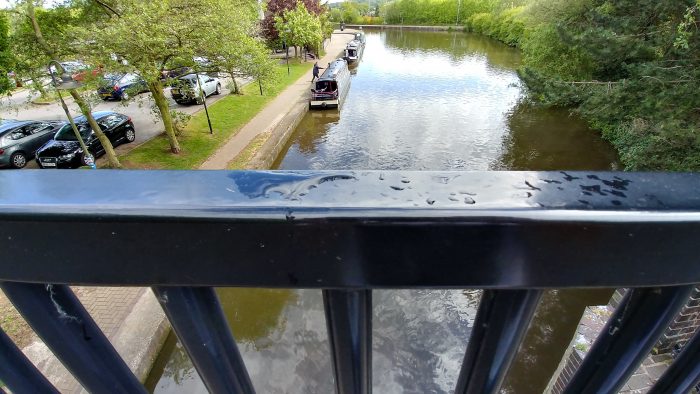 Overall
You'll probably see a lot of reviews about the dual-screen capabilities and the change to the aspect ration. These are important because we (and I mean the royal smartphone-following and smartphone-making "we") have reached a point where smartphones are so good, so very, very good that it takes some balls to break from the norm. Here LG have notched the resolution of one of those rear camera lenses down to make them both match. They've ditched the modular design we saw on the G5, and they've stretched the screen vertically even though it causes some minor (and I mean very, very, very minor) issues. The result is a phone which is easy to hold and use one handed. The result is also a phone which is ever-so-slightly chunky (compared to the Huawei P10) but it feels like it could survive better in a drop test (not that I'm going to test that). I feel like this one, with those rounded corners and the attention to detail, would last longer than my LG G5 (which started having strange microphone issues .. remember how the microphone was attached to the slide-out portion ?)
Interested in this one? Get one. Get the black one if you can, it makes that curved screen melt into the chassis better. This, in my belief, is the phone I wanted the G5 to be. That bulbous, interestingly-styled G5 camera and the modular non-waterproof design? Looking back at it, with the G6 sitting here in the flesh. This is definitely how the G5 should've turned out.
The black one is available on EE for £47.99 per month with a £9.99 up-front cost. You'll get unlimited calls and texts plus 5GB of monthly 4G data on this 32GB model.
LG G6 Review
Camera - 95%
Build quality - 94%
Design - 94%
Battery - 91%
This is everything I wanted the LG G5 to be. Brilliant design, top-end quality and a gorgeous screen which I can still (just about) use one handed. Top stuff.