Most phones look the same. Big screen? Check. One button up front maybe? Check.
Manufacturers struggle to achieve differentiation.
LG have tried to stand out from the crowd by keeping the screen large and reducing the bezel, which means a better one-handed experience. It also means that the buttons are pushed to the back of the phone, which actually isn't anywhere near as bad as you think  it's going to be. However, after the LG G2 and LG G3, this tricks were no longer enough.
So now LG make their next move with the LG G4. They not only offer a plastic black cover but also a ceramic white and a large range of real leather ones too.
Before we get into the review, a big thanks to Three UK for loaning the device to be reviewed here.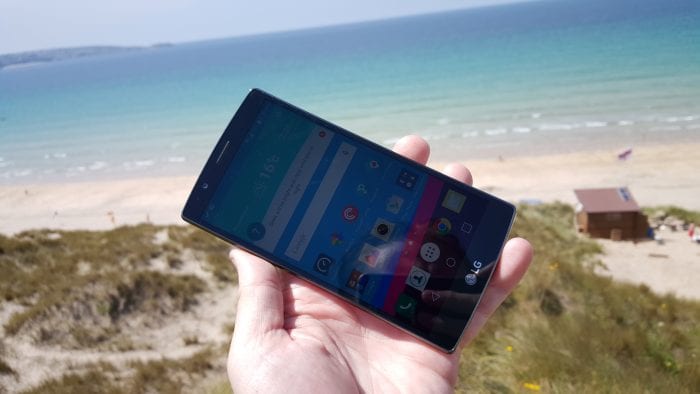 On the front you have the large 5.5 inch QHD display which is a real stunner thanks to the new IPS Quantum technology used here.
With a resolution of 1440 by 2560 pixels paired with a 538 PPI you get one of the best screens on a phone today. It's only slightly beaten (in my opinion) by the Galaxy S6 with a PPI of 577.
Whilst these numbers might not mean a thing to some people reading the review, you can be sure the screen is just stunning to see.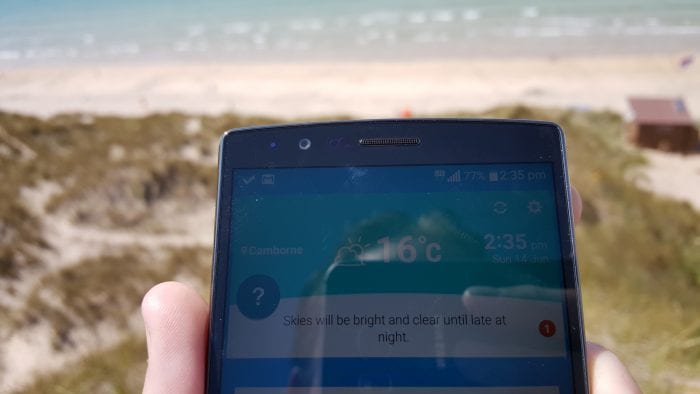 Just above the screen is the 8 megapixel camera which should be very good for selfie photos, but more important for video chats such as Skype or on Hangouts.
Of course many of us can't help a quick selfie here and there for sharing on Instagram or Snapchat so a good front facing camera is always a great feature to have.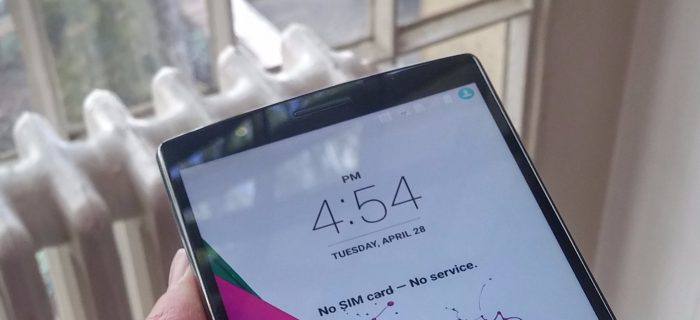 LG even build in a 'Beauty mode' to help make your face that little bit clearer and with a touch up included.
Next to the camera is the light sensor that helps adjust the screen backlight based on your current situation to help make that battery last a little longer.
At full brightness this screen is VERY bright and will have a big drain on the battery so switching to automatic can really help.
You then have the earpiece for voice calls and quality is good as long as you have decent signal, thankfully the G4 supports 800Mhz 4G which Three will be using later this year and should also then work for VoLTE (voice calls over 4G so are better quality and quicker to connect).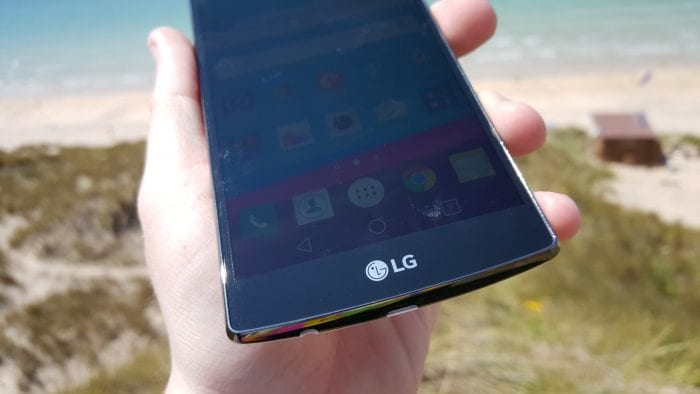 There is not much to talk about below the screen, mainly due to the fact the control buttons for navigation are all on screen so no capacitive buttons needed.
In fact the only thing to talk about is the LG logo to show off to everyone this is indeed an LG phone you are playing around with.
Just a side point but it can't be only me that would love to see a Nexus logo here and software running stock Nexus software? (But this will never happen of course)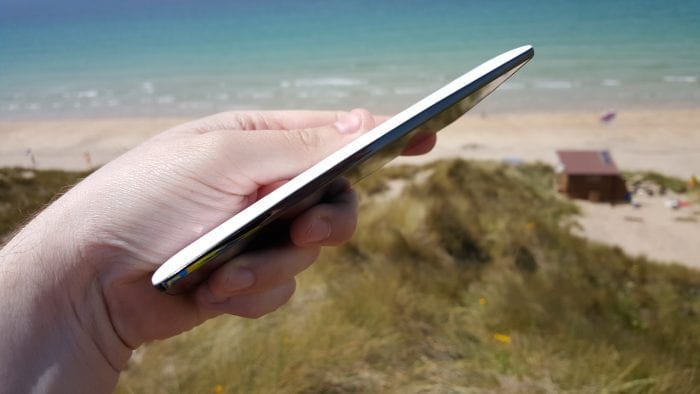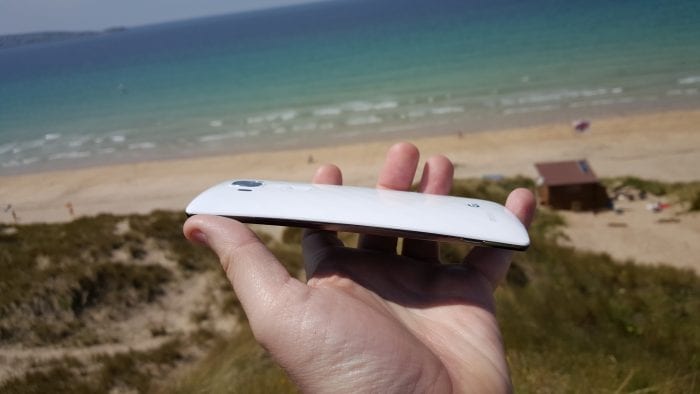 Normally on a phone you would have the power button as well as volume keys on the side, sometimes even a dedicated camera shutter on some devices. This is where the G4 is different, as with the last two flagships in the G2 and G3, LG decided to move these on to the back which at first feels a little strange, but once you start using becomes very natural. You can see on the shots above that the phone almost seems to curve at the back.
The rear buttons are really handy as they're below the camera and in the centre, so it doesn't matter if you are left or right handed. The keys are always there, resting near your index finger to change volume controls.
The screen has a double tap to wake or sleep mode. This is great for if you put your phone on a desk at work or on a charging stand, the only issue with this is the volume controls on the back hard to use when the phone is flat.
Here you can see the curve width-ways too. A very nice looking phone indeed.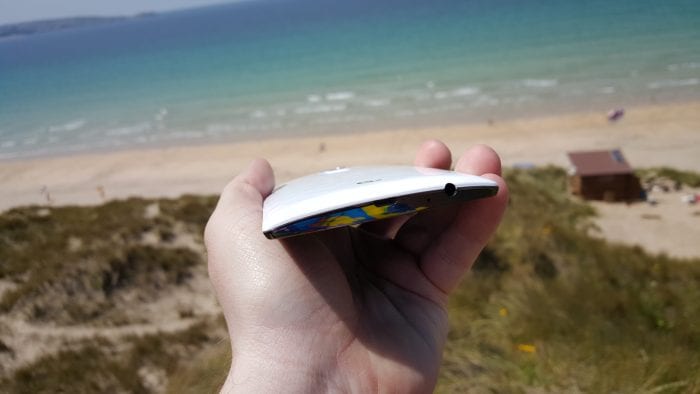 At the bottom you have the 3.5mm headset port and the nearly industry-standard microUSB charging port. This can also be used for tethering for and transferring your large files to a computer.
When it comes to taking RAW photos these can be 20MB in size per photo so transferring over via USB is the best if not the only option to get these original files off for editing.
Some phones come with cheap or average headphones in the box, LG however have gone that extra step and included a really good pair of in ear headphones that sound great.

Up top is the IR blaster used for controlling your TV, Cable box or DVD Player using the QRemote application built in. Long gone are the days an IR blaster was to transfer data from phone to phone, now it is to annoy friends by switching channels on their TV.
You also get a microphone up top to help with noise cancellation in voice calls as well as for audio when in video recording mode.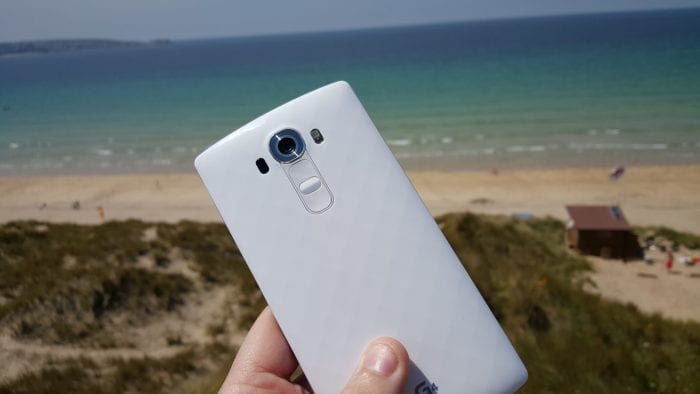 We all want to get that perfect photo, for some of us it is of our kids playing having a great time, maybe it is a sports event you want to share with family and friends.
For me I love taking photos on holiday, especially low light ones such as a sunset. You will be able to see below in the examples. Whilst the camera lens and lighting play a huge part of getting that great shot, there are more factors that can help and that is what LG have used here.
Firstly, on the back you get a laser auto-focus. This will help fix on your object in a blink of an eye to help prevent a blurred photo. Imagine taking a photo of a moving car that you miss due to the focus taking too long. No such problem here.
LG also added a new feature which is a rather fancy named 'colour spectrum sensor' and this clever piece of tech helps get accurate colours in all your photos by reading the lighting situation you are in and what the lighting of your object is.
If you have taken a picture of a flower that is red but the photo comes out as almost pink in colour this will not happen on the G4 thanks to this new sensor.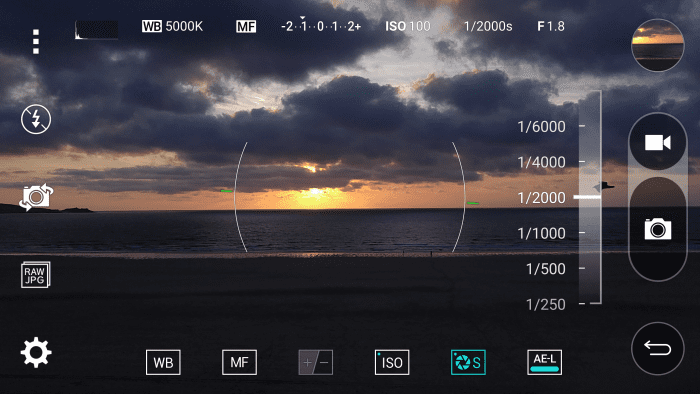 Software can also have a big impact on making a good photo great.  Lots of cameras have really good automatic modes which work out the lighting and focus needed to get a decent image, however the REALLY good ones have a manual mode allowing full control over the settings. Good for photo-buffs.
As you can see in the screenshot above you have a lot of information here. To be honest, even as a big fan of smartphones and cameras, I don't know what all of them mean, but if you're into your photographs you probably will. The main things to look for are the bottom which are for white balance, focus level, contrast, ISO controls, shutter speed and exposure lock.
Playing with these can produce some amazing photos. For the sunset photos it really helped by lowering the ISO to 5o, setting the focus to infinity and playing with the shutter speeds to get a bright sun and amazing colours in the sand and sea below.
All the controls you adjust are quick to update on the screen so you can see the changes before you even take the phone, I was seriously impressed here.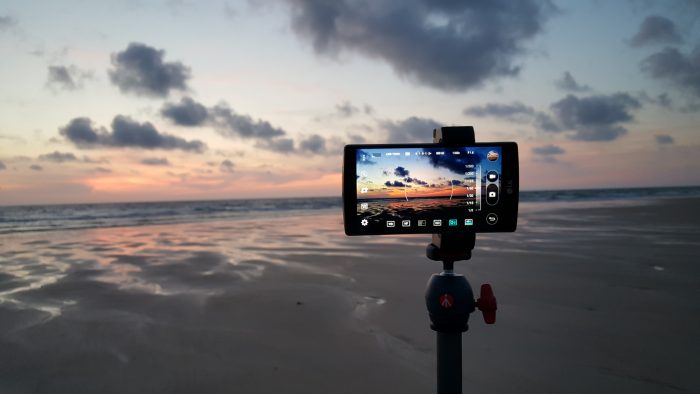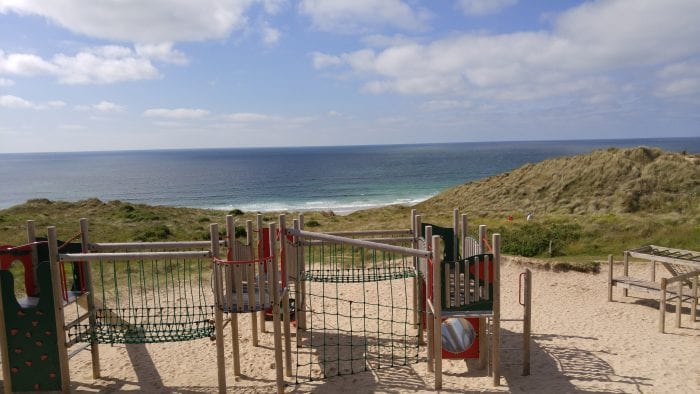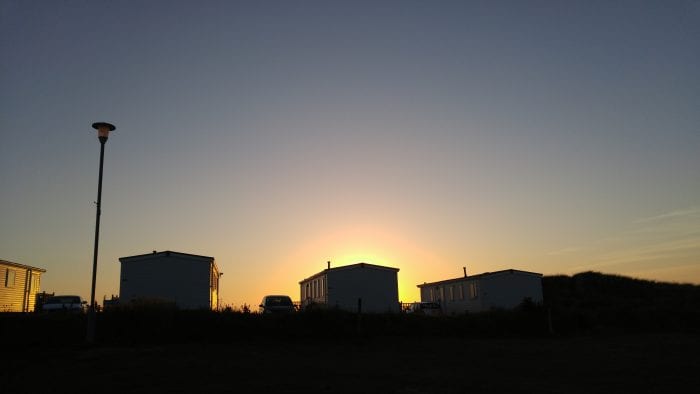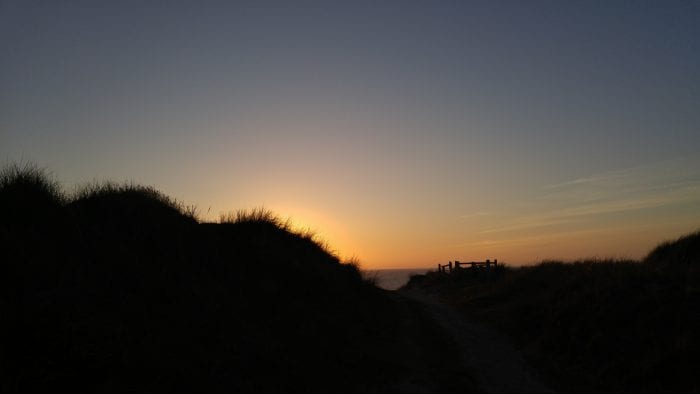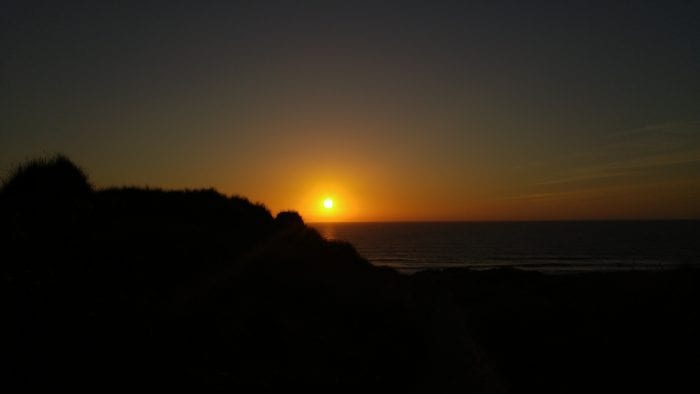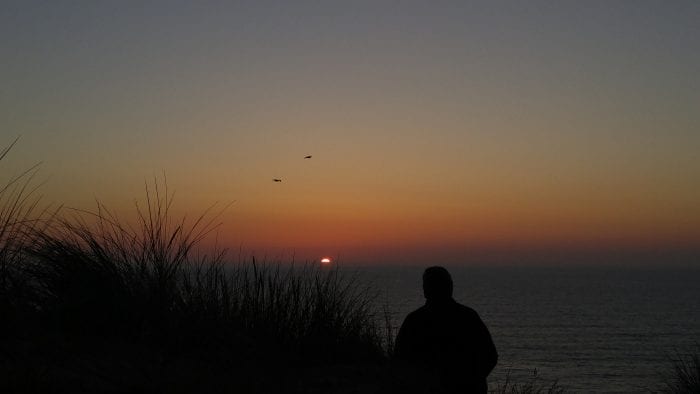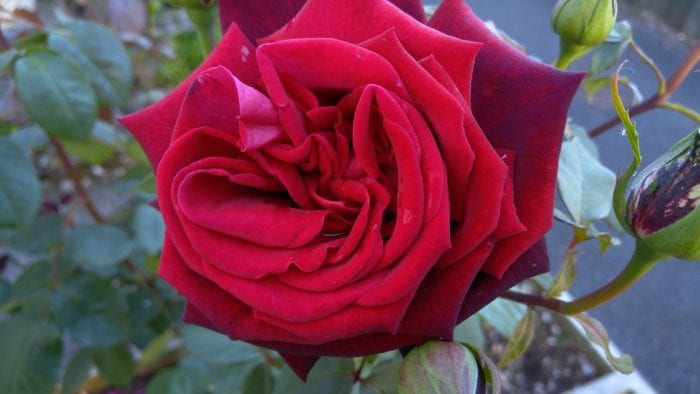 Video mode on the G4 is good for the overall quality. 4K mode is here if you want to use this for watching on a large TV or uploading to YouTube, just remember that these files are huge in size so a memory card is needed.
Whilst the picture quality is good in the videos you record, the audio quality is rather lacking here and a lot worse than you will find on the Galaxy S6 for example.
http://www.youtube.com/watch?v=QHrTRb1Af6E
(4K video sample)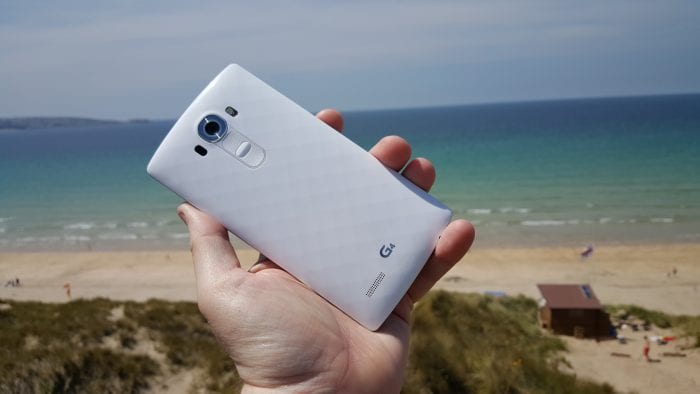 The back of the G4 is where there is a lot of interest, mainly as mentioned earlier this is where the buttons are placed, a rather unique design.
The camera is where you would expect, in the middle up the top and the 1.8f aperture lens as shown already is very impressive. The lower the number of the lens the more light it lets in, so this is better for low light situations.  To compare, the G4 is 1.8 whilst the S6 is 1.9 and the iPhone 6 is 2.2.
Above the camera is the laser focus module which is great for moving objects and getting that super fast focus. The LED flash and colour spectrum sensor is below the camera.
Right below the camera is the volume up key with the power in the middle and volume down just underneath, both volume keys have a slight dip so you can easily control the volume without having to look at the buttons. There's various different back panels for the G4. Here's a selection that Leigh took during the launch event. You can see more here.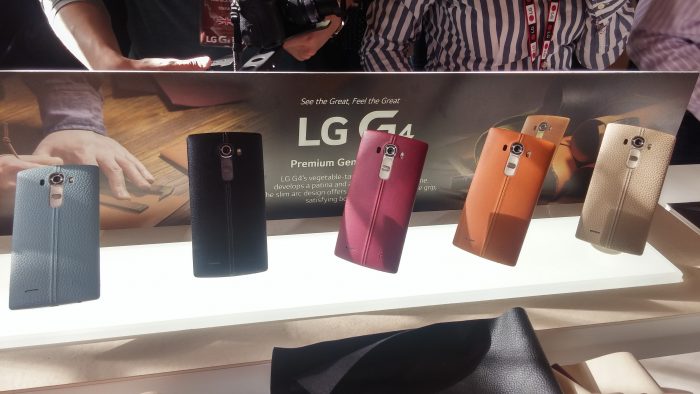 At the bottom you have the G4 logo as well as the speakerphone. This is loud enough for decent loudspeaker calls but can lack that bass needed to make it great for music use.
When it comes to the battery LG have used a 3,000mAh removable battery which will work with wireless charging if you purchase the special case needed. This is great to see, as anyone using the G4 as their main camera device might want to pick up a spare battery or at least a portable charger to keep you going.
With 3GB of RAM and running a new Snapdragon 808 processor the G4 should be lag free, unfortunately there was the odd occasion when I noticed a slight slow down, something the G Flex 2 had suffered with until recently with a software update it seems. Most people will not really notice the lag, however if you then went to use something like the HTC M9 or Galaxy S6 you would see what I mean by the slight lag.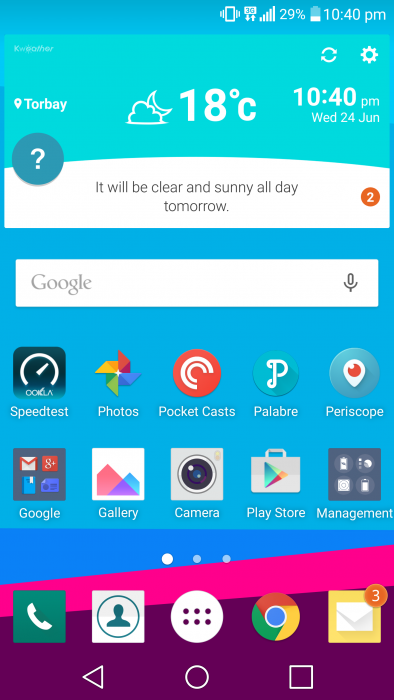 Storage is a rather nice 32GB built in, but thankfully microSD cards are also supported. This gives up to 128GB extra. Plenty of space for all those 4K videos and RAW images you plan to take advantage of here.
Android 5.1 is running out of the box which right now is the most recent version you have available, apart from any smaller updates for improvements you might get come through. Android M will be the next big release but this is not due until around October time for the Nexus range and only then will manufacturers have access to update with their own UI on top. Whilst talking about updates, something that got really annoying was all the application updates from LG almost forcing you to install them or it would do nothing.
Opening the gallery to view photos taken gave me the option to update to the latest version, at first I chose to ignore this but then every time I tried to view my images, if i declined the update the phone jumped back to the home screen.
I then HAD to install the updates to be able to view photos I had already taken, very annoying if roaming or on a slower connection.
Final Thoughts
In my time with the G4 I must say the stand out feature is the camera, that 16 megapixel shooter on the back is simply amazing when it comes to taking photos on the move, even low light ones.
The rest seems to be a slight step up from the previous model with the main difference being if you get a version with a leather back on it.
The screen as you would expect if you have seen either the G2 or G3 before is outstanding, the bright colours and detail is thanks to the new 'IPS Quantum' technology used for the first time in a phone, basically a clever marketing way to explain all the fancy new technology used.
If you have not used an LG recently you might need a few days to get used to the back button placement for the volume controls as well as the standby mode, thankfully you can double tap the screen to wake up or put to sleep but it is hard to control the volume if the phone is on a table.
Battery was average for a smartphone these days, however many people will be buying the LG G4 because of the camera recommendation, and with this in mind you will use the phone more than normal which will have an impact on the battery.
Also something to note that once the battery hits 5% remaining, the camera will not open at all, a shame if you need that last all important snap and are not near a charger.
Networking wise you get all the usual suspects from a typical flagship in 2015, WiFi, Bluetooth, NFC and CAT6 LTE for speeds up to 300Mbps (up to 150Mbps is more realistic though).
Signal strength was good and the G4 appeared to hold on to a signal very well.
If you are into your mobile photography and want what is possibly the best camera on a standard phone (not including devices like the Panasonic CM1) then the LG G4 is perfect for you.
The addition of manual controls and RAW format made it great for the low light and macro phones taken for this review, the low light ones even out performed the popular Samsung Galaxy S6 which was itself already impressive.
If you are looking for that premium feel from your device then the G4 would not be my first pick, whilst it is a rather nice looking phone in some ways it does lack the premium feel you get on the metal with glass Galaxy S6 and the metal iPhone 6.
This G4 was kindly loaned to us from Three UK who sell on both Pay Monthly and PAYG starting from £39 a month and costing £479 outright.
LG G4 - review
Battery - 8.5
Camera - 10
Audio - 8
Build - 8
Design - 8
Value for money - 8.5
8.5
A great phone with an amazing camera