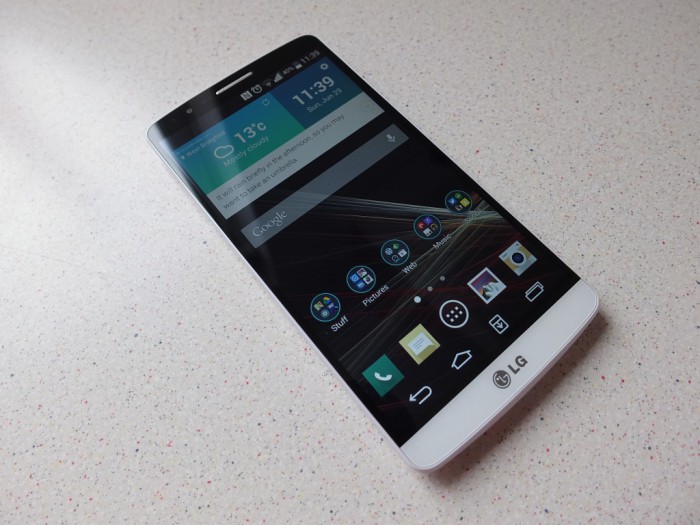 LG have come on leaps and bounds over the last few years and in my eyes 2013 was their year. They device after device that captured people's hearts, souls and wallets. The Nexus 4, Nexus 5, G2 and of course the G Pad 8.3 which were all great devices that offered decent specs, decent build quality and some rather unique design cues. I went to the LG G3 launch event in London a few weeks expecting to see something astounding and awe inspiring what I saw we all now know isn't quite what we hoped for. The rumours of a metallic phone with killer specs and all that didn't quite come true. What we did get was a phone that looks metallic from some angles and in some countries also has a killer spec. But to top it all you get a screen unlike any other, it's a 2K screen. Which is basically the first widely available device with such a high resolution screen. But is that one factor enough to bring it out on top of all of the other flagship phones around at the moment? Well see.
I've had the LG G3 for a good few weeks now, using it as my main phone and it's time for my review. Starting of course with my good and bad points.
Good Points
Nice overall design looks and feels nice.
Sound quality with headphones is really good.
The rear buttons are as intuitive as ever.
The camera takes some really nice shots.
The OIS+ and laser assisted focus really are useful.
Removable battery and Micro SD slot are handy.
IR Blaster.
Wireless charging.
Bad Points
Lack of waterproof and dustproofing.
The screen has some weird ghosting issues affecting certain text.
Battery life isn't as good as you'd expect.
The 16GB/2GB model seems to be suffering from performance issues.
2K display feels like a waste of technology at the moment.
Design
The LG G3 is a great looking phone, it's also quite a large device. One of the main things about the LG G2 was that despite having a big screen it wasn't a huge phone itself. LG have taken the idea of tiny bezels and gone to the max with the G3, a big chassis and a huge screen and yes some tiny tiny bezels. Despite its sheer size the G3 still feels as nice in the hand as the former (unless you have comically small hands) thanks somewhat to the curved back of the phone and the nice feel of the backplate (which is sort of metallic). From every angle the LG G3 has a curve or a chamfer all adding to the overall look and feel of the phone.
The front and sides of the phone are almost devoid of any features, with only the LG logo adorning the front of the phone along with the earpiece, front camera and the various sensors. The edges of the phone are bare with no buttons, which is pretty much a trademark of high end LG phones now.
The top and bottom edges aren't spared the minimal touch though with the IR Blaster and secondary microphone at the top and the headphone socket, Micro USB port and microphone at the bottom.
The backplate is where all of the fun lurks. The rear mounted power and volume buttons have once again made their way onto the back of an LG phone, which at first seemed like a crazy idea. When we saw the arrangement last year on the G2 it seemed totally alien, this year round the buttons have been redesigned and feel even more intuitive. The volume button is now concave and your finger easily finds them, the power button is convex and forms a sort of hump between them. In the time I've been using the G3 I haven't once accidentally pressed the camera lense like I often did on the G2.
The volume buttons also act as shortcut keys which if you press and hold one of them when the phone is in standby triggers either the camera app or the QuickMemo app. Which is actually quite handy.
The backplate is removable and under there you get slots for the Micro SD card, the Micro SIM card and also the removable battery.
Overall I like the design, it looks good and it feels good, the only thing I would improve would be slim the thing down a bit. A phone a tiny bit bigger than last years model would have been ideal, as I can see the overall large size putting some people off.
Hardware
Spec wise the LG G3 is up their with the rest of the high end competition.
Chipset: Qualcomm  MSM8975AC Snapdragon 801 with 2.46 GHz Quad-core Krait 400 Processor.
GPU: Adreno 330.
Internal Memory: 16GB or 32GB.
RAM: 2GB or 3GB.
Expandable Memory: Micro SD up to 128GB.
Display: 5.5″ Quad HD 2560 X 1440 pixels ( 534 ppi), IPS + LCD, Corning Gorilla Glass 3.
Frequencies: 2G (GSM/EDGE), 3G (HSPA+42Mbps/HSPA+21Mbps), LTE (SVLTE, CSFB, CA, VoLTE RCS, MIMO).
Available Colours: Black, Gold and White.
Operating System: Android 4.4.2 (KitKat).
Battery: 3,000mAh Replaceable with Wireless Charging.
Rear Camera: Advanced OIS + 13MP with Laser Auto Focus and Dual Flash .
Front Camera: 2.1MP.
A-GPS Navigation, Glonass, Bluetooth version 4.0 LE (APT-X), NFC.
Wi-Fi: 802.11 a/b/g/n/ac.
1W Speaker with Boost Amp.
USB 2.0 HDMI SlimPort.
Dimensions: 146.3 x 74.6 x 8.9 mm.
Weight: 149 g (5.26 oz).
I was glad to see wireless charging built in, WiFi AC, a Micro SD slot for my pictures and music, OIS + in the camera and of course the super high resolution display.
For me the spec is almost flawless, yes saying if only it had a SnapDragon 805 chip or if only all the UK models had 32GB and 3GB or storage/memory. But that would just lead to a higher cost and as is often the way compromises have to made somewhere and with LG they always like to price themselves just under the competition. On paper comparing the spec of the G3 to either the HTC One M8, the Samsung Galaxy S5 or the Sony Xperia Z2 there isn't really much to separate them all, with only things like waterproofing, removable batteries and wireless charging being the differentiator.
LG have once again gone down the route of having several different versions of a device. The normal version that will be readily available in the UK via networks is the 16GB/2GB version. LG have sent me and many other reviewers the slightly higher spec 32GB/3GB version which with it's extra RAM seems to be performing better. Various people around the web who have the 16GB model seem to be having performance issues.
Software
The LG G3 has a lot going on in the software department, it can take quite a bit of getting used to, in my opinion it's not as bad as Samsungs ideas on how to theme a phone and it isn't as minimal as either HTC or Sony, the G3 sits somewhere between. Out of the box you get a launcher with fancy icons, a fancy lockscreen with app shortcuts, a custom notification area with Qslide widgets built in, you get an adjustable fairly intelligent keyboard, a gallery with Dropbox and Box integration, skinned messaging, clock, calendar and dialler apps. Overall it's all usable and you'll soon get used to how LGs version of things work.
A few software elements really stand out as being useful though, some are just updated from last year's G2 and G Pad 8.3 and some are brand new. I'll run you through the stuff that's interesting.
First up the launcher and lockscreen. They function as you'd expect, with widgets and an app drawer. They just do it with a certain je ne sais quoi, it might be the redesigned flat icons, it might be the glorious wallpapers, it also might be that you have to use them both to keep Knock Code functioning. You can still resize icons and use alternative icons with the launcher and you can also install themes from the LG app store.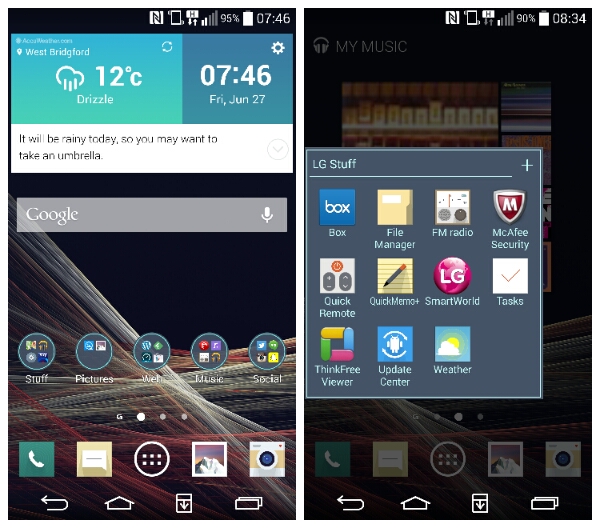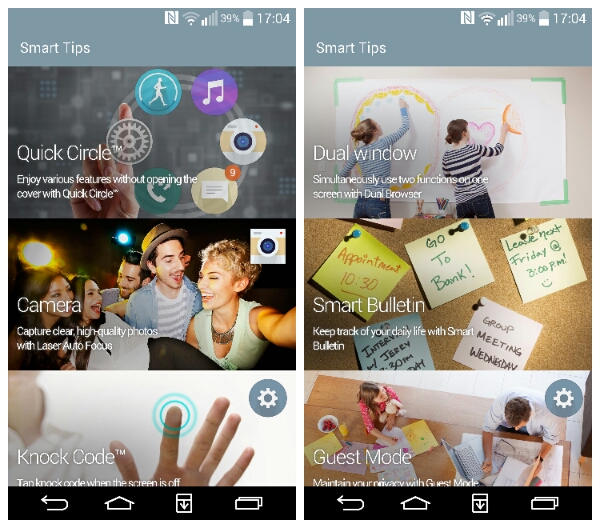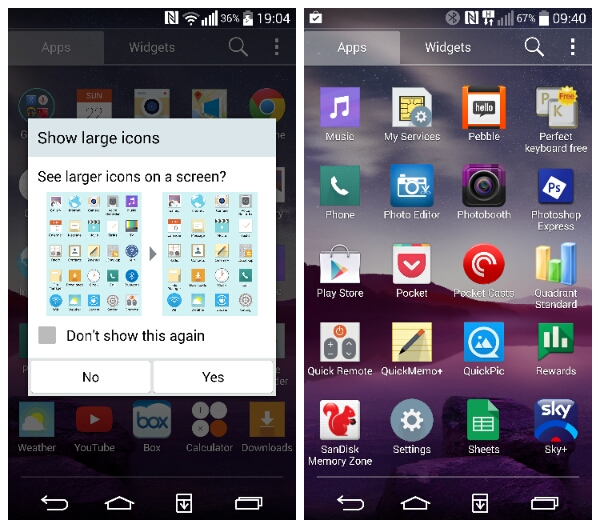 LG haven't really installed that many unnecessary apps on the G3. Apart from McAfee Security which is inexcusable, it doesn't really need to be pre-installed. If I want an unnecessary security suite for my phone I'll jolly well install it myself thanks.
The notification area on LG devices is a little cluttered. When people first saw it on the G2 people were shocked at how much was there and how little you could edit it. With the G3 all of that has changed, you can now remove the volume and brightness sliders and the Quick Remote and QSlide widgets all reduce nicely. Leaving plenty of space for annoying persistent notifications from my Pebble, the battery saver app and Google Now.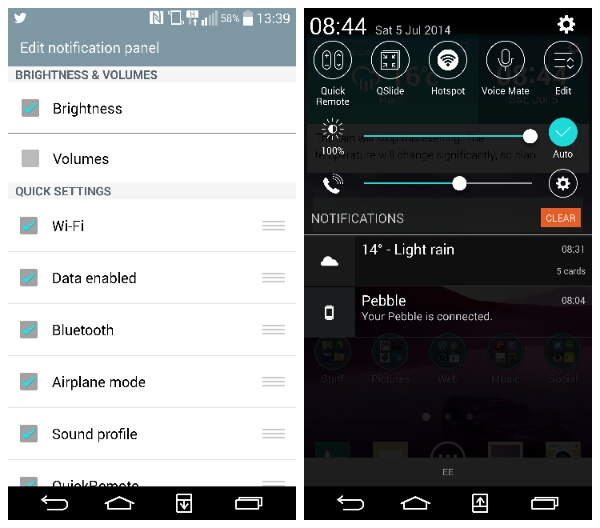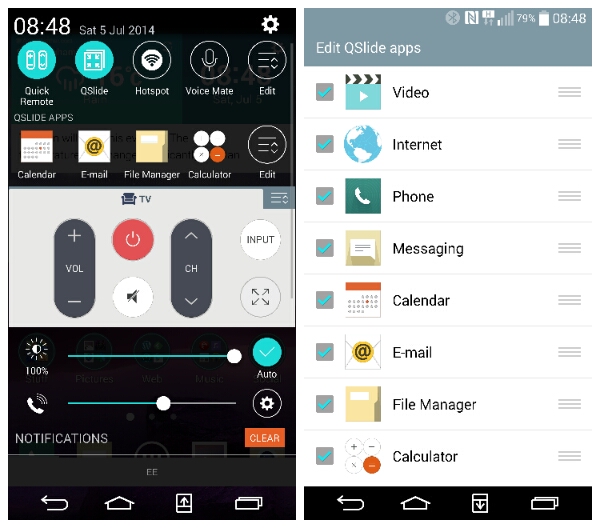 Once you've set the notification area up the way you want it's really quite handy. I like the TV remote which allows me to quickly mute the TV instead of having to find the app and do it through that instead.
QSlide apps are present again with the G3, they are accessed from the notification drop down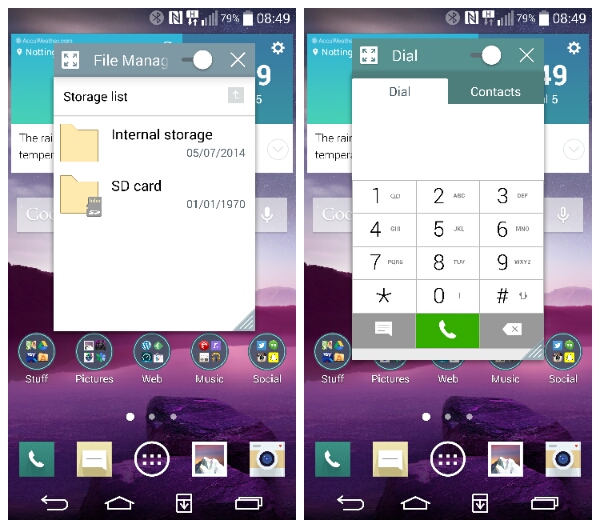 Power Saving Mode offers the usual settings to turn various elements of your phone off if and when the battery level drops to a certain percentage. The only annoying thing is that it has a persistent notification.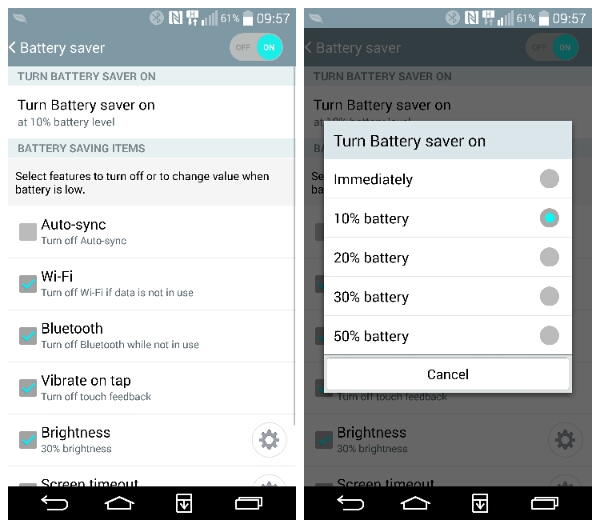 The Settings menu is skinned as you'd expect and spread across a few tabs, but LG have added the option to switch between list view and tab view.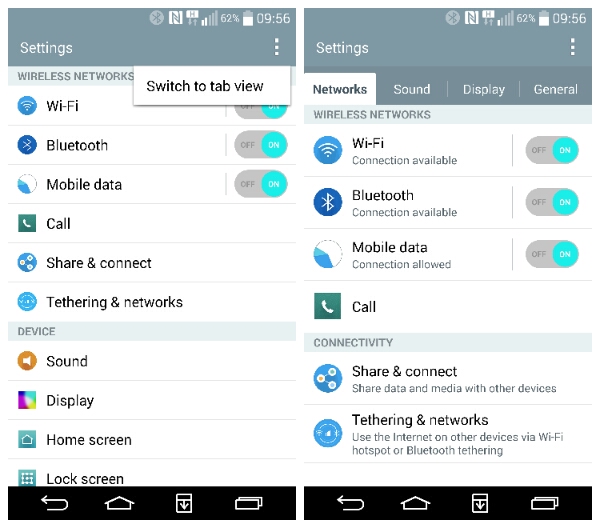 Dual Window is something that we've seen before, mainly on Samsung devices. A long press of the back button triggers the dual window setup dialog. For me it seems pointless on a phone, on a tablet it'll be great but on a phone it feels weird.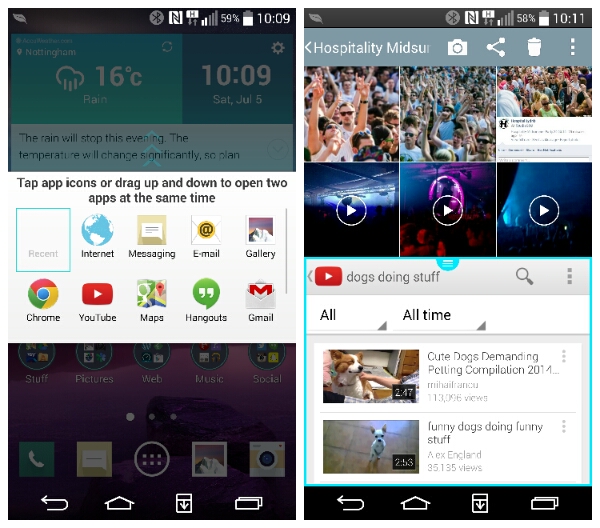 The LG Keyboard is quite nice, it comes in either light or dark, it has word completion, it has emoji, it supports flow typing and you can adjust the height of the keyboard.
The Recents Menu has had a lick of paint and allows you to pinch or spread to basically zoom in or out on the list of recent apps. I like the zoomed out view. As always the "Clear All" button is there to kill all running apps. Access to Dual Windows is also in the recents screen.
Other Notable Stuff
Camera
The camera on the LG G3 is good. As with most phones these there are things a camera doesn't like and lo and behold the G3 follows suit. In decent light the G3 takes some great pictures. In low light the pictures are noisey. The laser assisted focus thing seems to work, pictures certainly do focus quickly. Although in low light that focus time is extended.
The camera interface is pretty sparse as LG have just packed everything into one super auto mode, so HDR, Macro, Night Mode etc are all dealt with using the normal mode. The only few extra modes are Magic Focus, Panorama and Dual Photo. Magic Focus is a depth of field mode which blurs everything apart from the focal point, which as normal I find can be done by just picking clever focal points when setting the shot up. It would be nice to have a manual mode like on the Sony Xperia Z2 camera app which allows you to take control over the auto mode.
Benchmarks
The LG G3  interestingly benchmarks lower than some of the other current flagships. This is probably down to using the same CPU/GPU as other phones but having to run a huge great resolution display.
Antutu X – 29810 (Oppo Find 7a – 35958, Sony Xperia Z2 32384, Samsung Galaxy S5 27113, LG G2 – 28587)
Quadrant – 13709 (Oppo Find 7a – 21907, Sony Xperia Z2 17470, Samsung Galaxy S5 23264, LG G2 – 19250)
3DMark – 17239 (Oppo Find 7a – 20275, Sony Xperia Z2 18685, Samsung Galaxy S5 18720, LG G2 – 17730)
Battery Life
Having a 3000 mAh battery you'd expect the LG G3 to have a decent battery life, let's say it isn't quite as good as you'd expect. Several things seem to be effecting it though the first and most obvious being the screen. Having to drive the GPU to cope with all of those extra pixels. I found the G3 battery to be ok if you just used it lightly but when I got all heavy on it it was gone early afternoon. I found that having the screen turned on used the most power which isn't that strange really, with the screen off standby time was quite good. This was a fairly light usage day.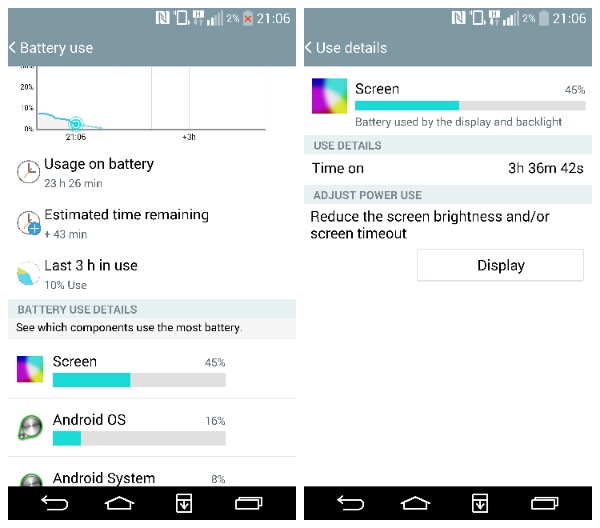 Conclusion
Overall the LG G3 is a great phone, being a high spec well designed flagship device you can but only like it. But LG seemed to have a way to go with the G3, it is in desperate need of a few firmware updates. The weird over sharpening of the screen is disconcerting at times if you end up looking at certain combinations of colours. The UI crashes now and again when you trigger certain things, such as unmounting a USB OTG stick or dealing with notifications whilst streaming to a Chromecast.
Having used quite a few of the main Android flagships recently such as the Sony Xperia Z2  and the Samsung Galaxy S5 I've really got a feel for them, the G3 is in my opinion nicer overall than the Galaxy S5 and not as good a overall
LG G3 - Review
Design - 7.5
Hardware - 9
Software - 7.5
Screen Quality - 7
Battery Life - 8
Camera - 8
7.8
Overall the LG G3 is a great phone, being a high spec well designed flagship device you can but only like it. But LG seemed to have a way to go with the G3, it is in desperate need of a few firmware updates.