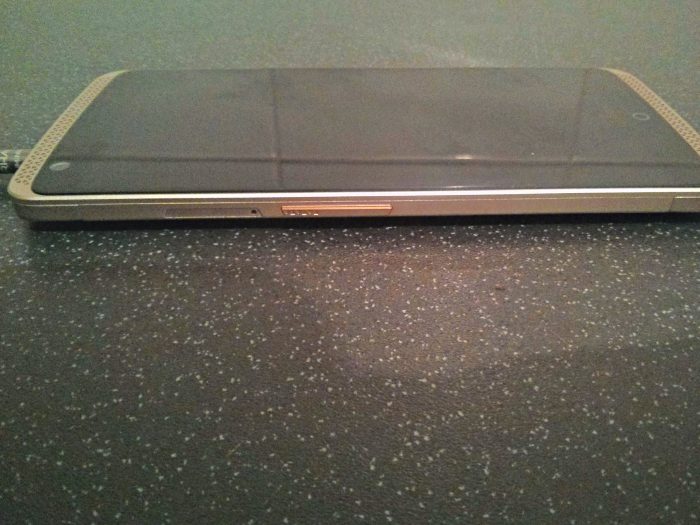 This is the ZTE Axon Elite. It's a big phone, with a 5.5" inch screen, and it doesn't feel small in the hand. It shouldn't either – there's a lot packed under the hood of this 'Ion Gold' coloured beast. I've never had serious hands-on time with a ZTE phone, even one of the carrier-branded devices, so this was a chance to get to grips with the manufacturer and see what they can do.
You may not have heard of ZTE before, but we have mentioned them before – more than once, in fact. They're a big player in the mobile world. Put it this way, they've picked up over 170 evolved packet core (think network infrastructure) contracts; and in countries that have rolled out 4G, they're in 70% of those countries – all that happened in 2014. So to put it another way, by now ZTE should have some idea on how to do mobile. Whether they know how to do mobile well – that's what we're here to find out.
Before I do that, it must be said that the phone I'm reviewing may not have been meant for British shores. That didn't stop me from connecting it to a couple of different networks to put it through it's paces, and it picked up 4G easily enough. I ran a couple of speed tests, at home, and I would be lying if I didn't say that I wasn't happy with the results. Everything I threw at it to download or stream coped admirably, from Sky Go through to Netflix. Some of that is network-based, sure, but it felt like the Axon Elite made the most of that connectivity.
As with most things, it's hard to break the status quo when it comes to mobile handsets. Most people don't want to take a chance on a handset maker they don't already know and trust. So when I unpacked the ZTE Axon Elite, I wasn't sure what to expect. When you pick the phone up, it lays pleasantly in the hand – there's a subtle enough curve to it, reminiscent of the Motorola Moto G. One of the benefits to having that extra curvature is that the battery is a 3000mAh affair. It lasts. It lasts a long time, but more on that later. As mentioned before the screen is a 5.5" FHD (1980 x 1080) display. What that means technologically is anyone's guess, but in usage that screen is seriously bright. I usually have my screen set quite low to eke out as much power as I can, but this thing was perfectly legible in the miserable excuse we have for a November daytime, and it's way more than bright enough at night when you're trying to sleep and reach over to check what the beep is from your phone.
Some of our colleagues are heavy pixel density enthusiasts, but I think a 1080p screen is more than enough pixels per inch (401 PPI to be accurate). I couldn't see an individual dot if my life depended on it and the colours weren't saturated to my old eyes. It's covered by Corning Gorilla Glass to add protection, but I couldn't find out whether it's Gorilla Glass 3 or 4. Apparently the 2.5D curved display is antimicrobial, so you won't be sharing someone else's germs when they fondle the phone. 
Unboxing
Thought I'd show you a few pics on the level of detail and thought put into the packaging for when you first unpack your Axon elite, and a couple of comparison shots that inevitably some people are going to think of. Although it's somewhat reminiscent of other devices design language, you can also see that it has one very much of its own.
Design and hardware
As you pick the phone up, you'll notice that the power button is on the right, and the long volume rocker is on the left of the Axon Elite, which is designed from Boeing 787 aircraft grade aluminium magnesium alloy. Both buttons are thankfully low enough down on the phone that you can hit both the power button and the volume button at the same time. On the one hand, it was great for being able to take one-handed screenshots. The trade-off is that until you get used to the phone, you may find that you have a couple of unintended screenshots. Be warned!
In action, both buttons had a smooth, deep travel, so there wasn't any mistaking when they were pressed. there's some nice detailing on the top of the volume button, but unfortunately my thick fingers couldn't tell the difference. On top of the volume rocker is the joint dual SIM card/micro SD card slot. Although I did test out the dual SIM slots, in reality most of my SIM's are on the same network, so there wasn't much point in playing around with it too much.
The top of the phone houses the headphone jack and a noise-cancelling mic, and there's another mic And onto the front of the champagne gold (called Ion Gold in this case) device, there's a fair bezel around the screen for 2015 standards, but nothing that I would call thick. The top and bottom have some nice end to end filigree to hide the speaker and earpiece. That same design is found on the top of the volume button I mentioned earlier, and picked out again in between the two cameras. Have I mentioned that dual camera set up? I'll get to it later. At first I thought that this was a stereo speaker design, but on testing it is a mono speaker. This may make a difference, but most of us would rather have a decent mono speaker than crappy stereo. By now it isn't a surprise that the ZTE Axon Elite decide to push the volume up to 11 as well. When the phone rings, at most settings where you'd expect a muffled sound, there was no mistaking the strident ringtone coming from my pocket. It's great if you're the type of person who sometimes misses calls from the ringtone not quite being loud enough in certain environments. Otherwise, I'd recommend you set the ringtone low. It's the sort of problem you'd be happy to have. When used as a loudspeaker, it was absolutely at home putting a podcast or seven through it.
It uses an AKM 4961 audio chipset, and I've not had any previous experience with it, but it did the job it was supposed to do with ease. I played a mix of music from Metallica through to Ghostface Killah and even an eclectic playlist with Kim the Comic Book Goddess (All I Want), Sarah Vaughan's Poor Butterfly and Skin from Skunk Anansie (As Long as That's True). Almost all played admirably. I say almost, because I do like a little more bass and these did ok, but we didn't expect to use the phone for a party. It's a phone, not a sound system. There may be a phone that can do the job, but I've yet to find one that pretends to be a 10 inch woofer. It's good. It's not amazing, but it is easily good enough, and a lot better than a typical phone that your job would probably have you carry. It's better than the last two handsets I've recently had some hands-on with, so I'd be happy to use the speakers for those alone-and-can't-be-bothered-to-use-a-Bluetooth-speaker moments. This is good for me as I don't have a Bluetooth speaker.
When you flip the Axon Elite over, there are two things that immediately jump out at you: the camera modules and the styling of the phone. Along the centre of the top section of the phone houses  those two cameras that I mentioned earlier. They're laid out in an over under pattern, with that interesting little detailing that recalls the speaker grills. As far as I can tell, the detailing doesn't do anything, but it sure is pretty. ZTE have put in both a 13MP and a 2MP camera. There are all sorts of good reasons for the dual camera set-up, especially in terms of dealing with 3D style and depth of field focusing. Other phones such as the HTC one and the Honor 6+ had really gone to town and pushed forward with these styles, so I'm glad the idea hasn't completely died out. To the left of those cameras, you'll also find the dual-LED flash.
And, on to the styling. The metal feels cool, smooth and very well finished to the hand whilst holding it. It does feel a little slippery to me. I would have preferred a little more bite to the edges in order to be able to grip it that little bit easier. Again, its that continued attempt at using the Axon Elite with one hand. Luckily there are a bunch of software modifications to help with that. At the top and the bottom of the phone are two strips which feels reminiscent of leather, coloured the same Ion Gold as the rest of the phone. It isn't leather, but that's what I think it's supposed to remind me of. I'm guessing the idea would be that the leatherette back wears in a little to provide more grip as time goes on. At the time of writing, with a brand new test device, it's something which I just can't prove.
Now would be a good time to get to the internals of the phone before we go any further.
Specs:
Bands: 2G (850/900/1800/1900), 3G (850/900/1900/2100), 4G/LTE (TD-LTE bands 38/39/40/41), (FDD-LTE bands 1/3/7), (TD-S bands 34/39)
Chipset: Snapdragon 810, Adreno 430 GPU
Size: 154 x 77 x 9.8 mm
Weight:
Display: 5.5" TFT LCD, Corning Gorilla Glass
Resolution: 1980 x 1080 FHD, 403 PPI
Camera: rear facing – Sony IMX214 sensor, Dual lens 13MP, dual LED flash, 4K UHD resolution
Video: [email protected] fps, [email protected] fps, [email protected] fps
front facing – 8MP, 88 degree wide angle, 1080p resolution
Audio: Hi-fi level audio chipset AKM 4961
2 microphone (1 for the noise cancelling)
Memory: 3GB LP DDR4 RAM, 32GB ROM, supports 128GB micro SD card
Radios: GPS/GLONASS/BeiDu satellite tracking
Bluetooth 4.0, Wi-Fi 2.4 & 5.0, 802.11 a/b/g/n/ac, Wi-Fi Direct
Accelerometer, Proximity, Notification light in the home button, electronic compass, driver assistant, Quick charge 2.0
Battery
One of the things you'll see on a lot of reviews is the statement "I'm a power user". Honestly, we're not sure what that means exactly, but in this test, we decided not to go full-out and use the phone as my daily driver. I don't hit the phone anywhere near as hard as our Dan can do when he goes at it, but I've been know to get into the occasional text session with a daughter or good mate and burn through texts like it's match paper on Guy Fawkes night.
Most people don't use their phone like that, so I limited my usage of this phone to just a handful of accounts. So in this case, only two gmail accounts and a work account that fairly bursts at the seams (guessing somewhere in the order of around 100 emails a day over a 24 hour period for the work mailbox). WhatsApp wasn't used, but Slack was. Facebook wasn't installed, but Google+ was. I set up connection to the top six or seven Wi-Fi networks I normally use. There were only two weather apps loaded, and a couple of camera apps, namely the Google camera app, and A Better Camera, which we're trying to learn how to use to get the most out of a given camera. We're crap at photos, so every little bit helps. Most of the time, the phone is left off charge over the course of the day, and sometimes left off charge overnight. The funny thing is that on most phones, I wouldn't have dared do that, but even with push mail from three accounts and normal sundry usage (maybe 1-2.5 hours worth of calls a day and around 20-30 texts or so), the battery never went below 30%.
One extra note – There are two more options that should definitely be turned on for the aforementioned 'power user' who wants the phone to get to the end of the day and beyond. From the full dropdown list in the notification shade, click on Smart power and Long standby. I'll be honest. I don't know exactly what those things do with the way the processor may be throttling, and what exactly is standing by when the latter option is activated, but it works. I forgot to plug in one night, and the phone hadn't dropped below a couple of percentage points when I picked it up the next day. This is the dream that is hoped for with Doze on Android Marshmallow, except it seems to be available right now. This is a phenomenal achievement. The few times you really need the phone to be available, you feel like you can rely on the Axon Elite to have power and be ready to put it to use.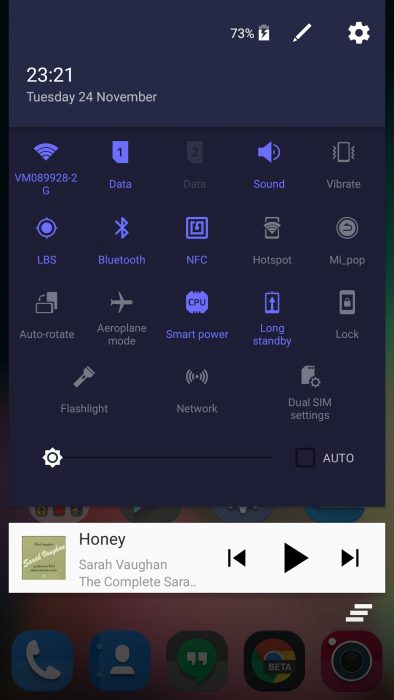 Software
If you're the sort of person who swears by stock Android and anything outside of the stripped down, purist, Duarte-inspired vision of Android is some sort of crazy, then this phone will not be for you. Neither will any Samsung, LG, and until recently, Sony phones. However, if you're willing to see what a manufacturer can do to enhance the Android experience, then read on. This one might be a bit of fun. Before we go further, the phone comes with 5.0.1 out of the box. I've had a couple of software updates, and it's now up to 5.0.2.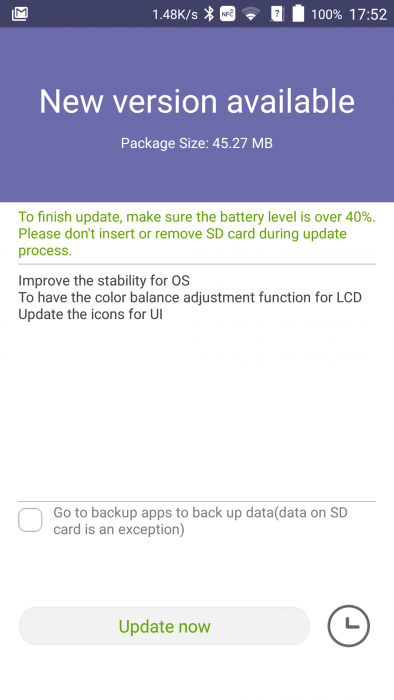 This isn't such a disaster as you'd imagine. The Axon Elite is skinned with version 3.2 of the MiFavor UI, and it changes a lot. This is a pretty heavily themed phone, from menu settings to the homescreen itself.
Even the menu buttons are a step away from stock. The navigation keys are below the screen, with the home button being painted on as well as lighting up. Long pressing the home button gives you Google Now. The left-hand side is the back button, and also doubles as the task switcher on a long press. It took me a long time to figure that one out. The right-hand button acts like the menu key – the same action that the hamburger menu now does. It may seem silly to offer two ways to get to a menu option, but it makes sense when you have a 5.5 inch phone and have a predilection to try to do as much as you can one-handed. That's the least of the customisation options, and the Axon Elite totally gives you the chance to really play with the phone to make it yours.
One of the first things that gets downloaded on any phone is an alternative launcher. So far, the one regular launcher that keeps being used is Nova Launcher. It's quick, doesn't feel like there are any extra steps in the way and gives me the chance to put the afterburners on stock android. I got as far as downloading Nova before realising that if I didn't use the MiFavor UI, I'd be doing myself and the phone a disservice. There are options. there are a lot of options, even to the level of doing some basic theming with a few easy clicks. On the homescreen, the right hand button is reserved for personalising your phone. There are transition options from when you go from one screen to another, options for wallpapers, including the use of a blurring level, a la the way OS X and iPhones blur the wallpaper, you can change the icons with one of four preset packs – It's like they thought of a way to include a lot of the theming options with one easy to get to shortcut.
Even on simple things like phone calls, the UI extended itself. If I went back to the homescreen, the phone icon would follow me there, so the ability to head back into the phone app with one touch once I was done checking my messages whilst on a call was appreciated. The icon itself could be moved around, which proved surprisingly helpful for such a small consideration.
Talking of theming, there are quite a few bespoke apps with the Axon Elite – I won't go into them all, but they include ZTE Cares, a built-in user guide (which I thought was a nice touch for those who prefer to play with their phone until they need to RTFM), Mi-Assistant, a sound recorder, the UME browser, the Alive Share app, a flashlight app… You get the picture. There are more apps than I would have expected.
The first thing to realise is that the phone doesn't have an app drawer, much like Apple and the Honor 6+ that I've played with. It's not an insurmountable problem per se, but it may take someone used to Android a little while to get used to rotating through homescreens, or checking folders to get to the app you're after. Like everything, you get pretty used to it, but it helps to have a little bit of organisation beforehand to get your apps organised if you're a big user of apps.
In use, the phone felt very snappy and responsive. It held onto a signal when I was visiting a hospital for most of the last week better than the older Android phone I had at the time, so that was a mixed blessing. In addition to that, it holds onto LTE longer than I would have expected. Getting and holding onto a mobile signal in hospital is a dicey affair at the best of times, so when the Axon couldn't get a signal, it wasn't for lack of trying. The other phones had given up some time before.
Messaging
In keeping with trying to use the phone as ZTE intended, I didn't switch to any of my traditional keyboards and messaging apps. The messaging app was appropriately called Messaging, and the default keyboard was from TouchPal. For those like me who have never used TouchPal, this is less of a keyboard and more of an entire ecosystem. More on that in a tick. There are some lively touches with TouchPal, including the ability to swipe down on any of the lowest level of keys to add punctuation. But the options, oh my, the options. This is when it finally dawned on me who the ideal market of this phone is for. This is ideal for the teen and hip generation who do Vines, YouTube, FaceBook, SnapChat and Instagram, as well as for those kids who think it's normal to have a marathon messaging session with their friends, and type things like "yh". You can theme the heck out of the keyboard, changing just about everything from the height of the keyboard, to the background, to the actual keyboard layout. You can have split screen, or it can be pushed to one side for left or right-handed preference. It can go back to T9 if that's your bag of fish, and another mode that I haven't seen often outside of the Blackberry Pearl or Sony Ericsson M600. The options on this are so full featured, there are even adverts, as well as the ability to buy more keyboard styles and colours, similar to SwiftKey.
If you are a typer rather than a talker, then the TouchPal keyboard and the Axon Elite were made for each other.
Camera
I took some random pictures using the phone. Unfortunately, I have the artistic talents of a flying buffalo, so I'm fairly sure I wasn't able to use the Sony IMX214 sensor to its full potential. HDR mode wasn't quite up there with the speed of the flagship phones, but still a lot faster than I've been used to. The camera was snappy in action, and it felt like it was easy to take some fun shots.
Below are some samples – but for imperfections in the shot, first assume that it is user error. There are numerous settings for white balance, HDR mode, countdown timers, voice control, even to the ability to turn the shutter tone off if required.
Conclusion and wrap-up
During the time with the ZTE Axon Elite, I have been part impressed with ZTE and part frustrated. For the most part, everything feels thought out and well-put together. The ability to tweak and change the wallpapers and themes was a lot more fun than it really should be. Yet, trying to set it up to the way I liked it felt like a chore, not a pleasure. The ringtone is nice and loud, but it's louder than I want for longer than I want. It's nice to hold in the hand, but in use it kept feeling that little bit slippery when I was trying to work one-handed. The battery lasted for as long as I kept pushing it. I was able to play games like Hitman: Sniper without any stutters or lag. I like the look of the Axon Elite, but there was never that 'wow' feeling. It was nice. There was nothing wrong with any individual element, but I never got that feeling like it was growing on me.
Ultimately, the phone kept feeling like it wanted me to buy into the ZTE way of doing things, and I know I would have replaced a lot of the default apps with most of my own. The added Gesture and Motion settings was a brilliant touch that quite frankly I wish more phones had as a default, but  trying to remember them all over a short time was a challenge. To the left of that, the quick tutorials on how to use those gestures and motions were spot-on.
It comes down to the final couple of questions: would I buy it myself, and would I buy it for someone else? No to the first. I don't think this is the right phone for me, but I can very much see the younger generation receiving this phone as a present and realising that they had a real bargain in their grasp.
NB: For some reason, late in the time the Axon Elite was left to be reviewed, the phone started to develop a predilection for going into a continuous system UI loop. A reboot would fix the issue, but it's worrying nevertheless. The likelihood is that this was caused by an app that had been downloaded, but unfortunately the cause of it was never found.
A surprisingly impressive phone, and one that younger generations would probably enjoy to use daily.