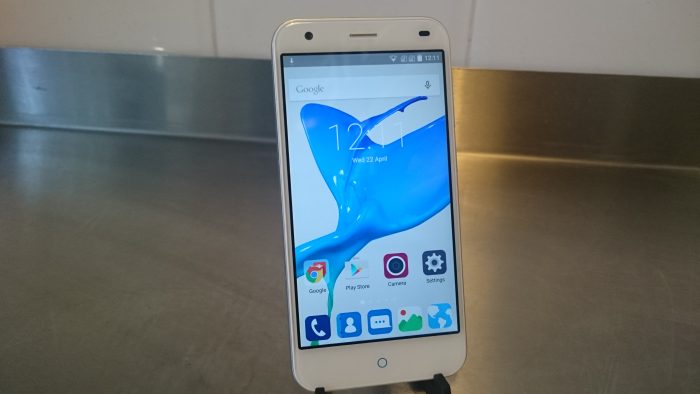 Over the past few years we have started to see the emergence of more and more Chinese manufacturers into the Global smartphone market. One of these companies is ZTE, for a while they were happy being the people behind the scenes of dongles and some network branded handsets. However, this is now starting to change as they are becoming a brand that is being recognized in the EU and the US in its own right. We have had the ZTE Blade S6 4G on the review desk for the last we week and I have been using it as my daily driver.
What do we think? Should you spend your money on it? Read on to find out more.
Hardware
Do you want and iPhone clone that is actually pretty good but half the price? Well if the answer is yes then the Blade S6 is the device for you.
I know that statement is a bit sweeping but the similarities cannot be ignored here. Quite a few of work colleagues mistakenly thought I have been using an iPhone for the past week and have been surprised by that until they actually looked closer.
Specifications
Display:- 5.0 inch HD with In-Cell Technology
Platform:- Qualcomm® Snapdragon™ 615 octa-core chipset  (MSM8939)
Camera:- Sony IMX214 13M AF + 5M wide-angle FF
Network- LTE: B3/B7/B8/B28(B20) (1800/2600/900/700(800) UMTS: (850)900/2100 MHz GSM: 850/900/1800/1900 BT: 4.0 Wifi: 802.11a/b/g/n/ac
Operating System:- Android L (5.0.2)
Interface:- 3.5mm Earphone Port, Dual Nano SIM, 5pin Micro USB, Micro SD
Memory:- 16GB eMMC + 2GB  RAM DDR3
Features:- Proximity,  Ambient Light, Accelerometer, Compass, Gyro, A-GPS/GPS, FM Radio
Smart Sense
MiFavor 3.0 U
Size:- 144 x 70.7 x 7.7mm
Battery:- 2400mAh
Here is the unpacking video that I did the other day in case you missed it.
The hardware is really nice to look at and I cannot fault it really. The only thing that is a real shame is the lack of punch from the speaker. It's embarrassingly weak and tinny.
The screen is very bright and vivid, with good viewing angles and very little discoloration. I have not done any RGB testing but I feel that it compares favourably with all the options at this price point (£170 on Amazon UK). When the brightness is at its lowest it is tricky to see in direct sunlight or under high intensive lighting. Under normal lighting conditions I found a happy medium to be at about 20% brightness.
Another area of concern was the battery. My regular usage consists of emails from 2 accounts being pushed through all day, some light browsing on the web, 1 1/2 hrs of music playback and a few phone calls and texts. It is also paired with my Smartwatch 3 for notifications. With me using the phone as described above I was finding that I was struggling by the end of the day and I would have to give it some juice on the way home to get me into the evening. This is something that I am not used to at all as I have been an Xperia owner for the last few years. These normally last me at least a full day and sometimes even two! On a mid-tier smartphone I do really expect more, as do those who are buying these phones, so this is not really good enough. I would have happily taken a little more thickness to get a bigger and better battery. Something to think about on the next model guys!
Apart from those things the hardware is pretty solid and as I said it look very iPhoney which will mean that you don't stand out from the crowd too much.
As is the norm for reviews I have done some benchmarking on the device. I've used the Moto G 4G 2014 as my comparison and I'm going to be comparing it to the Acer Jade S that I reviewed last month.
Antutu v5.6.2 (higher is better)
ZTE Blade S6 28728
Acer Liquid Jade S 28881
Moto G (2014) 4g 17350
Sunspider 1.0.2 (lower is better)
ZTE Blade S6 1292.1ms
Acer Liquid Jade S 1139.5ms
Moto G (2014) 4g 1301.4ms
Quadrant (higher is better)
ZTE Blade S6 2904
Acer Liquid Jade S 14421
Moto G (2014) 4g 8555
The Quadrant test indicates to me that pure benchmarks are something that was not factored into the optimization of the CPU, which is not a major worry as the phone does feel fluid and fast in actual real world usage. In my gaming test (using Asphalt 8 as my test) it coped very well with the intensive graphics.
Software
I am so pleased to say that ZTE have released this phone with current software. Woo-hoo! At last. Well done guys, great to see. However, there is a launcher on here which is annoying at first but fortunately after using for a few days it stopped annoying me so much.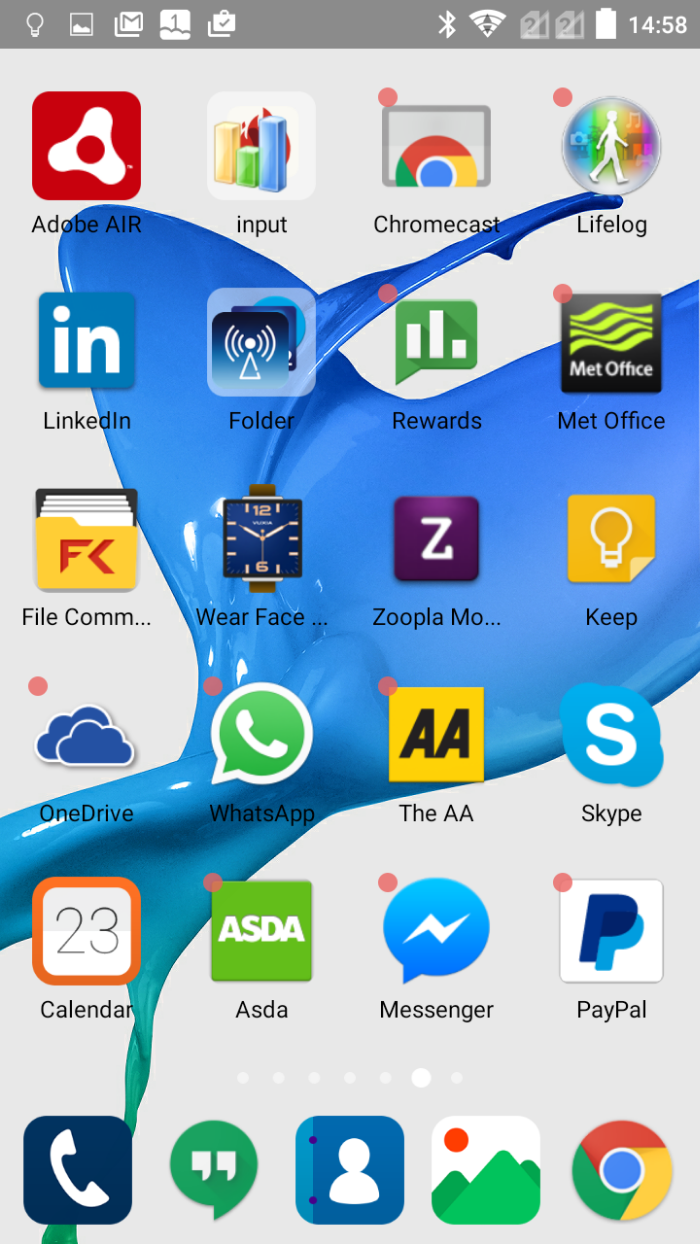 The phone does come some preloaded content on board. This is largely unobtrusive and you don't really notice it is there. The Google services pack is fully intregrated as you would expect on a modern Android phone.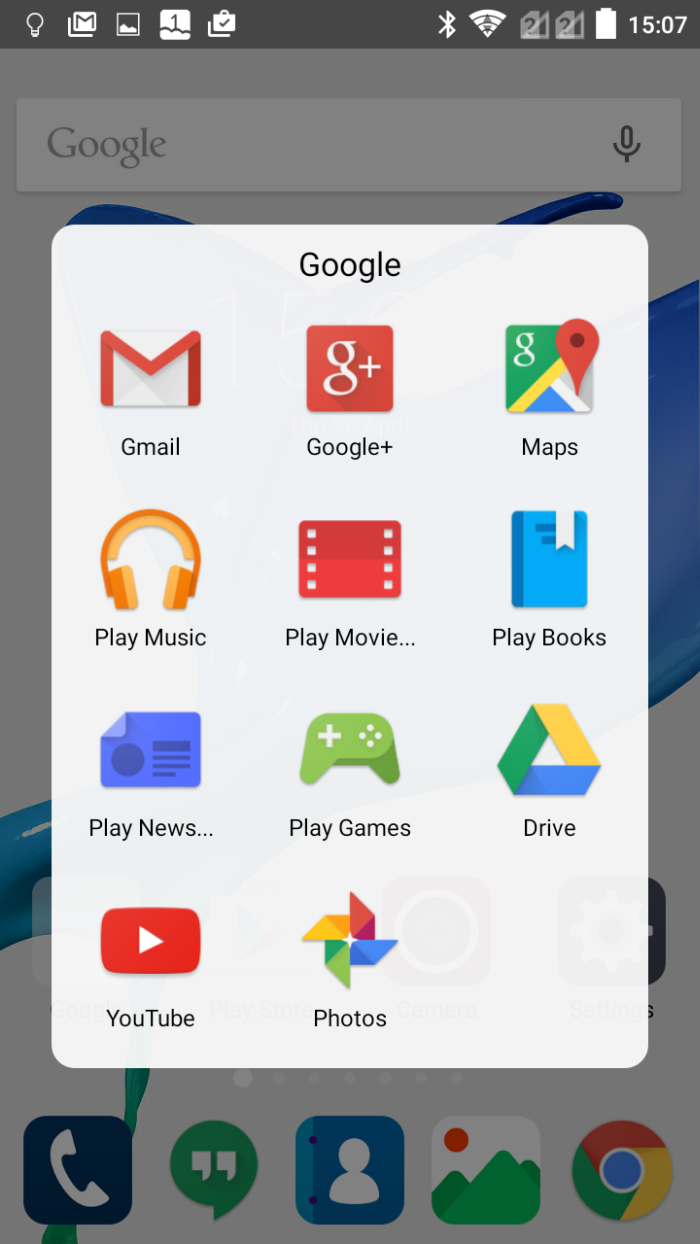 The phone does have Clean Master on it which I have previously written about so I won't rehash old news (if interested check out the Acer Liquid Jade S review here). For once I found the launcher did not drive me insane. Once you got into the actual apps it's Android Lollipop that we all love and now by now.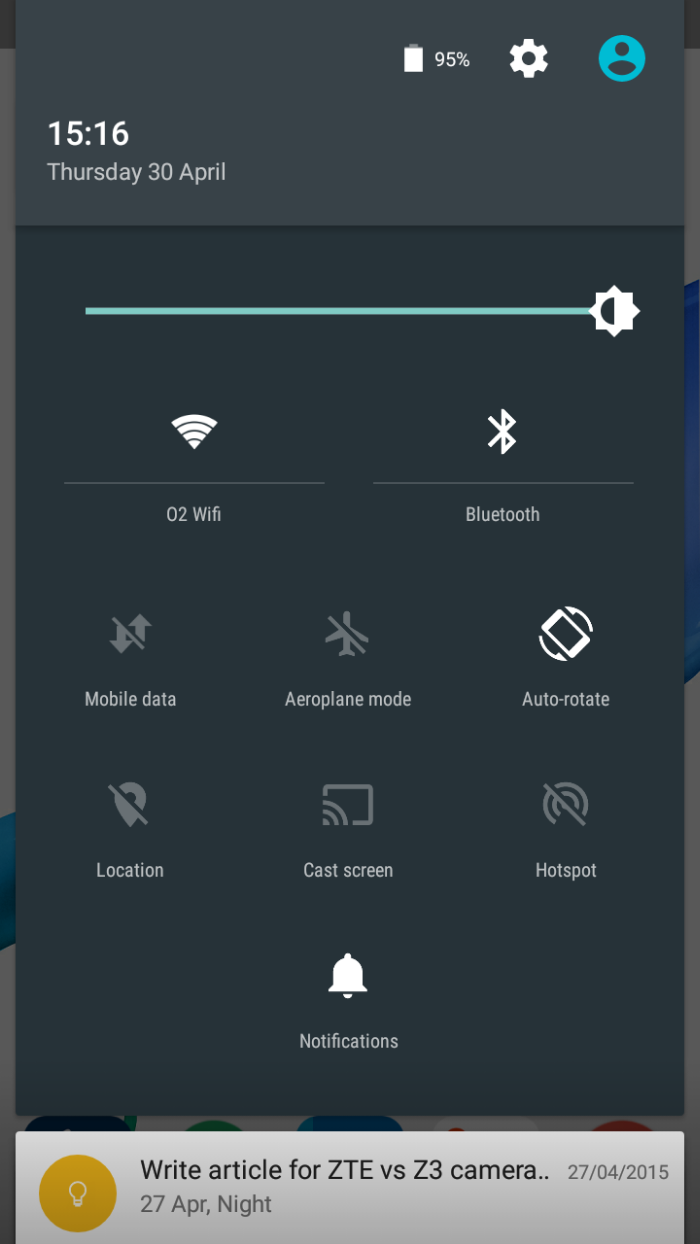 There are few midrange devices with Lollipop out of the box. There have been some optimization the settings menu for the two SIMs.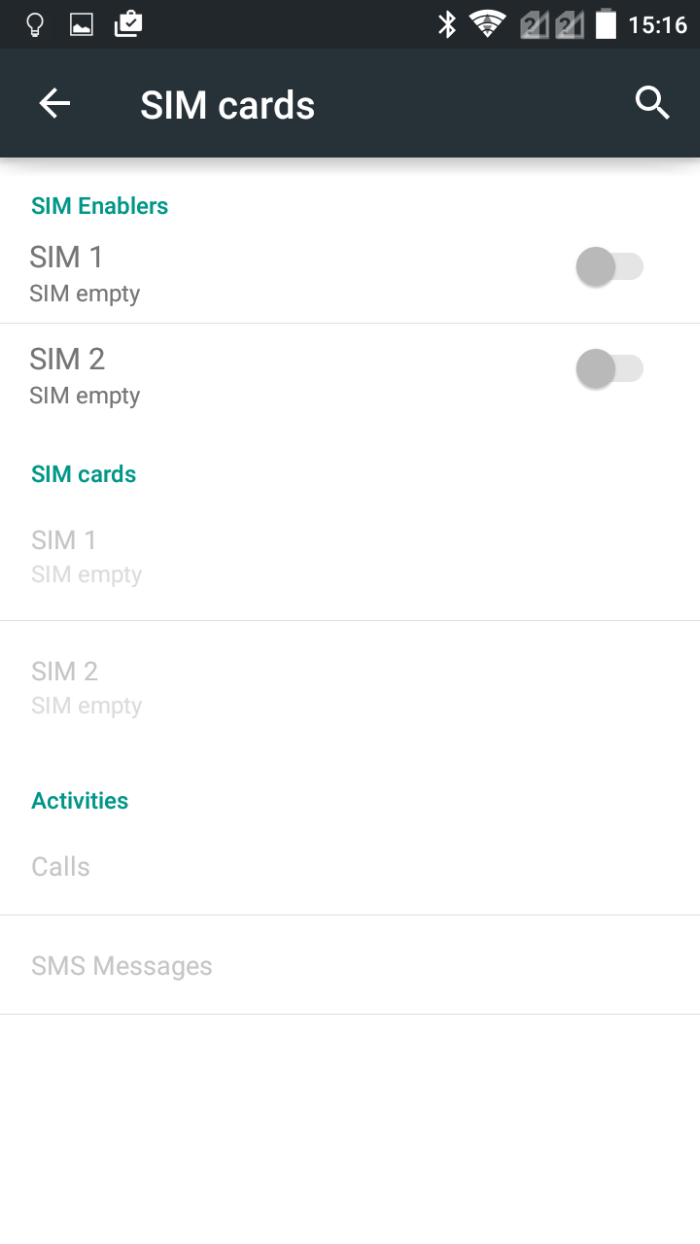 Other than that though we are largely dealing with stock Lollipop with some apps installed on top of the launcher which can be swapped out to another one at a whim from the PlayStore.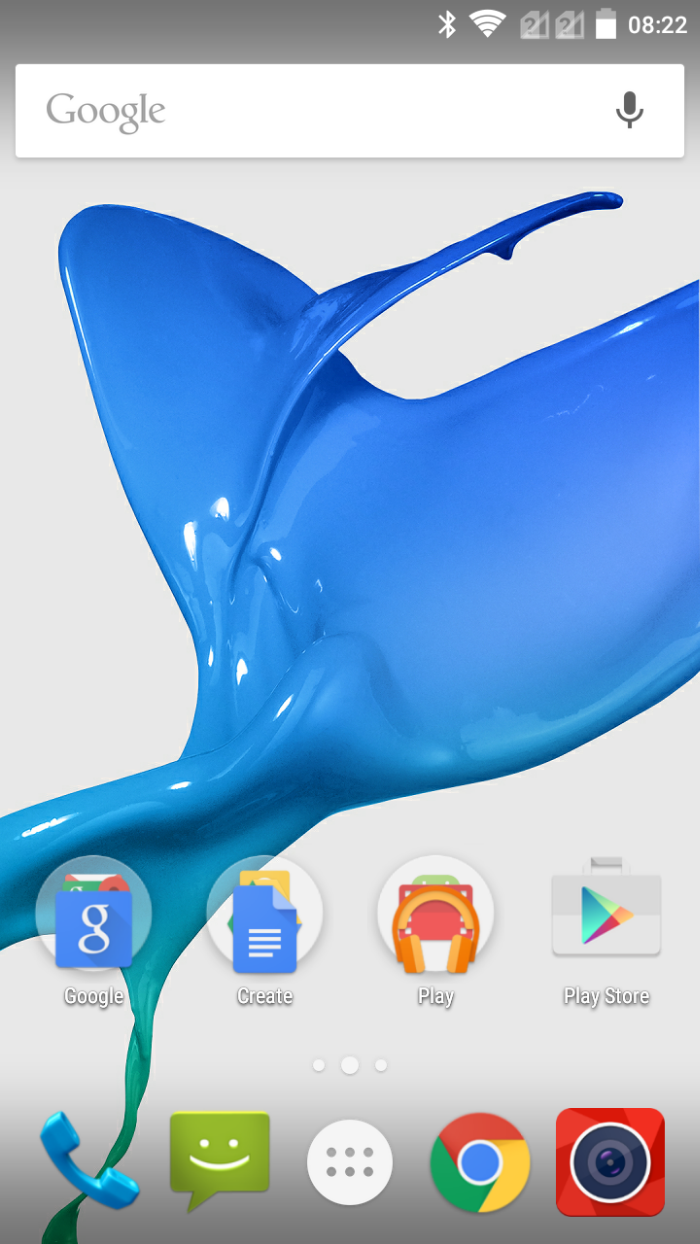 The phone will also support air gestures allowing you open app after performing the correct gesture when the phone is locked. This one is a bit odd so here is a image to explain it …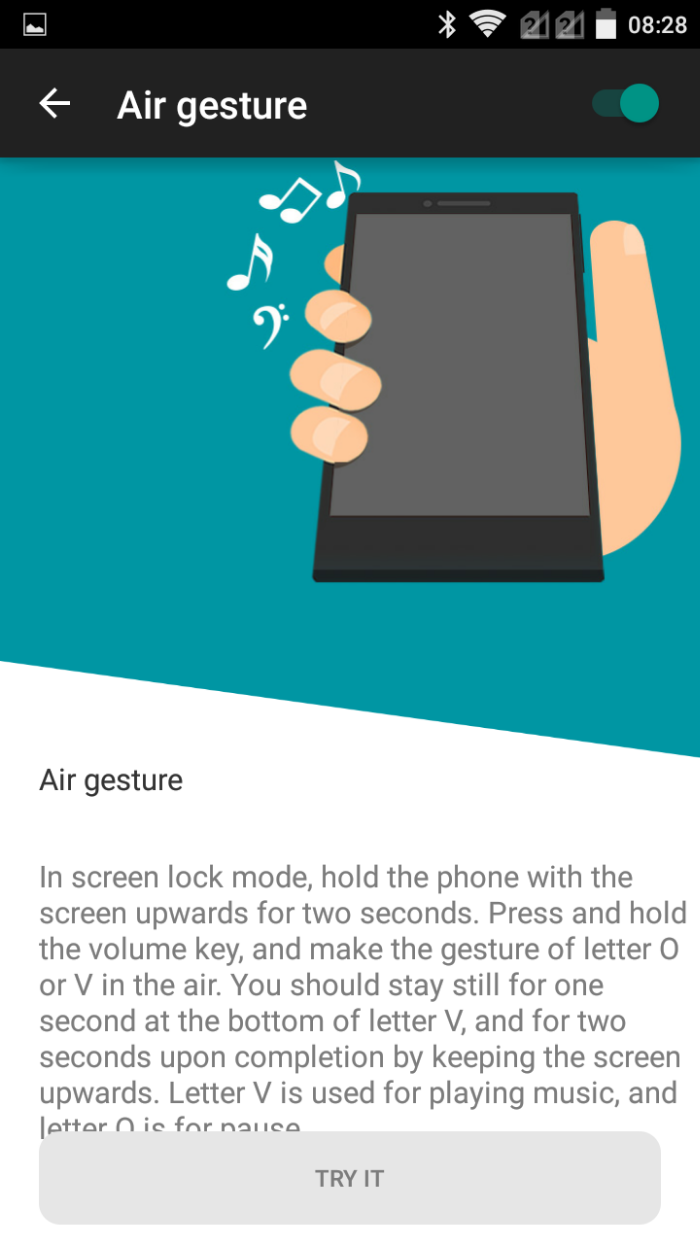 It's a nice touch but it is a big drain on battery life. Plus you look a bit odd doing it on the train!
Other gestures include turning the phone over to silence, raise the phone to ear to dial from texts, picking up to answer, camera launch, mirror launch etc. As mentioned above these are big drains on the battery so use them with caution.
Camera Showdown
I have decided to pit the camera against what I class as the current champion of smartphone cameras. In the white corner we have the ZTE Blade S6 LTE weighing in with a 13mp rear-facing camera and a 5mp front facing snapper. In the blue corner the reigning champion, the Sony Xperia Z3 with a stonking 20.7mp rear facing camera and a paltry 2.2 front facing unit.
Both of the contenders have more options for taking picture than you can shake a stick at. However for the purpose of this battle today they are both using the Auto modes. This should be a good clean fight today so lets get into it with the first round.
1. Macro
Here some close ups on a flower
You can see the Blade S6 captures the flower very well with a bit of oversaturation, but it struggles to capture the colours on the group of pink flowers. The leaf in the single flower shot looks truer to life with the Xperia and the pink more vibrant on the group shot.
2. Panorama
The Blade captures a wider Panorama, however it loses a large amount of quality in doing so, whereas the Xperia keeps the quality, albeit on a smaller area
3.Lowlight
Well I think that the pictures above do all the talking. Moving on..
4. Distance
Tricky one to call here the Blade has slightly better colours however more detail.
5. Extreme Zoom
Better zoom on the Xperia,  capturing more detail as well. Not that you will ever need this.
6. General usability
This is perhaps the hardest to judge as they both have very nice user interfaces and try and hide the clutter. This means that you have a reasonably clear viewfinder so that you can capture the shot. The Xperia buries the scene modes under a button in the lower right-hand corner below the camera shutter and video record button. By pressing it you get a grid view of  all the options flash up. It is just a simple case of picking one of these and starting to shoot. If you wish to tweak the individual scene options then click on the setting icon on the left hand side and then you will get a contextual menu based on what mode you are in.
The one thing I did find annoying about the Sony is that the option for HDR seems to be greyed out most of the time meaning it is not available from the settings as it should be. A big plus for Sony is that the Xperia features a actual physical camera shutter button allowing you to use the camera quickly and underwater nice job Sony.
The Blade on the other hand has what looks to be a very simple looking camera UI, but it can be quite convoluted and confusing as to where things are. I think this stems from the fact that there are two different modes – Simple and Expert. In Simple mode you would think "okay fine that will be full auto and it will detect my scene correctly". This is not the case as it requires you to select "full auto" first before this is done. It took me about ten minutes of use to find this feature. In Expert mode you're given manual controls on a bar at the bottom of the screen. Very useful.
Here are some other pictures I took with the phone. This includes a selfie which I was able to adjust using the 360 camera app with … well… interesting results!
What I would have liked to have seen is a live preview of the photo prior to it being taken whilst in manual mode on both cameras. If Microsoft/Nokia can do it then I don't see why it cannot be brought to Android as well.
Both are serviceable cameras but I think that the Xperia Z3 does take it here. Again though we do have to come down to price and it can't be ignored that this is a much lower cost handset. So, if you are looking for "bang for your buck" then the camera is very good. Just don't expect much low-light performance.
Summary
It has been nice to use the ZTE Blade S6 over the last week as it has been refreshing to see such a new phone from a Chinese manufacturer coming straight to market. Beyond the initial launcher it is a clean(ish) Android Lollipop experience. Whilst it does have some shortcomings in a few areas, this is a good all-round device. If only it had a slightly better battery then it would not be that far off being a genuine Mid tier champion.
So if you want really good bang for your buck and don't mind charging every night then the ZTE Blade S6 4G is a great buy otherwise I would look at the Moto G 4G 2014*.
Thanks to ZTE for the sample for review and if you wish to buy one check out this link
Amazon UK
ZTE Blade S6 4G Review
Price - 8.2
Camera - 7.9
Software - 9.2
Quality - 8.3
8.4
Overall, a decent device for the price.