Missed our "week with" articles? Here they all are…
Day one – The criticisms
Day two – The audio
Day three – Up close
Day four – The camera
Day five – Making it your own
Dan has also written up an extensive HTC One M9 review but I'd like to add my thoughts too. To be honest it's tricky. I think I've got update fatigue perhaps. Maybe.
Then again, it could be that the design of the HTC One is already so good that there's no real need to change it much.
As you'll see in my "week with" articles and videos, I've covered the phone in great detail, but I've got a feeling in my gut and somehow I need to describe it and put it together into a meaningful article.
In a way I guess I'm split. In my first piece I compared the HTC One M8 and HTC One M9 to a car. It feels like the same model, but with slight changes here and there. It's familiarity, and many people buy into that. However, is it too familiar? Whilst many will stay with one model of car for several years, this HTC One handset hasn't had a really big facelift. Have a look at the very first version in 2013 and, on the shelf, you'd be hard-pushed to tell the difference.
As an example of that, here's the HTC One M7. We took this photo in March 2013..


Here's the HTC One M8, which we took last year…


Finally, here's the new HTC One M9, taken just a week ago…


I had to name all those pictures carefully because, from the gallery thumbnails, I couldn't tell which one was which. Familiarity yes, but do you really want your mates getting your all-new HTC One M9 mixed up with the HTC One M7 you had on your last contract?
That's the key point for me. Although the design and build-quality is brilliant, although the specs have improved, although the HTC BoomSound and HTC Zoe still impress me greatly, it's a design that hasn't changed a great deal in two years, and may not change until year three.
Then I step back. I think about Apple. I think about the design of the iPhone and how, in recent years, it hasn't changed hugely. It's worked for them, but it will do. They've got an absolutely colossal fan base and a brand which is stronger than ever. Can HTC ape this? Can they produce a similar-looking device and just tweak the specs and software each time? More importantly.. should they?


It's a question I can't really answer. The HTC One M9 is an undeniably brilliant handset. The structure and design is fantastic. I love just looking at the thing and the dual-tone all-metal body gives it a premium feel. The clarity and the responsiveness of the software and HTC Sense UI is wonderful. It's easy to understand and, at the same time, powerful and customizable. HTC BoomSound, which I do bang on about quite a bit (I know), really should be a standard in all phones and I'm glad to see Dolby audio getting added to the mix. It sounds good. It sounds really good.


The IR blaster, the integration of the Peel software remote, the clear and vivid screen, the HTC Themes app and the location-detecting homescreen that alters depending on where you are and what you're doing – all good. All really, really good.


Sadly the camera, even with the very latest official update, still fell a little short. Taking a shot of the sunset, as an example, meant that the preview screen on the phone saw either all daylight or all darkness. You had to almost guess where the horizon would be. The HDR mode, in low-light, took an absolute age to process shots. The resulting images, however, were slightly better, and low-light shots on "auto" were decent enough. However, it just didn't hit my expectations. I'm a picky swine, and if you need 5 seconds to process a low-light HDR shot, do that in the background. Don't show me a spinning symbol and a message saying "Processing" on-screen for that time. That's not cool.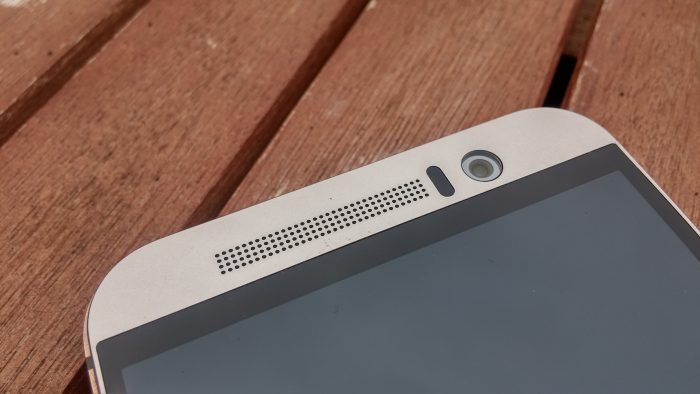 In the end, for those who want the familiar with an up-rated engine and specifications under the hood, get the HTC One M9. For those walking into a store, you may mistakenly think that this is the previous HTC One M8.. or maybe the HTC One M7. You could discount it on that assumption, and you could look over at the newly-designed Samsung Galaxy S6, or the S6 edge, or an LG, Sony Xperia, Huawei or Acer.


It shouldn't be this way, no. People shouldn't choose their next phone on looks alone.
But they do. A lot of people really, really do.
If they see an "old design" they'll look elsewhere, even if that "old design" has been polished, changed and updated. Even if the insides are a million times better, they'll still look at something "new", because that's what people want. Only Apple could get away with launching a phone which looks the same as the last one because, well, they're Apple. They can. There's so many Apple owners and followers that they can spot the minor differences and nuances between each handset. I don't think HTC have that luxury.
If you can cut through this. If you want a beautiful-looking phone which will always perform and will sound great. Get the HTC One M9.