Mobile World Congress is where most flagship devices get announced every year, and 2015 was no different. This year HTC arrived with an upgrade to their popular M8 phone which hopefully filled in the few missing pieces to make this the best phone they ever made.
First of all a big thank you to the team at Three UK for loaning us the M9 to review.
To be really honest HTC did not have to improve much over their last flagship. The M8 was already a multi award winning device, especially in terms of design.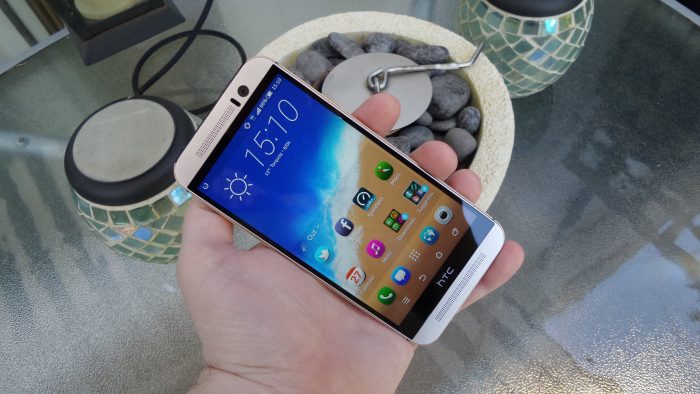 It looks pretty much identical to the M8 from the front, however there have been some key changes. The rear camera is now a 20 megapixel unit and the front features Ultrapixel technology. Also, the BoomSound front-facing speakers now use Dolby 5.1 sound.
The move of the Ultrapixel to the front is a change in focus (no pun intended) from what we have seen before. HTC have realised that this selfie craze is not going away anytime soon and want to show off what Ultrapixel can do to help capture superior images in all lighting  conditions.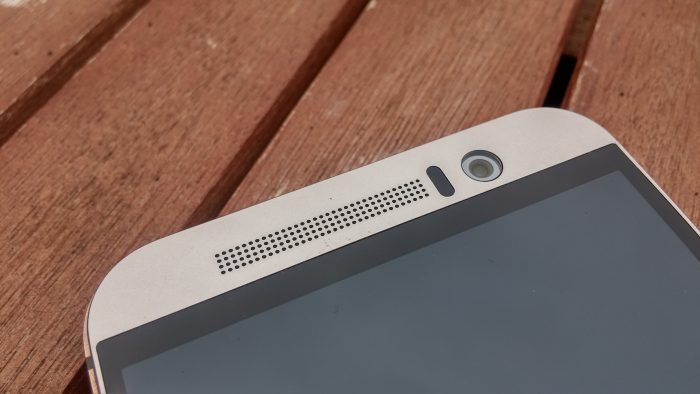 Ultrapixel is a technology from HTC that allows more light into the camera. More light means more detail with clearer images in all conditions, not just sunlight.
It is not all about selfies though, anyone who uses their phone for video calls will appreciate the improved 4 ultrapixel lens for better resolution and clearer faces.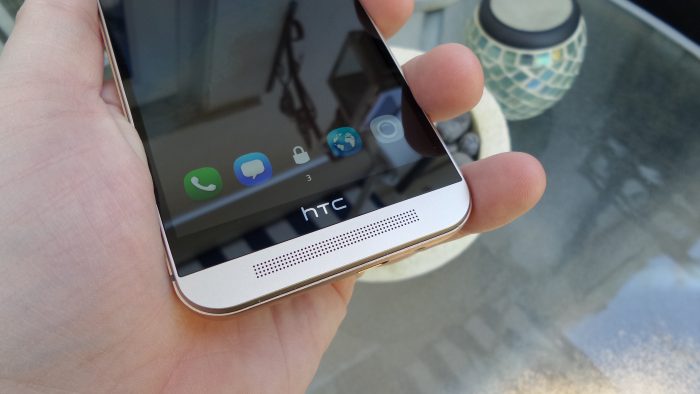 The speakers use the BoomSound tech once again, but this time have some incredible technology from Dolby built in. This gives a bolder surround sound experience.
The best way to notice this is loading a YouTube 5.1 surround demo. It's amazing!
The screen is a decent 1920×1080 resolution 5 inch LCD3 panel with PPI of 441. This makes it a very display for 1080p, but in 2015 where rival flagships will have 2K resolution it is a shame HTC did not jump at this chance.
Something HTC were knocked for on the older models was a "wasted space" below the screen. All you seemed to get there was a HTC logo. We later found out this is not wasted at all but needed to hide some of the much needed parts underneath due to the speaker placement.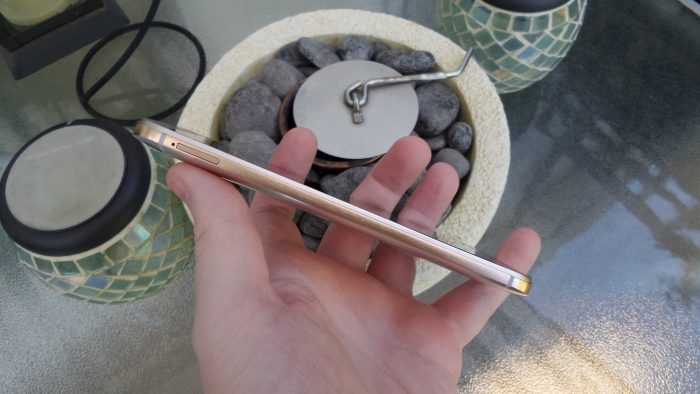 Turn over to the left and you have a pin hole with slide out tray for the nano SIM. Due to the amount packed in here a nano SIM was the best choice. At least this is nothing new due to many other devices using nano SIM cards.
Now whilst that is all you have on the side, something you will notice is the nice two-tone finish depending on the model you pick.
I was sent the silver with gold edging. There's a silver front and back with that golden trim and a little lip which makes the M9 easier to grip.
Not  just myself but a lot of other users of the M9 have said the general phone grip is a lot better than on the older M8 model from last year.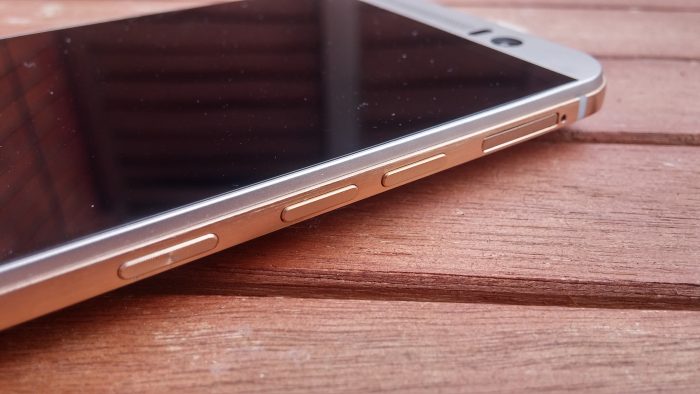 Moving over to the right side you have another pin hole with slide out tray for a microSD card, these are supported up to 128GB. There's also two buttons for volume up and down with the power button placed in the centre.
Whilst it is nice to have the power button on the side, the buttons are built fairly deeply into the side and don't stick out much for pressing.
Thankfully there is a pattern on the power button so it feels different to the rest.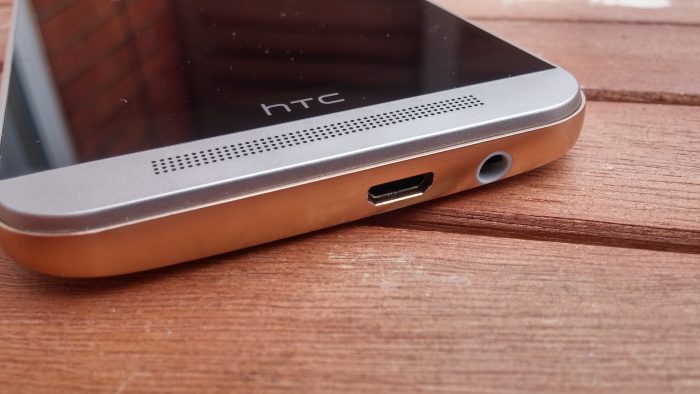 At the bottom you have the 3.5mm headset port and the audio engine does a great job with overall quality.
Whilst gone are the days you get free Beats headset in the box, the supplied set is very good quality and help block out a lot of outside noise.
Plugging in a headset from an older HTC device and I found the output really clear and loud. The best I have heard from using a headset out of the box.
Next to the headset port is the microUSB port for charging and data transfer, pretty standard these days.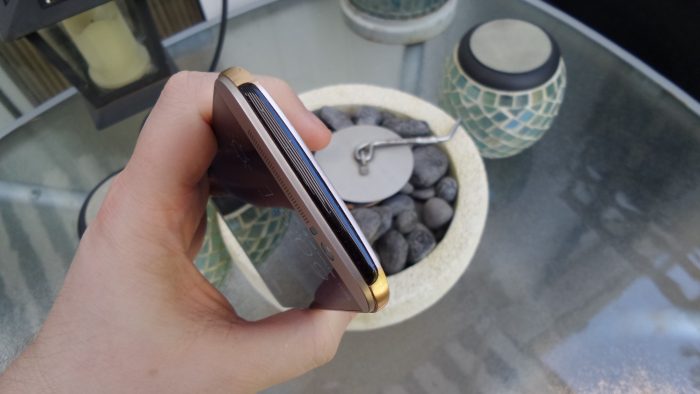 Up top is the IR blaster used for controlling your TV, Cable box or DVD Player.
This has undergone a refresh and inside, in place of the HTC branded app, we now have the 'Peel Smart Remote' instead.  In reality you get a similar experience and it offers a wide range of auto-programmed codes so you can control your entertainment with just your phone.
You can also see what is on and change the channel with a simple tap. Whilst I did not use this app for the first week, once I started I did not need my other remotes.
It is also rather fun being able to control other TV's and confuse a lot of people at the same time but this is at your own risk. 🙂
If you look at the back you see the other big change from the M8 with the camera dropping not only the dual format, but also dropping Ultrapixel. Instead they've opted for a 20 megapixel camera with dual LED flash.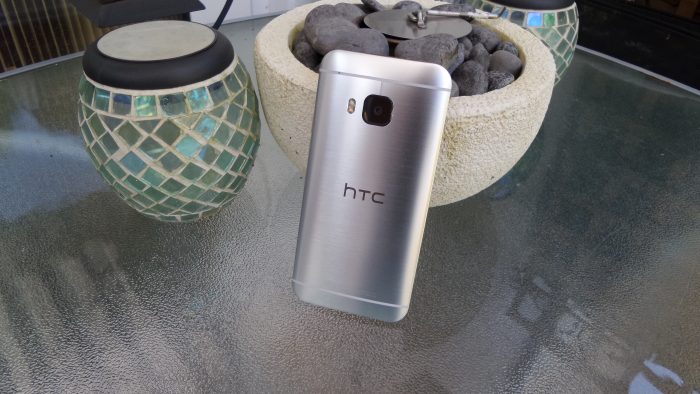 Unfortunately whilst the camera has been boosted from 4 to 20 megapixels, the quality is very average in a lot of conditions.
Switching to low light you get even worse quality, either down to the lens or the lack of OIS, something other flagships have included.
In perfect lighting you can get some decent photos although I did find that whites can be very troublesome and in some examples ruined a photo for being too bright.
There are a lot of controls you can play with to help with brightness, ISO, shutter speed and focus for those close ups which is a nice touch.
HTC also built in some options for Bokeh which blurs the background and fixes focus on your object. They've also provided the panorama and dual camera modes. This takes a photo on the front and back cameras at the same time.
Video mode was something HTC looked at because in the M8 the lower resolution lens was not suitable for anything over 1080p.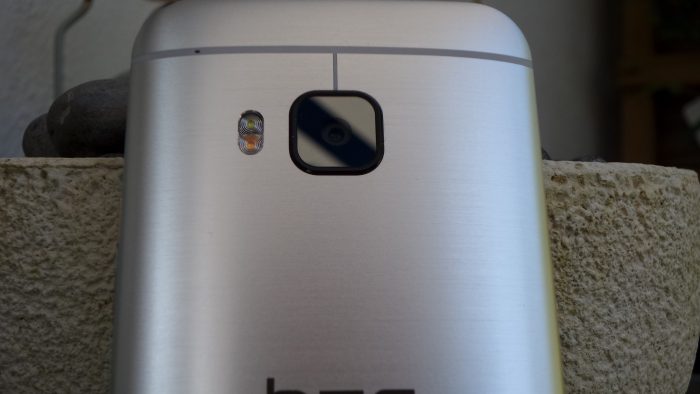 With the boosting of the megapixel comes the option to record 4K video for around 5 minutes at a time.
The problem with the video mode is the focus seems very much all over the place, trying to focus too often so you see the video blur even when keeping still as you will see in the sample video below
https://www.youtube.com/watch?v=TZsWTugu4M4&feature=youtu.be
https://youtu.be/lhkd2mzXjBM
There are some good modes to play with instead of just 4K, you also get slow motion and fast Full HD allowing you to play around.
The only other point of interest on the back is the HTC logo printed into the metal case.
Earlier I mentioned the better grip on the M9 compared to the M8. This is great considering it's a £500 phone. You really don't want to be worried about it dropping out of your hand all the time, and using a case hides the beautiful metal finish.
Storage comes in at 32GB internal with expandable going up to 128GB via microSD cards. These are dropping in price all the time and this is a distinct advantage over the new Samsung Galaxy S6 devices, which no longer feature expandable memory.
The battery is fixed in as with a lot of phones these days. HTC went for a 2840mAh size which is more than you get on either the S6 or the edge. In reality this will last you a single day, which is similar to most flagships.
Something I did notice when using a non HTC charger was it would take an absolute age to charge up, using the charger in the box appeared to give better results, and I was not the only person to confirm this result.
With 3GB RAM and a Snapdragon 810 processor (1.5Ghz and 2Ghz Octa core) powering everything, lag should be a thing of the past and even with loads of apps open things did not slow down.
One thing you will notice when using the M9 though is with heavy use the back does become quite warm, very warm with video being played but not at an uncomfortable level.
Vine was especially noticeable for making the back cover rather hot, something to keep in mind when using the phone.
HTC have gone for Android Lollipop version 5.0.2 and updated their own skin – Sense 7.
Not only do you get the new material design inspiration from Google but some nice improvements from HTC. There is a new home screen widget that let's you set your home and work locations, from there it works out your most used applications and switches mode when you are there.
Blinkfeed is still here with a wide range of services you can use with it.
Social media is well integrated with most popular services just needing you to log in and start using.
Also there are a load of popular sites with RSS feeds included but Blinkfeed is smart enough to let you  to search for content of your choice.
Typing 'Coolsmartphone.com' in on the search bar brought a whole load of information in from social sites and also allowed me to subscribe to the YouTube feed getting all the updates.
Final Thoughts
I missed Mobile World Congress this year so this was the first time I got hands on the M9. Overall I was impressed but wasn't quite blown away for what is a flagship phone.
It is hard to improve on the already great hardware HTC had on the M7 and M8, but to me it felt like something was lacking here. Maybe it was the 1080p screen whereas others are getting 2K now, it is hard to really pinpoint it, I was just expecting a little more.
The other let down was in the camera, considering the new 20 megapixel camera included I was looking forward to getting some great shots. From what I was expecting to what I actually experienced, it was again a let down in anything apart from perfect lighting. This could be down to either the Toshiba sensor used or the lack of OIS for clearer photos.
There are some great positive things to take away though, mainly the amazing audio quality with the dual BoomSound speakers on the front. It really is fantastic.
There was no lag in my time using the M9 and the battery lasted a day, although wireless charging would have been nice to have but was missing.
Network speeds were fast enough using 4G most of the time and WiFi when home but this will depend on your location.
If you own a M8 you may be looking elsewhere for your new phone in 2015, but if you have a different device and music is key to your decision then the M9 might just be the best phone yet for you.
Looking at the whole package HTC have done a good job at improving the already popular M8, although if it is enough to beat the Samsung S6 and soon to be announced LG G4 we will have to see.
This M9 was kindly loaned to us from Three UK who sell on both Pay Monthly and PAYG starting from £39 a month and costing £629 outright.
HTC One M9 Review
Hardware - 9.5
Software - 9
Camera - 7.1
Battey - 8
Value for money - 8.5
8.4
HTC perfected the design and build a couple of years ago. This adds yet more tech and polish to what is already a winning formula.