Huawei is a massively successful company. We've been to see them in China. We visited the university that teaches staff, the accommodation where workers stay and play. We saw their facilities and their innovative products.
Yesterday though, something massive was missing from their Mate 30 and Mate 30 Pro event. It wasn't, as you'd expect, just those Google Apps.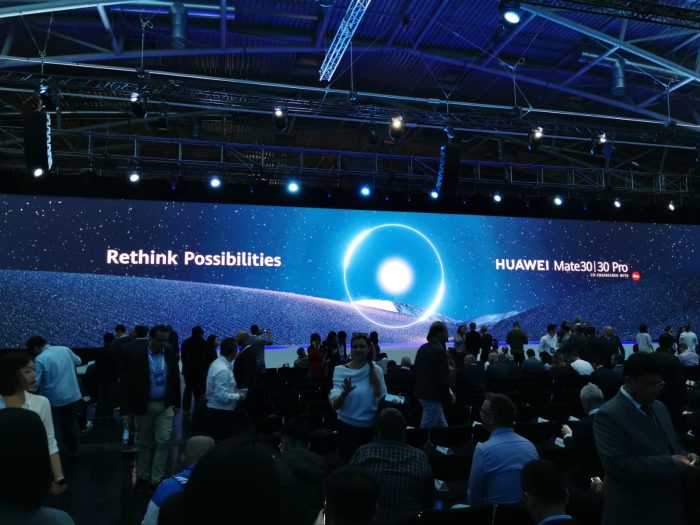 When a launch of that size happens, we're usually sat in front of the stage playing a crazy juggling act. Attempting to snap photos, write tweets, note down specifications, composing news items and also handling the deluge of emails from network operators who'll be offering it.
Take, for example, the iPhone 11 Pro launch – all the networks bombarded us with emails saying..
We're ranging it! Here's the prices! Please let people know!!

The same with the Samsung Galaxy S10 launch and even the Huawei P30 and Huawei P30 Pro launch in March.
This time though, nothing. Not a sausage. Not one email from EE, Vodafone, O2 or Three. Nor from any of the other operators like Sky Mobile, giffgaff, Tesco Mobile. Not even about the 5G model, which you would think would be grabbed quickly by networks keen to increase their 5G handset range.
There was a huge amount of uncertainty about the actual availability date too. All we do know for certain is that they won't be selling it in the USA because of that Trump Trade Termination. It's not just the UK, it's further afield – networks are already keeping away from these phones because they know – without those Google Apps – they just won't sell.

Prices were shown to us during the launch – the Huawei Mate 30 Pro is €1,099 ($1,200 / £970) whilst the 5G version is €1,199 ($1,300 / £1050). The Huawei Mate 30 is €799, which works out at around £882 / £705.
The kicker though was the fact that the Play Store is missing and you can't – according to Huawei at least – install it yourself. The same for YouTube, Maps, Gmail, Drive, Music and Google Pay.
Update – OK, we were told that you can't side-load the Google Apps, but the BBC have seemingly been told by Huawei that you can…
A spokesman for the Chinese firm told the BBC that Facebook, Instagram and WhatsApp would all be available via Huawei's own store, called the Huawei App Gallery.

He added that there would also be a way to "side-load" Google's apps onto the handsets and that phone store staff would advise customers how to do that, although they might not run as smoothly as normal.
We're a bit confused to be honest. There needs to be an agreed response to potential customers because all the headlines are saying that the apps won't be there, and that's what people will hear.

I'm not understating this now, this is a colossal problem for Huawei. Unless their plan is to wait (and get) a reprieve or a Chinese / US deal, all of these beautiful Huawei P30's are doomed to fail. It doesn't matter how stunning they are or how well they operate – they won't sell in big numbers.
The lack of networks coming forward, the lack of an availability date and the lack of Google Apps speaks volumes. This is a major turning point for Huawei and the clock is ticking.