I enter into the Huawei Cloud Park. It's a modern office complex with relaxed-looking staff holding coffee as they scan through security terminals. I walk past some PR girls wearing the now familiar Honor T-shirts. They're holding teddy bears and flowers. I'm not entirely sure why, but it's a Huawei brand which is definitely on the rise.
I'm not allowed my laptop, which is stashed into a locker. No photography is allowed either, so be prepared for several paragraphs of me painting pictures with words.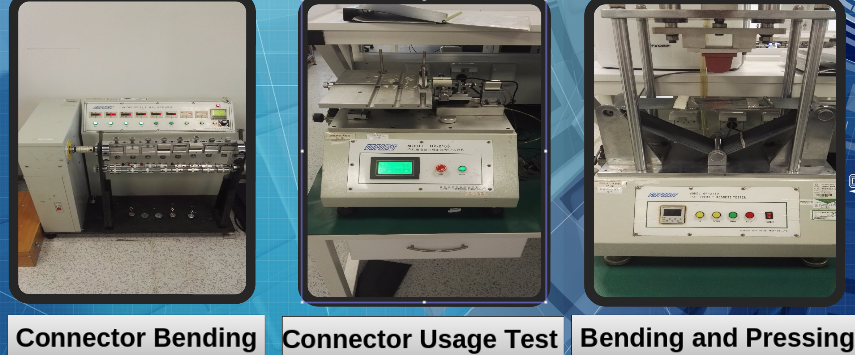 I enter into what I can only describe as a torture chamber for phones, with machines designed to drop, bend and throw handsets. They have tests to plug a headset and microUSB plug in and out many thousands of times to see just how durable their connectors are. They do similar tests on the various buttons too, just to ensure that you won't ever have a spongy power button.
It sounds and feels like something out of Charlie and the Chocolate Factory in here, with clicking and whirring sounds all around me.
All of these machines are custom made just for Huawei and are basically designed to ensure that phones and the included cables can survive your daily use and abuse. There's even a mad tumble dryer-type machine with coins and other objects which will see if your next Huawei phone can survive your back pocket. As I walk out there's a counter showing how many times the volume and power buttons have been pressed on a handset. It reads 2,564 and is rising fast.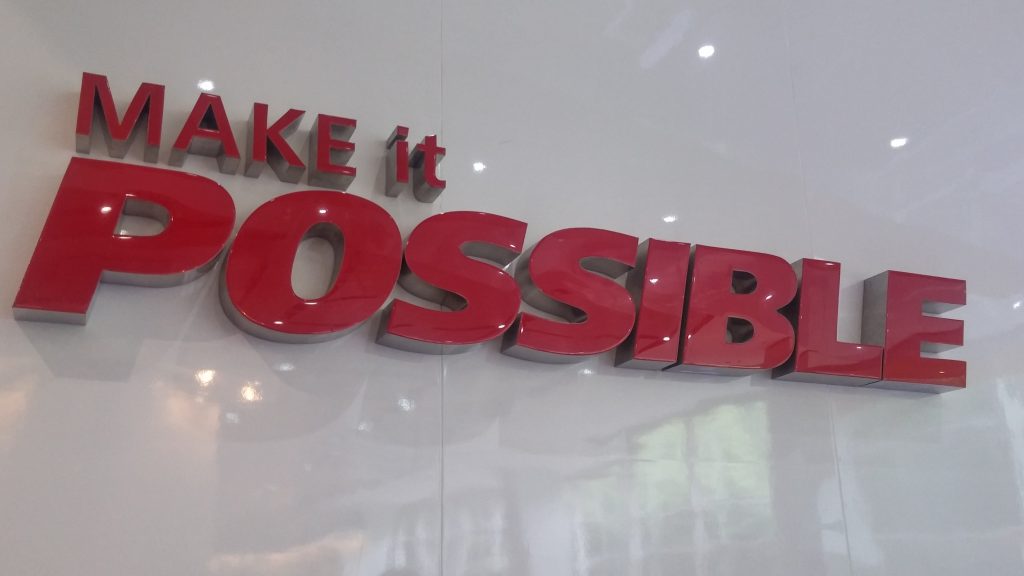 Next up, the Environmental Reliability Lab. As I walk in there's large wardrobe-sized machines designed to heat and cool phones so that they can survive all kinds of weather and humidity. One machine is set to 88 degrees C with 94% humidity. Another is set to go between 70 degrees C and -40 degrees C every 15 seconds. All of this should mean that you can take your Huawei phone into the sauna and then go out in some snow and ice straight after. Every phone and every component goes through this test.
There's tests for solar radiation too. This'll check that your phone doesn't malfunction on the beach. They even test their chargers – 300 at a time in a range of temperatures.
The testing of the Huawei and Honor phones is extremely thorough, and I'm beginning to see why these are such well-made handsets.

Next I head across to another building and a short shuttle bus ride brings me to another Cloud Park. This one is huge and has a large mansion on site too. Some 30,000 people work at their HQ here. It's absolutely massive – like a city within a city. People walk around me, heading in all directions. It's like rush-hour on the Tube back in London.
Huawei was created in 1987 and was a network vendor initially. It's based here in Shenzhen – the first Special Economic Zone in China. This was a fishing village just twenty years ago and only had a small amount of inhabitants compared to Hong Kong next door. Now it's a sprawling metropolis. It's probably not representative of the whole of China as it's so new, and I'm only getting to see the business and commercial areas.
Huawei have expanded into devices in the last 10 years or so. They have emerged from the white-labelling (anyone remember those Three dongles for mobile broadband?) to having their own branded smartphones and other mobile kit. Huawei believe that their strengths are in the design and the fact that they've helped build the networks that mobile phones run on. They have the experience and the contacts with the mobile networks. They know how to make smartphones work best on the mobile networks, because they play such a big part in the building of them.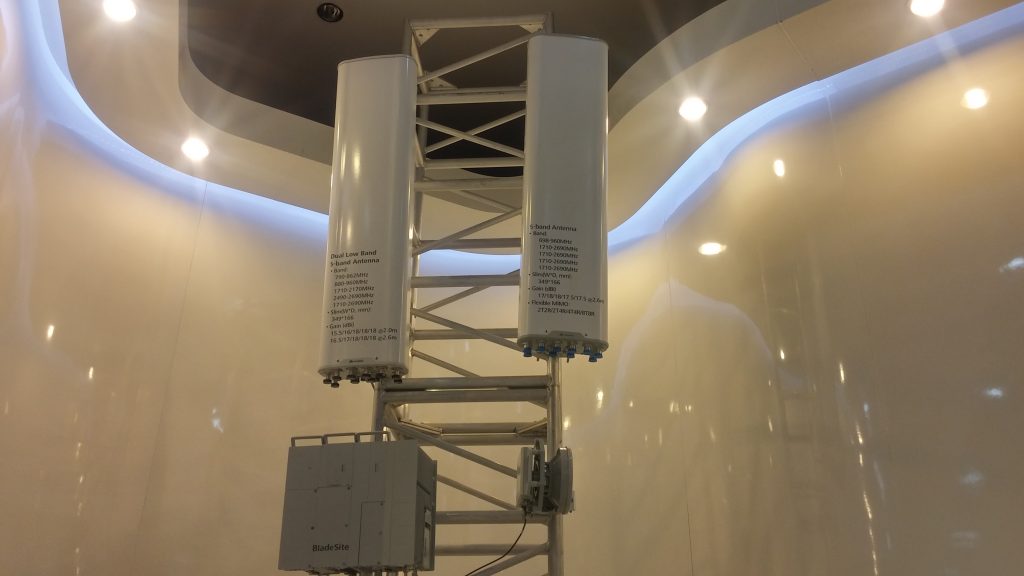 Handsets represent 27% of Huawei's revenue, with the rest coming from networking kit. They do submarine cables, backhaul solutions, microwave dishes, antennas, base stations, data centre kit, fixed broadband, mobile broadband and smart home solutions. Even if you don't have a Huawei phone, chances are, your phone will still be connected via Huawei kit
They're working on reducing latency from around 15ms on 4G networks to 1ms on future networks. They're even working on making base stations look "more beautiful" and smaller because, let's face it, nobody wants have one close to where they live. They show me the smallest and lightest base station in the world, which can easily sit in lampposts. They also have base stations inside phone boxes which are built into pay phones.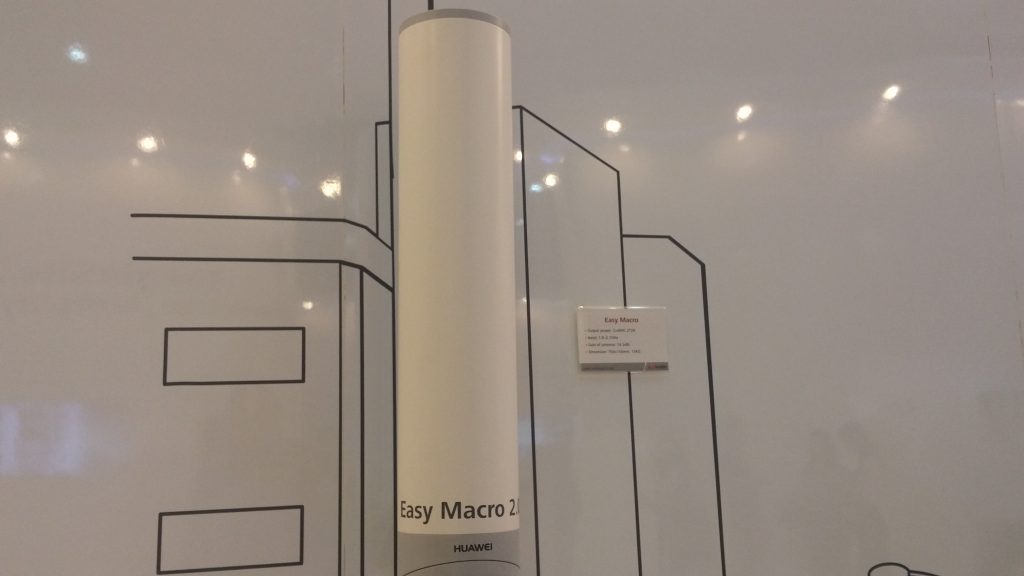 They're also already working on 5G kit and there's a mast with 5G transmitters here. It looks a lot cleaner, neater and less "industrial" than the current masts. These might not be seen in the UK for years yet, but Huawei have them ready – right now. They're so far ahead of the curve.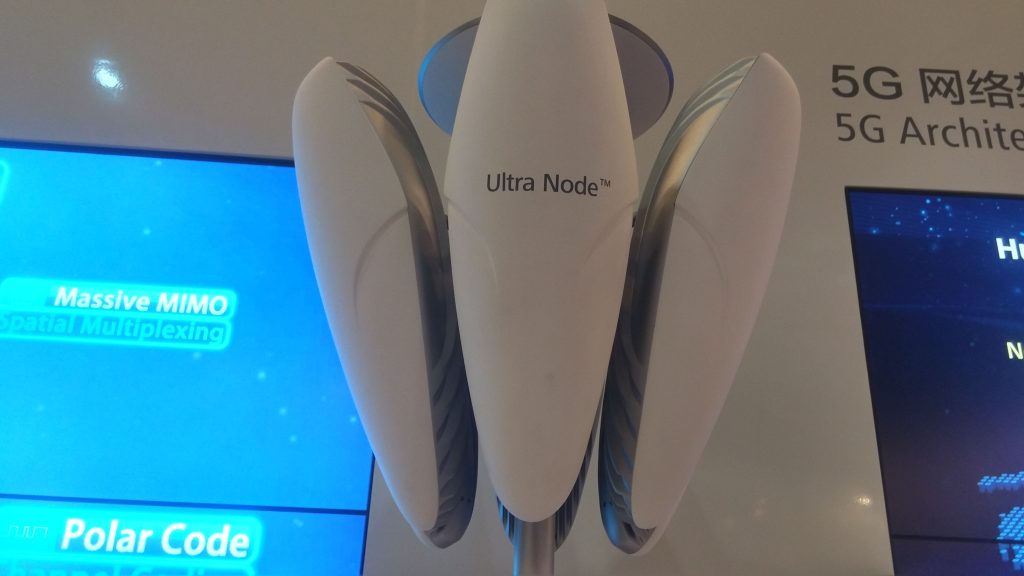 As I touched on before, the campus here is insanely large. I've been to the Microsoft HQ just outside Seattle and, I must say, this is definitely larger. If I'd just been dropped here from a plane you'd perhaps mistakenly think you were in America. Shenzhen even has a Central Park, just like in NYC. Wide roads cut through the campus, which is lush and manicured to perfection. Shenzhen itself is a mass of new buildings and roads due to the rapid expansion of the area.
Shuttle buses take staff around and we drive past a lake where my guide tells me how excited they are about their swans. One just gave birth recently.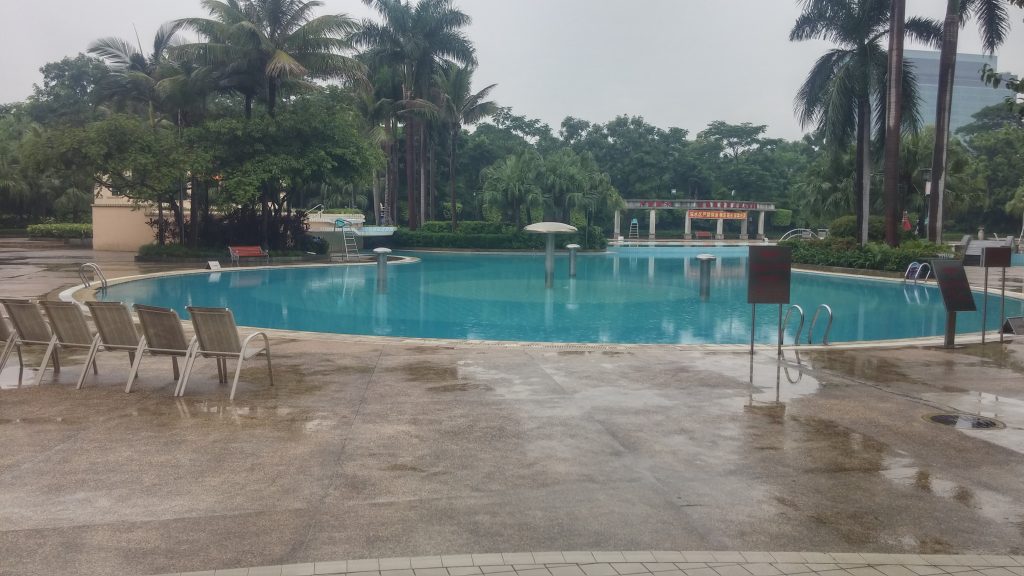 The new starters are housed in accommodation here and, although their wage is relatively low, they have hospitals, a gym, shops, basketball courts, badminton and a swimming pool.
It's secure and there's a real sense of community here. It's almost like a university campus and the staff seem pretty happy.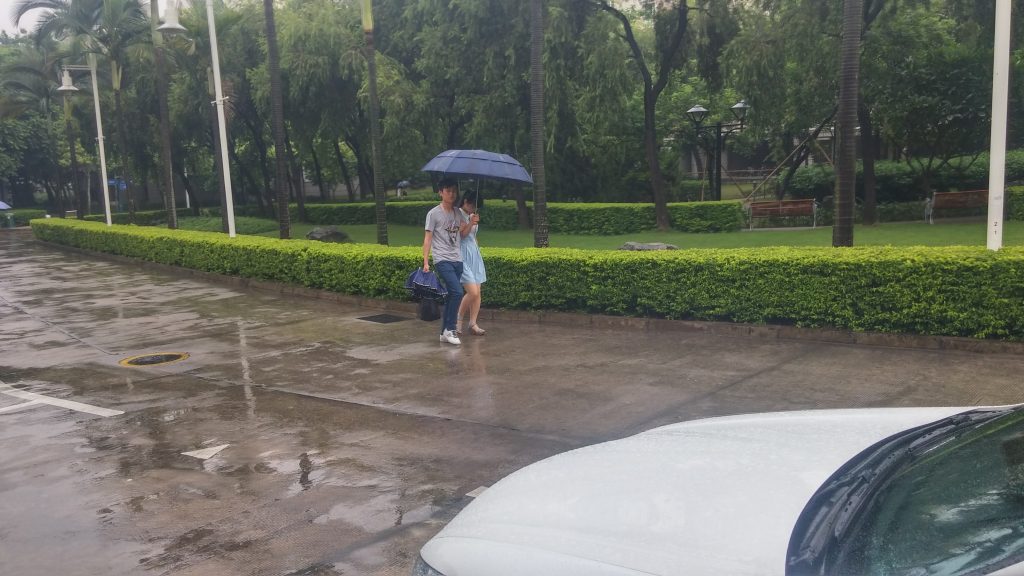 The training and administrative building is colossal. Imagine a university which is as big as a shopping mall. On either side of the huge central walkway there's rooms full of people learning and working. Huawei take people on straight from university, training them up and learning their strengths before giving them a selection of roles. The company goes into universities and promotes Huawei as a place to work. Speaking to the more senior people here, I can feel the passion they have for the company. There's opportunities here, and if people work hard it is rewarded.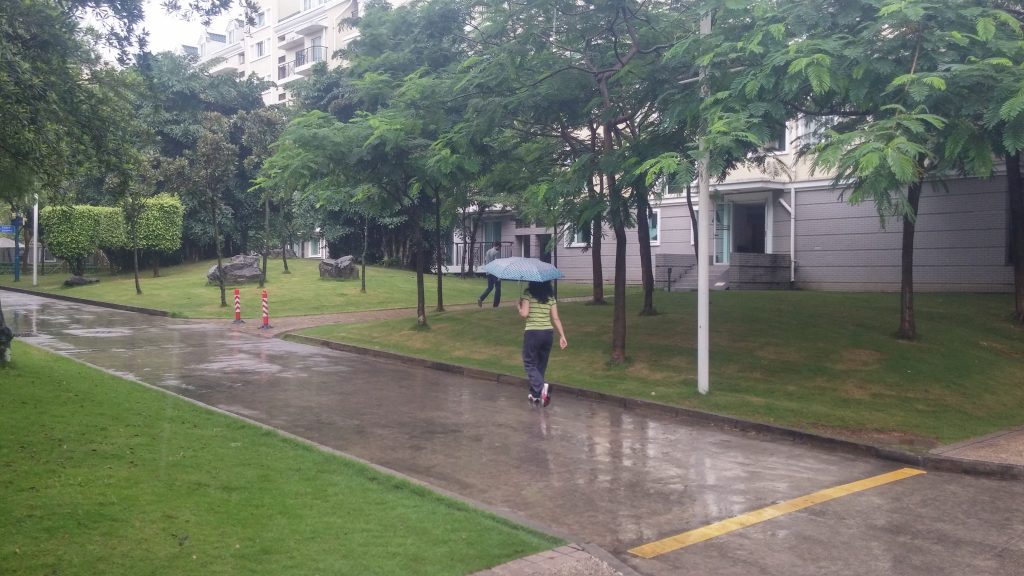 Next, lunch, and I'm informed that it's tradition for people to rush lunch and then sleep during their remaining break. It's perhaps not something I think will take off in the UK, although I did inadvertently fall asleep in the park at lunch once.
I have lunch on a train, which is on site.
A train.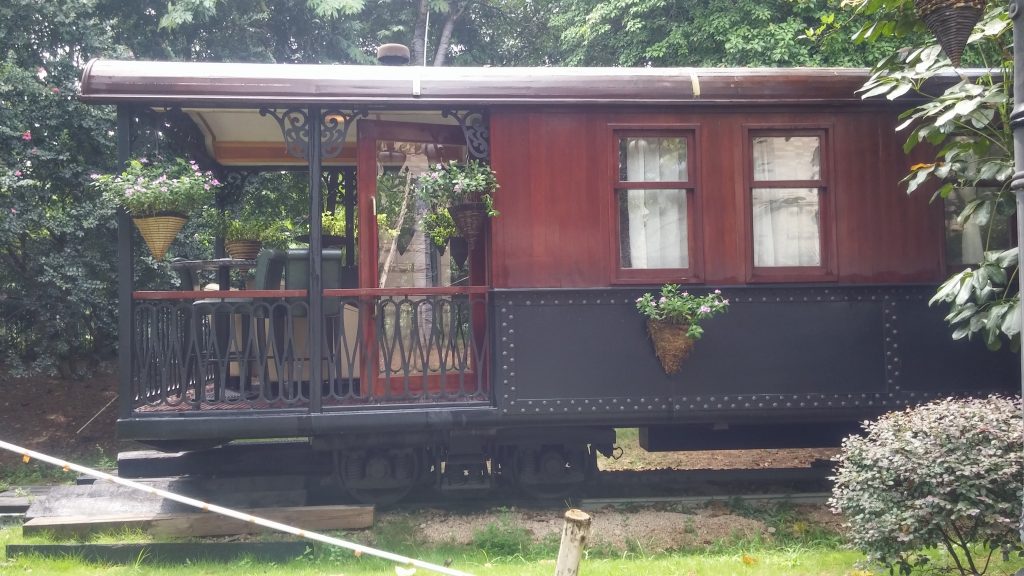 This one doesn't actually move, it's just a restaurant on site. However, while I'm eating, the conversation turns to one of the new sites that Huawei are building. Because of the location, the constant use of shuttle buses in traffic can delay meetings and staff getting to certain places, so they're looking at building a train track. Y'know, as you do. A train track and a train. I don't know of many IT companies that are thinking of building their own train track.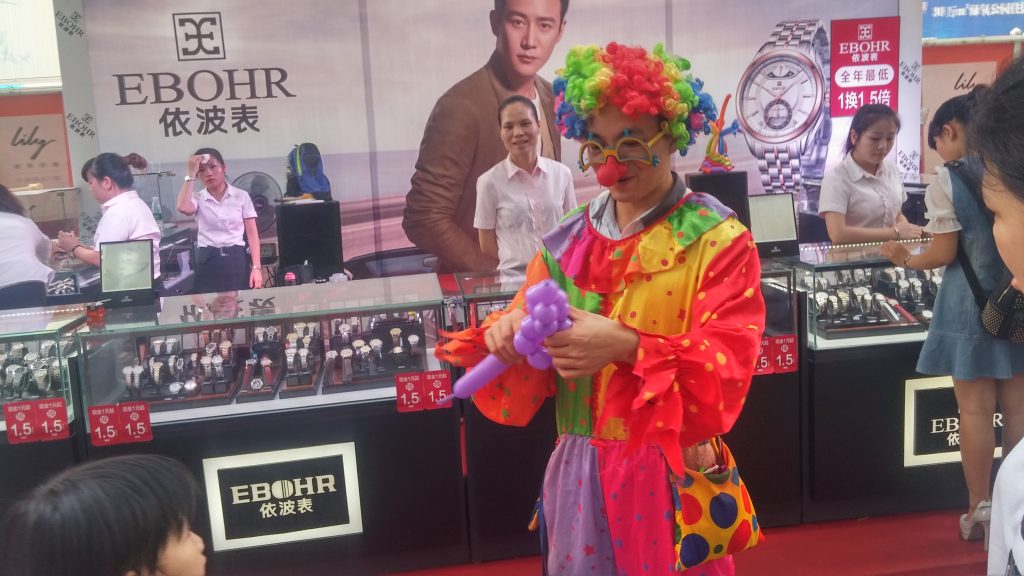 After lunch we head out to see an actual Huawei store. My guide tells me that there's many "unofficial" stores and this can be seen during our walk through the city, which is lined with shops carrying logos from Huawei, Sony, Samsung, Apple, Meizu and more. This area seems to have nothing but mobile phone shops, and despite the huge amount of them they're all packed.
Apologies in advance for the slight wobble-cam, but as you can see it's the place to be if you're after a mobile phone. Some shops were slightly more trustworthy than others, and it was easy to spot the dodgy Apple shops, even if staff were wearing similar T-shirts and lanyards. There were more mobile shops here than I've seen in several cities combined, and it seemed to continue endlessly.
After a short walk we got to see the official Huawei store, with the P8 and Mate 7 on display. Over here the P8max seems to be selling well, and my hosts tell me that larger screen phones fare particularly well in China. The P8max has an astonishingly large 6.8″ screen, which is pretty much the same size as tablet screens I've used previously. Here people are buying it along with a rose because today is Valentines Day in China.
Two girls stand either side of the entrance door with the P8max in hand. Despite most people ignoring them, they continue to hold them aloft and show them off to customers with a smile.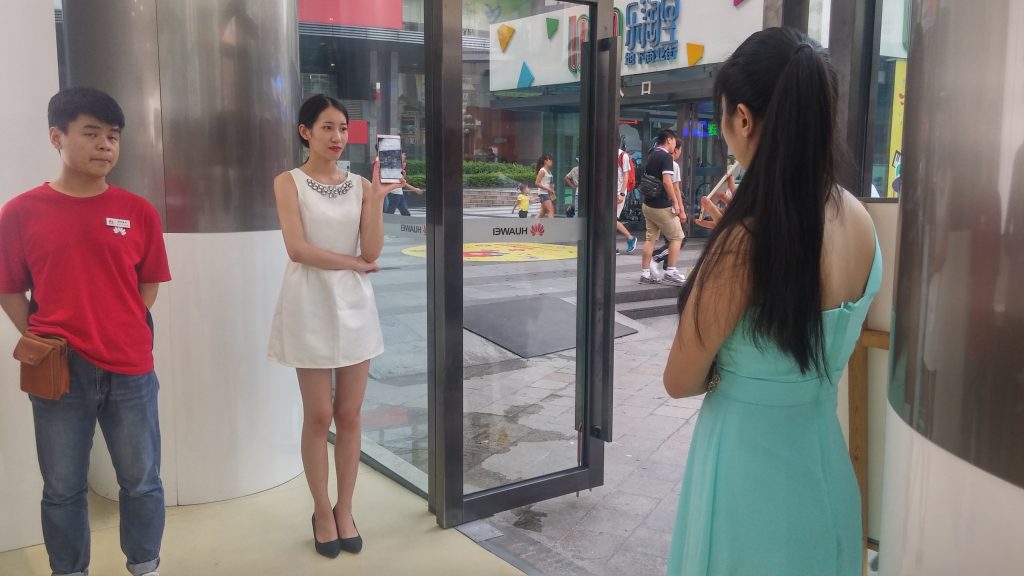 However, it's time to move on. My stomach is calling for food and, somehow, I find myself sitting in a German bar eating sauerkraut and sausages with German beer in the middle of Shenzhen. The night gets a little messy and, I must confess, I'm not 100% sure how I got back to the hotel, but I do have many pictures.
This Carlsberg was quite interesting – the barman fills it up and then takes it to your table. You then use it to fill up your glass as and when you want. Dangerous.. 🙂