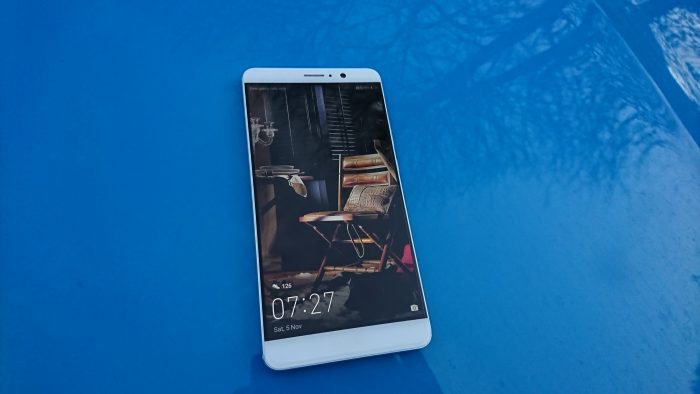 At the beginning of November, Huawei released something a little bit exciting – the Huawei Mate 9. I was lucky enough to be given one of these devices for review and as such have been using it for the past few weeks. It is now time for me to pull back the curtain, delve into the phone, and reveal why I think Huawei has got a cracker on their hands.
Those of you who have been reading my reviews for some time will be aware that I have always had a bit of a soft spot for Sony phones. Well, things are a-changing with the addition of the Mate 9 to the stable of devices that I use. At the moment I have both a Mate 9 and an Xperia XZ. Both of these devices offer, in my opinion, the very best of their respective brands strengths. There's also a huge focus on the camera on both phones. I recently reviewed the Xperia XZ and claimed it to be one of the best Sony-made phones so far. Part of the reason for that was the awesome camera.. and I really like taking photos. The features of the Sony camera and ability to have full manual control were things that I had missed since I had a Lumia 1020.
Well, the good news is that if you, like me, are a bit of a shutter-bug then you now have another option. The Mate 9. We will, however, come back to the camera as there is so much other good stuff to get through first.
Design and Hardware
Where to start on this gloriously designed phone? Well, the most obvious place would be up front, so let's take a look there.
I have filmed an unboxing video which can be seen below. This will give you a bit of an insight into the device and what it looks like.
The hardware feels great and very well built. It is a joy to hold this phone in your hands, as it should be really considering the asking price of 699 Euro's (UK price still TBC). The phone is a little large to be used one-handed unless you enable the one-handed operation mode. However, with this phone being a phablet it was never intended for that. Having used phones around the 5.2″ screen size, I do really like the larger screen. I have always been a fan of big phones though, so this may not suit everyone's taste.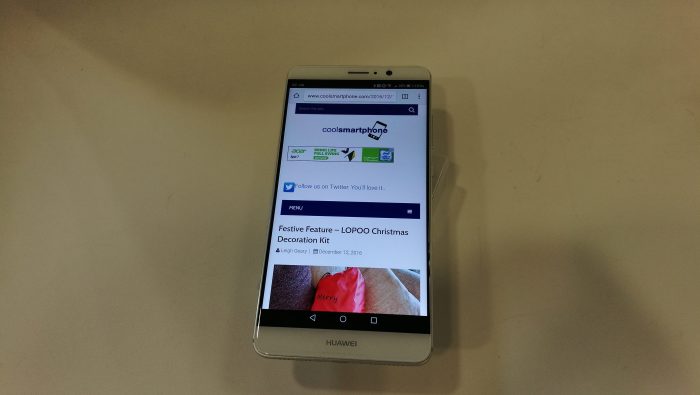 The screen measures in at 5.9″ with a 1080p resolution. This gives a very reasonable PPI of 373. This is all achieved in the same footprint as that taken up by the iPhone 7+ which has a smaller 5.5″ screen. Kudos to Huawei on that. The phone has slightly curved edges meaning that it nestles into your hand nicely and feels secure even when having to stretch across the screen.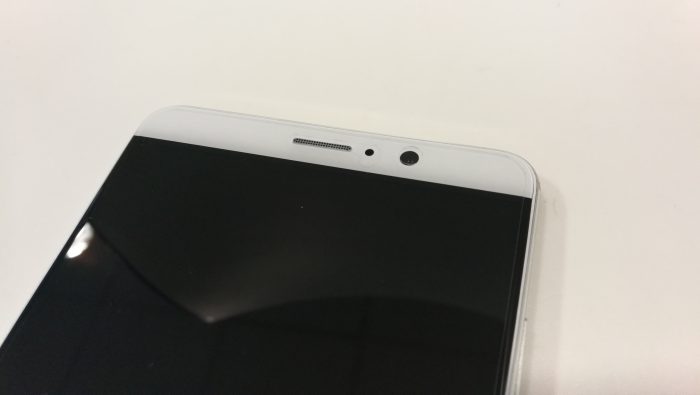 Above the screen is where you will find the earpiece, proximity and light sensors. next to this is the 8MP forward facing camera but sadly there is no LED flash module present.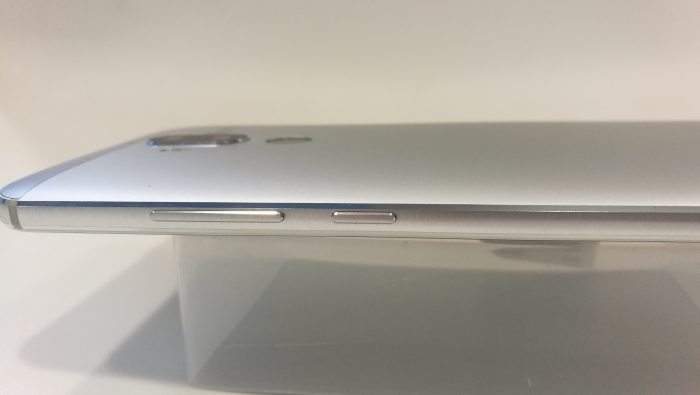 Going around the edges of the phone you find the power and volume keys on the right-hand side. It is  shame that the knurled effect used on the P9's power button has not been used here as it does make finding the button in the dark a lot easier.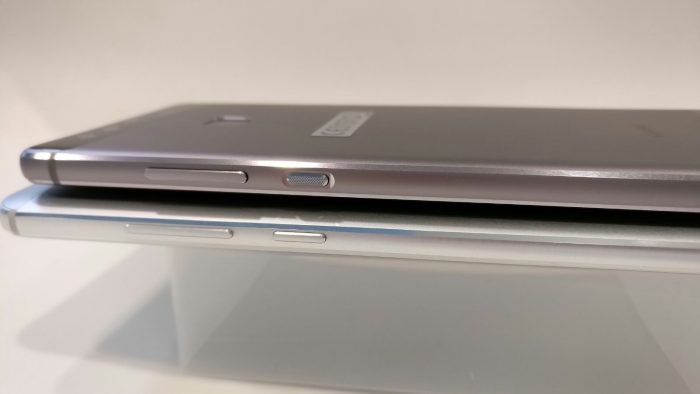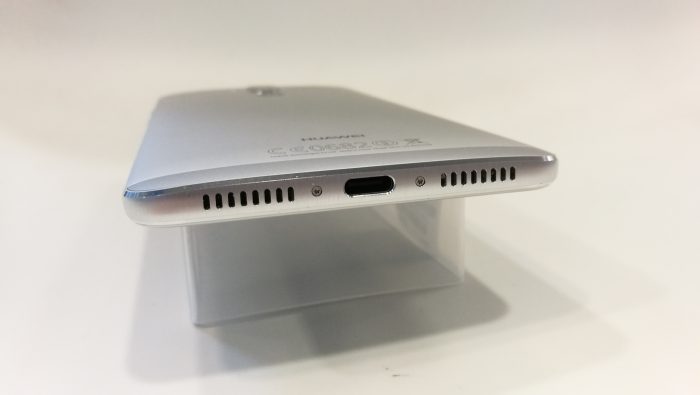 On the base of the phone is where we can find the USB Type-C port which will work with Huawei's proprietary SuperSpeed fast-charging technology. The downside of this great charging tech is that no other fast charge is supported. This is also down to the chip being used here as it doesn't hail from Qualcomm but instead, it comes from Hi-Silicon. I will go into this in more detail later on, though.
Flanking the USB is the single speaker which is very loud and also surprisingly good. I have compared this to the iPhone 7+ and it held its ground very nicely.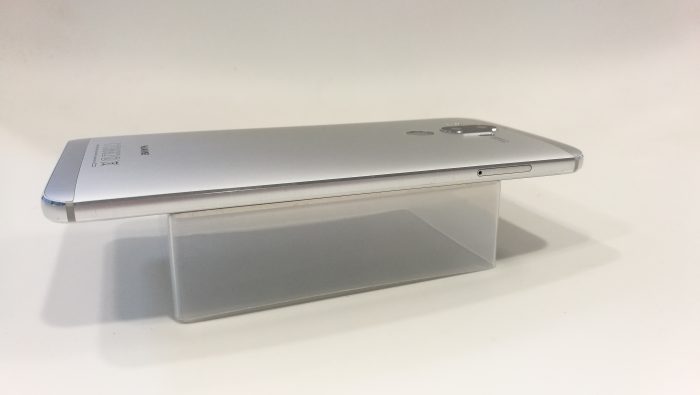 On the left, we find the SIM and microSD card slot. Like most phones these days this is a two in one affair. (Note my test device is actually the dual SIM variant, which allows for either 2 SIMs to be used forgoing the use of the Micro SD card) The tray feels solid enough and, like the rest of the device, is well made.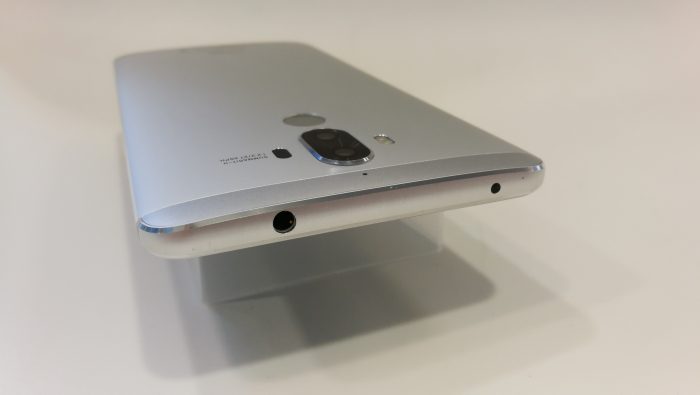 On the top of the phone, we have got a 3.5mm headset jack and an IR Blaster which can be set up to replace your remote for various bits of AV tech.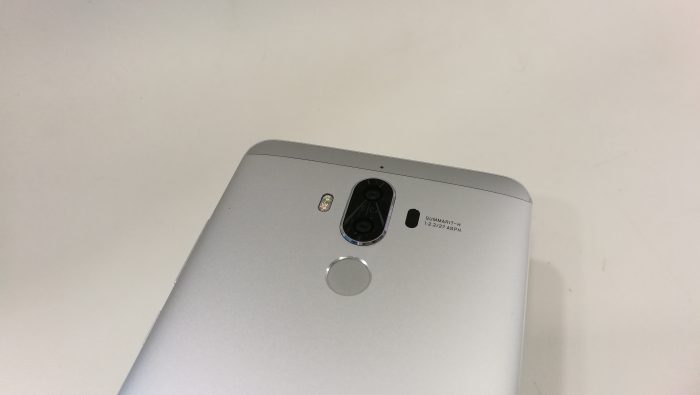 Around back there is a lot going on. We will cover the fingerprint reader first. The reader has adopted a circular shape this time around, moving away from the Mate S and P9's square implementation. It also adopts the improvement that was made for the Nexus 6P.
The accuracy is fantastic ,with the only other devices that come close also being made by Huawei. In fact, the only other one that I have found to be close is that of the OnePlus 3. The fingerprint reader also uses some smarts from the EMUI software to allow you to use gestures to perform actions. It is almost like you have a mini trackpad on the rear of the phone. By swiping down you get the notification tray and, in the camera when taking selfies, it can be used as the shutter button for example.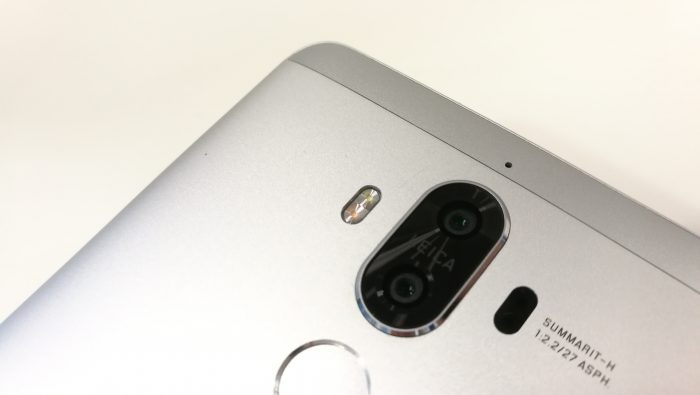 Last, the camera and its affiliated sensors and flashes. This is really one the features that make the phone special. As on the P9 that was released earlier this year, Lecia has had a hand in developing the Mate 9. this is proudly shown off between the not one but two camera lenses. The topmost lens is covering a 12MP RGB sensor, the bottom one is hiding a 20MP Monochrome sensor.
The lenses are both made up of 6 elements and feature OIS on board which is step up from the P9. The lenses have been devolved from within the Lecia Summarit portfolio and scaled down to allow them to be used in a smartphone. It is the same setup that we saw being used on the P9 to great effect. I will dig into the camera later on as it has a lot going on.
Sitting on either side of the lens array we have a dual LED flash and a Laser autofocus emitter and receiver. This contributes to the Advanced 4 Hybrid Autofocus that is part of the camera's arsenal.
That about finishes the hardware tour. Here are the specs for the phone..
Specs
| Operating System: | Android™ |
| --- | --- |
| Dimensions: | 156.9 x 78.9 x 7.9mm |
| Weight: | 190g |
| Resolution: | 1920 x 1080, 373ppi |
| Display: | 5.9" FHD display 2.5D glass 1080p |
| Processor: | Kirin 960; Octa-core (4 x 2.4 GHz A73 + 4 x 1.8 GHz A53) + i6 co-processor GPU Mali-G71 MP8 |
| Rear Camera: | 20-MP Monochrome + 12-MP RGB, F2.2 OIS (Optical Image Stabilization) 4K video |
| Front Camera: | 8-MP selfie camera AF, F1.9 |
| Memory: | 64GB ROM 4GB RAM microSD card slot, support up to 256GB (uses SIM 2 slot) |
| Battery: | 4000mAh lithium-ion battery |
| Fingerprint sensor: | Yes |
| Misc: | Dual SIM NFC; USB Type C (High Speed USB); Wi-Fi 2.4G/5G, 802.11a/b/g/n/ac with Wi-Fi Direct support BT4.2, support BLE |
| Colours: | Space Gray, Moonlight Silver, Champagne Gold, Mocha Brown, Ceramic White |
Performance
Testing performance on a phone is always a very tricky thing as it is always so subjective. What I can say from the get-go is that I do not have any hesitation in using this device as my primary phone. This fact rings so true that I have stopped using my normal go-to device (an Xperia XZ) for the duration of this test. I can see that this will be the case going forward as I am very impressed with the Mate 9.
What makes an even bigger difference though is that I am very confident that even after an extended period of usage the phone will not start to bog down. I have been using the phone for a little over a month and it still feels as fresh as it did when I unboxed it back in November. I have also had a one major software update and unlike some other phones, nothing broke. In fact, things got better!!
I have, of course, run the phone through the usual gamut of benchmarks to see how the new Kirin chipset performs against its competition. As always though bear in mind that these benchmarks are purely a guide of the phone number crunching abilities.
| | Sunspider 1.0.2 | Quadrant | Antutu | Ice Storm Unlimited |
| --- | --- | --- | --- | --- |
| Xperia XZ |  565.7 |  42198 |  141114 |  29721 |
| Huawei Mate 9 | 418.9 | 40987 | 122719 | 27867 |
| Le Max2 |  610.9 | 30961 | 142247 | 29729 |
If we look at the results then it shows that the phone does seem to lag a little behind both the Xperia XZ and the Le Max2. While I am not surprised by this entirely I was a little bit miffed as the phone did feel just as quick as my XZ and also the Le Max2. It was then that I remembered I had run the test on what was effectively final beta software. So I ran the test again to see if the current software build would yield better results.
The results were very much the same if I am to be entirely truthful. Oddly I found that the Ice Storm test scored lower this time around.
| | Sunspider 1.0.2 | Quadrant | Antutu | Ice Storm Unlimited |
| --- | --- | --- | --- | --- |
| Huawei Mate 9 | 420.6 | 41120 | 138123 | 27036 |
So with the new software in place, the gap between the Mate 9 and the other phones tested is not as much as it was before the update. This is pointing in a very good direction for future updates as the phone does seem to be improving overall. I have also run my standard test of gaming performance by loading up Asphalt 8. Have a look at the video to gauge it for yourself.
The game does limit you to only using medium video settings which must be a limitation of the Kirin 960 and the associated Graphics Chip (GPU Mali-G71 MP8).
The real thing to focus on here is that this is a very powerful phone and, if you are needing a decent amount of grunt under the hood, you will not be disappointed. I have been very impressed with the performance of the phone over the past few months and hopefully, due to the machine learning algorithms that Huawei have embedded into the new EMUI 5.0, this should continue long into the future.
Camera
The camera on the Mate 9 is one of its key selling points and this is something that was stressed at the press conference. Like its forebear the P9, the camera features 2 modules which allow for much better low light performance. As I mentioned above the sensors are a 12MP RGB unit and a 20MP monochrome sensor. Both of these sensors utilise some Leica developed magic.
OK, "magic" may be a stretch, but Leica has been very much involved in the development of the cameras for the Mate 9. The sensors are capable of capturing images at either a 12MP output or a 9MP output depending on your preference of 4:3 aspect ratio (square) or 16:9 (widescreen). I personally prefer the later and at 9MP then I am very happy. That statement may seem odd to you given my history of using high MP cameras in the past. What really makes the difference here for me is the ability to play around with your photos so much more, either whilst taking them or afterwards. Another feature that I am a massive fan of is the ability to adjust the depth of field in your photos with relative ease. This makes for some really good looking shots and betrays my skills as a photographer!
There are many other useful options on the camera such as an advanced Night mode and Car Light trails. There is also the ability to use a fully-featured "Pro" mode in which you can adjust all the settings that you would want. This allows you to take your pictures to the next level and really makes this a viable alternative to using a compact digital camera. The only real downside is that you are limited with regard to zoom capabilities as there is no optical zoom here.
I have tried to experiment with these tools a little but for the most part, I been staying with the preset modes or using full manual settings. The one feature I have used quite extensively is the depth of field mode. This has allowed me to get some really interesting pictures both outdoors and indoors. Another area I have been very pleased with is the low light performance. If you really want to use this mode to the best of its abilities I would recommend investing in a tripod and phone mount though. I found that keeping the lens open for a long time does mean that and sort of motion is captured, resulting in a blurry mess.
Here is a selection of pictures that I have taken on the phone during my testing period.
The front facing camera is also quite pleasing to use and delivers very good images including the now mandatory beauty mode which will try and minimise any blemishes present on your subject. Again here are a few samples below.
The cameras themselves use a very clever Hybrid autofocus to give you the best possible results. This system is comprised of 4 different styles of auto-focus. It uses a Laser Focus, which is known for its great subject-tracking accuracy up to about 10 meters. Added to that is the phase-detection focus which gives almost instantaneous subject-tracking. Depth focus uses the monochrome sensor to capture depth and contrast focus uses contrast difference. This is known for its fast focusing under good lighting conditions.
The implementation of this system does allow for some very good results. This, combined with the 2 lens setup does deliver some very good pictures in varying lighting conditions.
Huawei has also brought a new Hybrid Zoom feature to the device which will allow you to zoom into 2x distance without any quality loss. It does actually go up all the way to 6x but, by doing so, you will lose some detail – as the case with all digital zoom solutions. This feature can also be used during video recording as well.
On the topic of video, this is the first phone with a Kirin processor to feature a 4K video recording function, which is very nice to see. To save you space when using this option, Huawei have implemented a new compression feature. You can also shoot in Full HD with optical image stabilisation enabled to cut down on judder and hand shakes. This will allow you the option of extracting stills from the 4K video at an 8MP resolution for those all-important action shots. This can easily be achieved using AndroVid from the Play store. (If you wish to know more about doing this I recommend you read this article by our friend Steve Litchfield from the Phone Show Chat)
That about sums up the camera, at least my limited experience of it anyway.
Software
The last section of the review is where we will delve into the software of the Mate 9. This is always the hardest to write as it based mostly on my own perception of the device. With that in mind I have decided that the best approach to this would be to do an overview on video, so here goes…
I just want to cover something that I mentioned in the video. Huawei are very keen to press this home. EMUI 5 will maintain its fresh-looking feel for the duration of your phones ownership. This is a very bold claim and one that does need to be backed up. However, time will be the teller of all for this party piece. Huawei did show some videos of this in play when it announced the phone and it does sound promising. In the most brief of terms what happens is this.
Using on-device machine learning, EMUI 5 monitors resource usage in a bid to ensure the out-of-the-box fast experience continues regardless of how much you've used your phone.

The algorithm learns from the way you use your phone (in this case, the Mate 9) in a bid to ensure there's always enough of the right hardware resources for each app you want to use. It achieves this using a combination of smart CPU management based on most recently used apps, storage defragmentation – Huawei has replaced the native Android file system with F2FS which has a much smaller fail rate – memory compression and GPU acceleration thanks to native Vulkan support.
In addition, it also does this…
The Machine Learning Algorithm adapts and understands behavior patterns with 1,000 application acceleration functions, offering a 20 percent increase in operation smoothness, a 50 percent increase in system response and a 20 percent increase in graphic read/write speed.
Basically this is a very techy way of saying that the OS is actually working alongside your usage patterns to give you an optimum experience. The more you use it, the better it will get at recognising your needs from the device.
I know for me the biggest bugbear I have about phones is that, when they are brand new, they fly in terms of performance. However, after time this does start to degrade. Huawei claims that this phone will be as good as it was on day one, even after 18 months usage. Up until now the only phone that has really got this one mastered has been the iPhone, so I hope that this delivers.
Here are some screenshots of the UI…
Summary and Round-up
I have been very fortunate to have been able to use this phone for so long and, in doing so, I have really learned to love it. Even on its very first software iterations (where there were a few foibles) I was not dissuaded, as I could see some shining benefits.
I am massively impressed with what has been done here. So much so that I have actually adopted this device as my phone of choice. My daily driver. I have also been very indulgent as a side effect of using the Mate 9 and gone and got myself a P9 as my weapon of choice for work. This is a massive departure from my usual Sony-based devices (as frequent readers will be aware). For me the phone just fits in all the ways a good smartphone should. It has a cracking screen (in a good way), it is a great size without being too bulky and it performs perfectly for my busy life.
I have been really impressed with the camera and it is making me want to learn more about what you can do with a smartphone camera. Lastly the build and materials used on the phone feel fantastic and it is a joy to hold.
I can see that I will be using the Mate 9 for a long time now and it will be interesting to see how the software develops over that time. For now, though I am one very happy Huawei customer.
I highly recommend that you check this phone out when it arrives in our stores in the new year.
Huawei Mate 9 - Review
Hardware - 90%
Design - 95%
Performance - 80%
Camera - 92%
This is a fantastically well-built phablet with a cracking Camera and some innovative features. Weel worth a look when it goes on sale soon.