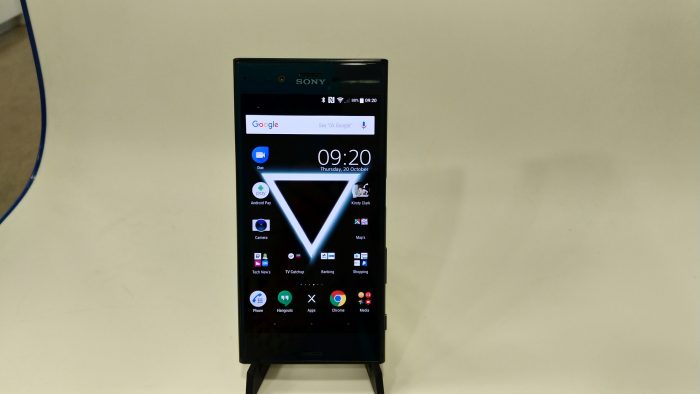 Sony has had an interesting year so far. It's seen the launch of several handsets, including two flagships – the Xperia X and Xperia XZ. The latter of these phones is the subject of this review. If you wish to find out a bit more about the former then I recommend reading my earlier review.
A lot of people were bitter that the Xperia X was not a "real flagship", as it didn't come with an all-singing, all-dancing spec sheet. It some wanting more, although I personally found it fine in day to day use, although I did find it a bit small for my taste. So, when the Xperia XZ was announced at IFA earlier this year I was very interested indeed. Even more so when I began to learn about the new camera features that have been included this time around.
The phone currently available from all good retailers now for £540. That's a pretty big wedge of cash, so the question we need to answer here ….. is it worth it?
Design and Hardware
We have the all too familiar Sony ethos here. It's fairly utilitarian, however, there are some tweaks that have been made this time around. The biggest improvement, in my opinion, is to the actual materials that have been chosen for the design. The metal being used is called "Alkaleido Metal". As far as I am aware this is an alloy of aluminium that was specifically created by Sony to use on their phones. At least, that is what I have been told by Sony!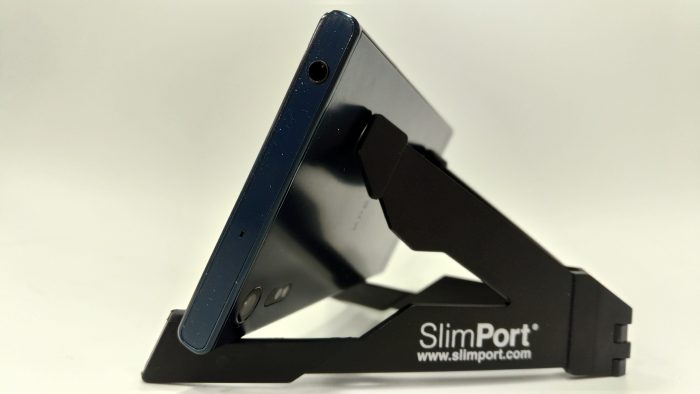 What I can say with some degree of certainty is that the metal is gorgeous to look at under the sunlight, as you get all sorts of sparkle and shimmers from it. I am very pleased to see that they have moved on from the glass of older generations, as this was always a worry to me. Along with this new fancy metal, we now see what Sony are referring to as "Endless Loop Design". In essence, this means that there are no longer any harsh edges on the phone and the edges gently curve around, making the phone feel fantastic to hold. This being said it seems like the bottom and top of the phone was forgotten about as they are still totally flat and do have a distinct edge on them. However, these are just some design directions.
Here is a unboxing video that I shot on the first day of having the device (sorry it is so dark).
Specs
Here are the specs of the device.
| | Xperia XZ |
| --- | --- |
| Display | 5.2-inch Full HD display with curved glass, TRILUMINOS Display for mobile, X-Reality for mobile picture engine, Dynamic Contrast Enhancement |
| Main camera | 23MP, 1/2.3'' Exmor RS for mobile sensor, Laser Assist AF, Predictive Hybrid AF, Quick launch, 5x Clear Image Zoom, 24mm Wide Angle G Lens F2.0, Low-light photography: up to ISO 12800,4K & Full HD 1080p Video, SteadyShot with Intelligent Active Mode, Superior Auto Mode, Pulse LED Flash |
| Front camera | 13MP, 1/3'' Exmor RS for mobile sensor, Quick launch, 22mm Wide Angle Lens F2.0, Low-light scene recognition: up to ISO 6400, Full HD 1080p Video Recording, SteadyShot with Intelligent Active Mode, Superior Auto Mode |
| Battery | 2900 mAh, Up to 2 days battery life, Sony STAMINA Mode, Quick Charge3, Qnovo Adaptive Charging |
| Audio | Hi-Res Audio (LPCM, FLAC, ALAC, DSD), Digital Noise Cancelling, DSEE HX upscaling to hi-res |
| Connectivity | aGPS, GLONASS, Bluetooth 4.2, NFC, USB Micro B, Wi-Fi 11 a/b/g/n/ac, Wi-Fi Miracast |
| Entertainment | Xperia Lounge Gold, Sony Media Apps, PlayMemories Online, Playstation app, PS4 Remote Play |
| Memory | 3GB RAM, 32GB eMMC, microSD slot up to 200GB |
| Performance | 64-bit octa-core Qualcomm® Snapdragon 820 processor; Adreno 530 GPU |
| SIM | Nano-SIM |
| Other | Fingerprint sensor on power button, USB Type C, IP65/68 certified. |
| Size and weight | 146 x 72 x 8.1 mm/ 161g |
| Cellular | Up 4G/LTE Cat 6 |
| Software | Android 6.0 (Marshmallow) |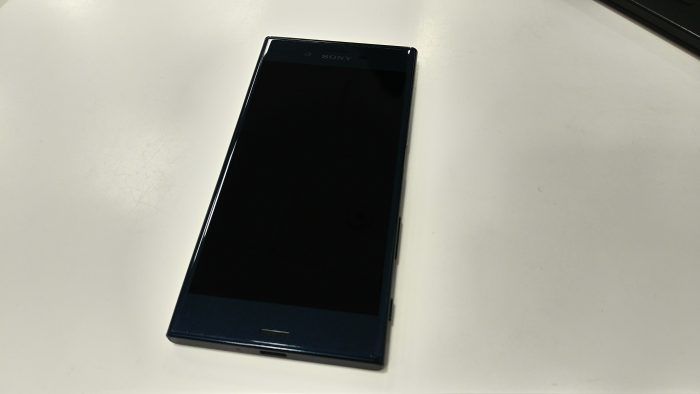 Starting up front is the 1080p screen that measures in at 5.2″ diagonally. It is more than sufficient in terms of PPI, with the count being 424, the same as seen on the Xperia Z Range. The big difference is that the screen brightness has been increased and it is also a lot more vibrant. Whilst it doesn't measure up to that of the Super AMOLED offerings from Samsung, it is definitely serviceable.
Above the screen, we find the usual array of sensors and one of the forward facing stereo speakers.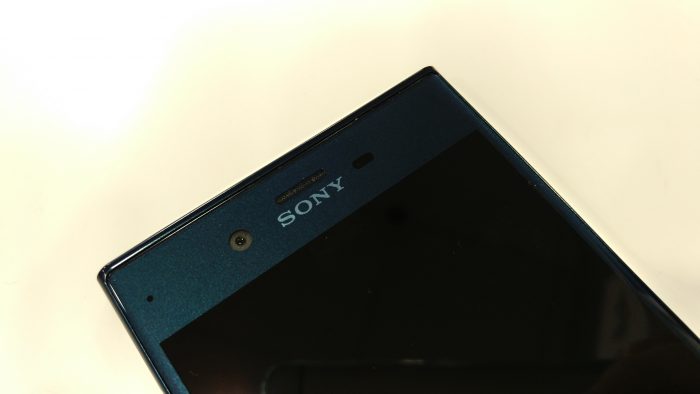 Nestled next to that we find the first big difference in the form of a 13 megapixel camera with an Exmor RS sensor and F2.0 aperture. It is also a wide angle lens that is capable of 1080p video, up to ISO 6400, so I think it is safe to say very highly spec'd.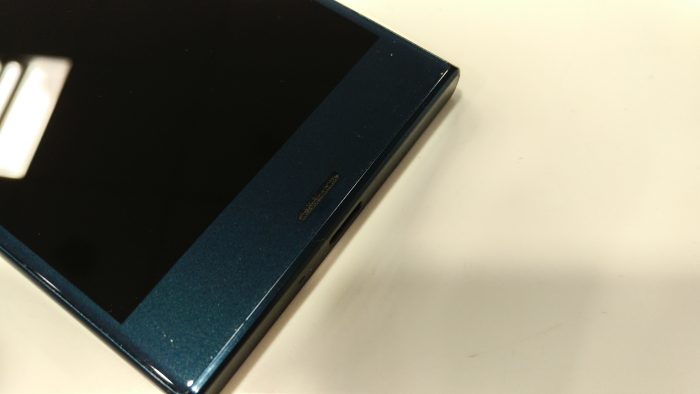 Next up is the second speaker which is mounted under the screen. The speakers are of a surprisingly good quality and deliver a clear reasonably balanced sound. They are not going to replace your hi-fi setup, but for podcasts and speakerphone calls they do the job well.
Another odd thing is that the NFC antenna is mounted up here as well, which is a bit awkward but the reasoning will become clear later.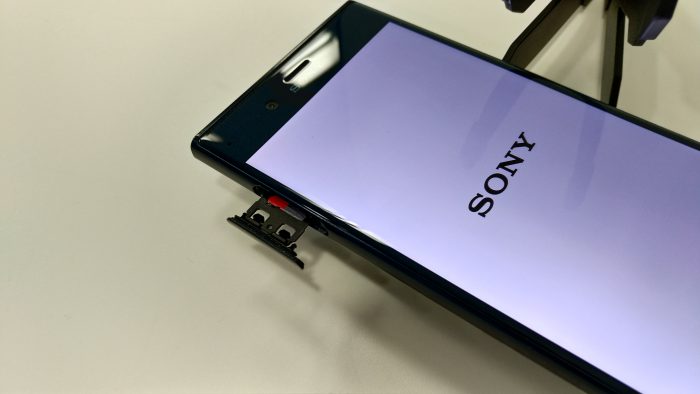 Moving to the sides, we have the sole flap on the left-hand side which houses the nanoSIM card slot with a microSD card tray. This is capable of housing up to 2TB (not widely available yet). Apart from that, the rest of the side is bare.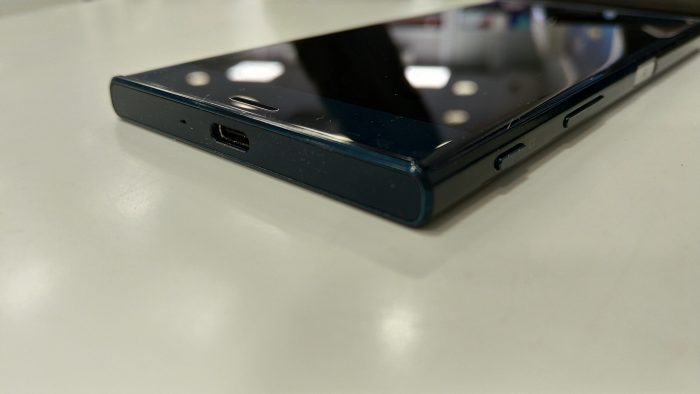 On the bottom of the phone, we find a pinhole for one of the two microphones – the other one is found at the top. We also have the USB port which is finally the USB Type C. This is something that we deserve to see on a Xperia device. It is a USB Type C 3.0 and does not have display port capabilities.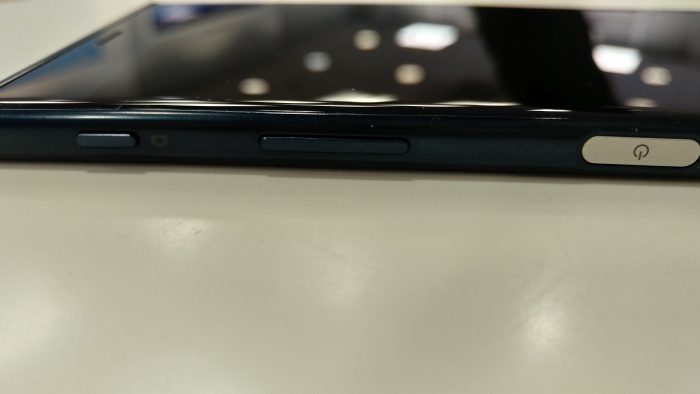 Up the right-hand side, we have a lot more going on with the camera shutter key, the volume rocker, and the power/fingerprint reader. This has been improved in my opinion from the Z5 (very like the one found on the Xperia X) as it seems to be much more responsive and faster.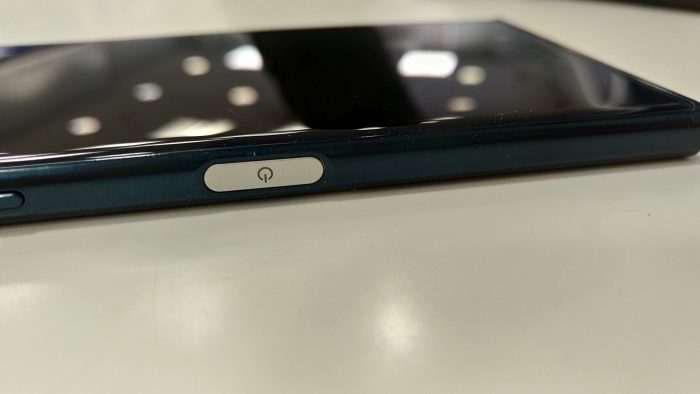 Now, whether this is down to software or physical hardware improvements I cannot tell for certain, I just know it works quicker. I do like the location of this button as it falls under the thumb quite nicely. It's also a happy medium between the more common rear-mounted sensor and the Apple-favoured front mount. I can activate the sensor with the phone in pretty much any orientation, which is really handy. I would recommend setting up a few fingers so that it can be triggered regardless of how you pick it up, though. The button itself does have a nice positive click when pressed should you decide not to use the fingerprint function.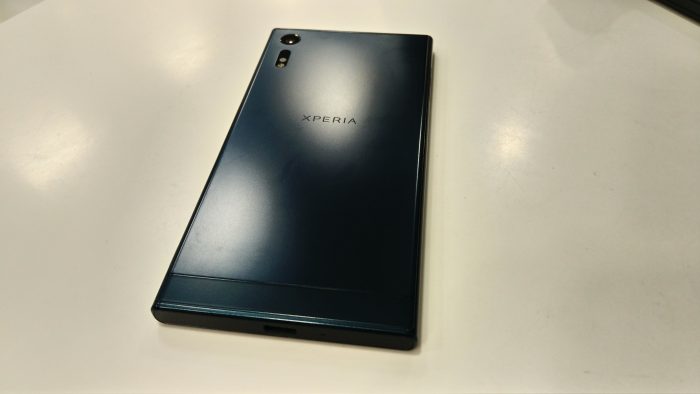 Around the back is an improved back plate, in part due to the fact that it is metal as opposed to glass. This was prone to breaking on the previous Z range.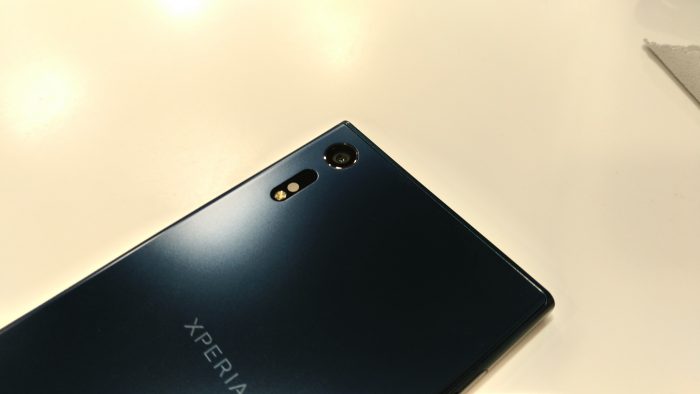 We also find the camera module here. Fortunately, Sony have managed to erase the faux pas of the Xperia X – that camera bump. This is something that I am pleased to see as Sony are famed with having smooth and clean lines in their devices. We also see that there is an additional laser for autofocus, which is nice!
Moving on, this camera is an improvement to what we had in the Xperia X. First up we have an RGBC-IR sensor which scans the scene and provides lifelike colour in shots…. or that's how it's supposed to go. It also has a Wide Angle "G lens" and 1080p video support. One of the big things that it lacks is OIS, which Sony tries to make amends with by using their SteadyShot software, which is a poor substitute really.
That about wraps it up for the tour around the device. One of the final nice touches that are new with this design is that the edges of the phone are slightly rounded, meaning that there are no sharp lines, unlike the Z5 which did have a distinct "edge" to it. That proved to be uncomfortable after a while. The phone generally feels very well built and nestles nicely into the palm of your hand. It even allows for single-handed usage if that tickles your fancy.
Software and performance
If I am going to be completely honest there is very, little difference here to what we have already seen on the Xperia X. Really the only differences are to be found in the camera UI and then some tweaks to the battery settings menu.
One thing that really stands out is how close this phone is to a Nexus in terms of software – although you do get a different style of app drawer on the Xperia device, with some included bloat. These cannot be deleted any more, but you can disable most of the pre-loaded third-party apps. There are a few of these and most are Sony's proprietary solutions, such as Music instead of Play music, Videos and Album instead of the Google counterparts. You also get a trial of McAfee and Sony's own Satnav solution, Wisepilot. These were one of the first things I uninstalled as I have no intention of ever using them. That being said it is nice to see them included if you want to use them. Removal is achieved by clicking on the three menus dots in the top right-hand corner of the Xperia X as on previous devices. It is a shame that these bloat apps cannot be uninstalled fully as you could previously. At least having them disabled is better than nothing. I would like to see Sony allowing the user more freedom in this respect going forward, though.
As I mentioned there are some tweaks to the battery settings menu that have come from the evolution of the Qnovo charging technology. This is something that Sony is now deploying into their smartphones. Essentially the phone will now try and learn your battery charging preferences to allow it to optimise how the battery is charged. This is to eek as much life from the cell as possible. So, if you are charging the phone overnight, the phone will charge to 90% within the first few hours then it will stop taking a charge until an hour before you wake up. At this point, the charger kicks in again and then fills that last 10%. In theory this is a great idea, however, it seems to take quite a bit of time to learn your charging patterns. After a few days of waking to find that my phone had not charged fully, I did actually disable this feature. Now this could be that I wasn't patient enough to let the phone learn my pattern or I may not have a consistent enough pattern! Either way, it is a nice option to have and I am sure that for someone who follows a more normal charging (or sleeping) pattern it will not be an issue.
The other big change lies within the camera UI which I will come onto in the camera section shortly. Before we dive into that though let's talk about updates. Since I received the phone a little under 2 weeks ago I have had one software update that was so infinitesimally small I could not tell you the difference. However, it has been confirmed that the XZ along with the rest of the Xperia X family will receive the Android 7 "Nougat" update. You will, however, be waiting until next year to get that. This is about par for the course with the Xperia handsets and doesn't bother me too much. I only mention it to be thorough.
The performance of the phone is one area where you would expect to see big improvements over the Xperia X. Whilst I would say you won't be disappointed (as you can notice some improvement), it is not earth shattering. This may be a shock to those who just read reviews on the Xperia X and never used one but that old girl really was very quick in normal use. The only time I really noticed any real performance stutters was in gaming and video rendering. Other than that, the Xperia X performed admirably. I have done my usual Benchmarking to see what difference having a Snapdragon 820 on board makes, and the results are below. I am using the Xperia X as my comparison and also the Le Max 2 as this is also an SD 820 chip albeit with 2x the RAM.
| | Sunspider 1.0.2 | Quadrant | Antutu | Ice Storm Unlimited |
| --- | --- | --- | --- | --- |
| Xperia XZ | 565.7 | 42198 | 141114 | 29721 |
| Xperia X | 779.7 | 32269 | 77450 | 18297 |
| Le Max2 | 610.9 | 30961 | 142247 | 29729 |
I have also run my traditional Asphalt 8 test with the Xz going up against the Le Max 2. As they are both running the same chipset it only seemed fair.
As we can see from the scores above, the Xperia XZ is outperforming the Xperia X and is keeping up nicely with the Le Max 2. The biggest changes are noticeable in the areas where RAM is a factor. In these scenarios then Le Max 2 does have a significant advantage. Again though, I must stress that these benchmarks are highly subjective and it is only through daily use that you can truly appreciate that the Xperia XZ is a device that packs plenty of grunt on board. You shouldn't struggle in any normal day to day task on the phone as it is buttery smooth. Very much like the smooth finely hewn body!
Camera
This is really the biggy and, to a certain extent, why the phone really exists.
The camera on the Xperia X is actually the same sensor that was used on the Z5 and the X and as such, it has the same qualities. The first big improvement though is the inclusion of the full gambit of manual controls. I have not seen this much control since the Lumia 1020. This may not mean much to the normal user, but when you are really wanting to get into the features of the camera and create some interesting shots, it makes a big difference.
See the below video for a brief demo of the new UI.
Here are some snaps that have been taken using the new manual settings…
The next is the is the evolution of Sony's Predictive Hybrid Auto Focus from the Xperia X line. It seems like some small tweaks have been made that have improved the accuracy of the object tracking to create a better shot. Sony's PHAF is a massive feature on this phone and I really appreciate it being there. For those new to this tech here is how it works. When you try and focus on a moving subject, the Xperia XZ will then guess where that subject will be when the picture is taken. It is a setting that can be either on or off, and I do find it helps me when taking pictures of my son, so I am happy. Add in the fact that we now have laser -assisted auto focus and things get even more accurate.
Something that was missing from the Xperia X, and makes a welcome reappearance, is the inclusion of 4K Video. I can understand the reasoning for this as I attested to in my review.
That happiness is, however, short-lived as if I then want to record his antics in glorious 4K, of course, I can do it, can't I? Well no, as for some inexplicable reason Sony have removed 4K video from being available, even though it is supported by the Chipset! I can only put this down to thermal management and prolonging battery, but come on Sony, we know that 4K video will heat the phone up and drain the battery faster than an F1 car, but at least give us the option.
I am just happy that it is there as it allows you to capture the antics of your subject in glorious 4K. If you want, you can also extract an 8 megapixel still from the 4K footage, creating a great action shot.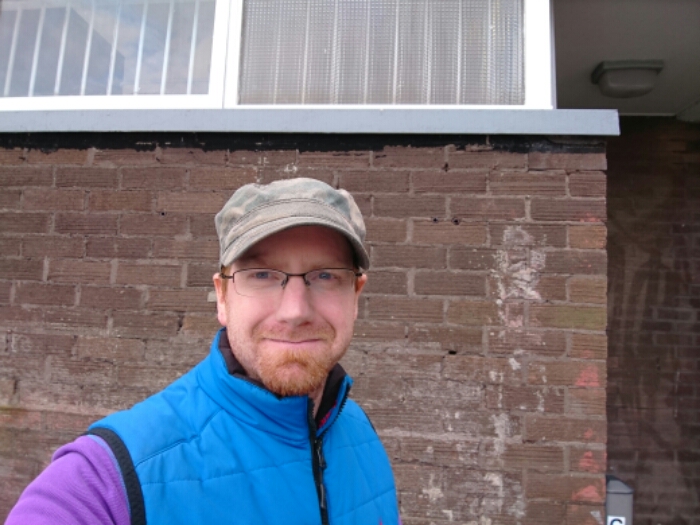 There has been no change on the front facing camera this time around. We still have the 13 megapixel sensor which is capable of some fantastic shots if you are into selfies. It also works very nicely on wider angle shots too, due to the wide angle that can be taken advantage of. You will also find that Sony has implemented some skin effects to hide your blemishes and make you look younger, which is nice!
The camera on the phone has really been made to work this time around and as a result, it is capable of challenging the big guns. You may be thinking that this is old news though, as Sony have been touting the Xperia line as having the best camera for a while. To a degree, you are correct, as this has been the case for all the previous Sony flagships … when used in the correct light levels. The real issue came when things got a bit darker. In these scenarios, the camera always started to show it's weaknesses.
Well, I can now happily say that this is the best Sony camera I have used since I started using Xperia handsets back when the Arc was the flagship. Dare I say it but it is up there with the Lumia 1020!
Summary
I asked at the beginning of this review if the Xperia XZ was worth the asking price, and I can say quite emphatically that yes, it is. All aspects of the phone have impressed me. I love the new camera app as it is making me learn how to get the best out of my somewhat limited photography skills. It has plenty of grunt for playing games when I have some downtime. It handles all my calls and communications perfectly. In the time using the device I have had zero dropped calls or issues with call clarity. The battery is getting me through the day without much concern and on some days when I have not been busy this can be stretched out to 2 days. I no longer need to shield my phone from the errant raindrops when using it outside.
Really, it begs the question of what more could I really want from my phone? I'll be honest, this is a question I cannot answer for now. I am extremely pleased with the phone and would be more than happy to recommend it to anyone who wants to combine their camera, multimedia and communications needs into one svelte and, dare I say, sexy device. Well played Sony.
Xperia XZ - Review
Design - 93%
Hardware - 94%
Performance - 92%
Software - 80%
Camera - 93%
Sony needed this phone to make waves and it certainly does and can survive in them too!