Huawei released their new flagship phablet last month – The Huawei Mate S. I was lucky enough to attend the launch event and got a hold of one of the devices. I have been using it over the last few weeks to see how good it was, and is now time for me to share my thoughts with you. The Nexus 6P , also made by Huawei, has a few similarities in the build and tech that they've implemented on board the Mate S.
Design
My unboxing video, which you may have seen already, is below..
The phone is a really well-built device and, even after 3 weeks steady usage, it has not become marked or discoloured at all (you would expect this at the price). Let's take a tour of the device.
On the back of the phone is the all-important fingerprint reader with Fingerprint 2.0. This is colour-matched to the rest of the phone. The detail and polish used here is very high and the phone reaps the rewards – it is a thing of beauty. Above the fingerprint reader, we have the camera module with the two-tone flash sitting off to the side. This is a 13 megapixel sensor with OIS and f2.0.

At the base of the phone is a micro USB port, which is flanked by two speaker grills. Under here we have a single speaker and also a mic. On the left-hand side, there are no buttons or controls of any kind. This is where the SIM slot lives.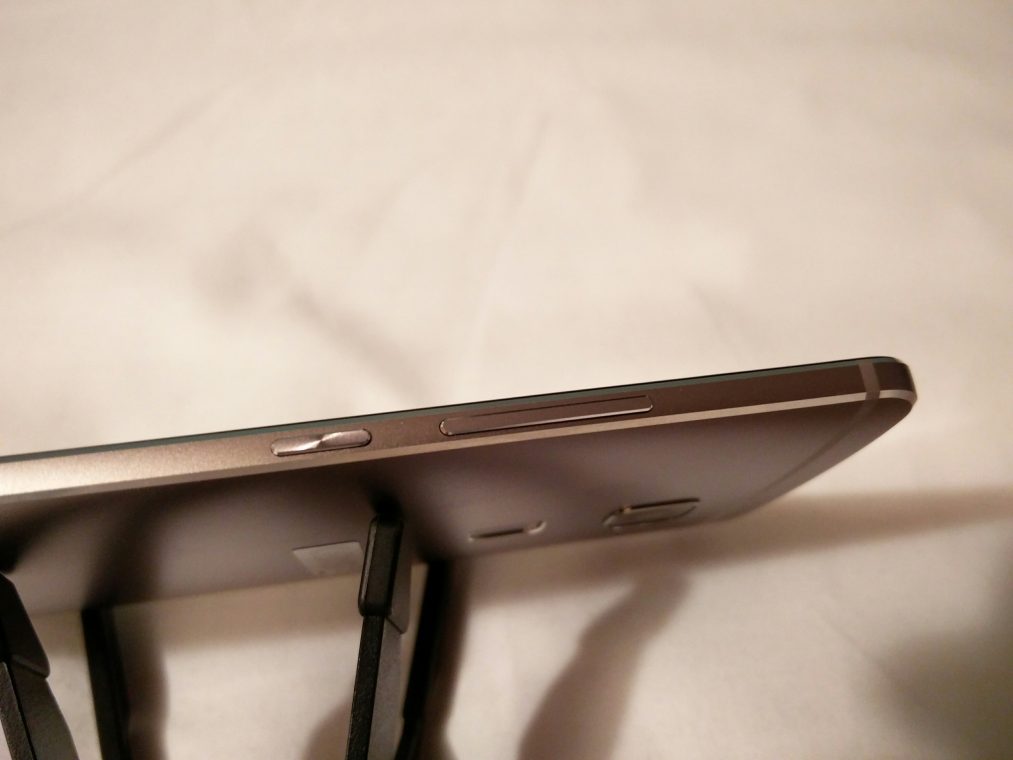 On the right is where we find the volume rocker and the power key.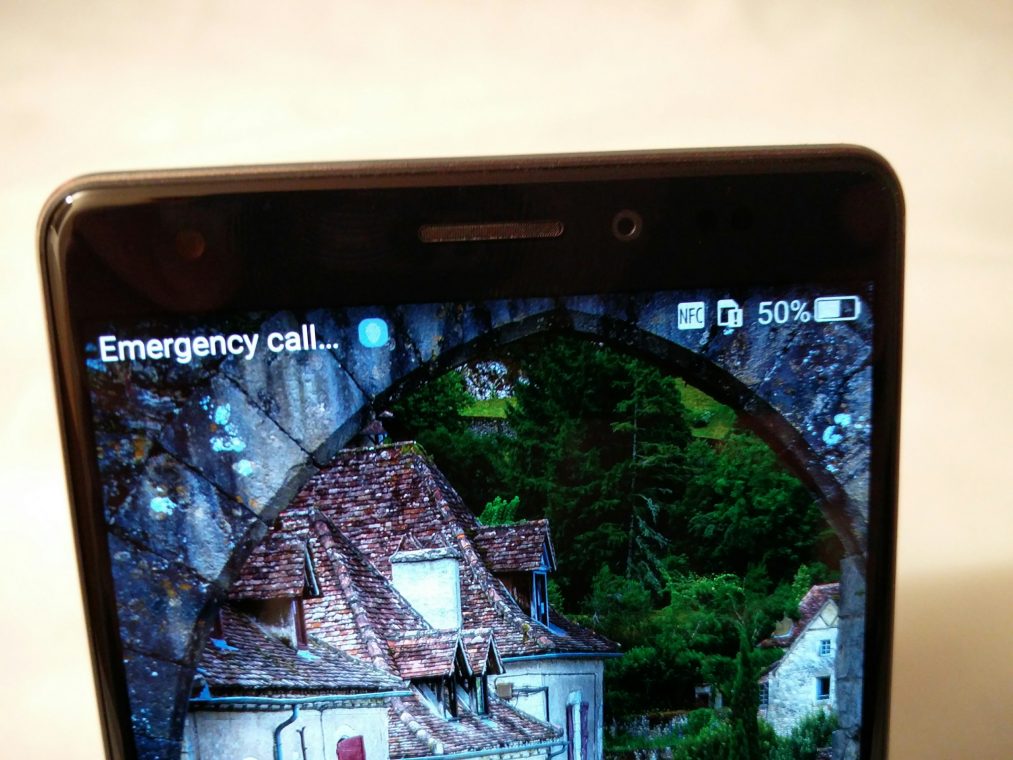 Up front is where you will find the front speaker and then on the left side you will see the forward-firing flash. On the right is an 8 megapixel camera and some sensors. That's right, you read that correctly. We are seeing a forward facing flash. Hurray!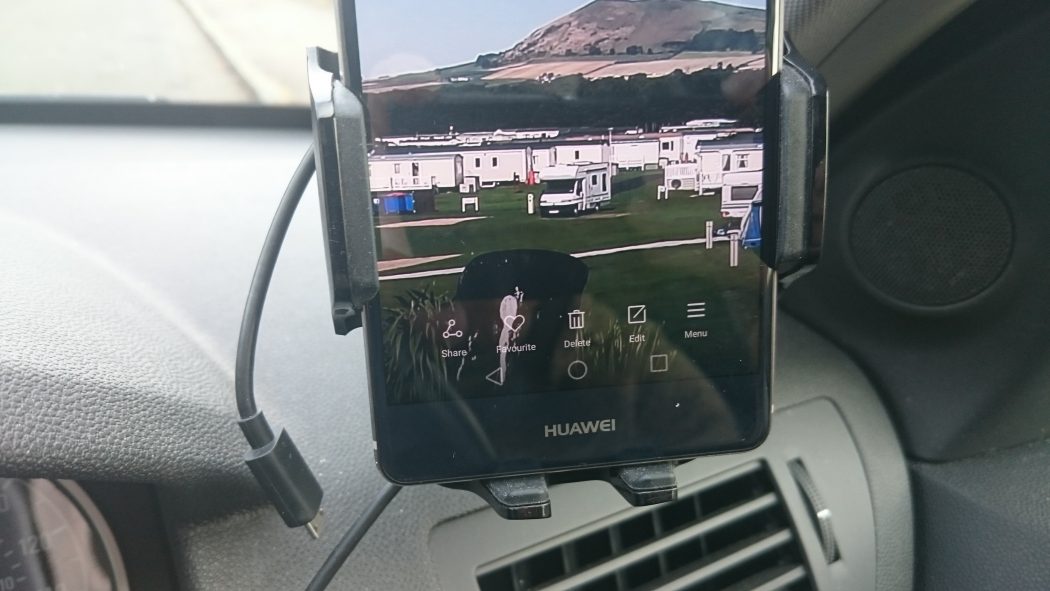 At the base of the screen are the capacitive buttons for home, back and multitasking. These are quite close together but not so much that it gets distracting.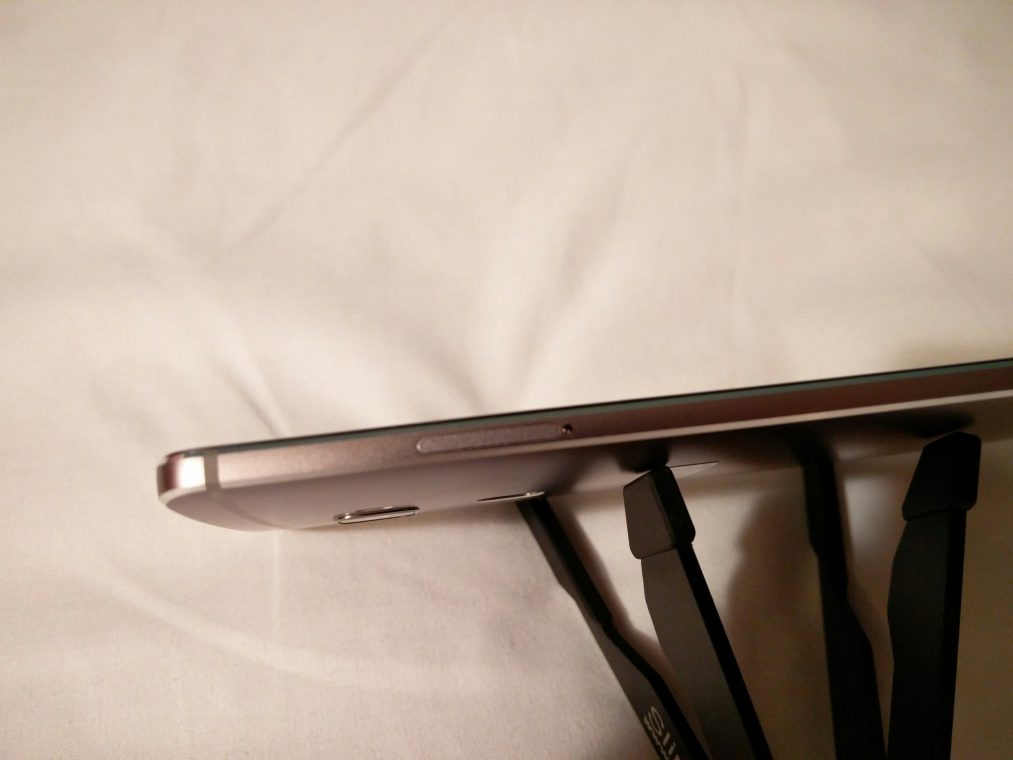 The whole phone has a professional and appealing design, and I do really like the fine little details such as the chamfered edges that narrow to make fit in your hand better.
The display is an AMOLED unit with a 1080p resolution. I am glad they used this instead of the more expensive 2k panels as it just ramps up the price and battery drain, particularly on AMOLED screens. It has a PPI count of 401 which is very respectable and you are going to struggle to see the individual pixels unless you look really close. Videos and pictures are very crisp and vibrant. They do look better on here than on my comparison device, the OnePlus 2, which also has a very good screen – albeit an LCD panel.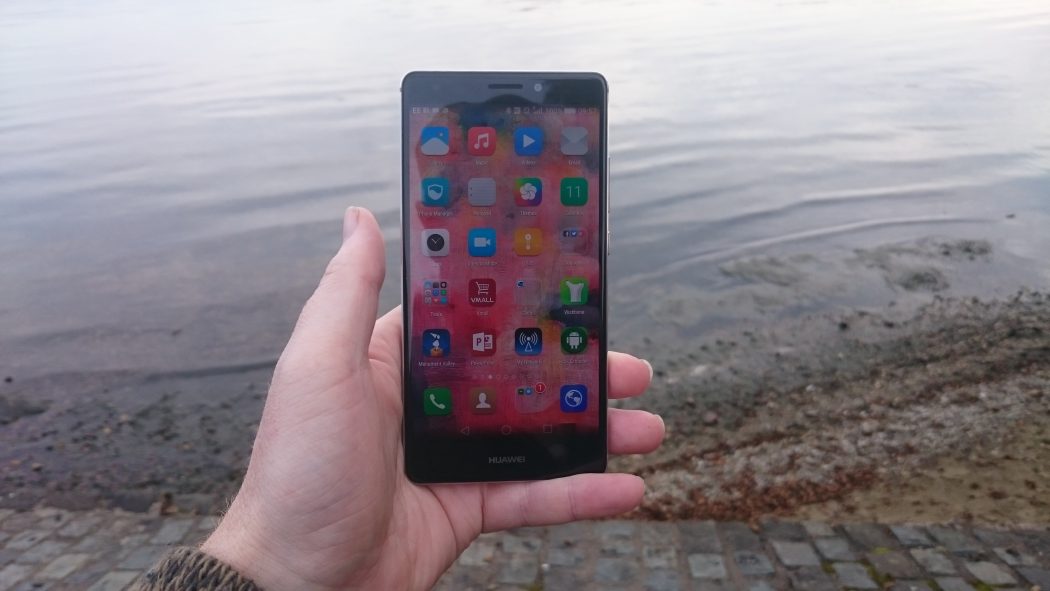 On the whole, this is a well-designed and nicely thought-out phone that is subtle with its looks and doesn't need to scream about it. I showed it to my wife and she went as far as saying that – even though it's way too big – it was a phone she liked. This is a bigger compliment than you may think as she is not a phone addict like us.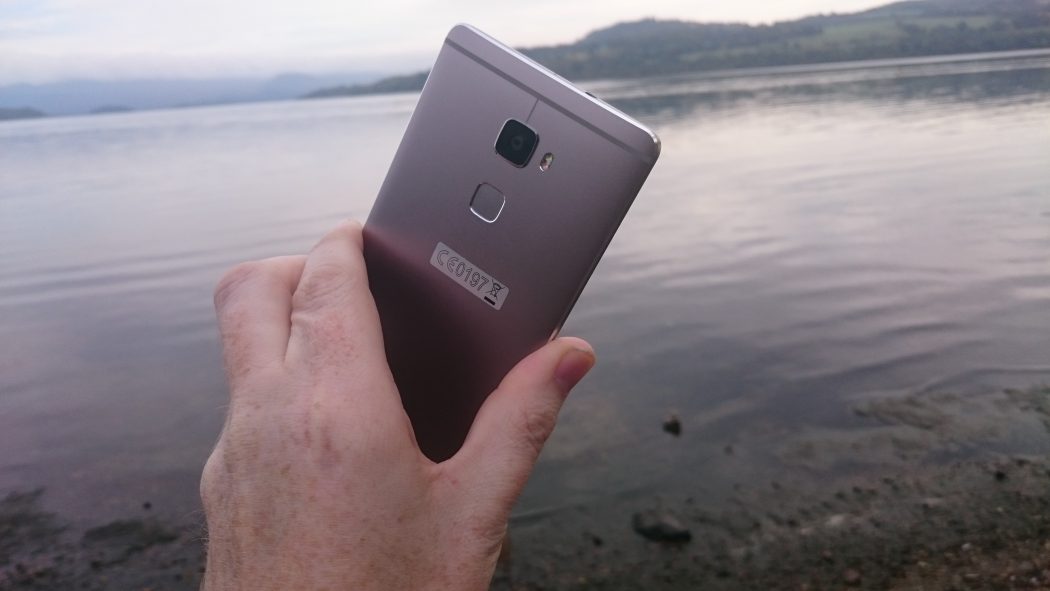 Huawei has really been ramping up their design focus recently, and this is showing clearly in phones like this, along with the P8 and the newly announced Nexus 6P.
Hardware
Having a nice outfit does not maketh the man (I'm sure someone famous said that). If this outer skin is not supported properly by its internals, then you are throwing money away.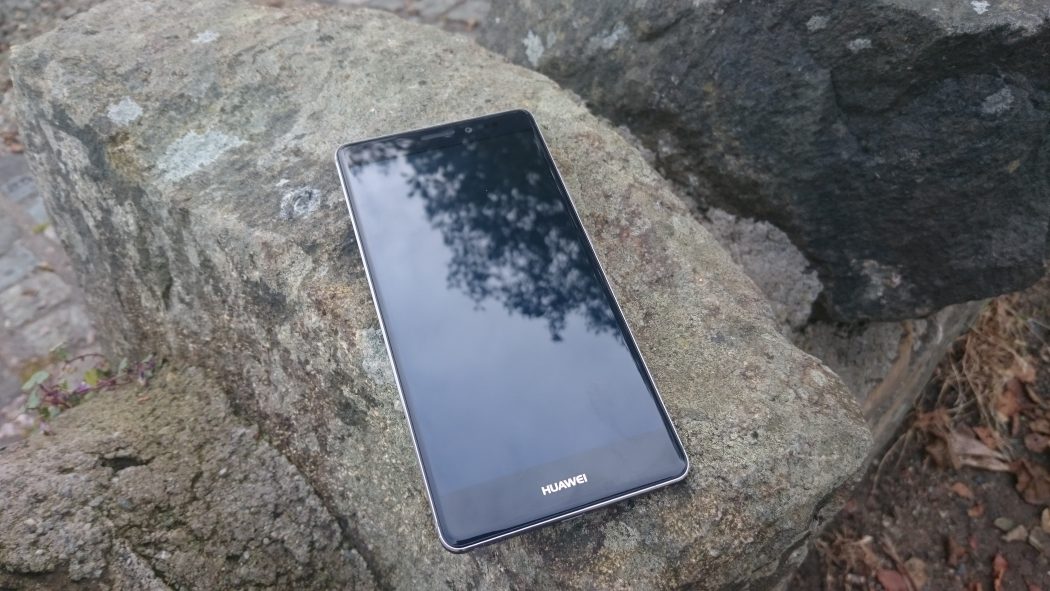 The good news is that the Mate S can cash the cheques it writes.
It is powered by the in-house silicon that Huawei uses, the Kirin 935. This is their fastest processor to date and comparable to the Snapdragon 801. Along with the great chip comes a great GPU. In this case, it is the Mali-T628 MP4 which will keep things flowing nicely. To help with is multitasking powers, we have 3GB RAM on board and 32GB storage – although out of box amount is slightly lower of course. You have to have somewhere for the OS to live.
It also has a Micro SD card slot thrown in for good measure.
With all this power, you would expect the phone to get hot and maybe overheat, right? Worry not, as I have yet to find the phone too hot to handle. The only time it got a little warm was when I was using it to play some Asphalt 8. This is totally normal on any modern smartphone these days. We definitely don't have another Snapdragon 810 V1 issue here. However, be aware that the phone is not very well optimized for benchmarking, which I will come back to later on.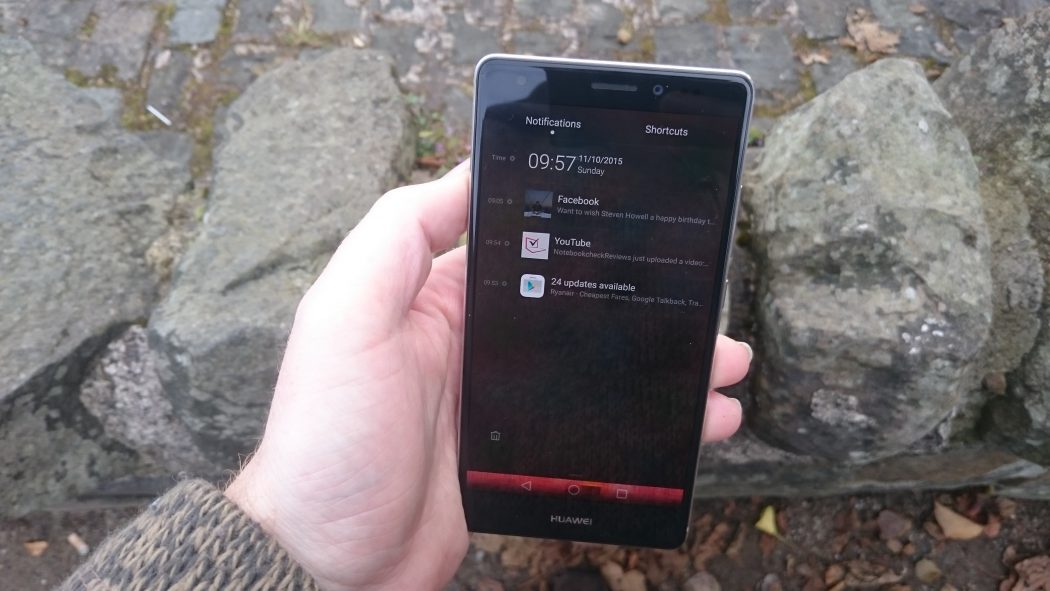 The phone also features more sensors than you can shake a big stick at. These are all listed below in the specs. Please remember: I have the base model here, so we are only looking at 32GB, not the full 128GB that comes with Force Touch on the display. So yeah, they didn't put Force Touch in here, which I think at £450 seems a bit silly. However now that it (Force Touch) is out there, I am sure we start seeing dev's taking advantage of it.
Network-wise, we are seeing a phone that is very well equipped and one that is ready to be used as a world phone. I don't have the dual SIM version of the phone here, but the one I do have will support all the frequencies that we use in the UK. I've been testing it with an EE SIM and I have had no issues. In certain areas, it was providing me with a better service than when I was testing the OnePlus 2 with the same SIM. When using it as a phone, the calls were very clear and crisp and were very rarely dropped, even in weak signal areas.
Specs
Operating System Android 5.1.1 Lollipop, EMUI 3.1
Display 5.5-inch AMOLED ONCELL display, 1920 x 1080
Processor Hisilicon Kirin 935, Octa Core: Quad 2.2GHz + Quad 1.5GHz
Storage 32GB RAM 3GB
Rear Camera13MP with AF, BSI, F2.0, OIS, Dual color-temp LED flashes
Front Camera 8MP, FF, BSI, F2.4, LED soft light
Sensors Accelerometer, Compass, Gyroscope, ALS, Proximity, HALL
GPS Compatible with GPS/ Beidou/ GLONASS/AGPS
Additional NFC, FM
Battery 2700mAh (Typ.) 2620mAh (min.) Lithium Polymer
Dimensions 149.8 x 75.3 x 7.2mm
Weight 156g
Colors Mystic Champagne, Titanium Grey, others vary by region
Last but not least there are claims being made my Huawei that this device is water resistant, however until I see IP ratings I will continue to be dubious.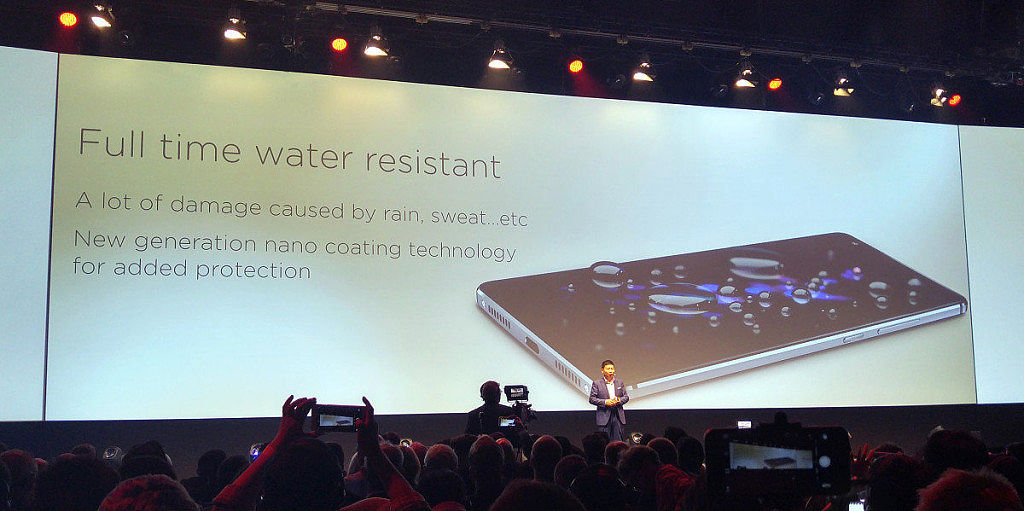 Performance
As I have already mentioned above, we do have a powerful phone here. it is definitely up there with the other phones on the market. I have found the phone fluid in all aspects of its UI, and have never found it to be lagging at all. I performed some testing on the phone using my usual set of benchmarks and also using Asphalt 8 loading times as a gauge of its performance. Those of you who read the site regularly will be aware of my "Sony Fanboyism", and that I use an Xperia Z3 as my daily driver, so this is an obvious competitor. I also happen to have a OnePlus 2 kicking around, so that was also used in the testing. First up, we have our benchmarks.
Sunspider 1.0.2
Quadrant
Antutu
Ice Storm Extreme
Xperia Z3
1279
24836
41610
17329
Huawei Mate S
1387
5053
46960
9563
OnePlus 2
1544
29608
49985
22643
From this table, we learn a few things. First up, Huawei has done little or no optimisation for the chipset when it comes to benchmarking. I deem this as a good thing. Secondly, it's going to be fast when it comes to website page rendering. Even thought it was only second fastest in the Sunspider test, this could and most likely will be improved when the 5.1.1 Android update is applied (I 'd prefer that they just go straight to Marshmallow) The lack of performance in the other benchmarks is not worrying as I have also done another test that reassures me that this is a power horse. You can see this video below..
In this video, we see that the game loads at around the same speed as that of the Xperia Z3 and faster than the OnePlus 2. This was indeed a surprise as I was expecting the OnePlus to storm ahead in this based upon the above numbers. I also found this comparison tool that shows performances of the Kirin 935 vs its Snapdragon counterparts. I added the extra stuff in brackets to increase readability.
From the number, we can guess HiSilicon Kirin 935 is more powerful than HiSilicon Kirin 930. But in fact, they are similar. HiSilicon Kirin 935 octa-core CPU that includes a cluster of four Cortex-A53e cores clocked at 2.2 GHz and another four Cortex-A53 cores clocked at 1.5 GHz. The GPU is the same Mali-T628 MP4. And they both actually uses (sic) a 28nm process. The performance (is) just as (fast as the) Qualcomm Snapdragon 801 Quad Core processor.
So there you have it. We're looking at a competitor to the Snapdragon 801 in terms of horsepower, which explains why it is sitting in the middle of the Sony Z3 and the OnePlus 2. All in all, this is a more-than-capable phone, and the combination of 3GB of RAM and 32GB of onboard memory go far to instill confidence in the capabilities of the device.

Software
The software that we see on the Mate S is very much what we would expect to see on any of the Huawei flagships, in that it uses EMUI (Emotion UI) as its launcher and UI skin. The launcher has developed to be a viable alternative now and is mostly useable, even for pure stock launcher enthusiasts like me. I have to confess though, after using it for a few weeks I did switch to Google Now. The reason for this is that if I want a phone that looks like an iPhone in the user interface, I will buy an iPhone. I just like the convenience and concept of an app drawer too much to ever fully commit to EMUI or its kin. Different horses for different courses, as they say.
As always, I have done a video showcasing the UI.
The Mate S also takes advantage of gesture support, allowing for actions like flip to silence and double tap to wake. These do help with the day to day use of the phone and makes for a more natural user experience. Another trick that has been implemented onto the Mate S is Huawei's version of the stylus. The difference here is that we all already have 10 of them. Of course, what I am talking about is Knuckle Touch. The way this has been implemented seems to be like how you would use a stylus. An example of this working is that when you double tap with one knuckle, it will take a screenshot. Or use two knuckles to start a screen recording session. Also by tracing a letter, such as 'C', you will then be taken into the camera UI. It really does work, as by trying to recreate it using your finger doesn't have the same result.
Camera
Now we get into something that Huawei are clearly very proud of, the camera. As a brief overview, this is one very nice camera and it is a pleasure to use. I have been using the Mate S equally with my Xperia Z3, and it has now got to the point where I carry both when I am going out photo op hunting (it is a thing, honest). I've done some testing with the Huawei as part of my review, and in the process I compared it to the OnePlus 2 and the Xperia Z3. Below is a gallery comparing the shots, and as you can see the cameras all perform well but in certain scenarios one will come out on top.
I was particularly impressed with the Huawei's depth of colour that was captured, and it has to be said that on the AMOLED display it does look gorgeous. It isn't until you get the picture onto another display that you start to notice any issues with the way the colours are captured. Don't get me wrong, this is a good camera and it is more than capable of being your designated shooter until you need to start zooming into the finer detail at distance, which is where we find most phones to be weakest.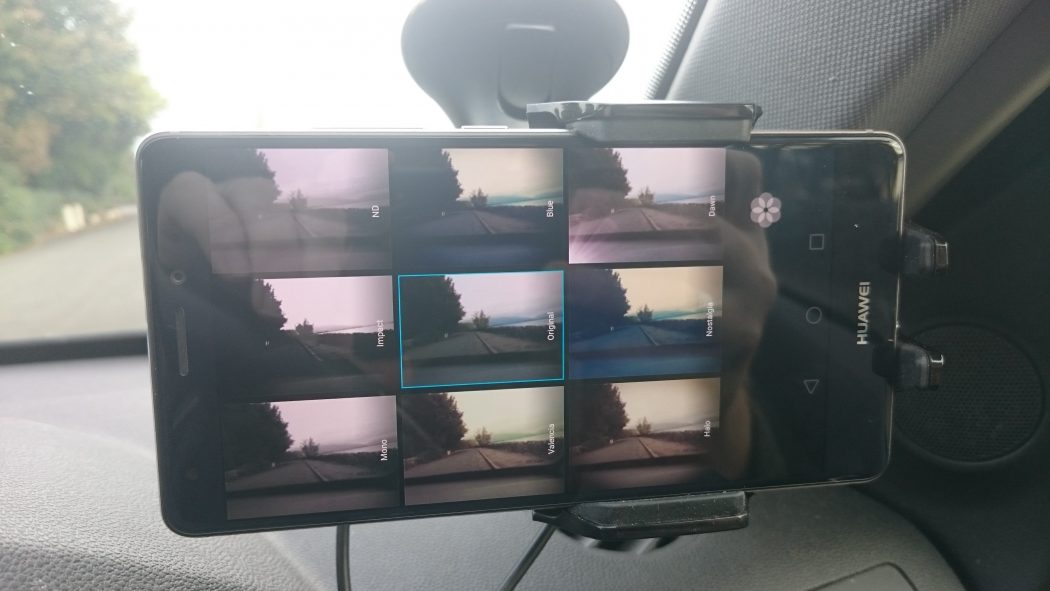 There are many different shooting modes that are available here, including the ability to capture good low light pictures and this is one thing I wanted to play with.
To do this requires a bit of work, so I went out one night and took the camera with a tripod mount and set out to see what I could do. You can see the results below.
As you can see, it is well worth the effort and the low light performance is pretty good. Here are a few comparison pictures taken with the Z3 using its night mode setting. Next to it you will find pictures taken by the Huawei, and the results speak for themselves.
I look forward to seeing how the newly released Xperia Z5 will hold up against the Huawei and rest-assured, that is something we will be revisiting in the very near future.
Conclusion
On the whole, I really like what Huawei have done with the Mate S. It is a beutifully made device, and it gives me hope as to how good the Nexus 6P will be when it drops into our laps. If you are looking for a high-end phone for a fairly reasonable price (£450 as this goes to print), then this is worth a look. It does however have some very stiff competition, with the main competitor coming from within in the form of the Honor 7. Yes, the Honor does have a smaller screen, but it has the same build quality, the same EMUI overlay and a higher megapixel camera unit. All this comes at a great price of £250.
I think Huawei did miss an opportunity by excluding the "Force Touch" tech on this model, as that would differentiate it from the Honor quite nicely. My opinion is that at the price they are aiming for it, should be here and not only in the higher end version.
With that our review is over, I will leave you with a question though. What is more important, brand credential or value for money? Answer that and you will be able to choose whether this is the phone for you.
Huawei Mate S Review
Design - 9
Hardware - 7.9
Performance - 6.4
Software - 8.1
Camera - 8.7
Value for Money - 7.1
7.9
A quality handset but, for a lot less, would you go for the Honor 7 instead?