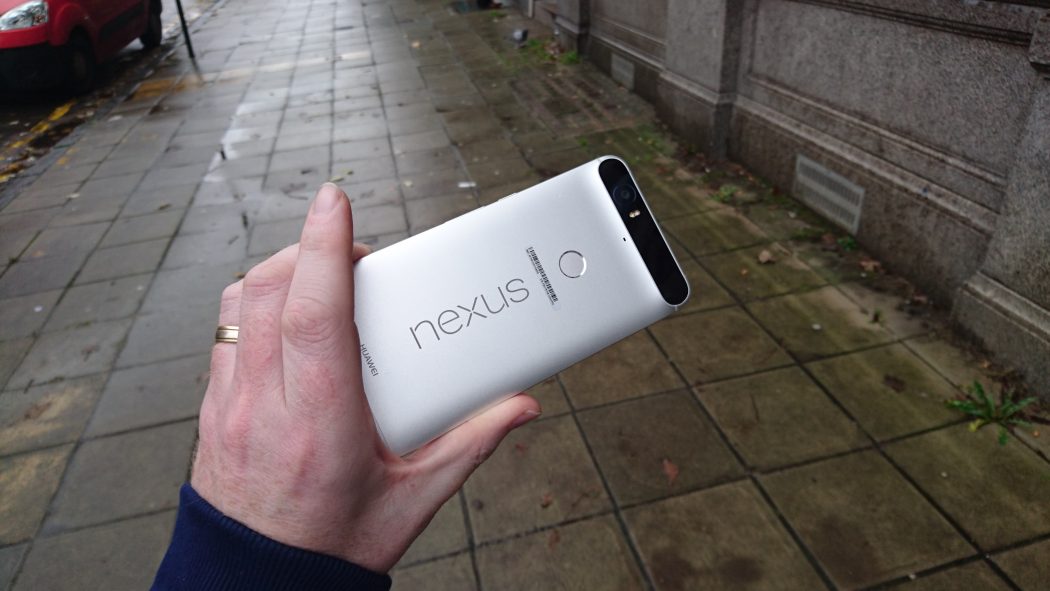 Google's latest handset has been garnering a lot of interest from the tech world over the last few weeks. In between all the reports of people not getting their orders delivered on time and Google delaying the launch, I managed to secure one for this review. With the Nexus 6P, Google has brought in a new partner in the form of Huawei. Huawei has been very hard at work making their brand into a premium player in the market The Nexus 6P gives them a real chance to show off what they can do to a much bigger western market than usual.
The phone starts at £449 for the 32gb version (which we have for review) and goes up to bigger capacities if needed. Let's see what you can get for your hard-earned cash.
Unboxing
For those of you who have not yet had the chance to have a look at my unboxing video of the phone, I invite you to check the video just below.
Design and Hardware
The phone is a product of some very fine design: we see a lot of Huawei's core design language coming through in the way that this phone is shaped. Let's have a look around the phone to pinpoint those design choices.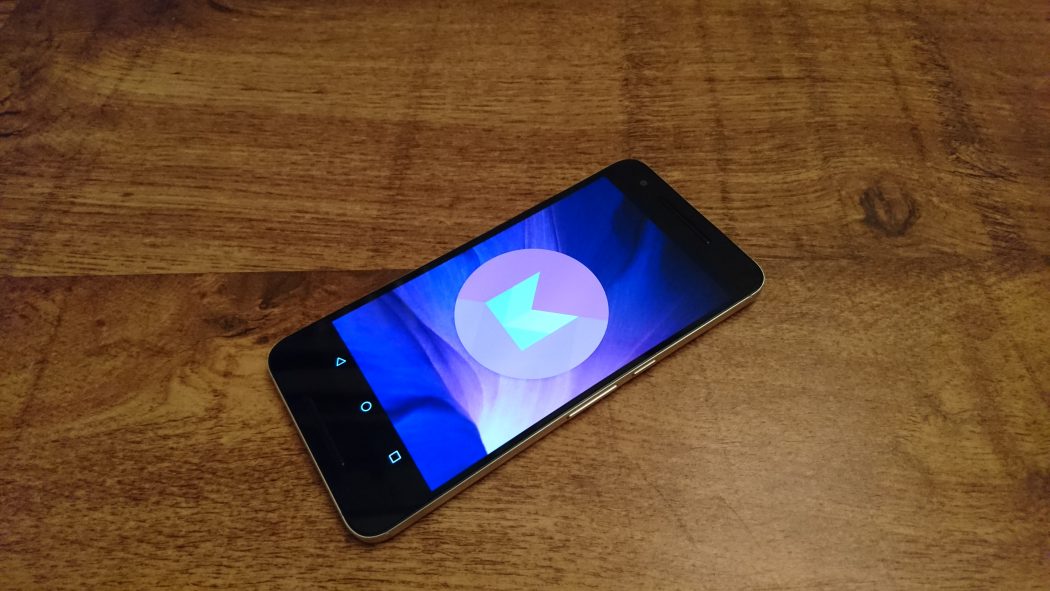 Up front, we are greeted by a 5.7″ AMOLED display which has a 2K (2560 x 1440) resolution and 518 PPI. It is a beautiful display, and has very good viewing angles with little to no distortion when viewed from the sides. It is also stupidly bright which is a big plus.
I very rarely had to use the phone at higher than 10% brightness in my normal day-to-day usage. This undoubtedly helped with the battery life; more of that later.
Up top, we also find a front-facing  8MP camera with an aperture of f/2.4, autofocus and wide-angle lens, perfect for the Huawei termed "Groufies" – or to normal people – group selfies. Next to that is the proximity sensor, notification LED and a forward-facing speaker
On the bottom, we have the other forward-facing speaker that is very loud and does provide reasonable tone for a phone speakers. I would recommend that music is listened to via headphones, especially if you have similar music taste to me (read no-one!!)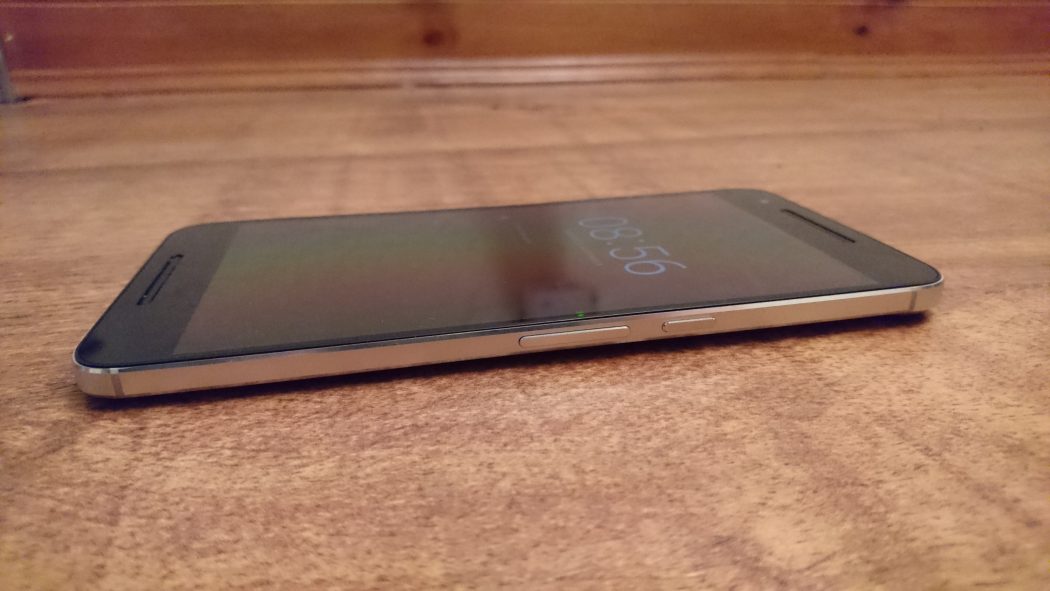 On the right hand side, you will find the power and volume rocker switch. These have a nicely textured finish, and they allow for easy location in the pocket or your hand without having to look for them.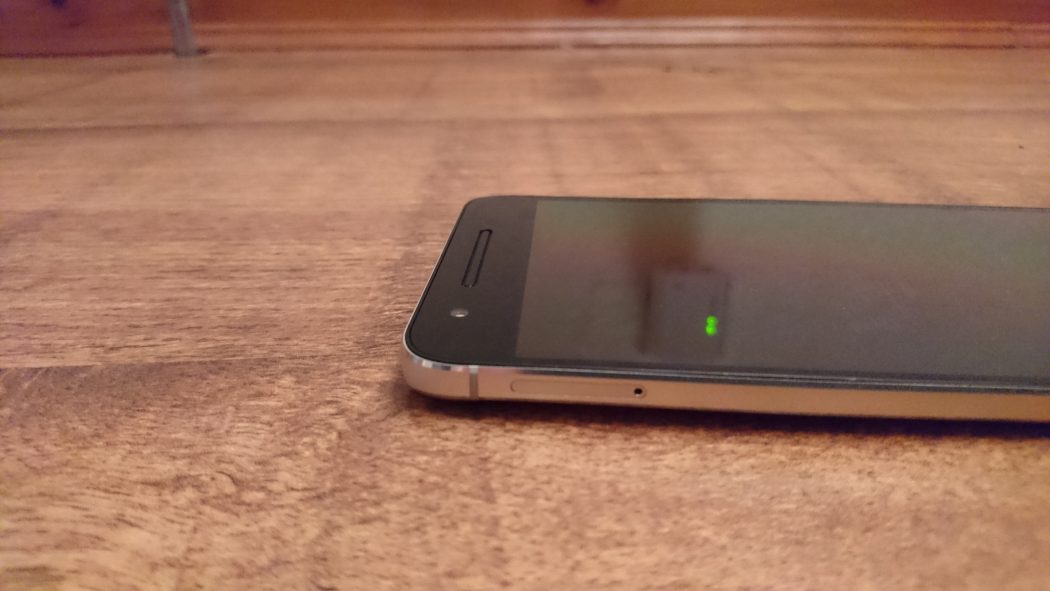 On the left is where the SIM slot is hiding, and that is it. It is a normal slot like you would expect on all unibody style phones.

On the top we find a 3.5mm headphone jack and a noise cancellation mic. There are also some antenna breaks here which are very similar in design to those found on the Huawei Mate S that I reviewed a few weeks back.
These same antenna breaks feature at the base of the phone.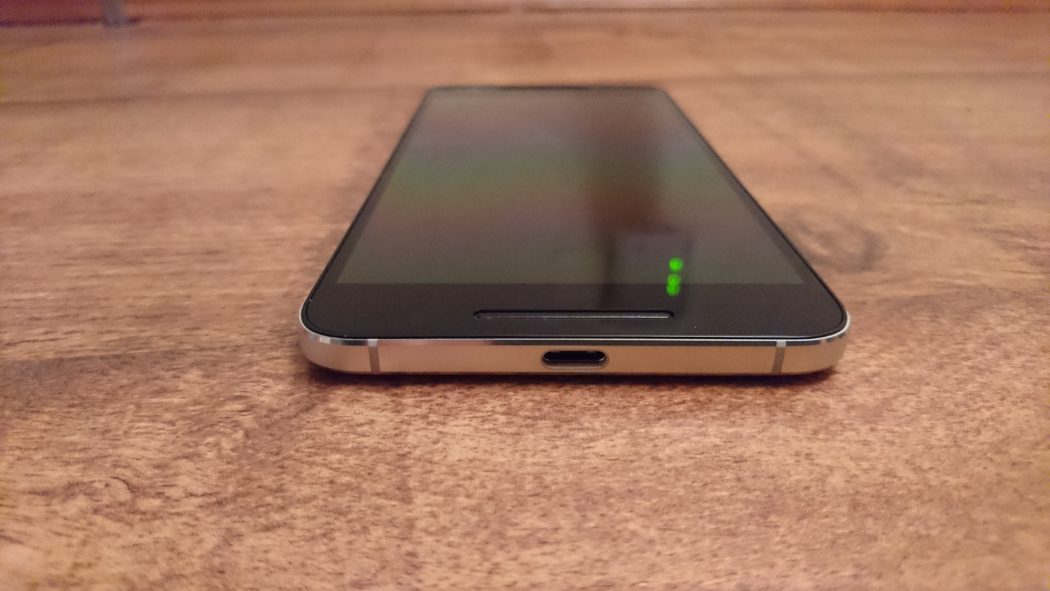 On the bottom is where you will also find the microUSB type-C connector. This time around and unlike the last phone I tested, the charger is designed to use the built-in implementation of quick charge, allowing rapid recharging when plugged into a compatible power supply. Be aware: this is not the Qualcomm specific version of Quick Charge that needs to be licenced. Both the Nexus 6P and the 5X use the USB C implementation, which for the more technically-minded allows the charger to push 5V/3A. This capacity is built into Android M (which we'll cover later), so theoretically call new phones can use this royalty-free and we should see that cascade into phones at a lower price point.
I have not been able to test whether it supports the full gamut of connectivity afforded by the new style port (i.e. display out and data in/out). In a change from previous versions of USB chargers, you can now select different modes for the port to work in when you insert a cable. This can vary from just charging, all the way to using the phone as a backup power unit for another device.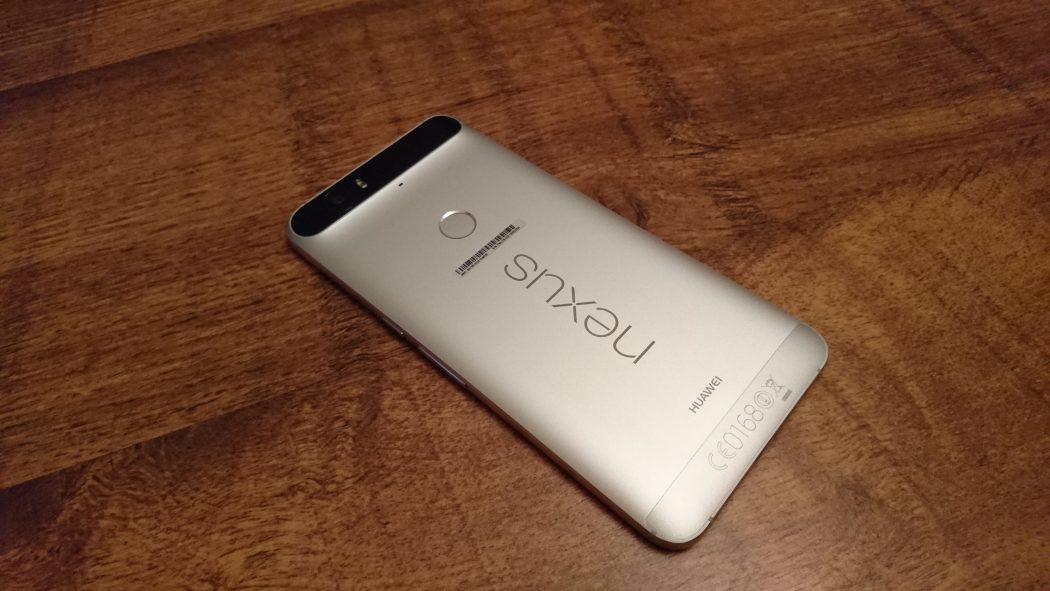 It is however on the back that we find two of the phone's most discussed features. The Nexus Imprint Sensor and the camera. I will cover the camera off a bit later on. I want to focus on the Imprint sensor for now. This is without a shadow of a doubt, the best fingerprint reader I have used to date. It is much easier to use that then the one the Z5 and it is slightly faster than the Huawei Mate S. You may remember Gear raving about the sensor on the Honor 7 too.
I have been reliably informed that it gets better results than the reader on the iPhone 6 and 6s. Well done to Google for getting this right, as it could have been a disaster.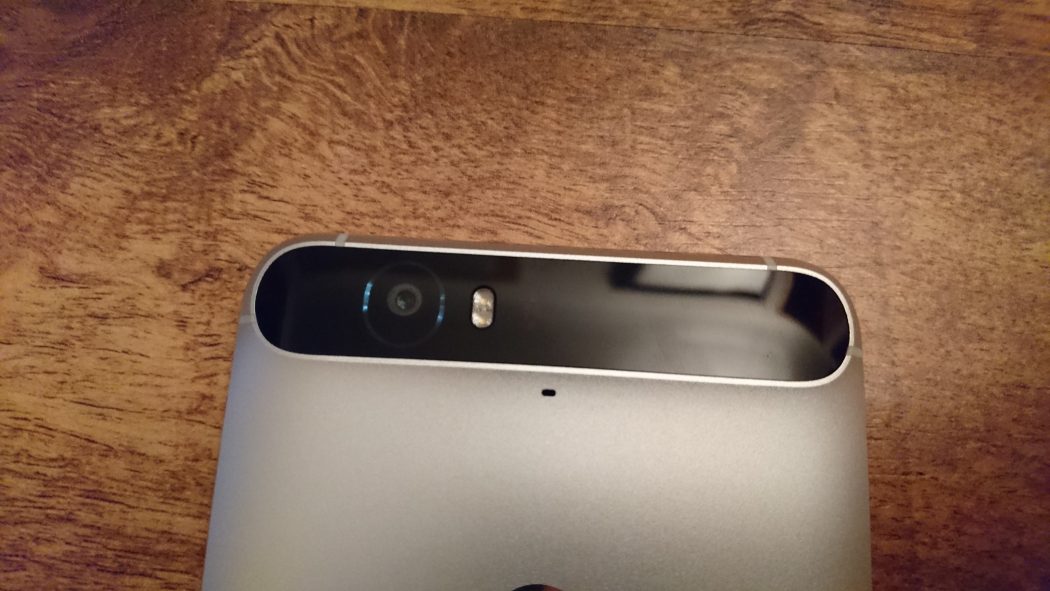 I mentioned the camera earlier, and it is a beauty. Nestled into the black strip you will find the 12.3MP sensor that has a f/2.0 aperture. It also uses 1.55 µm on the actual sensor array. This allows for some very good high-quality shots even in low light, which is an area that has traditionally been tricky for Nexus devices. You also find the lens and receiver for the laser-assisted autofocus in the same panel. The strip on the Nexus 6P also houses a dual LED flash, which will help to enhance those close-up night shots. It also works nicely as a very bright torch!
Below the camera array is another noise-cancelling mic. With that, the tour of the device externals is over.
What Huawei have done here is make some truly stunning hardware. It seems to me that the Huawei Mate S was used in some part as a test of this new design direction, as it does share many of the same design subtleties. I really like the chamfering of the edges, it makes the device feel so much smaller in the hand and helps to give you a decent grip of the device. One thing I am very glad to see is that they have not been tempted to do is to use 2.5D glass on the screen as this can cause issues for the application of screen protectors, leading to less than optimal coverage.
Build Quality
I quickly want to address one of the issues that we have been seeing gain a lot of traction online. That issue is of poor build quality. I am no doubt aware that you may have seen the YouTube videos of the phone being bent in half with relative ease. Now I am not going to go on record and say that this is not something that can happen. What I will say is that in normal real-world scenarios, this is not something I was even the slightest bit concerned about. I don't tend to put my phone in my back pocket. Nor do I wear skintight jeans. I can see that these two scenarios may possibly cause the phone to bend if all the planets align correctly and the wind blows in the right direction, especially on Friday 13th.
The issues with the camera lens glass spontaneously shattering is not something I am worried about either, as if it does then I am sure that Huawei/Google will remedy the fault quickly and replace the device with the Nexus 6P v2 (you know they will make a very small iterative design change and they are already working on it). The long and short of it is that if you treat your phone with a little respect and are not stupid with how you carry it on your person, you should see it live for a long time.
Specifications
Processors: Qualcomm® Snapdragon™ 810 v2.1, 2.0 GHz Octa-core 64-bit. Adreno 430 GPU
RAM: 3GB LPDDR4
Internal storage: 32 GB, 64 GB, or 128 GB
2G: 850/900/1800/1900
3G: 800/850/900/1700/1800/1900/2100
LTE: band 1(2100), 2(1900), 3(1800), 4(1700/2100), 5(850), 7(2600), 8(900), 9(1800), 17(700), 19(800), 20(800), 28(700), 38(2600), 39(1900), 40(2300), 41(2500)
Display: 5.7 inches, WQHD (2560 x 1440) AMOLED display at 518 ppi
16:9 aspect ratio
Gorilla Glass 4
Fingerprint and smudge-resistant oleophobic coating
3450 mAh battery with fast charge
Rear Camera: 12.3 MP, 1.55 µm pixels, f/2.0 aperture, IR Laser assisted autofocus, 4K (30 fps) video capture, Broad-spectrum CRI-90 dual flash
Front Camera: 8MP camera, 1.4 µm pixels, f/2.4 aperture, HD video capture (30 fps)
Size & weight: 159.3 X 77.8 X 7.3 mm, 178 g
Wi-Fi: 802.11a/b/g/n/ac 2×2 MIMO, dual-band (2.4 GHz, 5.0 GHz)
Bluetooth 4.2, NFC, GPS/GLONASS, Digital compass
Sensors: Fingerprint sensor, Accelerometer, Gyroscope, Barometer, Proximity sensor, Ambient light sensor, Hall sensor, Android Sensor Hub
Colours: Aluminium, Graphite, Frost
Inside the phone is a Snapdragon 810 v2.1, 2.0 GHz Octa-core 64-bit processor, which is supported by an Adreno 430 GPU. This is then in turn backed up with 3GB of RAM. What this means in real terms is that there are some beastly specs onboard, and there should be very little evidence of any lag in anything but the most processor-heavy jobs. I will be delving into what makes this tick more in the performance part of the review.
Combining these specs with the premium design of the handset really makes for a really good device, and one that makes you want to give serious consideration about buying it. Although this phone will never challenge the iPhone it may give some the reason to doubt their upcoming purchase as this device is the exact dimensions (in terms of the footprint) as the iPhone 6s/6s Plus. However, it does offer a higher resolution display and more screen real estate. The bezel-to-screen ratio is higher on the Nexus 6P than the iPhone.
This makes the phone feel smaller than it actually is. I have really enjoyed using this phone, even just holding it, and I would even go as far as saying that this feels more refined than the Xperia Z5. For those of you who read my previous reviews then this is a big statement, but it is one that I feel is truly justified.
That being said, we all know that awesome hardware does not necessarily make for an awesome phone experience if the software sucks. So let's dive into Android 6.0 and see what Marshmallowy goodness lies in wait.
Software
I have written a brief insight into the Android 6.0 interface and UI already, albeit it being the first developer preview version. I liked what I saw at that time, and I have to say that I still do. There were some things that I could not test on that developer preview as Google deliberately didn't release all the sweets. For this reason, I am going to focus on what is new. Before we dive in though, here is the video showing off the Android M dev preview on my old Nexus 5

The key features that are new that I would like to point out are Doze mode, Now on Tap, and a new searchable app drawer. Let's kick off with Doze mode.
This now-native experience is something that has been seen on Xperia phones and other devices for some time now. The best way I can describe it is this: it is like stop-start technology for cars. When you are not using the phone, the OS will go into a deep sleep mode, stopping all activity on the phone, and queuing I/O requests until it is needed again. If a user leaves their device unplugged and stationary for a period of time with the screen off, the device enters Doze mode. In Doze mode, the system attempts to conserve battery by restricting apps' access to the network and CPU-intensive services. It also prevents apps from accessing the network and defers their jobs, syncs, and standard alarms.
Periodically, the system exits Doze for a brief time to let apps complete their deferred activities. During this maintenance window, the system runs all pending syncs, jobs, and alarms, and lets apps access the network. It is a pretty effective system and it has allowed me to get the battery life of my phone extended to days. Getting through a working day is no longer an issue with this in place and I am a big fan of Doze.
Obviously you have the ability to play with the app permissions to allow you "whitelist" certain apps to allow them to override "Doze". This is done through the app optimization menu within battery settings on the device. Here are a few screenshots of what you will see when playing around with the settings.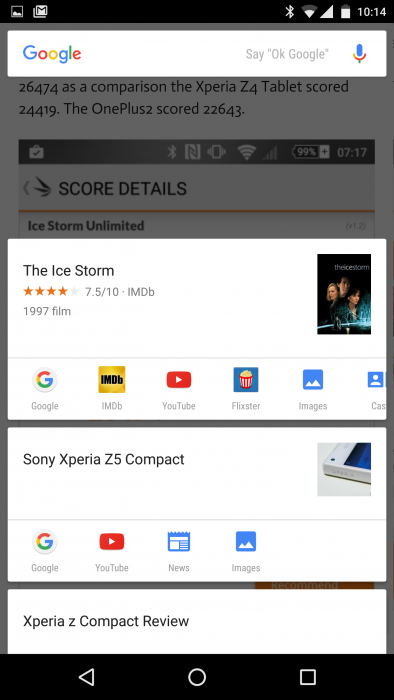 Now on Tap is an attempt to streamline your search activity from the phone and is now a feature that is present on all Android 6.0 devices. It's actioned by a long press on the "Home" button. Let's say for example, you are in a text message and you are being invited to a meal but you don't know the restaurant's location. Well, just press and hold the Home button and it will then open up a Google search tool showing the relevant details about the context of the text, in this case, the restaurant. It will even give you the option to call the restaurant if it can find a number or navigate to it using Google Maps. It is really useful and as a time-saving tool, very effective as it eliminated the need to open the Google Search app to find the information I needed. Don't worry though, if you still wish to use Google Now, that option is still there via a swipe to the far left of the home screens, and it is just as clever as before.
Lastly we now have a redesigned App Drawer, allowing you to search for apps and a few other things. So as mentioned, you can search for apps in the drawer. Now, unfortunately, the organisation that we saw in the first dev preview is gone, which is a shame as it was a nice touch. The app list is now organised in a vertical format instead of scrolling sideways – this is jarring at first if you have used anything other than an HTC phone. Sometimes I still find myself scrolling sideways to flick through to an app. Once you get used to it, it does make sense though and your experience becomes more fluid. I guess this one is just a matter of preference really and only time will tell as to how useful it really becomes.
Those are really the main things I have found to be new in the update, however the whole phone feels more snappy and fluid in its daily operation. One piece of really good news here is that a large proportion of the new UI is actually available to you to use even if you don't have a Nexus device (although after reading this review, why would you not). Google have brought a lot of the UI changes to their in-house Launcher in the form of the Google Now launcher. So if you want it, then you can get it and naturally the usual exclusions apply… like you will not get Doze mode and you will not get Now on Tap yet.
Along with the features outlined above, Android 6.0 also brings a new and improved notification centre, improved voice search and improved keyboard (again available to download as an app). It also introduces a better way of getting your content onto your new device in the setup phase. This takes advantage of the inbuilt NFC. Essentially you tap your old and new phones together and it initiates a restore from Google's backup information associated with your mail address. Very clever, quick and easy to use, assuming you are living in the Google Cloud and you remember your log in details!
Performance
You would like to think with all the horsepower on tap from the Snapdragon 810 chipset and 3GB RAM, that this phone is a performance powerhouse – and you would be absolutely correct. I have run my usual array of benchmarks and this time around I am testing it against the Xperia Z5 from Sony, the OnePlus2 from OnePlus and last but not least the Nexus 6 from Motorola. I am aware that these devices don't all run Android 6.0, so I expect the 2 Nexii will potentially outperform the others. Even with that being said, I still think that these tests are important as it will allow you the potential buyer to gauge your needs accurately.
Sunspider 1.0.2
Quadrant
Antutu
Ice Storm Extreme
Nexus 6p
599
24851
57332
17329
Nexus 6
790
13338
51222
N/A
Xperia Z5
653
27508
54792
Maxed Out
OnePlus 2
1544
29608
49985
Maxed Out
The Nexus 6P maxed out the Ice Storm Extreme test, so I ran the Ice Storm Unlimited test. The result of 26589 compares to the Xperia Z5 scoring 26474. The OnePlus2 scored 22643.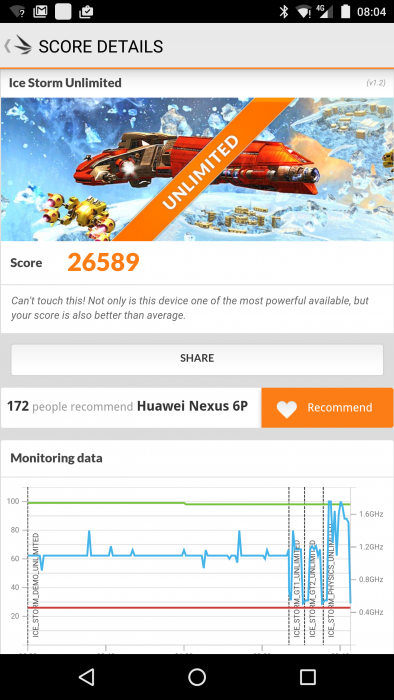 I have also run a gaming load test using my stalwart of Asphalt 8. This proved to be one of the smoother gaming experiences that I have witnessed on a mobile handset. It isn't up to console levels of gaming and it never will be, but it is more than capable for casual gaming. What was truly interesting was that the device does not really get that warm, unlike some of the other Snapdragon 810 devices I have tested. I suspect that this is partly due to the use of the aluminium unibody design acting as a large heatsink. It's something that the Xperia just can't do due to the fact that it utilizes a glass back panel.

Another area of concern for any new handset buyer is the battery life. So as I mentioned in the software section Google has been working hard to get the very best out of the Nexus 6P with regard to battery usage and run time. Obviously we have Doze working to help combat the software utilization of the battery as much a possible whilst still maintaining a functional device. Huawei and Google also used their design expertise to allow them to cram in a sizeable 3450 mAh battery into the sleek and slim model. All this is great news about the bigger battery but bear in mind that as usual, using the phone as a Personal HotSpot or the Camera will run it down at a much faster rate than normal. Here is a sample from a recent trip where I had to rely on the phone for connectivity a lot.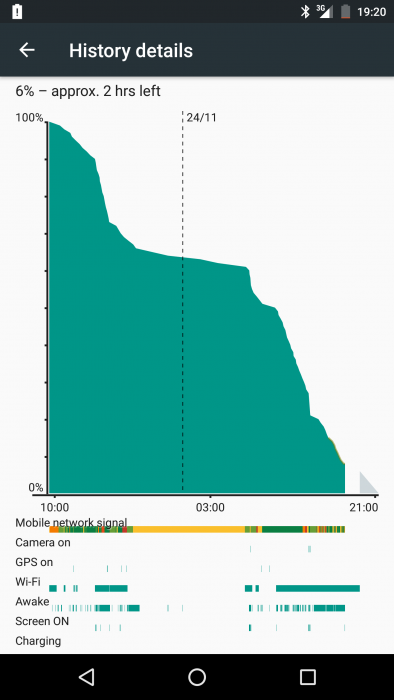 Camera
This is one of the key improvements that we have been looking forward to on a new Nexus device for a long time. Now don't get me wrong, I have been happyish with the cameras on Nexii devices. They aren't bad cameras by any means. However what we have here really is a game-changer for the Nexus brand. I was initially shocked to see that the Nexus 6P topped the DXOMark camera ranking for smartphones. I then looked into it a bit more and realised what it was that put it there. What it comes down to here is a combination of a few elements. Number one is the sensor, Number two is the 1.55 µm size pixels, and the last element is the f/2.0 aperture. Let's have a closer look at these items and see how they contribute to the Nexus 6P having the best camera ever seen in a Nexus phone.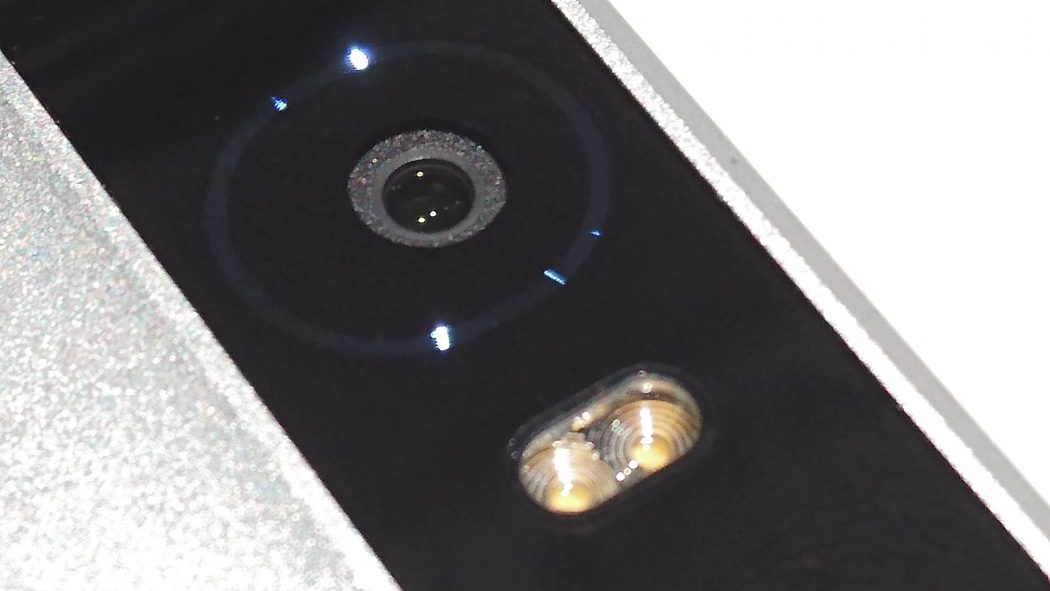 Sensor: – After some digging, we discovered that this is a Sony made sensor called the IMX377. Having a look at the tech specs of it shows that it has a CMOS image sensor with a color square pixel array and approximately 12.35 M effective pixels. 12-bit digital output makes it possible to output the signals of approximately 12.35 M effective pixels with high definition for shooting still pictures. Furthermore, it realizes 12-bit digital output for shooting high-speed and high-definition moving pictures by horizontal and vertical addition and subsampling. Realizing high-sensitivity and low dark current, this sensor also has an electronic shutter function with variable storage time.
Pixels: – The thing here is that the pixels are bigger than standard megapixel cameras. What this means for you the user, is that you will be able to capture much better colour representation in a multitude of conditions.
Aperture: – Quite simply the lower the "F" number, the more light gets into the sensor which allows better picture reproduction, particularly in low light.
Here are some sample shots that I have taken on both the Nexus 6P and the Xperia Z5. It seemed silly that when I had access to two of the top five phones from the DXOMark rankings not to compare them to each other.
As we can see from these pictures, the phones do perform very similarly. For the purposes of this test, I had the Z5 set to use 8MP resolution in all the images barring the ones of the boat. One thing that does become obvious is that the Xperia has got a slightly wider field of view from the wide-angle lens. This can be seen in the picture of the bar. Macro shots on both phones are very good and even though there is no actual mode for macro on the Nexus 6P it copes very well with the setting. One thing I did find is that most of the Nexus 6P's pictures came out a bit darker than on the Z5. There is currently no way of manually adjusting the exposure value on the Nexus default camera application either, which is a shame as it did allow the tweaking of shots to get a brighter image. All in, if you want a camera that will get very good results without having to faff with settings, then the Nexus 6P will work wonders for you. However, if you like tweaking settings and maximising the shots you take with your camera, then the Z5 gives the best experience so far.
I am very interested to see what the camera on the Microsoft 950 and 950XL are capable of when we get a chance. I only mention this, as my wife was using a Lumia 925 on the same trip and her photos are very similar in terms of quality.
Conclusion and Wrap-up
Now we reach the conclusion of this review. I have been really impressed with the Nexus 6P. It ticks all the boxes in what you could want for a flagship Android phone and it can even play in the same sandpit with the big boys in the market. Whilst it may not be perfect, for instance I would like more built-in camera control, it is pretty damn close. The only negative's that I can really place my finger on are the price of entry and no expandable storage. The price feels a bit high for those looking for a Nexus class device. That being said, the full package delivers on what it says it is going to do. If there's one good thing last year's Nexus 6 did, it was to cause the perception of Nexus devices being cheap to shift. The Nexus 6P is a brilliant showcase for what can be done when Google works closely with a trusted partner; in this case, Huawei has put Google's software in the hardware that can really show it off.
This is a top class phone for the Android aficionado, and should be on your radar if you want a new Android device.
Well done to the both of them. They have given Android manufacturer's a true reference point to what makes a great phone. On top of that, it's given iPhone users a chance to have competition into what they'll choose for a phenomenally built phone combined with a mature and well-designed user experience. Those who are die-hard iOS fans will stay Apple, but for others, it would be worth  having a look if you're in the mood to see what options are out there for you.
Nexus 6P - Review
Design - 85%
Build and Hardware - 90%
Performance - 90%
Software - 85%
Camera - 75%
The best Nexus yet, with a great camera albeit having limited manual control, fantastic build quality. If any Nexus were ever to be an iPhone rival, this is it. Very impressed.