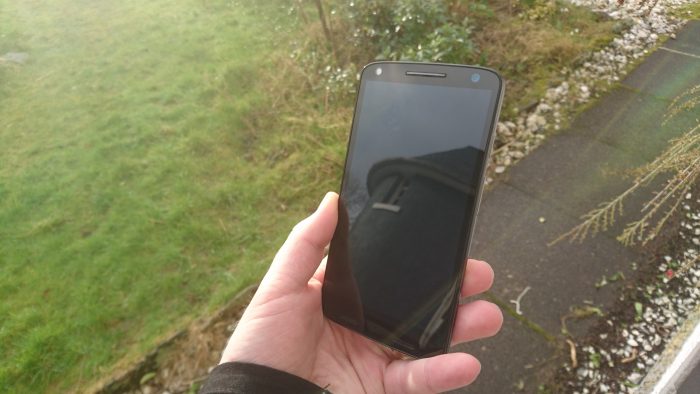 Have you ever dropped your phone, and then had that moment of panic before you pick it up when you think "Oh s*!t How much is that going to cost me to fix?" If you have, then this is the review you need to read. The Moto X Force is not by any means the prettiest phone in the world, nor is it the lightest or thinnest or the most powerful – but it does have an ace up its sleeve. The thing that makes this phone so different is the technology that has been applied in manufacturing a shatterproof screen. Now I use the term shatterproof deliberately, as I have seen a lot of other reviewers throwing around terms like unbreakable, rugged, tough etc. Hell, I even used it myself in the unboxing piece, however with enough determination and persistence, this can and will get broken. That being said, it will put up a hell of a fight.
So is this worth the asking price of £479.99 that is being asked by Moto/Lenovo/Motonovo? To find out, let's take a look.
Design and Hardware
I have already done an unboxing video for the phone which you can check out here.
Regrettably for the purposes of the review, I did not get the official retail packaging. I did get a rather cool box though, which I recommend you checking out in the video.
The Moto X Force, as previously mentioned, is not going to win any design awards. Whilst it's not ugly as sin, it is not something to cherish. It is, however, a very utilitarian object that looks like it has been built with form and function over prettiness. Now for me personally, I am okay with that as this is how I like my phones. It has nothing superfluous on it, everything has its purpose. This is even extended to the packaging.
Whoa! Hold on for a second, I didn't get retail packaging. I got a demo kit. Yes, but I have seen the retail box for this and it is very simple. It includes the phone, SAR information, warranty information, a SIM ejection tool and the Moto turbocharger.
The phone doesn't have a unibody, but it is build from a few components. The screen, the body and the backing plate. The backing plate is just that, and as far as I can tell has no real structural significance. The body itself is where all the components are housed within an aluminum frame. This frame provides the rigidity necessary for the phone to withstand impacts without disintegrating. The screen itself is a much more complex element which we will come back to shortly.
Taking a quick tour around the device starting from the top we will find the SIM and microSD combination slot which can be ejected with the aforementioned ejection tool.

Going down the right side and find the power key above the volume rocker. Both buttons provide very firm action and are easy to reach and use. It is a bit weird having the power key above the volume rocker, but this is negated by the fact that you can double-tap the screen to wake it, a feature I really like but can lead to battery drain.

Onto the base of the phone, which is where we can find the microUSB charging point. This port is configured with Qualcomm's Quick Charge 2.0, allowing for faster recharging. It will also play host to MHL for use with an appropriate adaptor.

The left of the phone is barren of all controls, leaving the sleek metal edge of the unit.
On the rear, we find a textured back panel that helps with the grip. Gone is the smoothly flowing curve of the Moto G series to be replaced by a more chiseled appearance.

The one issue I have on the rear is the meeting of the plastic back panel to the metal edge. This doesn't seem to be lined up correctly, leaving a slightly rough edge. This makes it easy to catch your fingers. I am sure this will not be an issue on any of the Moto Maker devices as these will be leather backed panels.
At the top of the back panel, we can find the camera module. Moto has used the same sensor as the Xperia Z series for the last few iterations, and as such it promises to be a very capable unit. Under the camera, we have a dual LED flash and the signature Moto dimple which would have been an ideal place for a fingerprint reader. Strangely this is missing from the phone.

Underneath this rear cover is where you will find a QI charging coil alongside a NFC sensor as well. It is nice to see that Moto are supporting Qi charging still, as a lot of manufacturers are no longer including it anymore.
The front of the device is where things get a little bit more interesting, as this I where we can find the phone's USP – the "Shatterproof" screen.

In the time I was using the phone and prepping this review I tried to find out what they have done to make this screen so resilient. However, I didn't actually find how they've made it so tough, but rest assured.. it is. The screen is composed from multiple layers and they all play their role in giving you the "shatterproof" ability. What is impressive is that for a screen that doesn't seem to have any glass elements, it has very good clarity. So far it has also stood up well to scratches, which is a testament to those who came up with this concept. I have dropped the phone face down on several occasion so far and not even had the slightest of concerns that it may have been damaged. It is also still scratch free after nearly 2 weeks usage.
On the front you will also find the 5 megapixel front-facing camera along with the ambient light sensor and a notification LED.



There are also some additional sensors here to assist with detecting proximity. These can only really be seen when looking very closely under certain lights. This is a clever way of being able to quickly check the phone but I am not convinced that it is the best thing for those wishing to conserve power. On one side it means you don't have to unlock your phone to see if you have missed calls or notifications, but on the other it means that the sensors are constantly drawing a small amount of power to remain active.
The same can be said of the feature which listens for a pre-programmed phrase before opening any voice input request. Again, extra battery drain, so I turned this off almost immediately.
You also have a feature that I am starting to see more on flagships and mid-range devices -the forward facing flash. This lets you to make your selfies really pop.
Now is as good a time as any to take a look at the specs..
Specifications
Display: 5.4" AMOLED, 1440p Quad HD (2560 x 1440), 540 ppi, ShatterShield™
Processor: Qualcomm® Snapdragon™ 810 processor with 2.0 GHz Octa-core CPUs (MSM8994) Adreno 430 @ 600 MHz GPU Natural Language Processor Contextual Computing Processor
Memory (RAM): 3GB (LPDDR4 with 64-bit access)
Storage (ROM): 32GB/64GB6, microSD Card support (up to 2TB)3
Dimensions:Height: 149.8 mm (5.90 inches), Width: 78 mm (3.07 inches), Curve: 7.6 mm – 9.2 mm (.30 inches – .36 inches), Weight 169g (6.0 oz)
Battery: 3760 mAh, TurboPower™ for up to 13 hours of power in 15 minutes of charging, Supports PMA and Qi wireless charging (wireless charger sold separately)
Water Protection: Water repellent nano-coating
Networks: 4G LTE (Cat 4), UMTS / HSPA+, GSM / EDGE
Bands: XT1580 -GSM / GPRS / EDGE (850, 900, 1800, 1900 MHz), UMTS / HSPA+ (850, 900, 1700, 1900, 2100 MHz), 4G LTE (B1, 2, 3, 4, 5, 7, 8, 12, 17, 20, 25, 28, 40)
Wi-Fi: 802.11a/b/g/n/ac 2.4 GHz + 5 GHz with MIMO
Bluetooth version 4.1 LE
Rear Camera: 21 MP, f/2.0 aperture, Phase Detect Auto-Focus (PDAF), Closed loop processing, Colour Correlated Temperature (CCT) flash with dual LEDs, Quick Capture, Tap (anywhere) to capture, 4X digital zoom, Burst mode, Night mode, Auto HDR, Panorama, Drag to focus & exposure ,Video Stabilization, 1080p HD video (30fps), 4K video (30fps), Slow Motion video, Video HDR (1080p and 4K)
Front Camera: 5 MP, f/2.0 aperture, Wide-Angle lens, 1.4um pixel for better low light, Night mode, Flash
Connectivity: Micro USB, 3.5 mm headset jack
Speakers/Microphones, Front-ported loud speaker, 5-Mics with active noise cancellation support
NFC
Sensors: A-GPS,Acceleromter, Ambient Light, Gyroscope, Hall Effect, Infrared, Magnetometer, Proximity
Operating System: Android™ 5.1.1, Lollipop (Update to Android 6.0 Now Live)
Colour: Black Ballistic Nylon
Moto Maker: Choose from a variety of materials, colours, accents and more.
As you can see the phone supports some very high-end specs and it has plenty to shout about. The build, as mentioned above, is solid and it feels good in the hand. It is slightly wider than that of the Xperia Z5 which I feel works in its favour. It allows you grip the phone better when using it in normal everyday use. It feels very similar to the Nexus 6 I reviewed about a year ago. I am a really big fan of the design used here as it just seems to work well.
Another big plus for users is the battery life of the phone, as it will just keep going and going with an average run downtime well in excess of 1 1/2 days sometimes stretching out to 2 depending on what it was I have been asking it to do that day. That's after I made those tweaks I mentioned before.
Performance
The phone really does take advantage of its specs when it comes to performance and this is backed up by the benchmarks that I have run on it. To act as a comparison, I have compared the phone to the Xperia Z5. I am aware that these devices don't both run Android 6.0, so I expect the Marshamallow device to potentially outperform the other. Even with that being said, I still think that these tests are important as it will allow you the potential buyer to gauge your needs accurately. All these phones run the latest Qualcomm Snapdragon 810 v2 Chipset so heat is not really a massive concern. The other asset that these phones has that helps massively with performance is the 3GB of RAM. Graphics are taken care of by the Adreno 430 which is built into the chipset as well.
Benchmarks
Sunspider 1.0.2
Quadrant
Antutu 6.0.1
Ice Storm Unlimited
Moto X Force
 634.7
39423
88272
 26288
Xperia Z5
 603.1
 39228
78756
 27168
These benchmarks don't really show up any major surprises as both these phones are running very very similar hardware. The real difference is that the Z5 is still running 5.1.2 as opposed to Android 6.0. The difference in the results could very well be down to optimisation of the actual tests themselves. I have been very happy using the Moto X Force over the time of this review and, if the need were to arise, I wouldn't miss the Z5 massively…. apart from maybe the camera and the shutter key.
As for a graphics real world test, it is time for some Asphalt 8 tests. The results of this powerhouse can be seen in the video below.
Pretty good, I'm sure you agree. Very little in the way of dropped frame rates and it flows very well. I have not had any problem with playing any games on this is device and I don't see any issues coming soon.
Software
The software of the Moto X Force is Android in its pure form bar a few subtle additions. These additions are "Connect" and "Moto". Connect allows ease of connection to Connect-enabled Motorola devices such as the Moto 360, Moto Pulse and various others.
The Moto app is a way to setup various customisations that are specific to Moto devices. It is split into 3 sections 'Actions', 'Voice' and 'Display'. Let's have a look at each of these
Actions: This one is pretty much how you move or interact with you phone via gestures. One such action is that you can activate the screen with a simple wave across the display. Another is that by twisting the phone you will initiate the camera from the lock screen which kinda negates the need for the physical camera button as a quick launch mechanism. A more fun action is the ability to turn on the torch with a "karate chop" movement one that is potentially hazardous to you phones health but useful nonetheless.
Voice: You can set the phone up to respond to your voice, much like on any Android phone. The key difference here is that you can customise the phrase used to start this. In addition, the phone can be woken from lock using this method. The phone can also be set to talk back to you with text messages and calls in certain scenarios. For instance, when hooked up to a Bluetooth car kit. This is avery nice touch and something that we are familiar with seeing on Windows Phones.
Display: This very similar again to a technology that was used in Windows Phones, albeit there it was called glance. On the Moto X Force we see proximity sensors being used to notify when the phone has had some activity that it thinks that you need to be aware of. The neat thing here is that the phone will tie in with your notification setting. I really like it when I see app integration at this level, especially when it makes things simpler.
Apart from these subtle changes (dare I say improvements) over Marshmallow, the rest of the phone is more or less the same as the software on the Nexus 6P. If you wish to read more into the Marshmallow Software Then I would encourage you to have a gander at our Nexus 6P review and the HTC One A9 review.
Camera
The Camera sensor on this phone is a good one and one I am very familiar with from the time I spent with it on the Xperia Z. Thankfully they have managed to keep all the good aspects of the sensor on here. However, it is lacking in some of the other bits that make for a good camera experience. One massive omission is that the camera lacks all forms of OIS. This really impacts the overall quality of the shots taken on the phone, which is a massive shame as this could have been such a great camera phone. To put the phone through its paces I have taken some sample shots on both the Z5 and the Moto X Force these can be seen below.
As you can see from the photos the Xperia Z5 is using a much larger field of view than the Moto X Force this is due to the Xperia Z5 having a 16.9 Aspect ratio on the sensor itself – the Moto X Force does not have this. I also found the colours to be slightly better on the Xperia than they were on the Moto X Force. This lines up nicely with what I was expecting from the two phones to be honest, and had I not been able to use the Xperia I would have been happy with the result from the Moto X Force. One thing I did find that it was much easier to use the Moto X Force with the Google camera app instead of the inbuilt one as I found it a bit fiddly to get the shot that I wanted.
Here are some close-up shots in low indoor lighting as well. Some have been taken with the flash and some without.
As I mentioned above you also have the front facing camera with a flash onboard for taking those all-important selfies examples of this can be seen above.
That about wraps up the camera, it is a good unit but by no means the best. For the money you can find better, which is a shame and it does feel that Moto have dropped the ball a bit on this one. This especially rings true when you think of what the Honor 7 is capable of using the same sensor.
Summary
So there we have it, a well built solid phone that has got some good performance in comparison to its peers but suffers with a mediocre camera.
I am very glad to see that this has already been updated to Marshamallow whilst other devices are still languishing on Lollipop (Xperia Z5). What really brings this phone home is the unique aspect of the screen being 'shatterproof". This makes it a very good choice for the clutzy among us, but maybe not for those wanting to ditch the digital camera. I have been very pleased with the device I like how well it has been put together and I love the form and fit of it in your hand. Had this been a phone I was going to keep I would have been very happy driving off into the sunset with it, However I have got give it back, so on to the next review.
Moto X Force - Review
Design - 90%
Hardware - 80%
Performance - 90%
Camera - 65%
Value for money - 75%
A great well built phone which will last for ages and also take a hit, just a shame about the camera as it could have been better.