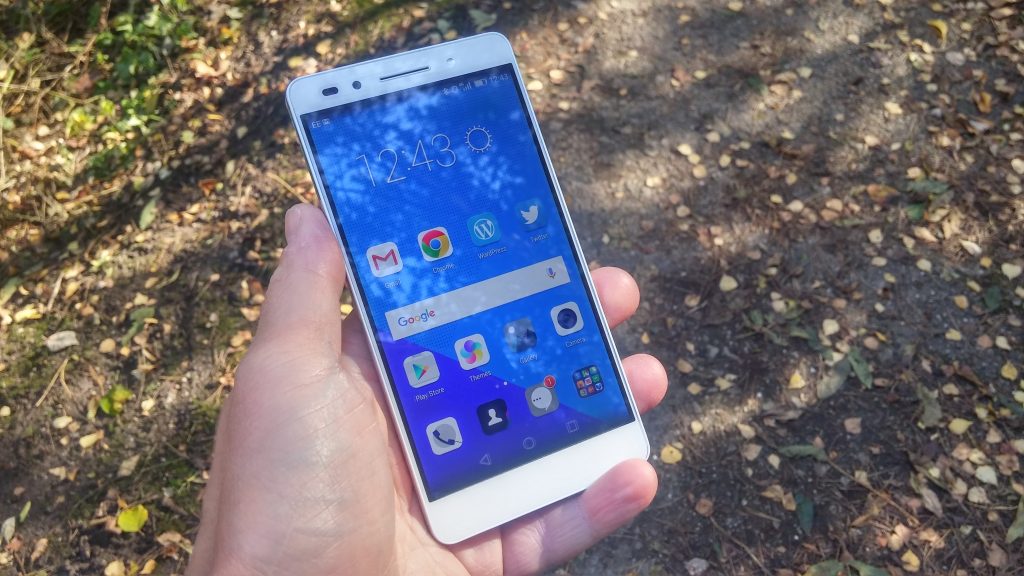 Hmm.. The Honor 7. I'm sure someone told me this was a "mid-range" handset. It was almost as if they didn't want me to get to excited about it. Let's have a look at the specs first then..
Screen – 5.2″ 1080×1920 (424 ppi)
CPU – HiSilicon Kirin 935 CPU (Quad-core 2.2 GHz Cortex-A53 & quad-core 1.5 GHz Cortex-A53)
SIM – Optional Dual SIM (Nano-SIM, dual stand-by)
Features – Fingerprint sensor, Emotion UI 3.1
OS – Android v5.0 (Lollipop)
Storage – microSD plus (on this mode) 16GB storage.
RAM – 3 GB RAM
Cameras – Rear 20 megapixel with phase detection autofocus and dual-LED (dual tone) flash
– Front 8 megapixel shooter with LED flash
Other features – 3.5mm audio, IR blaster, WiFi, Bluetooth 4.1 and an FM radio
This is nice. It's a tad heavier and thicker than the Huawei P8 I looked at recently but in places it looks very similar. The dual speaker grills at the bottom especially.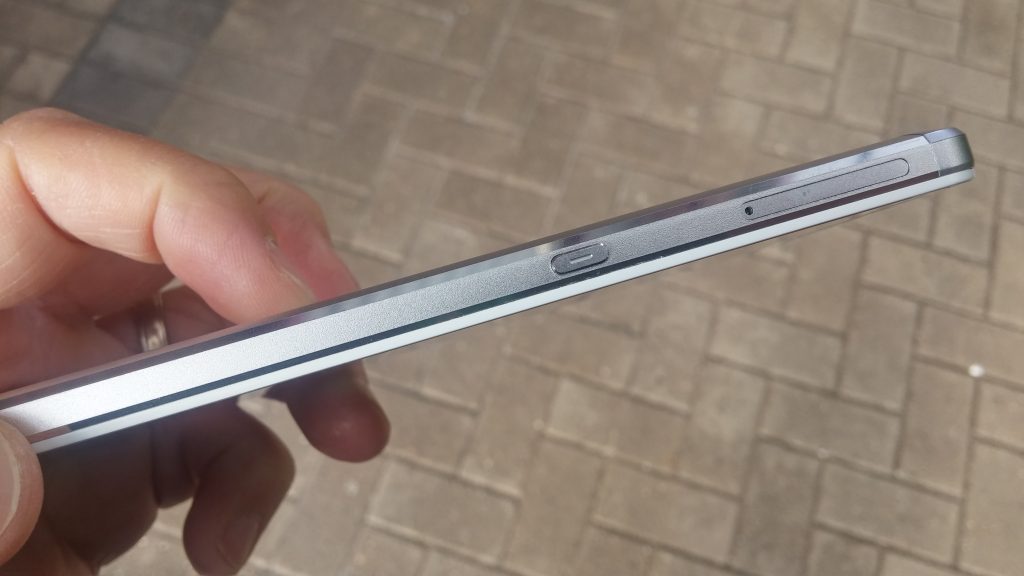 Here, on the Honor 7, we have an additional button that you may not see on most other Android phones. Press and hold it and it'll fire into the "OK Google" system within Google Now. It's called the "Smart key" and, just like The Pressy, you can get it to do additional things. As an example, when you fire up the settings, you can get it to switch on the "torch" if you press it once, then perhaps open the camera if you open it twice. It's totally configurable and you can switch it around to do what you want. I like that. So many times I'm sitting here bemoaning the lack of a physical camera key, and here we have a key that'll fire up your camera and much more.

Then there's another little trick, and this time it's on the back. Flipping the phone over reveals a kind-of HTC One-esque rear with a fingerprint sensor. Now, I'll be honest, I don't normally "gel" with fingerprint sensors. When they're on the front I never use the things. I find them fiddly and perhaps a little annoying, but the rear positioning of this particular one really works. First you'll need to set it up, which takes just a matter of seconds. I'd advise doing the index finger on both hands. Don't just do the one (which is part of the default setup), go back into the settings and register an additional finger and do your other index finger. You'll then find that, as you naturally pick up the handset, your index finger locates itself on the fingerprint sensor at the back and the screen simply wakes up and unlocks in an instant. I'm loving that. It just feels so right and so normal. You don't have to think, and even when it says, "incorrect fingerprint", it'll soon realise that it is the correct fingerprint.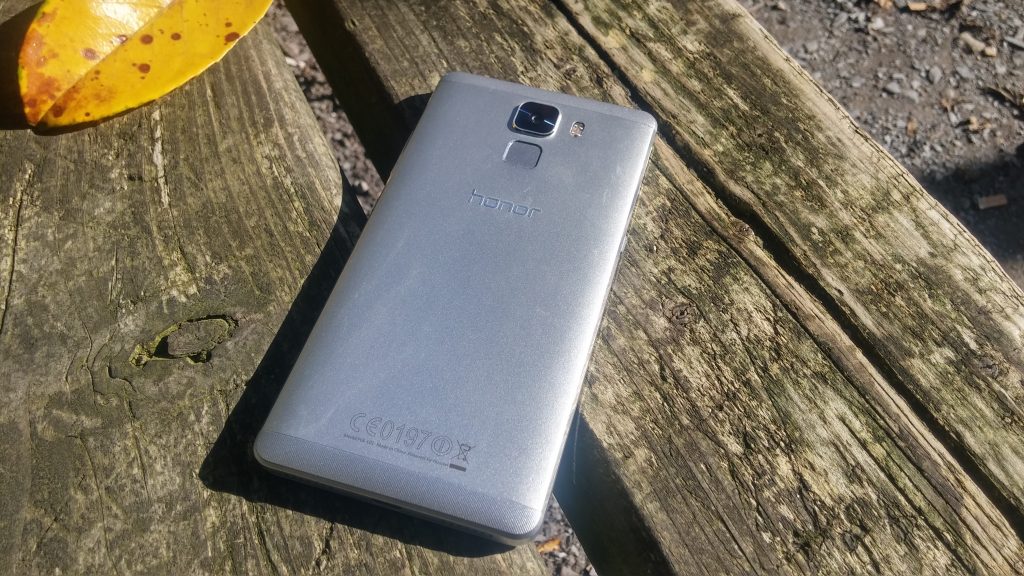 Let's take a look around this device shall we? As I mentioned earlier, we've got ourselves a slightly heavier handset here (at 157g) but it really pays off in terms of battery life, which is rather decent indeed and – even with my stupid usage profile – lasted the entire day with change to spare.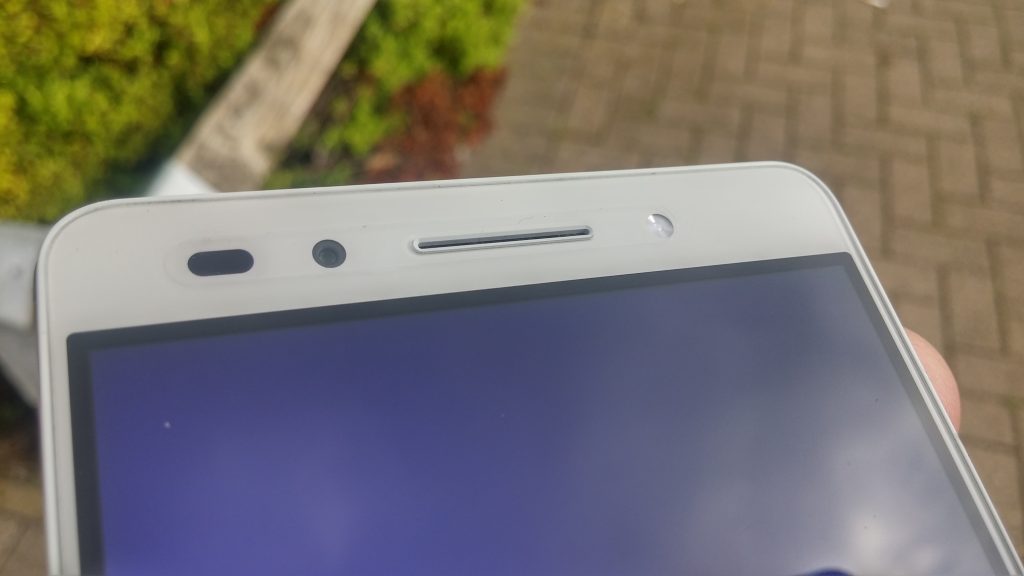 Up front, the screen is a clean and bright affair, plus the white finish here really polishes things off well. It's an LCD 5.2″ screen at 1920×1080 (Full HD) and up top you've got yourself an 8 megapixel camera which is really good. Wait though, because that's only half the story – there's a ruddy flash here. The flash can either activate or just "illuminate" your face and, when you add that to the clever beauty mode on the handset, it can make for some rather polished selfie shots. Nice. While I'm here, I should just mention that the camera will shut down if you don't use it for a short while, saving your battery – a neat little feature. Also up at the top, inside of the main earpiece, a multi-coloured LED to let you know when you've got a message or something that needs your attention. It'll also show power status. There's a number of sensors here for proximity and light too.
That section at the bottom of the screen seems to "want" some capacitive buttons, but sadly they're all on-screen. It's not a total job-stopper, but I kinda wanted them there. Up front the design of the handset is a smooth and plastic affair which gives way to a slightly more industrial and – dare I say rugged – appearance around the back and sides.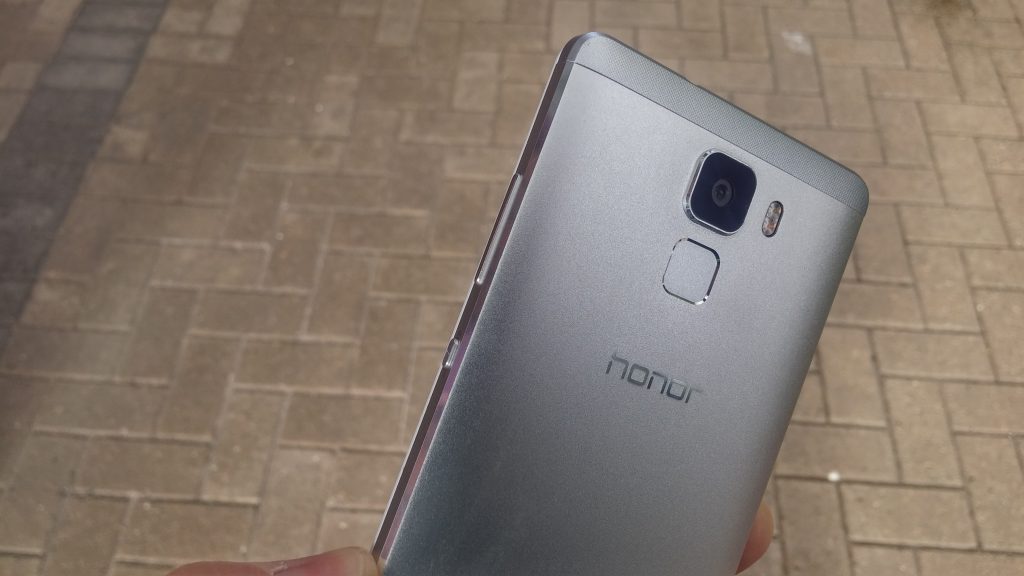 The left side, which has polished edging to meet that white plastic frontage, is mainly a soft spray-paint effect with the SIM / microSD card and that multi-function button I mentioned earlier which is slightly pronounced. The flat edging is grippy and reassuring.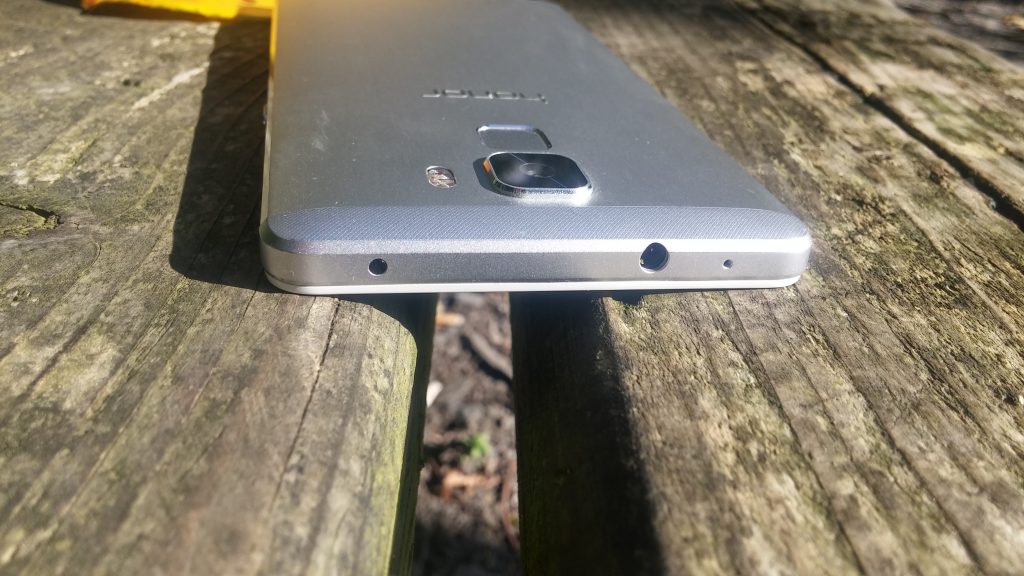 At the top this edging folds over the the very top section of the back at a 45 degree angle in a very distinctive patterned finish just above the camera. Here up top though we have the secondary microphone and a 3.5mm audio port for your headphones. There's also an IR blaster and, at this point, I'd like to remind you that this is a phone costing £250.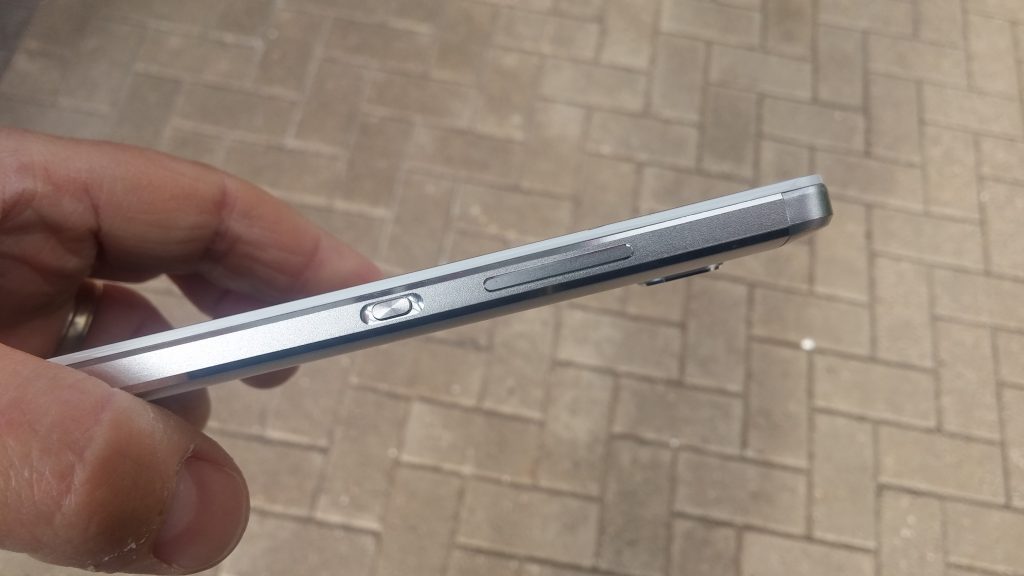 On the right edging, the power button and volume controls. I hardly used that power button unless the device was flat down on a desk because merely picking up the phone meant that your finger fell on the fingerprint sensor and woke the phone up.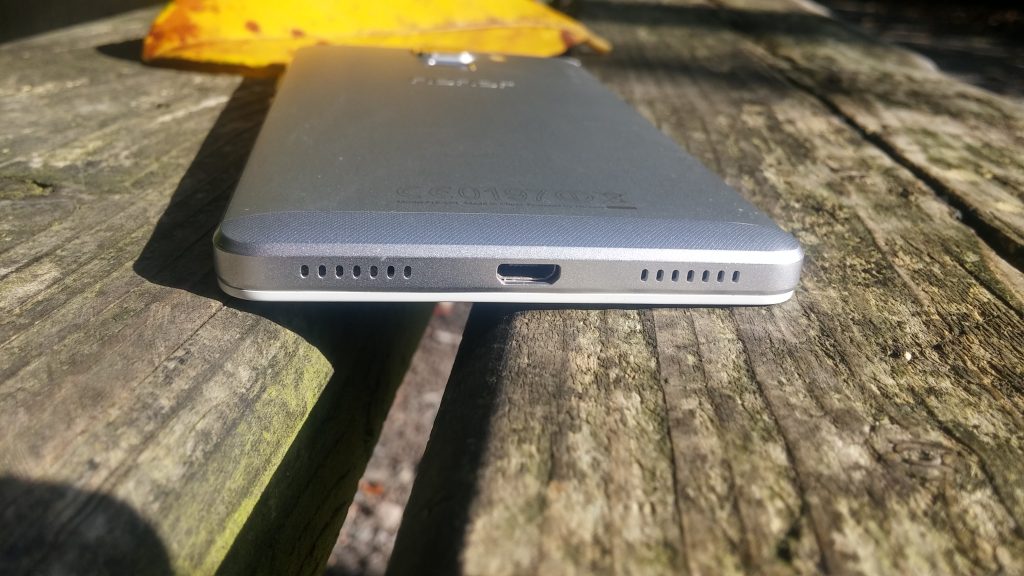 At the bottom, the microUSB port and some very fine external speakers. There was a deep and pronounced sound here – not as tinny as other smartphone speakers at all. You can see the grill here. It's a nice design.
At the back, a 20 megapixel camera and another flash. Let me say it one more time. This phone costs £250 unlocked. It's 4G and has this 20 megaxpixel PDAF auto-focus which – as you'll see later – is rather special.
Inside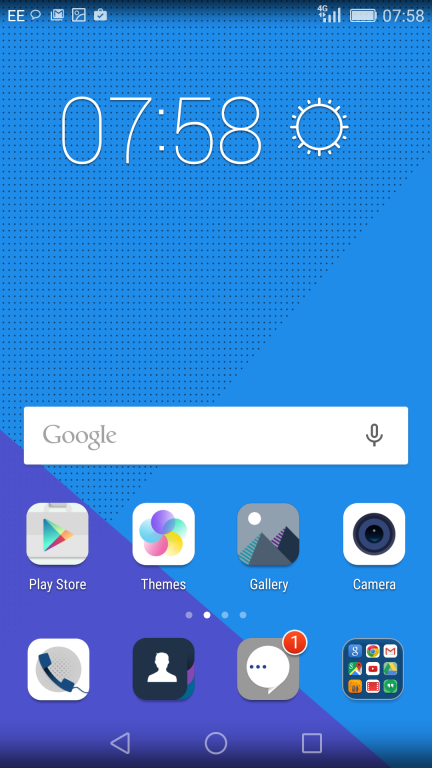 Powered by Android 5.0 there's one of the Huawei Hisilicon Kirin 935 CPU's inside and it operates very smoothly indeed. I've chucked my usual stack of apps and given the whole OS some serious abuse. It's not really skipped a beat. It does, however, have the same power-management bits that I encountered on the Huawei P8 and rather annoyingly shut down background apps like Strava by default. However, like I said in that review, I can forgive this. The phone told me exactly what was happening and what it was trying to do. I can appreciate a device trying to save me some precious battery time, and it's only one click to put the app onto a "protected" list so that it doesn't try to close the app to save juice.
That battery, by the way, is 3,100 mAh. Those little power management tricks must work because it really did stand up to my usage.
The OS has 3GB of RAM to play with and 16GB of storage on-board. You get about 9GB of that to play with but you can always slap in a microSD card to add a bit more – I love my SD cards so this is a big tick in my book.
Other specs include 3G, WiFi and 4G, so connectivity wasn't a problem and it did the carrier aggregation which made my EE 4G browsing fly along. Other specs include the usual Bluetooth 4.1 / Bluetooth Low Energy (BLE).
The OS has the Huawei EMUI interface, which basically means that you can tune the appearance at the drop of a hat via downloadable and customizable themes plus there's no "app tray". Everything is on those top screens, so you just swipe left and right to find your apps. Huawei additions like the Phone Manager are here too, so you can keep your phone running as well as it did on day one. It's here that all the power, data and storage saving features live, plus you get a harassment filter which helps you block unwanted calls and messages. In one or two clicks you can block all unknown numbers too.
Having control over apps is a big feature on this and many other Huawei and Honor phones. You can set which apps can use your mobile data (ideal for those pesky ones like Facebook that like to gobble background data even while you're not watching) and you can instantly see which app is consuming most of your WiFi and mobile data on a daily or monthly graph. I found that Google Play had taken nearly 300MB of my mobile data, just thanks to a few games being downloaded while me and my son waited at the local barbers. It's amazing how just un-ticking that one app can save you a stack of data – and it's even more important when you're on 4G and data can flow so quickly.
For more of an overview of the internal workings of the phone, here's a YouTube video to show you around..
As with all Android handsets, this will sync with all your Google bits and keeps your mail and contacts connected. In addition, there's a Smart Controller which works with the top-mounted IR blaster. This will control your TV, air-con unit, DVD player, set-top box or camera.
Camera
I've written a different article about the camera here. There's a stack of different options within the camera and I think it's fair to say that images actually look even better when you get them on a bigger screen.
Here's a selection of photos from the camera, but do read our photography special to see just what the camera can do.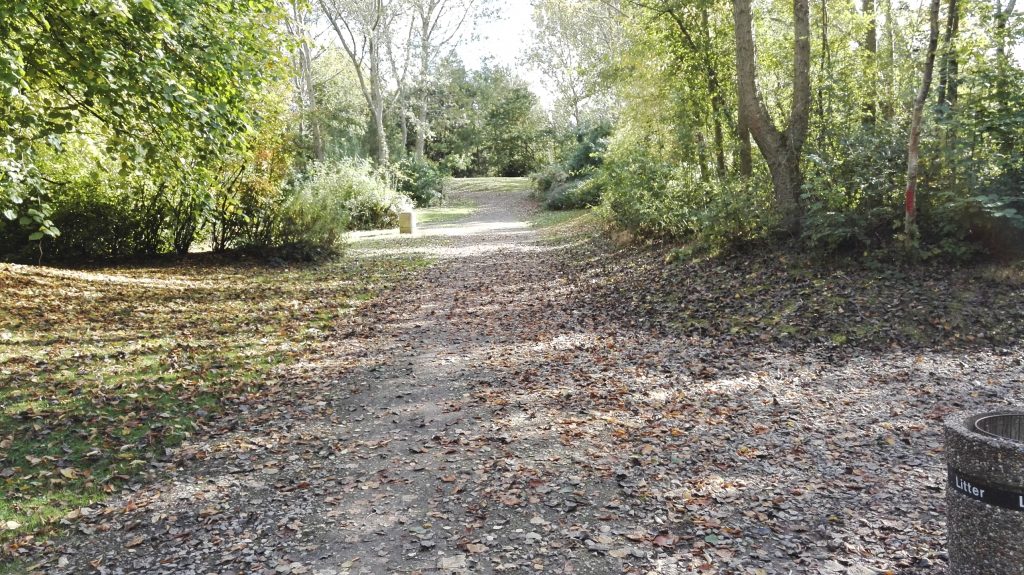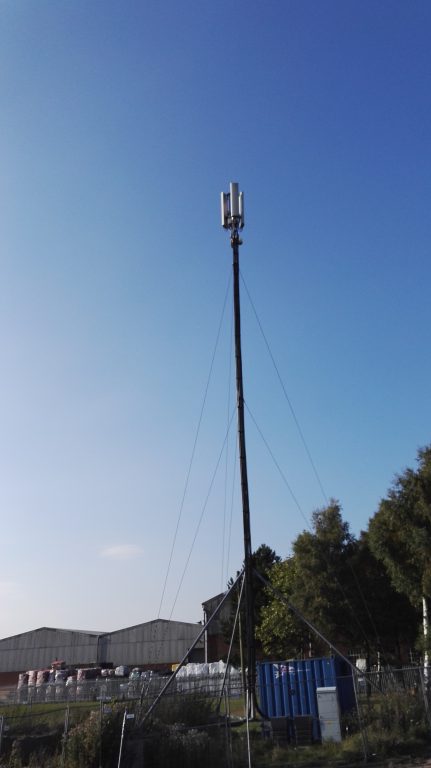 Overall
"Value for money" is a phrase that is sometimes overused, but here it really does apply. This is a phone I've used as my daily driver for quite some time now and, I have to say, I really like it. The handset has some neat features such as Signal+ for switching between masts quickly and that clever app monitoring system which does indeed increase battery life, improve performance and keeps the phone running like it should. The motion controls, which let you rearrange icons by shaking the device or to move icons by tilting the device, they're really good. It'll let you flip the phone over to mute, make calls by raising the phone your ear and you can draw gestures to open an app.
The fact that you can easily switch this to a "simple" mode means it's ideal for "pro" users and beginners alike. Plus, let's not forget what you're getting here because they've ticked all the important boxes – a good screen, good cameras, a decent battery, well built and fully featured. That's what we want.
To circle back to my first comments, this really doesn't feel like a mid-range handset. I'm really impressed with this.
Bad points? No NFC. Oh, boo hoo.
If you've got £250, get one.
Honor 7 Review
Low cost really, really doesn't mean low quality. This is a superb phone for the money.