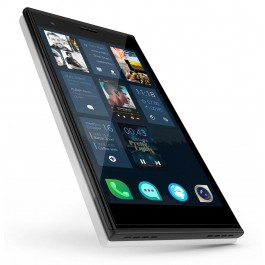 Using a #Jolla phone is like having one foot in the past, one in the future. A slightly strange stance but ultimately quite fun…
I tweeted this recently in a moment of whimsy but thinking about it afterwards I realized it really is an accurate summation of my experience with this phone so far. To use the Jolla phone is a mixture of many things including application joy and sadness, hardware highs and lows, regular update improvements tinged with disappointments. To put into perspective the roller-coaster experience you get with Jolla I quote an often used saying by staff and fans alike; ' Sail on!' Jolla is at the start of it's journey as a company and a product and finding its way in the smartphone world is very much akin to sailing, you take the rough with the smooth, the annoying reboots with the sublime multi-tasking and innovative user interface. In my opinion this phone (at it's current stage of software development – 1.0.3.8 Naamankajrävi) is not really designed for the general public. If you have used Blackberry or iPhone before and want a similar highly polished, controlled and standardized experience you will be shocked and recoil in horror and confusion. Indeed, if you are a high-end Android phone user expecting a deep bench of applications and a behemoth of a company with deep pockets for development behind the phone you will be equally disappointed. However if you are an experienced smartphone user who wants something different, if you are sick of the status-quo and willing to buy into a fledgling O/S with a can-do philosophy behind it, if you are Finnish (as this phone does represent their mobile industry taking charge of its own destiny again) then this is the phone for you!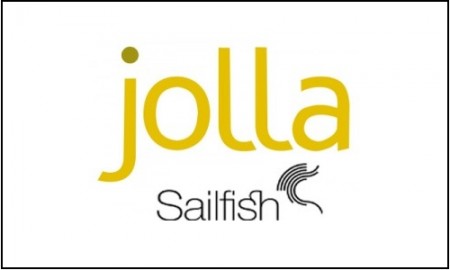 I have written about Jolla the company before and so will avoid going over old ground but feel free to click here if you want to know more about their origin and quest whilst here I get into the phone review with some stats:
Dimensions: H131mm x W68mm x D9.9mm
Weight: 141g
Processor: Qualcomm Dual Core 1.4GHz
Connectivity:     GSM: 850/900/1800/1900 MHz
WCDMA: 900/2100 MHz
4G LTE* (Works on 6 continents WHEN IT IS SOFTWARE ENABLED!)
WLAN802.11 b/g/n 2.4GHz
Bluetooth 4.0 EDR HS
Memory: 16GB storage
RAM: 1GB
Screen: 4.5″ IPS qHD (960×540) display
5-point multi-touch with Gorilla 2™ Glass
Camera: 8MP AF camera with LED flash
2MP front-facing camera
Battery: User-replaceable 2100mAh, 3.8V, 7.98Wh (Talk & stand-by time (approx.): 9 / 10hrs (GSM/3G) & 500hrs)
MicroSD slot
Standard 3.5mm 4-pin audio jack
Micro SIM
Extension interfaces for wireless NFC, power in/out and I2C data connectivity
Pretty decent mid-range smartphone internals. Now to address my initial impression good and bad points (which you can read by clicking here):
Good
Screen size –  4.5 inch screen is great for a smartphone and I was more than happy with it. Although very user-specific I found it incredibly easy to user one-handed, something becoming more and more difficult in todays world of 5"+ screens
Design – The Phone looks great in both colours that I have it in – standard 'other half' for the classic half black, half white contrast and orange (well 'poppy-red' to give it Jollas official description) for that more 'Observe, I'm the phone you've never seen before' look.
I love phones that allow easy access to the sim and sd card. Gone are the days when people buy a phone, stick in a sim and never remove it and I'm happy that Jolla acknowledge that. More so with the SD card, what is the point of having a removable storage if its really hard to remove????
The Sailfish Software, more of that below
Bad
My limited edition 'Other Half' was delivered in early January. Tiny operation, they couldn't keep up with demand (only 80 people on the whole company!). I was disappointed but I got over it.
Charger – To be honest I've got far too many chargers already. It only came with a European charger but I'm more than happy with that – it came with a usb cable which is all most people need these days anyway but I suppose it's still not a really great precedent.
No earphones – is a shame. I go through headphones at a rate of knots so would have liked a set included.
Doesn't work on LTE / 4G out of the box – I am very disappointed at that. I'm not technically minded enough to understand how easy or hard it is to to but surely in this transitory age of tech having access to the fastest networks is a decent selling point for a phone?
Design & Hardware
For a mid-range phone this handset ticks all the boxes. A Display of 960 x 540 is certainly not high definition but it is not a bad resolution at all and the videos I've watched on it look great. It is solidly constructed, obtusely angular in a good way ("What? I have corners, deal with it!) and has cool understated design flourishes such as the Jolla logo on the top of the main phone and a translucent logo on the back of the two Other Halfs that is only obvious when it catches the light. It looks good! It also however has unfortunately plasticy buttons which wobble when they shouldn't. They function perfectly and I've not had one problem with them but when you spend €399 on a phone you don't want the buttons moving in any direction apart from in and out.
I also felt a bit let down by the material of the 'Other Halfs', the coloured back of the handset. They are made of scratch resistant colour infused polycarbonate which feels a little, erm, cheap? I mean it is doesn't have the feel, the substance and durability you would expect from a modern day device. The phone looks great but when handed to someone for further investigation it often engenders an utterance of "Oh" as an immediate reaction. To be blunt it looks a lot better than it feels which is a shame. Luckily something that softens your heart to the Other Half is the way it interacts with the phone; Jolla call this Ambiance. Via an NFC chip in each back cover the whole look and sound of the phone is changed. It changes the front screen (the opening screen you get when you wake the phone), the home screen, all the sound effects of the phone (ringtone, text sound, email, calendar alarm and more), the colour of the background and even the colour of the type on OS screens. It's a neat trick, like buying a case for your phone that also changes the internals as well. You can buy two additional Other Half's from Jolla so far and they have a lot of really cool ideas for the technology including extra battery Other Halfs, qwerty keyboard Other Halfs and many more. It gives me hope as, although I don't like the material of the current Other Halfs, in the future I could just replace them with a better one!
The camera is a reliable, 8mp unit that normally produces decent shots like the ones below::
Software
Ah, the crux of the matter. The Sailfish OS wants to keep the best of the Nokia-style from 2011 but bring it forward to 2014. When you combine this with the swiping method of exploring the operating system it truly does feel like its own, unique way of controlling a phone. The transition from screen to screen is smooth and comfortable and the menu of apps is a simple scroll system that is both easy to understand and somehow intuitive. It zips along quite nicely multi-tasking with ease and looking fine doing it.
Navigating a new phone is the key to loving or loathing it and Sailfish does take some time getting used to. I have compiled a list of the unique (or mostly unique) Sailfish qualities below:
Double-tap the screen to wake the device – You can use the power button as well
Swipe up from any screen to check for notifications – Swiping from the bottom edge of the phone brings up a notifications screen that lets you check for updates for all of your social networks and e-mails plus post to the networks without opening any other apps. Another quick swipe up makes this disappear
Swipe from top to close – Swiping down from the top of the screen closes whatever app have onscreen.
Status Peek – swipe from the edge of the screen inwards in any app and take a glance at the home screen. This is really handy and shows battery percentage, time, connection status and open apps all via a semi-transparent overlay (or underlay I suppose) where your current app kind of half-phases out and the other screen half-phases in. Excellent and highly addictive
Pulley Menus – Rather than prodding at icons Sailfish encourages you to use a system of pulley-menus that are pulled down from the top or occasionally up from the bottom (the very edge of the screen faintly glows if there is a pulley menu there). These menus show your options on that particular screen and to choose one you can either release the menu when your desired option is highlighted or pull the whole menu down until it can be pulled no more and then tap on the option you want. It includes satisfying haptic feedback to indicate each choice so you can let go at the right moment to chose it.
Can use apps when minimized – Active applications show in their own little window on the home screen, to indicate they are being used much like apps in Blackberry 10. You can fit nine of these 'covers' on one screen and each cover can be swiped left or right to perform an action (relevant what you are using) without fully opening the app.If you are using the media player and it is minimized to a cover you can pause the song by swiping the cover to the right or skip the track forward by swiping to the left. You can also long press on a cover to close the app or, in an option I quite like you can long press and then swipe down the pulley menu and close all.
This different way of navigation encourages swiping around the screen and also economy of movement, which, once mastered certainly favours one handed operation. Screenshots below: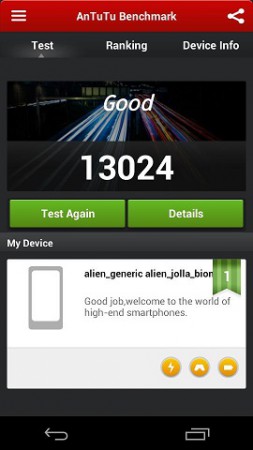 The Jolla app store
The Jolla app store is has only apps officially sanctioned by Jolla. There are a main cadre of applications that have been created by Jolla themselves for the device and include all the fundamental functionality that other OS's include automatically such as maps, browser, media player, etc There are also tons of other apps… Ok, not hundreds of thousands, but that's where one of the Jolla-made apps comes in; Android Support. Load this bad-boy onto your device and then you can start going nuts loading Android apps to your hearts content. The Yandex Store is pre-loaded on the phone plus there are many third-party app stores around. There will be occasional issues with some Android apps as they try to contact the Google Play Store and you get a warning sign pop up telling you that device doesn't support Google Play but functionality-wise everything I've tried works just fine. Yandex is a pretty good store but there are also several others around.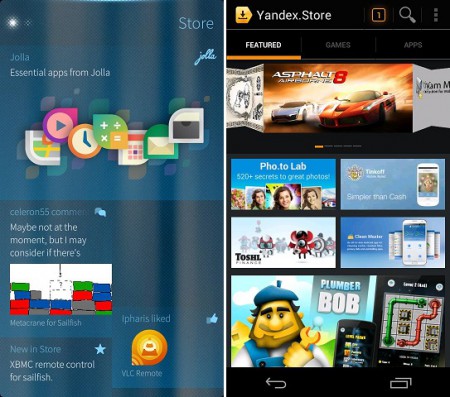 The Sailfish OS could/should currently be considered a work in progress but Jolla has very recently announced  that with their next release they are ready to go global!
Conclusion
Using 'Just the facts, M'am' the Jolla doesn't score great. It could be considered a mid-range phone with quirky software that can be great but also reboots more than any mainstream phone should. From someone who has owned the phone since December and tried really hard to see the vision, to see where it's come from and where it's going I view it as a promisingly bold step into a very difficult market to gain any traction in. The Jolla phone certainly isn't for everyone but if you get one and persevere you will probably really like it. It is the first step in an uphill battle for a great little company that is trying to make a great operating system. I love the idea and the progress of Sailfish OS! The Jolla? I am close to really, really liking it and it does keep getting better, I can't wait for the next update currently scheduled for the end of next week…
Jolla Phone
Design - 8
Hardware - 6
Software - 6
Screen - 6.5
6.6
The beginning of something great
The Jolla phone is a promising start to an excellent new operating system. It may not compare to the LG's, Oppo's and Samsung's of the world yet but Jolla is definitely aiming for greatness and getting better all the time...