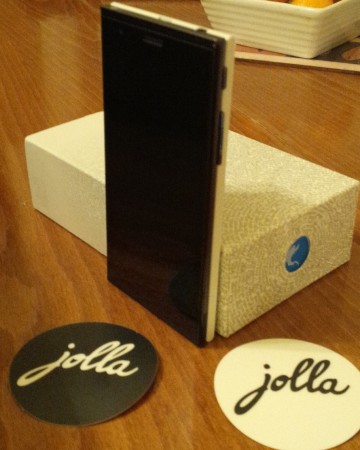 The Jolla phone is finally here! Despite an attempt to deliver to my home literally the day I moved out and missing me then being re-delivered to work when I had that day off I finally got hold of the new smartphone that the Finnish nation are tentatively regarding as an object of national pride. The operating system is based on an open source software that Nokia was developing which has evolved into Sailfish OS for the eponymous new company Jolla. It was launched in Finland on the 27th November and is selling faster than the small, start-up company can ship them but has finally made it over to the UK and my desk!
Hardware
Black, buttonless front with white "The Other Half" back
Display – 4.5″ IPS qHD display, 5-point multi-touch with Gorilla 2 Glass
Camera – 8 Megapixel AF camera with LED flash
Front-facing camera – 2 Megapixel
Memory – 16GB storage, 1GB RAM, MicroSD slot
Battery – 2100mAh (removable)
Talk time – 9 / 10 hours (GSM / 3G approx.)
Processor – Qualcomm Dual Core 1.4GHz
Connectivity – GSM/3G/4G LTE* (works on 6 continents)
Height: 131 mm
Width: 68 mm
Thickness: 9.9 mm
Weight: 141 g
Also included – EU adapter (UK adapter not included), USB cable, Quick User Guide and warranty leaflet.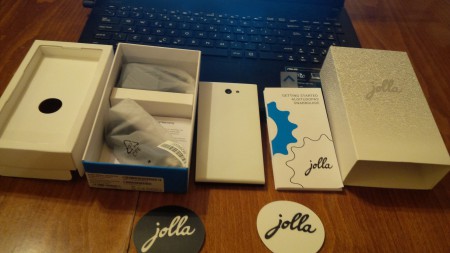 Immediate feelings:
Good
Ergonomically 4.5 inch is a delight! Sailfish OS users a lot of 'swipe from the bezal' gestures and I can comfortably reach all four edges of the phone with a one-handed motion by stretching my thumb
Sleek, two-tone design – not sure how successful the 'other half' direction of Jolla will be but you can't argue with the simple, clean, black and white design andno front facing buttons
You can remove both sim card and sd card without removing the battery
Sd card slot
Interesting new software designs and ideas such as 'Other Half' use of NFC technology
Can use Android apps and comes pre-installed with an alternative Android app store
Bad
DIDN'T HAVE MY LIMITED EDITION OTHER HALF
Only comes with European charger
No earphones
Doesn't work on LTE out of the box (although a future software upgrade is promised that will fix this)
Not certain which of the above two categories to list these points under yet
'Challenging' new operating system that you can't rely on your existing experience with Android, Windows Phone or iPhone to help with. Is this innovation for innovations sake or something of merit?
It had a big software update immediately as I turned the device on even though the phone has only just been released. Concerns that the software is only half finished leap to mind…?
User replaceable battery – I've grown accustomed to built-in batteries and phones with them certainly have a more solid, safer feeling than those to which the back could potentially pop off and that have a lot more creases and crevasses for dust to collect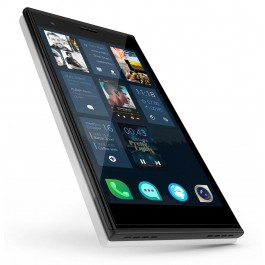 I like the seemingly minimalist feel to this phone, quite unpretentious and understated. I will be tinkering with the Jolla over Christmas and the new year and will probably have my review up near the end of January. If you have any questions you want answered or tests you want run please post them in the comments section and I'll do my best to include them in the review.