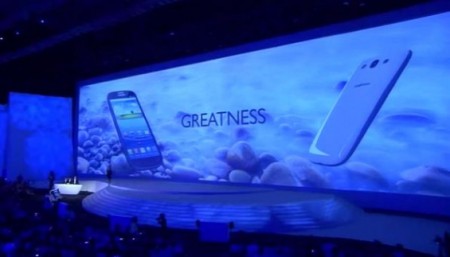 We've got another video of the Samsung Galaxy SIII for you below. I'll let you enjoy it but I'd like to tell you my thoughts after attending the event on Thursday..
The Galaxy SIII launch event was very busy and I've had some time to think about the launch and how the mobile landscape is changing.
Look around the web and there's the inevitable comparison with the iPhone. The natural voice recognition in the Samsung "S Voice" system is very similar to the "Siri" system on the iPhone 4S.
If you've read reports on the web you'll already have seen a battle-lines being drawn up by the media.
Apple vs Samsung.
Last night I saw hundreds, perhaps thousands of reporters. They all have voices, websites, TV channels, magazines, newspapers. Collectively they're capable of making a handset a success or failure in minutes.
The specs of the Samsung Galaxy SIII aren't vastly different to some other handsets that we've seen recently. The SIII has a 4.8″ HD Super AMOLED screen with a 1280×720 pixel display and a 1.4GHz quad-core CPU. The HTC One X has a 4.7″ 1280×720 pixel screen and a quad-core 1.5GHz CPU. Both have 8 megapixel cameras, rapid-fire photography, GPS, WIFI and sensors-a-plenty. Huawei have got the Ascend D Quad, LG have the Optimus 4X HD .. both very decent contenders.
I got a feeling during Mobile World Congress that handsets had plateaued slightly in terms of specs. Quad core CPU? Yes. 8 megapixel camera. Check. GPS, WiFi, Bluetooth. Check, check, check. Each manufacturer are now adding services or "intelligence" to push attention their way. Samsung have added Smart Stay, Direct call, Smart alert, Social tag and S Voice. The O2 Guru girls were filming while we recorded the video above. They've done a pretty good job of explaining these features…
http://www.youtube.com/watch?v=2K5_p-71QDY
Smart stay, as we've seen, is rather clever. It'll watch your eyes and knows when you're not looking at the screen. Only then will the screen go dark – a nice touch for anyone who has found themselves constantly tapping the screen to keep a browser window awake.
Direct call knows that, if you stop typing a text and lift the phone to your head, you'd probably like to call the person you were texting.
Smart alert will give you a gentle nudge if you've been away from your SIII, just to let you know when you've missed calls or messages.
Social tag will automatically tag and track your friends when you snap photos of them. It'll suggest messaging or calling them when you're viewing a photo.
S Voice is Siri for Android, turning your phone into a personal voice-controlled assistance.
It's been a very big week though, and Samsung have scored big on hype and coverage. They've separated the SIII from the extremely busy Mobile World Congress and have launched in a very bumpy week for mobile handsets. News of possible problems with the flagship One X continue to dog the HTC, Nokia are getting punched in the guts by their own investors, LG may (possibly) be stepping back from Windows Phone and RIM seem to be on the back foot.
Samsung listened to their customers. The SII was a leap ahead when it arrived, but now people want even more from a phone. They wanted a bigger screen, better battery life, more intelligence – everything you could need in one device. A friend in your pocket to help share your life.
Yes, I did just say that. Samsung launched in front of more reporters than I've ever seen. They launched with a live orchestra and with a TV star telling everyone that this was a phone "designed for humans". They spent over an hour telling us about the innovations inside the phone. Was this "just a phone launch" or has the mobile phone become more than "just a phone" ?
The SIII seems to be getting a slightly mixed reaction at the moment. Some were expecting better specs, perhaps another "leap" up the specs ladder – a 12 megapixel camera maybe? Others believe it'll be successful because those without enough cash to buy the iPhone will automatically go for this instead.
My personal opinion is that they have added some interesting ideas and the phone looks and feels fantastic. It's almost like a pebble when held and performed brilliantly. The screen was bright, vivid and large but it didn't feel overly big either.
But there's something else.
An X-factor. This isn't about specs. This isn't even about the rather clever extra features. Samsung already have a good name. Go into an electrical shop and look at the Samsung TV's. They are, without doubt, beautiful. The Samsung 7000 series is .. just.. stunning. A thin bezel, a gorgeous stand, ultra-thin, well built, excellent specs and clever too. Their laptops look great.. even their fridges. The Samsung Galaxy Note range is brilliant. The Samsung Galaxy Tab range is brilliant. That kinda makes you believe that their next smartphone will be too.
The Samsung Galaxy SIII will be everywhere, and I do mean EVERYWHERE very soon. Like it or lump it, I'll bet my house on the fact that this will work fantastically well and it'll sell by the truckload.
If you missed the launch, here's the full stream. I'd love to hear your thoughts on this. Oh, and if you've not seen the up-close photos, head over to our earlier story.