LG have announced the Optimus 4X HD handset just days before MWC is due to kick off and this is a quad core monster of a phone with specs to match.
We will be at MWC bringing you coverage of this phone starting from next Monday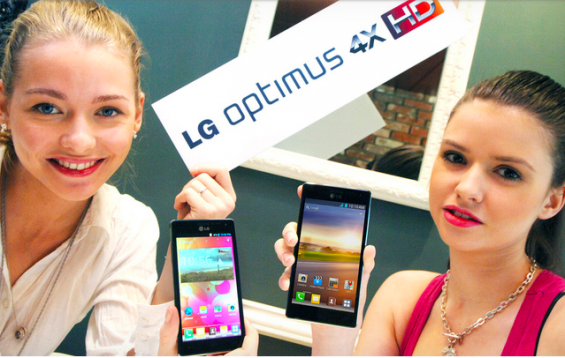 4.7 Inch 720p Display
Quad Core 1.5Ghz TEGRA 3 Processor
8 Megapixel Camera 
1.3 Megapixel Front Facing Camera
Android 4.0 Ice Cream Sandwich
16GB Internal Memory
1GB RAM
2105 mAh Battery
Here is the official press release from LG
Quad-core smartphone Optimus 4X HD 'public
"2012 quad-core smartphone era"
LG Electronics, quad-core smartphone Optimus 4X HD 'public

■ 'MWC 2012' standing 'Tegra 3' first-line quad-core processor tapjaepon
인치 ■ 4.7 'True HD IPS' display, such as ice cream sandwiches adoption of the operating system
■ Jong – Seok MC Director, "the core technology of high-end smartphones, as well as quad-core, own innovative technology and design capabilities, LG focused on the global smartphone market will leap forward, "he emphasized

LG Electronics, a quad-core smartphone "Optimus (Optimus) 4X HD 'to be held in Barcelona, ​​Spain, the 27th Mobile World Congress (Mobile World Congress) 2012' presents for the first time.

The world's first dual-core smartphone '11 'Optimus 2X' dual-core era of smart phones with LG Electronics to open further to a quad-core technology is planning to reorganize the smartphone market. "Optimus 4X HD ', starting with Europe in the second quarter will be sold.

This product NVIDIA (NVIDIA) 社's latest mobile processor, the 'Tegra (TEGRA) 3' 1.5 gigahertz (GHz) quad core processor was mounted.

'Tegra 3' of the central processing unit (CPU) core operations hit by Chapter 4 cores (Core), as well as for low-power drive 'companion cores (Companion Core)' plus the world's only '4-PLUS-1 'mobile stand processes. The four core games, HD video playback, multi-tasking, etc. are responsible for high-performance work, 'a companion core "minimal power alone calls, emails, to handle simple tasks, such as music playback.

This high battery efficiency, high-performance professional and gaming devices (game consoles) will implement a level of gaming experience. Window pops up Internet is faster, simultaneous multi-task in the group does not have.

"Optimus 4X HD 'close to the natural color gamut, high resolution to support the' True HD IPS 'display, and Google's Android 4.0 (ice cream sandwiches) has adopted the latest technologies, such as the operating system.

Despite the large screen 4.7 inches thick 8.9mm, thin screen border, the curve is closed due to get my hands grip and comfort.

In addition to mobile technology, high-quality connection MHL (Mobile High Definition Link) and electromagnetic features of the period, one of the wireless network, DLNA (Digital Living Network Alliance) support features excellent compatibility between devices equipped another.

LG Electronics, Jong – Seok MC (Mobile Communications) Portfolio Management, "high-performance quad-core as well as the core technology of smartphones, LG's innovative technology and design capability, focusing on the global smartphone market will leap forward," he said.