As promised, along with Dan's initial HTC One X review, here's another and more detailed look at the flagship One handset. It aims to turn around the perhaps "disrupted" image of the brand recently.
Many thanks to Handtec for providing us with an additional review unit.
The HTC One X really does give a good first impression once taken out of the box. Considering its rather large footprint, it's surprisingly thin and light. The unibody case is very good quality, feels very sleek and solidly built too. The earpiece and loudspeaker grilles are created using exceptionally tiny holes, one of which actually exposes a similarly tiny notification light, making the visual impression of the handset even better.
The HTC One X looks nice as a whole and is definitely a visual improvement over earlier HTC models, it still feels, well… "HTC'ish". For the past couple of years HTC were notorious cranking out a ridiculous number of very similar and sometimes boring devices. This One X and the One series are an attempt to break that trend and bring something genuinely interesting. Somehow I still feel there's a little room for general look'n'feel improvement here.
The HTC One X is no-brainer when it comes to the hardware features around it. There's a power button on the top-right of the device, which is a fine alignment for right-handed people. However, placing such button on the side of the phone (like the Galaxy S2) would've perhaps been better and reduced the need reach the button each time. Sadly, there's no camera shutter button which I recognise as the biggest hardware omission in this phone. I'll come back to that a bit later while looking at the camera.
The display on the One X is a quite large 4.7-inch SLCD2 panel sporting the "HD" resolution of 1280×720 pixels. The display is very bright, provides great clarity with exceptional viewing angles and decent performance in direct sunlight. There is an automatic brightness mode present, however isn't enabled by default. Also, it didn't seem to reduce brightness to absolute minimum while using in complete darkness. Nonetheless, One X's display is simply fantastic and I was really impressed by it. Considering physical size and 1280-pixels wide in horizontal mode, the screen is absolutely fantastic for browsing the web, viewing photos or videos.
Moving on to the camera. HTC doesn't have a great history of providing a decent imaging solution with their smartphones. However, the HTC One series is an attempt to change that. The One X sports 8-megapixel sensor behind pretty bright (f/2.0) and wide (28mm) lens and supported by dedicated ImageSense chip, which promises extraordinary imaging performance. As I already touched on the topic in my earlier camera shoot-out between the HTC One X and Sony Xperia S, let me just briefly reiterate that HTC have managed to provide an absolutely fantastic camera which does really well in nearly all conditions, including low-light environments. Check out the shoot-out article to find lots of sample shots from both cameras.
Apart from being a great overall shooter, HTC's camera provides few impressive tricks. For starters, it is exceptionally fast, as there is virtually zero shutter lag! Initially I wasn't even sure whether it does set the autofocus at all, but it does indeed! Of course, such performance is achievable in good light conditions, however it is still very fast in slightly worse light too. Then there is fantastic burst mode, which is capable of taking dozens of subsequent pictures in a row (again, exceptionally fast!) just by long-pressing the shutter button. This is then followed by the dedicated interface which gives an opportunity to pick the best shot and discard others and so on. Pretty amazing.
Another neat feature is that the camera is capable of recording HD video whilst letting you snap photographs at the same time. In fact, it is possible to take photos within pre-recorded videos whilst playing them! There is also the ability to apply various cool filters in real time – something like Instagram, but seamlessly integrated with Camera app itself. Finally, there is support for slow motion video, however I take it as a gimmick rather than something genuinely useful due to really poor output quality. It seems that compression algorithms hit quality a little bit too hard in this otherwise very interesting recording mode.
There are few bad points about the camera, though. The main and most annoying gripe is (again) lack of camera shutter button. I just can't understand why a device touted as a great cameraphone could lack that little, yet crucial from the final user experience perspective button. Having no camera button, there's no way of launching camera app quickly (ie. without using power button and swiping the lock-screen shortcut), which is a bit of shame considering how amazingly quick the camera itself is. Sony implemented a fantastic feature which let you take a full shot from "off" in less than 2 seconds by just a single press of the button in their Xperia S. I'm guessing that could be beaten to around 1 second – only if HTC decided to get that damn little button in place.
Also, the camera app doesn't seem to support touch-to-shoot option. Awkwardly enough, a touch on the screen in Camera application does set the focus on an object, yet taking a photo is only possible via on-screen shutter button, which I reckon is another waste of opportunity to take photos even quicker.
My final gripe, perhaps not directly related to the camera as such, is lack of any HDMI-out solution out of the box. While reviewing the Sony Xperia S earlier, I really valued ability to hook it up via HDMI cable (which was included in the box) to the TV in order to quickly show photos and videos to family and friends. There is no such option with the One X, unfortunately, as there's not even a USB-to-HDMI adapter included in the box. You get DLNA-out, so if you've got a posh TV you can perhaps use that to output pictures instead.
In fact, the box contents are fairly miserable – all you get apart from the handset itself are USB wall charger, USB cable and standard headset (ie. no Beats headset).
Software-wise, the One X obviously comes with Ice Cream Sandwich out of the box topped with the custom Sense software layer, as you'd expect from any device from HTC. Now, this is where I am going to get somewhat subjective and biased, as I never personally liked HTC Sense. In fact, I hated it. A couple of years back, when I bought the HTC Desire Z, I was annoyed with Sense to the point where I ended up rooting it and happily settling down with CyanogenMod literally couple of days later. Apparently HTC themselves recognized the fact that Sense was somewhat overbloated and promised version 4.0 to be much slimmed down and less obtrusive than previous editions. Is it really?
Well, even such a Sense-hater like me must admit – yes, it is! Sense 4.0 has been vastly revamped, it is now generally much slicker and lighter than earlier editions. Kudos to HTC for recognizing its own pains and fixing them. However, this is not to say that I suddenly started loving Sense. It is now more than bearable and I would be able to live with it in the end without resorting to flash the device with a different ROM straight away, yet still I'd probably prefer a vanilla Android experience instead.
Obviously, as one would expect from Sense UI, it still has deep roots into Android and virtually all core apps have been replaced or redesigned by HTC. Some of these are genuine improvements over vanilla editions, yet some still aren't.
I liked the way the Calendar application has been refactored under Sense, for example. It has a very clear and largely customizable UI, it supports lots of calendar sources at once and generally is very pleasant to use. Another interesting application is "HTC Car" which turns the UI into large-scale to make it easy to operate while driving a car. However, I didn't quite like the fact it only works in horizontal mode, which doesn't work well with my potrait-only car mount.
The Gallery application is fairly straighforward and simple to use. I liked the feature of showing / hiding certain albums which finally solves the issue of music cover arts clogging the gallery. There is also integration with online gallery services like Facebook, Flickr, LAN media streamers via DLNA and so on.
The Music player app does seem a bit confusing at start. It works as a shell for external apps (like Soundhound, TuneIn Radio etc.), shortcuts to which can be placed in player's main screen. One of these shortcuts is "My phone" which brings the list of albums / artists from music files stored locally. I listen to the music on daily basis while commuting and I was getting confused by it every single day. Another thing is the Beats Audio integration. Every time music is played, a dedicated "Beats Audio" icon kicks into notification area and there's no way of kicking it out. I felt that feature as an obtrusive gimmick at best, as in fact it is nothing really special – just an equalizer preset which bumps bass up when toggled on. That's it. Not particularly impressive, really.
A bug I did notice with music app was that it randomly just stopped playing music for no apparent reason. It was happening occasionally yet was definitely noticeable on my daily commute route when listening to various tunes.
Speaking of music, although not directly related to that, it is worth mentioning the USB mass storage support, which kicks in while plugging the One X to the computer via a USB cable. This obviously makes copying music and other files across computer and device super easy. USB mass storage mode sadly seems to be fading away in favour of MTP (Media Transfer Protocol) lately, which isn't as widely recognizable and supported as USB mass storage. Again, kudos to HTC for keeping this on the plate.
Text input in the HTC One X is supported by the HTC Sense Input keypad. The keypad itself seems very reasonable, all keys are fairly large, well spaced and pleasant to use on such a big screen. Thing is that before reviewing the HTC One X, I spent over two weeks with the Sony Xperia S which has superb keypad, gesture input and autocorrection features. Having said that, getting used to the keypad in the One X was major pain point for me for the first few days, as it's nowhere near as good as keypad in Xperia – this is mainly about prediction and gesture input (Swype-alike) features. For example, once a set of words has been typed, there's no way of correcting some of them by just tapping on a single word and choosing different suggestion from predicted words list (which works exactly like that in Xperia) . The only way is to delete whole word and type it again.
To be fair, it is all matter of getting used to and I'm pretty sure that if I didn't use Xperia beforehand, I would now say that One X's keypad is just great. It's a matter of perception and gaining a habit I guess, that's all. 🙂
I found few other annoying quirks here and there. For example, the "Favourites" section of Contacts application is nowhere close to be easy accessible. In virtually every single Android handset I have ever used, the Favourites were separate and easily accessible part of the Contacts app. That's not the case here, as Favourites are buried in the main Phone application under the recent call log, or within the "Groups" tab mixed in-between various group names pulled from online services like Google Contacts, Facebook etc.. In fact, it took me couple of days before I ever noticed it, wondering why the hell I didn't see my Favourites anywhere?
Other thing that bothered me a little was inability to set different sound volume for notifications and ringtone, as they were always locked to the same level. Not really sure why HTC decided to stick these two knobs together for good, yet I found it a bit annoying.
Summing up the software side of the HTC One X – there is lot to like about it, yet I am personally still not exactly convinced by HTC Sense as a whole. Having used the Sony Xperia S beforehand, despite the fact it still runs Gingerbread rather than ICS, I tend to like its set of Android customisations more than HTC's. This is a very subjective opinion, though, so bear that in mind..
Coming down to the overall performance of the HTC One X is going to be interesting. It has the Nvidia Tegra platform, 4 CPU cores and 1GB of memory. All that spec sheet show-off should result in exceptional day-to-day performance of the device, shouldn't it? Well, it does deliver in that department, generally speaking. Yet still, I did notice the One X gets somewhat sluggish after prolonged periods of use, especially after performing lots of CPU- and memory-intensive tasks like HD video playback/recording, flicking through lots of stuff in Gallery or browsing lots of full-size websites in the browser. After a while virtually every switch back to the home screen caused the home launcher to suddenly and noticeably restart itself, locking me from doing anything for up to 8-10 seconds! The only remedy to that situation was rebooting device to force refresh of its resources, yet it didn't take long to reach that sluggish stage again.
Whether it is a bug fixable by future firmware update (as it resembles a problem with memory leak which gradually eats up memory resources available to other processed) or "a feature" remains to be seen, however this is certainly not something I exactly expected from a device sporting such powerful hardware under the hood. The Sony Xperia S was running for a good week or even two without a glitch or forced reboot, being as snappy and swift with pretty much every task thrown at it, as it was just 5 minutes since powering on. I've had to reboot the One X at least couple of times to maintain own sanity within around a week of constant usage. Hmmm…
Battery life in the HTC One X is a subject of heated discussions around the web. For me, it was reasonably good, I'd say better than in the Sony Xperia S. It drank lots of juice in constant use with 3G data, online services sync etc. I have noticed that the One X does very well in conserving energy while idle, again much better than Xperia. On the whole, battery life didn't surprise or disappoint me and was more or less in par with most modern handsets I've used recently, which makes roughly one full day on a single charge with online activities constantly running in the background.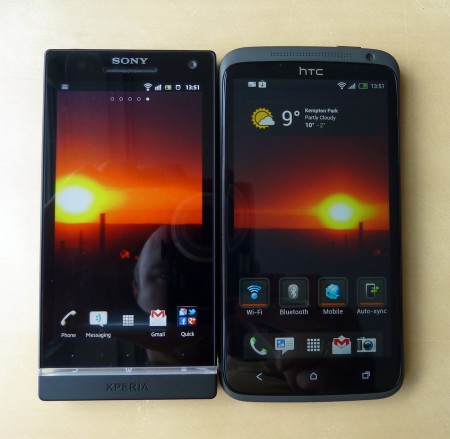 Conclusion
The HTC One X is probably the most important product in HTC's refreshed line-up and has received a lot of attention and warm welcome from around the mobile technology world. Having read quite a few positive reviews, I was very keen to get my hands on it. In fact, I've set my expectation bar pretty high against the One X. So, did it live up to expectations?
Well, yes and no. Sure, this is one of the best Android handsets currently available on the market, no doubt about that! Great hardware, fantastic display, brilliant camera and up-to-date software. However, it is somewhat difficult for me to judge the One X fairly, so let me sum it up in a bit different, more personal way.
During the review period I've had an opportunity to have both the HTC One X and the Sony Xperia S at hand at the same time (again, huge thanks to Handtec for the loan). In fact, I've had to decide which one of these I should keep as my primary workhorse to replace the good old HTC Desire Z. Now, both HTC and Sony are fantastic handsets, both have similar specs and both have decent cameras. Both have their own set of pros and cons too. However, while HTC seemed to be technically better, I enjoyed using the Sony more. For example, the HTC's big screen is excellent for browsing web or viewing photos, however the Sony, being smaller and more compact, provided more comfort whilst performing day-to-day tasks. Ironically, Sony's chubby back did better job than fashionably flat HTC in keeping right balance whilst operating the phone. Another example is that camera button. I simply couldn't stop shooting a photo uber-quickly with just a single button press on the Sony, while the HTC obviously couldn't deliver that matching experience.
Sure, that's a matter of taste and personal preference, but I liked Sony's set of Android customisations more than HTC Sense – even if the latter was baked on top of the latest-and-greatest ICS rather than Gingerbread (perhaps that preference comes from the fact that HTC Sense does a pretty good job hiding actual ICS experience after all?). Finally, and ironically at the same time, the Sony felt snappier and more stable in the long-run than the quad-core monster from HTC.
So you get the picture… the HTC One X is a seriously good handset overall, yet has a few minor glitches here and there which brought the experience down a little for me.
While my mind was telling me "choose HTC", because it was better on paper, heart was whispering "choose Sony", as I simply felt better when using it. And you should always follow the heart, right?
HTC One X is available to buy from Handtec for £469 at the time of writing.