I like quite a lot of us here in the UK, am currently having to work from home a few days a week. For this, I have been trying to get myself sorted out with a suitable desk set up. As chance would have it it was at this time that Flexspot reached out to ask me if I wanted to review a standing desk. I of course jumped at the chance.
Standing desks have become quite common along with open plan offices in workspaces up and down the country. They are now also becoming something that the home-based worker is starting to look into. The flexibility of being able to adjust the height at the press of a button is a real benefit and makes finding that ideal work position very easy.
I have quite a small home office that has a maximum width of about 1.9m. My previous office set-up was one that was a hodgepodge of IKEA desks and shelves that I had accumulated over the years. It worked but it was far from perfect. I need something new and it needed to be able to support a few different machines and monitors.
To fulfil these needs I decided to go with the L-Shaped desk EL1 and this thing is massive as you can see from the picture below. It does however fit just!

The desk itself comes in a few different pieces and they were delivered separately by different couriers. Feedback has been given to Flexspot about this and it is something that will be looked into changing. What this did mean is that I was able to get the first part of the desk setup and in place before the really heavy part arrived which for me was the next day thankfully.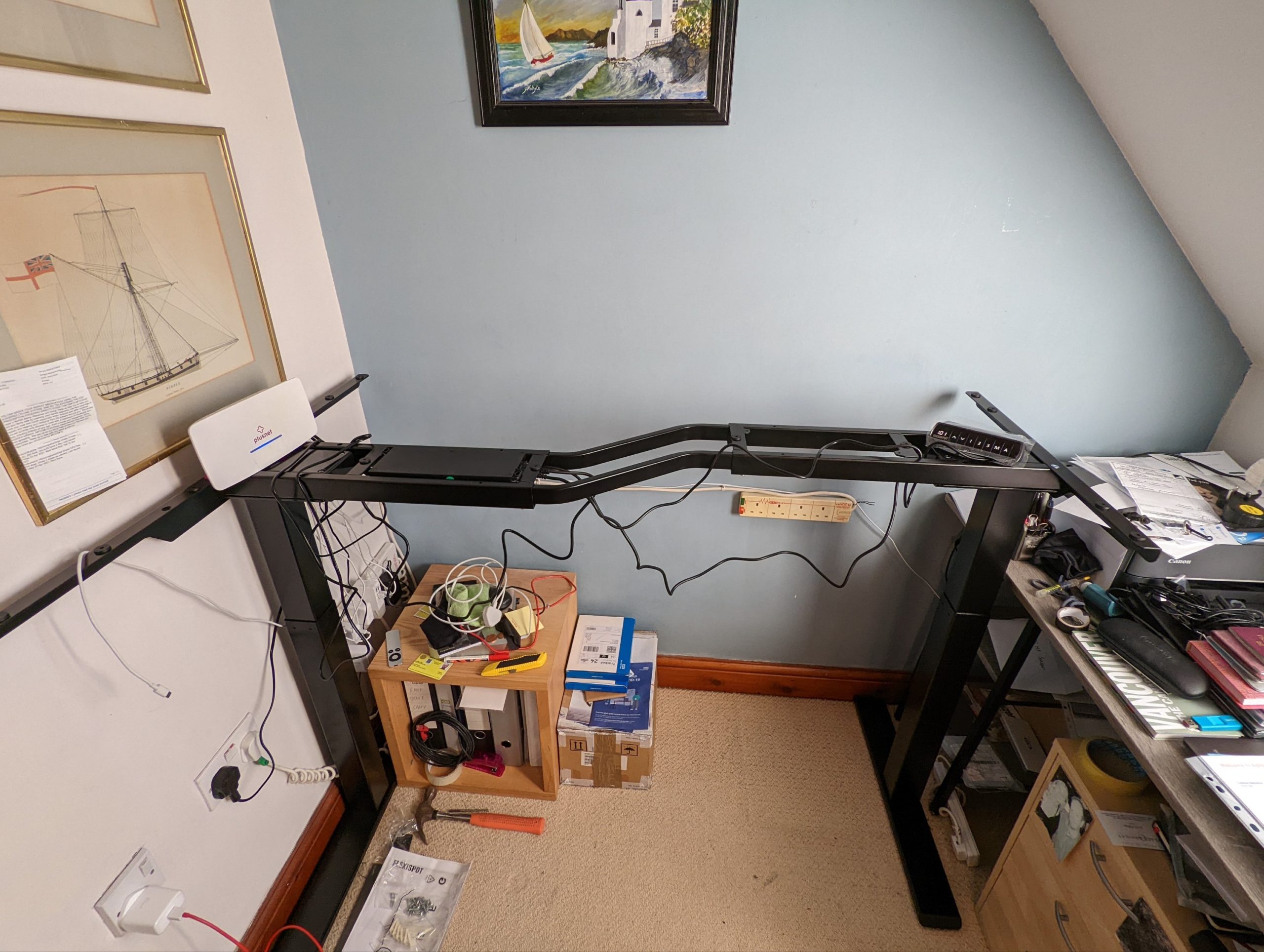 Assembly is pretty straightforward and it is a simple case of following the instructions and screwing in a few bolts and some grub screws. As this is an L Shaped desk you can see that one side of the desk is longer than the other. This is to allow it to support the weight of the L. In the photo above I have actually got the orientation around the wrong way as I was not aware of the size of the tops of the desk. It had been my plan to have the desk oriented with the bottom of the L to my left. However, as can be seen in the image above this was not possible due to its sheer size.
I have taken some measurements of the desk for you and these are included below.
Length 1200mm
Width 600mm
Depth 25mm
Length in total when assembled 1800mm
These dimensions mean that the desk just fits into the space where you facto in the radiator. It gives an expansive work surface on which I am able to spread out my kit quite nicely. As you can see from the pictures I have included. The minimum height of the desk is 710mm and the maximum height is 1200mm. It will hold up 100kg and offers a dual-motor lift mechanism to allow for super-quiet operation at under 50 dB which I have tested. The raising and lowering of the desk is controlled by a simple control panel that can be mounted onto either side of the desk (depending on orientation). I have managed to affix mine to the desk on the left-hand side and it feels like a natural place to have it. This is one of the spots where there are no marked screw holes, So you will need to drill out your own. Here is a video showing the desk lowering from a standing height position.
In addition to the standard desk, I have also added a drawer which I have attached to the underside of the desk. Most of the desks do not come with this option and you do have to pay extra for it. The drawer is very good quality and comes with brackets to make for easy fitting. Again there are no holes that are pre-drilled for this add on so you will need to add your own but the designers have thought about this to make it as easy as possible for you. It took only a few minutes to mark up the holes with the included template attach the brackets and then slot the drawer into place.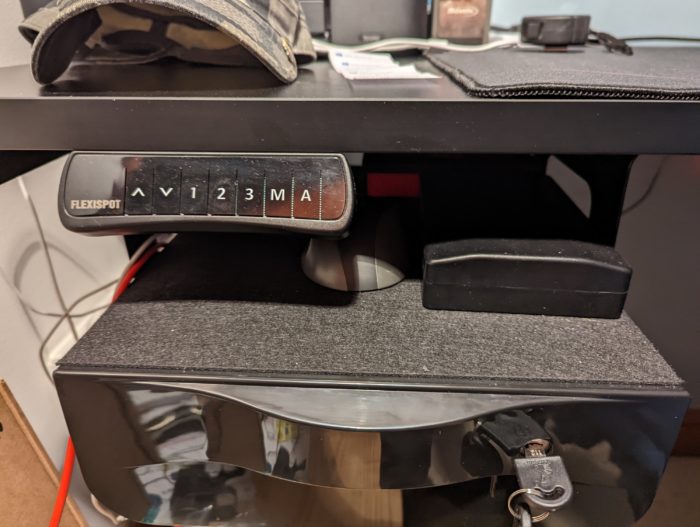 Once in place, the drawer sits a little bit lower than the desk about ?? mm which actually work out to be quite handy as the top of the drawer casing make for a handy shelf, the fact that it has a felt surface makes it very useful.
As for the drawer, it is lockable which is handy for storing your secure bits and pieces. The inside of the drawer is also lined with the same felt as on the top so you can put things in this space without having to worry too much about them being damaged. Like the desk, the drawer is composed of Steel like the rest of the frame which is reassuring if security is a concern for you. I feel that it does justify the extra cost especially if you need the extra storage.
Another option you get is the keyboard tray but I did not need this one so I did not have the opportunity to test this one out. There are a few other bits that you get to add to the desk setup such as bike style seats. foot mats, drawers etc. They are all reasonably priced and will be certain to work with the desk setup.
Coming back to the desk height adjustment as I mentioned earlier the desk can be used at various heights between 710mm and 1200mm. The controls are very easy to use and as you see in the image below the control unit has got some programmable presets that can be adjusted to your needs. It also has the option to give you reminders when to sit or stand depending on a predefined setting that you can adjust. Out of the box, this came preset at 45 minutes.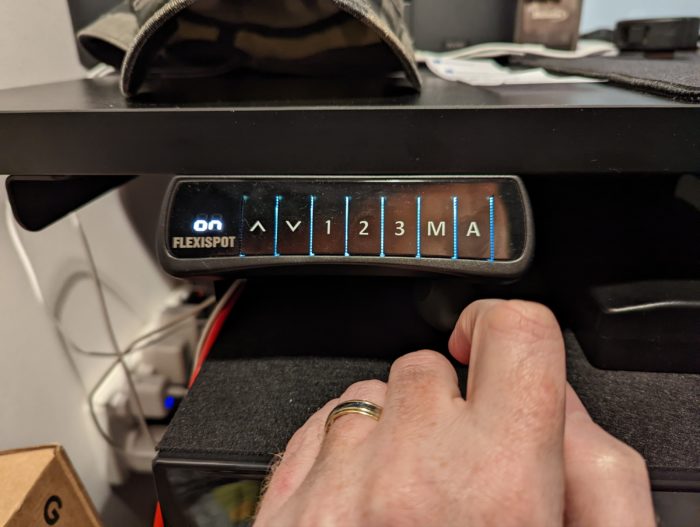 After this time it will prompt you to either sit or stand depending on which position you are in! Another feature that I really liked is the fact the desk has the ability to detect obstructions that are in the way underneath the desk when lowering it. I have recorded the video below to demonstrate this feature for you.
I have found the material used for the construction of the desk to be very good and it is solid. I see no reason why this desk will not last a long period of time and I am very happy with it. I have found that the desk helps me in my work and makes being at my desk more enjoyable for longer periods of time. The ability to change between sitting and standing at the touch of a button I very useful and allows me to be flexible in the way I work when I am at home. I also found that it has helped to reduce some of the physical pain that can occur with sitting at a desk for a long time. I have recently been suffering from a sore neck from a trampoline-related injury caused by me thinking I was much younger than I was! Having the ability to change my position while working has been very helpful while working. I was finding that sitting was proving to be uncomfortable whereas standing was much easier. having a desk that allowed me to do this has been extremely helpful and I am very grateful that such a thing now exists!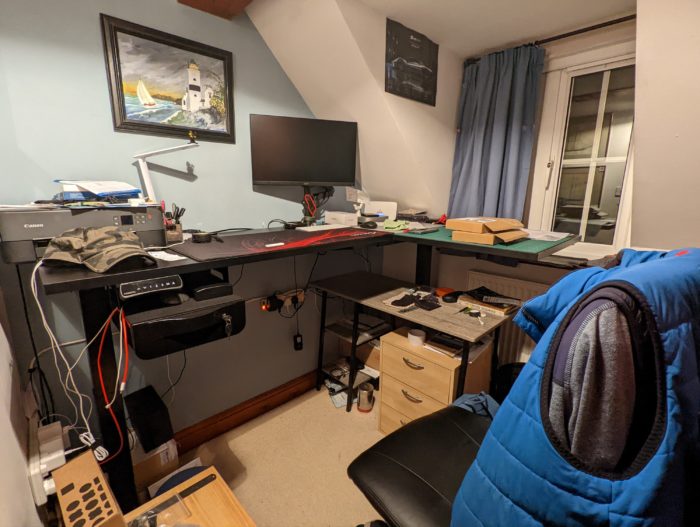 Yes, they are a bit more expensive than a standard desk but i do feel that they are worth it if you have suffered from any pain in your back or are working at a desk for long durations it really does help. Also now is the best time to be looking at getting one of these for your home office as prices have been reduced for Black Friday For the setup I currently have it should have cost me £627.97 however with the current Black Friday deals this has been reduced by 10% to £566.97. 
There are more deals available for desks with up to a massive 50% off some desks these deals can be found at Flexspot's Website between the 26th and the 29th of November.