The Sony Xperia S is quite an important smartphone in Sony's lineup following recent break-up with Ericsson. We have already covered Xperia S here at Coolsmartphone in a review by Dan a couple of weeks ago, but we have also decided to take another more detailed look at the handset, which was kindly provided to us by Handtec.

The Xperia S is undoubtedly a pretty handsome smartphone. Its sharp, rectangular shape and slightly chubby (by today's standards at least) back might not appeal everyone but it is hard to deny it's distinctiveness and ability to attract attention. A transparent and illuminated bar below the screen only adds to the sexiness of the handset.
The casing and materials used are of high quality, however I found the back cover a little too easy to remove and felt, at times, a little loose. One could argue that the Xperia S should have a removable (i.e. replaceable) battery and a microSD memory expansion slot. However, the chances are that the majority of users never bother replacing a battery and hey, that 32GB internal memory is more than enough. Also, a micro-SIM is becoming the de-facto standard for many modern smartphones anyway.
What I do care about is having a dedicated camera shutter button, and yes – the Xperia S thankfully has one. I'm not entirely sure why a shutter button suddenly became such a rarity, as I reckon that little button is the bottomline of decent camera experience.
The unique visual design of Xperia S comes at a price, and that's the general ergonomics in day-to-day usage. A common complaint across other Xperia S reviews are the softkeys below the screen. Actually, before I get to those softkeys, I think it's worth mentioning that literally every single person who had the handset in their hands for the first time made exactly same mistake – they all tried to press the transparent bar below the screen. This ISN'T where action keys are, even though the icons are embossed here. The actual softkeys are tiny little dots just above the bar. Now, these tiny little dots are in fact quite … err…. tiny. By that I mean that the touch-sensitive area around them is pretty small, forcing you to make very accurate taps so they can be properly registered. What's worse, these dots aren't illuminated in any way, making a bit harder to use them in near-darkness. In fact, using these little buttons is a bit of a hit-and-miss game initially, but after a bit of use you'll have less problems. After couple of weeks I didn't feel it was huge problem, really, as I have subconsciously learned how to press these little buttons effectively.
Another example of failed ergonomics is the placement of the power button and the headphone socket. If you prefer to hold the phone in your right palm, it is virtually impossible to reach power button with your index finger without some pretty awkward realignment of the phone. Things get worse when headphones are plugged in. This is due to headphone plug getting right in the way of right index finger trying to reach power button, so chances are you'd be using your left hand more often just to wake the device up from standby. Having to shift phone up and down in hand to operate it maybe isn't much of a problem, but it increases the chance of an accidental drop to the floor, and that's obviously something no-one would be happy about.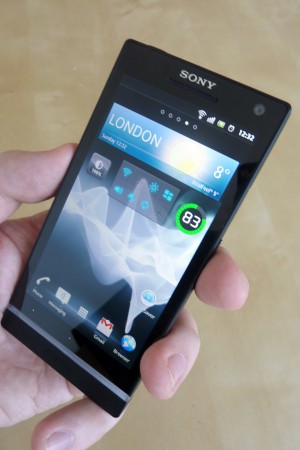 The display of the Xperia S is probably its most impressive feature. First of all, the unbelievable resolution of 720×1280 pixels is packed into just 4.3-inch screen, and this results in an incredible crispness of all content displayed on it. It is probably the best resolution-to-size ratio on the market currently available, beating even the famous Retina Display in the iPhone (and The New iPad obviously). The Xperia's display is also insanely bright and perfectly readable in direct sunlight. In fact, I've had the display brightness dimmed to just 50% most of the time while using review unit and haven't had to increase it manually while using outdoors at all – also on sunny days (and yes, we do have those in London sometimes). The touch sensitivity of the display is also spot-on.
The only minor complaint I could have against it are viewing angles which aren't as great as I expected, but that's a minor issue really. All in all, the Sony Xperia S has an absolutely excellent display. Period.
The Xperia S comes with rather impressive 12-megapixel camera capable of recording FullHD (1080p) videos too. The camera is very good and provides excellent quality shots, however it does tend to embed a substantial amount of noise in low-light conditions. Nonetheless, given good light levels, especially outdoors, photos taken with Xperia S are simply fantastic. Videos recorded in both FullHD and HD modes are superb too.
Another cool feature of the camera is ability to shoot a picture right from the locked/standby mode in less than 2 seconds. It takes just one long press of the shutter button to fire up the camera. It then focuses and takes a picture immediately.
The Xperia's camera is generally blazing-fast to use in all conditions, auto-focus accurately locks in no-time, making the overall camera experience an absolute breeze. Frankly, just having the Xperia S in your pocket puts in question keeping a dedicated compact camera for casual snaps while out and about.
I have noticed couple or minor issues with camera and gallery apps, though. Firstly, the camera UI did seemed initially to lack many basic options until I discovered that they're hidden under the "Menu" softkey. This is not something I'd expect from camera app user interface. Secondly, the photo gallery viewer seemed to lack a basic photo editor. This would deal with simple tasks like cropping, red-eye removal etc. I'm sure there are apps for that in the Android Market Google Play Store, but I'd rather have the facility available out of the box. Interestingly, the Xperia S offers the ability to edit videos straight in device, but only those recorded in 720p resolution.
Software-wise the Sony Xperia S does slightly disappoint by coming with Android Gingerbread rather than Ice Cream Sandwich out of the box. The latter is promised to come as an upgrade soon, but competitors are already launching their latest models with ICS preinstalled as standard.
Sony's custom Android skin doesn't differ much from customizations present in the earlier Sony Ericsson Xperia lineup. In fact, compared to my earlier review of the Sony Ericsson Xperia Pro I'd struggle to point out any major differences at all. The Homescreen launcher is pretty basic compared to alternatives available in the Google Play Store, yet still pretty usable – I didn't personally feel the urge to replace it anyway. The Xperia S also comes with number of factory preinstalled apps, usually known as the "bloatware" – surprisingly enough some of those can be simply uninstalled straight from the app drawer.
Custom features inherited from the earlier Xperia lineup include the Mobile BRAVIA Engine to enhance display vividness while viewing photos and videos. There's also the xLOUD enhancer to provide extra loudness of the external speaker. The "extra loudness" is really just that – having both xLOUD turned on and ringer volume set to maximum means that your chances of missing a call in a noisy environment is next to none.
Generally speaking, Sony's own set of customisations are far from annoying. There's a few examples of some seriously good improvements over the usual apps that come in vanilla Android. One of those is the Alarm clock app. Various manufacturers take various approaches to customise that tiny, yet essential application but surprisingly many of them don't get it right. Why is that? Quick one here – how easy is turning alarm off or putting snooze on in your Alarm app? Sometimes it is a matter of taking phone in hand and making very accurate press on the very specific and usually small on-screen button. With your eyes half-closed at 6:50am in the morning that's daunting task, really. Thankfully, with the Sony Xperia S it is matter of just pressing any of the hardware buttons (ie. camera shutter or volume rocker) to put alarm to immediate snoozing silence, which can be done with eyes completely shut. I am somewhat passionate about these tiny little things as they often get unnoticed and neglected, hence rarely implemented right off the bat.
Web browsing is quite a pleasant experience with the Xperia S. The browser app itself isn't Sony-customised in any way, hence is pretty much stock Gingerbread app. However, thanks to decent display resolution websites fit across the screen nicely and pages are loaded very quickly. Obviously, there is Flash support out of the box too.
The Xperia S, as you'd expect from Sony-branded device, comes with good set of multimedia and entertainment capabilities. The Music player is far better than the standard app bundled in Android. It comes with additional features like sound equalizer preloaded with wide selection of presets, as well as manual adjustment mode; ability to edit id3 tags in music files directly, and it'll download missing metadata (including album covers) from a 3rd party webservice plus look-up lyrics and additional information of currently played tunes etc etc.
Speaking of music, I think it's worth mentioning that headphones bundled in the box with Xperia S are actually quite respectable in terms of sound quality.
The Video player supports DivX (avi) format out of the box, as well as UPnP/DLNA streaming in both directions. That said, Xperia S can stream media content from UPnP-capable devices in local network, and serve as a streaming server itself.
I always regarded TV-out or HDMI output in any mobile phone somewhat nonsense or a gimmick at best. This is not the case with the Xperia S tough, as Sony came up with something genuinely innovative and interesting which makes plugging in that HDMI cable worthwhile. Basically, as soon as the HDMI cable is connected to the TV and the Xperia, a dedicated "TV" application kicks in.
This app is specifically designed for TV output and works in horizontal mode only. Not only does it look great in the big-screen HD resolution but it's also externally controllable using the standard TV remote control (beware tough, not every TV model supports that!). This nifty little feature turns the Xperia S smartphone into a fully-fledged media-centre PC which could be used to listen to the music, browse photos, watch YouTube videos or even full films stored in Xperia's internal memory right on your television and controlled directly by remote without touching phone itself. Discovering this feature was probably the least expected and triggered a big "wow" moment for me. The only itch here was inability to input any text via remote controller, so typing search queries or web addresses still required direct interaction with a phone.
A feature which I couldn't test out directly was the NFC (Near Field Communication) chip inside the Xperia. Sadly, Handtec didn't have stock of "SmartTags" at the time of writing this review, hence I didn't get round to testing them. However, we've been promised to get few of those tags in as soon as stock arrives and I'm planning to cover it in separate article, so watch this space!
Text input in smartphones relying solely on touch interaction is quite a big topic for me. I have been using various mobile devices sporting hardware QWERTY keyboards for a good few years now and given the lack of hardware-QWERTY devices, I've started considering a complete switch to a touch-only device for the first time ever. I was more than glad to find out Sony Xperia S offers pretty decent on-screen keyboard out of the box. It has a reasonably spaced and well laid-out keypad, features multi-language autocorrection support with self-learning dictionary and has a Swype-a-like gesture input. This is not only really accurate but actually quite addictive too. As a fan of hardware QWERTY keypads it did take a bit to get used to touchscreen text input, but the transition was fairly painless and shortly afterwards I realized I don't really miss hardware keypads quite that much.
The call quality in the Xperia S was never something to complain about. The earpiece is loud and clear and there's also an additional microphone for noise cancelling, and it does the job very well. I was able to make a comfortable call while in the middle of noisy auditorium filled with loud music all around. In order to give noise cancelling feature a proper test, I have turned it off and made another call to the same person who immediately confirmed that difference was huge, in favour of having noise cancelling option turned on obviously.
In terms of overall performance and stability, Xperia S has never disappointed me. The user interface is very snappy and fluid virtually all the time, regardless of the current task at hand. Software stability is similarly excellent. I don't remember seeing the dreaded "force close" message anywhere, and there were no weird lockups, freezes or random reboots.
Battery life doesn't impress and doesn't overly disappoint either. I'd say it's on par with most modern smartphones I've been using recently. That said, the battery manages to keep the Xperia S powered through my usual working day, leaving a tiny bit of margin before hitting bed around midnight. If I decided to use it just a bit more than usual, recharging midday would be a must in order to preserve some power for the evening. Overall, if you're fairly heavy user having various online accounts set to auto-sync over 3G, then make sure you have power source and USB cable around in the course of a day. During less busy days like weekends it should comfortably last through full day without recharge though.
Final thoughts on Xperia S? In layman's terms – it is a damn good handset, really! Having used it for couple of weeks I struggle to find any major flaws in it, maybe apart from those ergonomic issues I pointed out at the beginning, but to be fair I've got used to them myself after two weeks anyway. Lack of removable battery? Meh. No microSD memory slot? With 32GB onboard storage I can live with it. Came with old and rusty Android Gingerbread out of the box? Well, yes, but not for long. What else? Eye-catching design, excellent display, fantastic camera, decent multimedia capabilities, all-round speedy and stable software and good amount of internal storage. All that makes Xperia S a really worthwhile smartphone which is unlikely to disappoint.
Kudos to lovely guys at Handtec for providing us additional review unit. At the time of writing, they stock Sony Xperia S at a lovely £410 price point which includes international power adapter too.