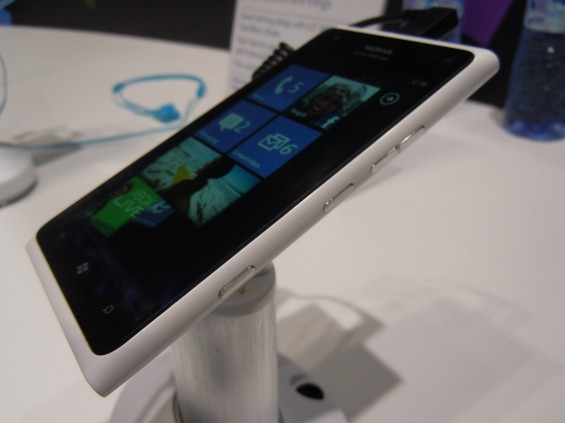 Hmmm…
Reviews for the Nokia Lumia 900 over in the USA are certainly mixed. What seems to be coming across isn't necessarily the hardware either. The specs aren't as good as other handsets, but Windows Phone doesn't necessarily need it.
Strangely, over here in Europe, the Nokia Lumia 900 is around the same price as the HTC One X.
Perception. It's a word that I've had drilled into me. Your product can be amazing, but if people don't see it that way, you're screwed.
The Lumia 900 has a 1.4GHz single-core CPU, has 16GB of storage and runs Windows Phone 7.5. There's some great apps, but not the selection you'll find on iOS and Android. It's £486 on Clove.
The HTC One X has a quad-core 1.5GHz CPU, has 32GB of storage and runs Android 4.0. There's a boat-load of apps. It's £492 on Clove.
Why is the Lumia 900 so expensive here in Europe? Is Nokia or the retailer ramping up the price to increase the perceived value of the phone? If so, it may well work, or it might not. Single-core Android phones with 8 megapixel cameras can sell for half the amount that the Lumia 900 is. What would you choose?
That's just skimming the surface. I'm more than aware that Android fans are HUGE Android fans, Windows Phone fans are HUGE Windows Phone fans and iPhone fans are… well, you get the idea. But I feel something bad in my waters.
Why the hell is the Windows Phone market share SHRINKING in the USA? Will people really pay extra for the Lumia 900? Has Nokia still got that "brand value" ?
I can't emphasise the point about the app catalogue enough. If you don't have at least three versions of Angry Birds you're in trouble, and Microsoft are in a massive Catch 22 situation. Developers don't want to make apps for a platform with a tiny customer base, and customers don't want to buy a phone with a tiny app catalogue. Microsoft are trapped in market where major apps are advertised and promoted on TV and newspapers for two platforms only – Android and iPhone. Where's Instagram, Draw Something, Cut the Rope ? Unless Microsoft turn up with a briefcase full of cash, even those big games won't appear on Windows Phone anytime soon, and when / if they eventually appear, everyone else has moved on.
The marketing campaign and "Smoked by Windows Phone" challenge hasn't convinced many, and you can beat Windows Phone merely by dragging the right widget onto your homescreen and disabling your lock screen.
I'm in the UK though, and the market share numbers we've seen are from America. So, I asked someone in the US, I won't mention his name but he's a massive Windows Phone fan and uses one daily. Why does he think that Windows Phone is showing a drop in market share?
There's a number of reasons for me..

Virtually no advertising compared to iPhone and Android devices, few "new" devices (new Android models seemingly launch weekly), (relatively) no phones in the wild for people to see/covet, not actively "pushed" by the major carriers (part of the advertising/new devices problem), and, really, the lynchpin, IMO, Windows Phone doesn't, (and has never,) offered anything really compelling over iOS or Android. A neat UI just can't trump missing features, missing apps, etc. for most consumers.
Windows Phone has a lot going for it though. The voice calling experience is great, there's some good Xbox Live games and a decent Office / Onenote / Skydrive integration.
But…
I'm going to stick my neck out here. Something is wrong.
I'd love to hear your thoughts on this.