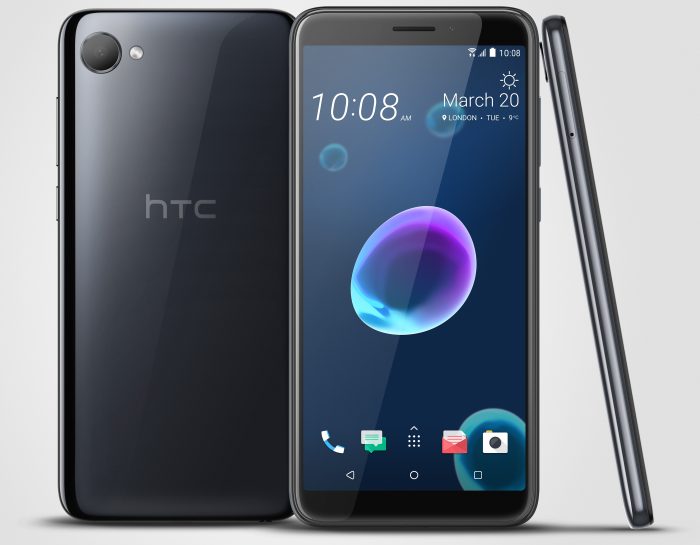 Remember the HTC Desire 11? Do you? Well, there wasn't one. Not as far as we know. There was a HTC Desire 10, but no 11. How have we got to 12?
We can only presume it's to stop people getting confused with the HTC U11 we reviewed.
Either way, HTC are still churning out handsets. During our visit to their stand in Barcelona you wouldn't have really known that though, because it was..
HTC VIVE!!! VR!! VR, VR, VR!! VIRTUAL REALITY! HTC VIVE!! BUY THE HTC VIVE!!! …………oh yeah, we also do some phones..
So, here's the new Desire 12 and the Desire 12+. The main difference between the two (there's a load more, read on!) is the screen, with the 12 having a 5.5″ screen and the 12+ having a 6″ panel. Both handsets get an 18:9 edge-to-edge screen and there is an acrylic glass back. HTC also tell us that there's a "new, streamlined look inside a seamless frame and beautifully curved edges".
What else do we know? Well, they're not going to be overly expensive, however exact pricing and availability isn't available just yet.
There's a 13 megapixel rear camera with Phase Detection Autofocus on the Desire 12 with a dual camera arrangement on the HTC Desire 12+. This setup lets you refocus photos after you have taken a snap.
Both phones have Android 8 and the HTC Sense Companion too. This will "learn" a bit about your life and has "Smart Alarms" which will do clever things like perhaps reminding you to power up before you leave for a meeting etc. It'll also keep the phone in tip-top shape by checking for junk files and freeing up space.
The Desire 12, which looks to have originally had the name "HTC Breeze", is 148.5 x 70.8 x 8.22mm and weighs in at 137g, so it's not the slimmest. That 5.5″ screen is a 720p (x 1440) LCD panel and is powered by a MediaTek MT6739 64-bit quad-core CPU. We've done a bit of research and that's pegged at 1.5GHz.
There's a couple of versions – one with 16GB storage and one with 32GB. The former gets 2GB RAM and the latter gets 3GB. You can whack a microSD card in too. As mentioned before, that rear camera is 13 megapixels and has PDAF, BSI sensor and an f/2.2 aperture with LED flash and face detection. There's a front 5 megapixel shooter with an f/2.4 aperture. It'll do 4G, WiFi (2.4 and 5GHz) and has a 3.5mm plug plus Bluetooth 4.2 and GPS. The battery is a 2730mAh unit.
The Desire 12+, which was code-named the "Breeze+", measures in at 158.2 x 76.6 x 8.4mm and is 157.5g. The 6″ panel on this is another 720 x 1440 resolution. For some odd reason the specs on this actually seem to go down in certain areas, like the WiFi – it's 2.4GHz only on this and doesn't do 5GHz according to the specs. This comes in one model only – a 3GB RAM / 32GB storage handset with microSD card. It also has a totally different CPU, with a Qualcomm Snapdragon 450 octa-core 64-bit which goes up to 1.8GHz.
That dual rear camera (13 megapixel and 2 megapixel) is f/2.2 and it'll do that flashy Bokeh effect. You also get a Beauty mode on the 8 megapixel front shooter. Again, there's a 3.5mm audio plug, Bluetooth 4.2 and GPS. It has a 2965mAh battery.
What we can't see is a reference to NFC (Android Pay) on either spec sheet. That's a bit of a kicker for people who now expect that sort of functionality in a phone.
In all honesty these seem a little strange. I can't put my finger on it. Without NFC and with 720p screens they'd have to sell for around £120 just to compete with the likes of the Huawei P smart or the Honor 7 Lite.
For more information, you can have a hunt on the HTC website, where there's now a dedicated page for the devices.