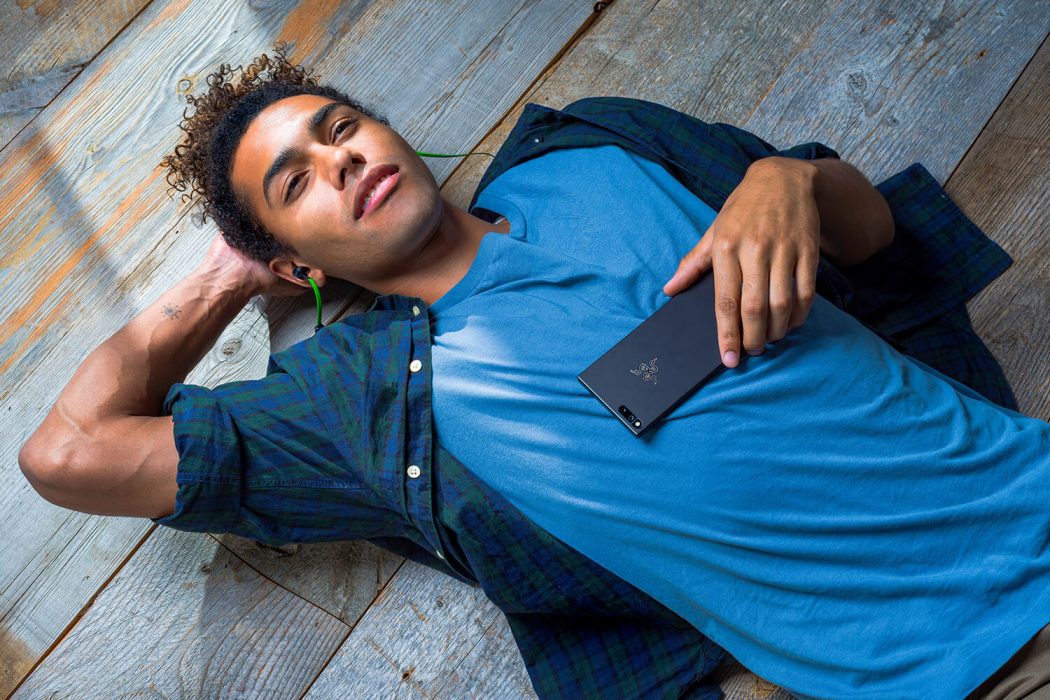 We've seen many attempts to make a gaming phone. There was Nokia with the ill-fated N-Gage (it used GameBoy-like cartridges) and the Sony Ericsson Xperia Play. Unfortunately, these never caught the imagination of the public as they were seen as a bit gimmicky. So it was interesting to see Razer entering the fray with the acquisition of Nextbit. You can see that a lot of the design has been carried over from the Nextbit Robin which, if I am honest was a rather lacklustre device that didn't really take off. I and millions of others watched when the Razer CEO took to the stage to announce the Razer Phone. Roll on a few weeks, and I have now been able to spend some quality time with this device to see if it ticks the right boxes where others have faltered getting them checked.
Full Specs
Processor
Qualcomm® Snapdragon™ 835 Mobile Platform
System Memory
8 GB dual channel (LPDDR4, 1600 MHz)
Storage
Internal: 64 GB UFSExternal: microSD (class 10, 2 TB max.)
Display
5.72-in. IGZO LCD 1440 x 2560120 Hz, Wide Color Gamut (WCG)Corning Gorilla Glass 3
Rear Cameras
12 MP AF f1.75 wide12 MP AF f2.6 zoomDual PDAF

Dual tone, dual LED flash

Front Camera
8 MP FF f2.0
Sound
Stereo front-facing speakersDual amplifiersAudio adapter with THX-certified DAC
Power
4000 mAh lithium-ion batteryQualcomm® Quick Charge™ 4+
Wireless
802.11 a/b/g/n/acBluetooth 4.2NFC
Bands
GSM: Quad-band GSM UMTS: B1/2/3/4/5/8LTE:B1/2/3/4/5/7/8/12/17/19/20/25/26/28/29/30/66TDD LTE: B38/39/40/41 TD-SCDMA: B34/39
Size
158.5 mm x 77.7 mm x 8 mm6.24 in. x 3.06 in. x 0.31 in.197 g
Android Version
Nougat 7.1.1
Design and Hardware
Let's just get one thing out of the way first. The Razer Phone has not been specifically designed to be a gaming phone. In fact, it has been designed to be a full multimedia powerhouse. In that respect, we don't see any of the unusual gimmicks that we would normally associate with phones of that genre. What we do have is a masterpiece of industrial design and the use of some very premium materials. I have explored the design of the phone in my previous unboxing video and if you missed it, I have included it below for you. We're kind like that. Enjoy.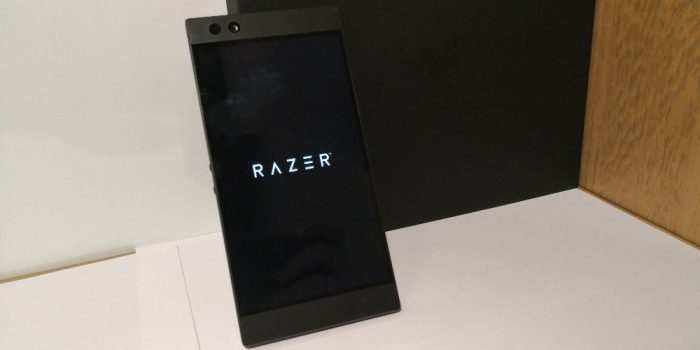 On the front, we have a 5.7″ IGZO LCD panel that has a resolution of 1440 x 2560 pixels. It also has the ability to run at 120 Hz. This is also adjustable in case you need to conserve some power. Out of the box, it comes set at 90Hz and can be scaled all the way back to 60Hz for power conservation. The phone doesn't have any of the now-normal skinny bezels that you see on most flagships these days. Instead, we see a very blocky design that makes this feel like quite a utilitarian device. This is a nice effect as it gives the phone some purpose in my opinion.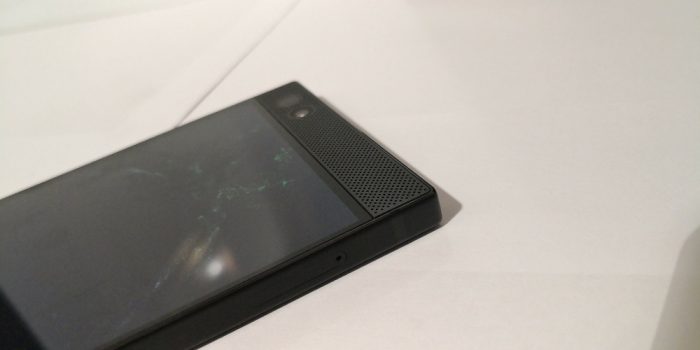 Above and below the screen you will find top and bottom front-facing speakers – both of which have tuned amps onboard. This is made possible by the phone stretching out a bit, so it is actually the same dimensions as the Galaxy S8+. I'm actually very happy with the size of the device as I have been using bigger phones for the past few years. Also, the sound from the speakers is immense, so it is worth the extra space that they use up.
Nestled into the top speaker is where we can find the front-facing camera. This is an 8MP unit with an f2.2 aperture. Next to this is the sensor array, and between the two we find a notification LED. The sensor array almost looks like it could have been a front flash. This is not the case – for selfies, the screen will flash instead.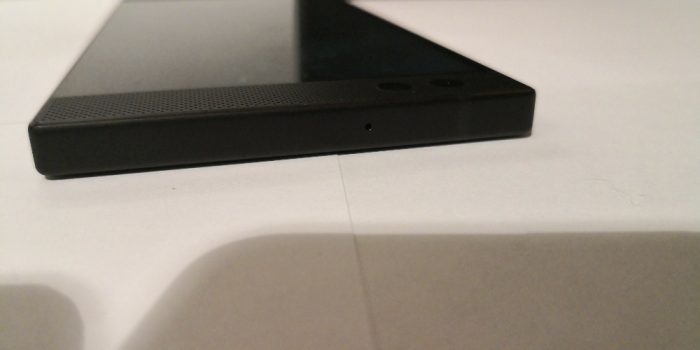 On the top of the phone, we can find a pinhole microphone and one of the antenna lines. These are found all over the edges of the device and are a slightly different colour tone to the aluminium of the body. They are subtle and unobtrusive to the point where you forget that they are even there.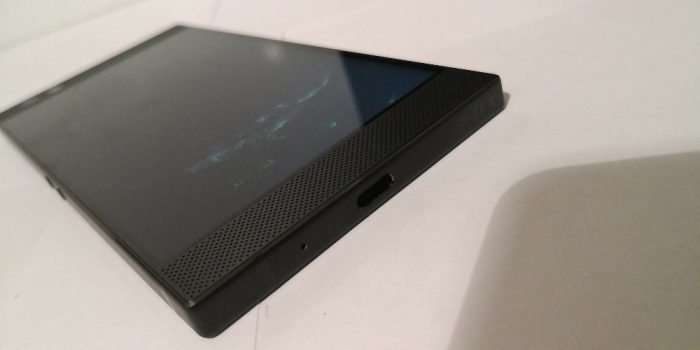 Around the bottom, we find another antenna line and then the USB Type C charging point, plus another pinhole microphone. The USB port pulls double duty for both charging and audio out as this phone does not have a headphone jack. There has been much fuss made out of this, but for me it is not an issue as I have become used to living the dongle life now.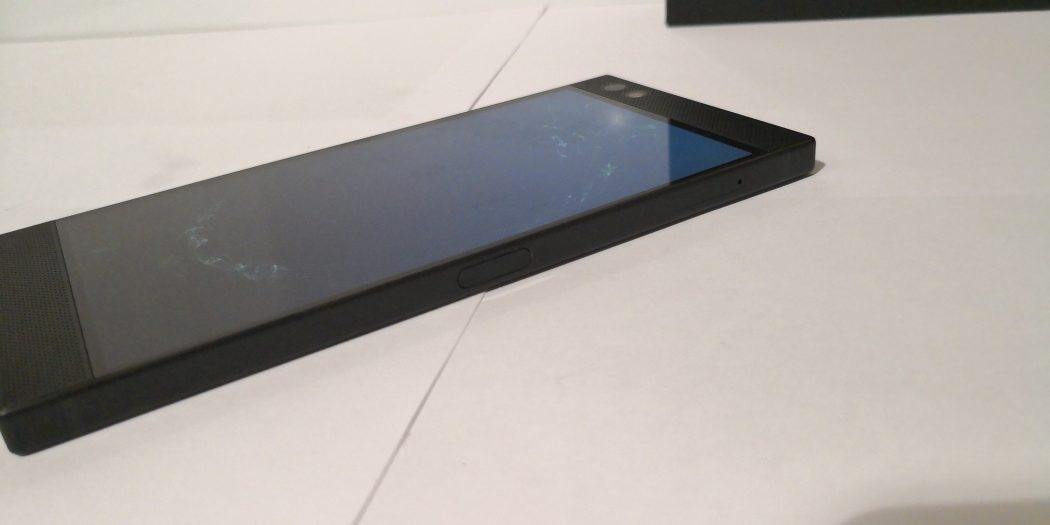 Down the right-hand side we have what looks to be a bare metal edge, however, it is actually concealing a power/sleep/wake button that also acts as a fingerprint reader. It sits flush with the body of the phone which makes it a bit awkward to use initially, but after a few hours it is easy to find and falls under your finger naturally.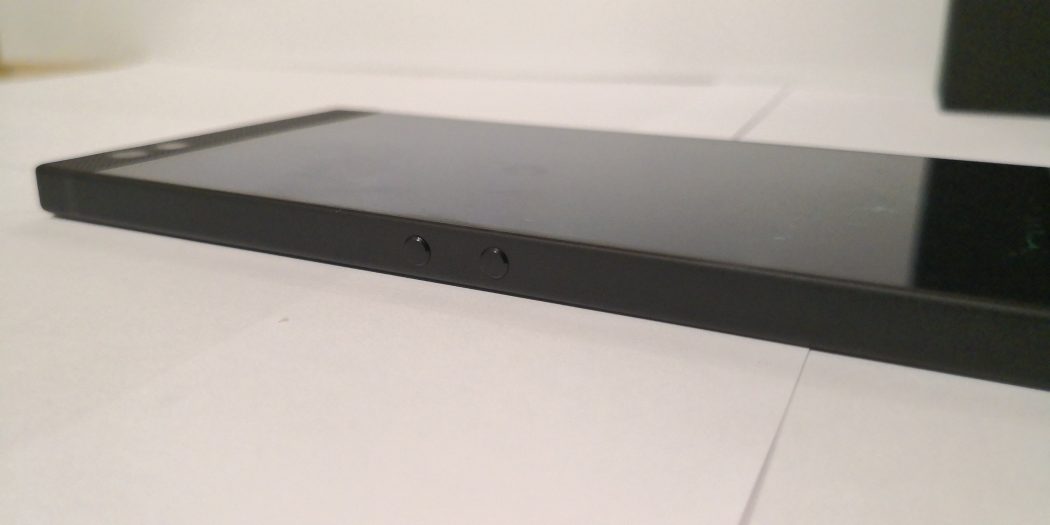 On the left, we have the volume buttons which sit halfway down the phone at a convenient location. This is great when the phone is used in its gaming orientation. They do sometimes get pressed when trying to unlock the device but otherwise are not cumbersome. Other than that, this side is bare.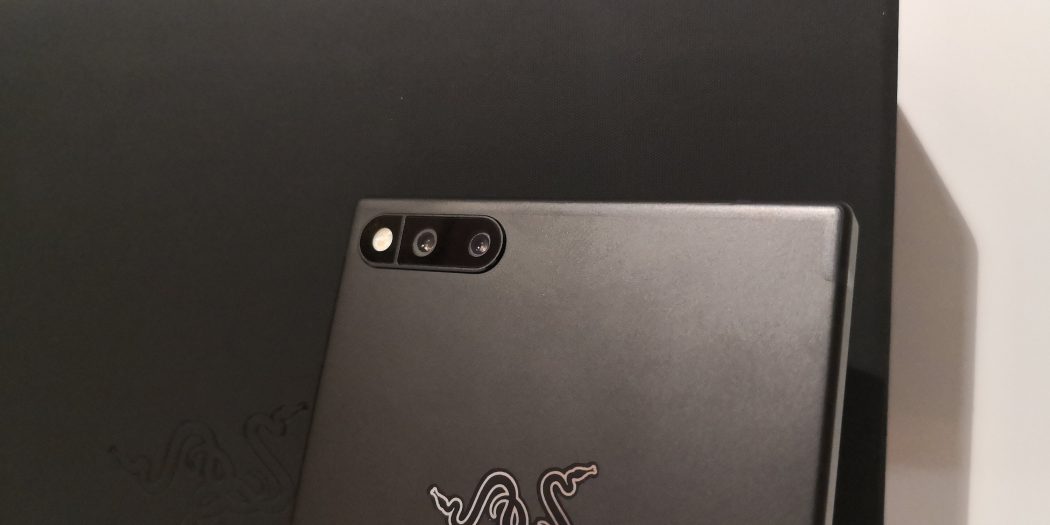 On the back, we can find the very nicely embossed Razer logo. In this case, it's silver as opposed to the normal green that we associate with Razer products. Above is the camera array, which has two lenses. Both of them use a 12.2 MP sensor and come with autofocus. They are different because they have an aperture of f1.75 and f2.6 respectively. The former is a zoom lens and the latter is a wide angle one. This allows for seamless zoom when using the camera, however, there is no delineation between the two in the camera app. Next to this is where we see the dual tone, dual LED flash. The camera also sports dual phase detection autofocus. At the top and bottom, you can also see on closer inspection, those "hidden" antenna bands.
As for the communications available, you have all the usual players. There's 802.11 a/b/g/n/ac Wi-Fi, Bluetooth 4.2 and NFC. This a phone ready for any network. I have been using it with both O2 and Three SIMs with no issue.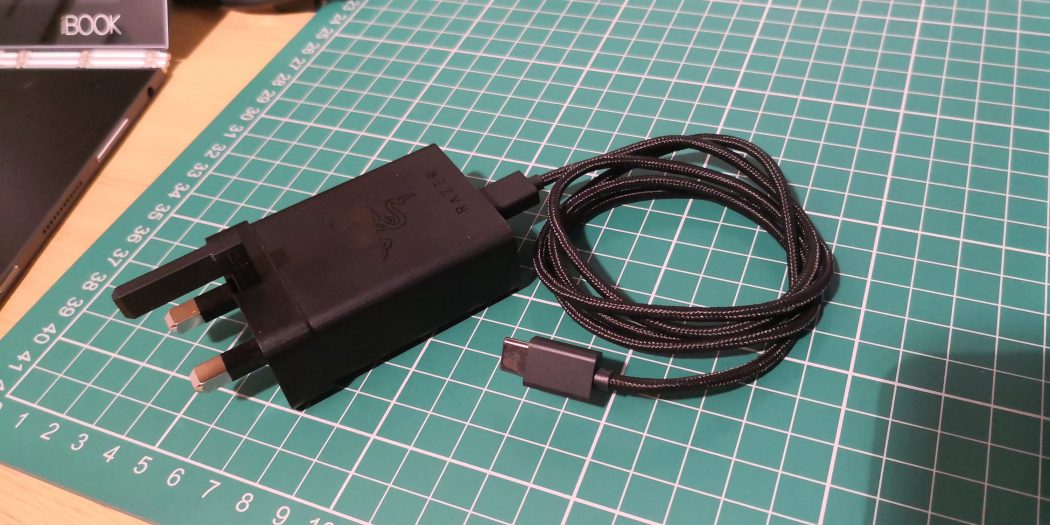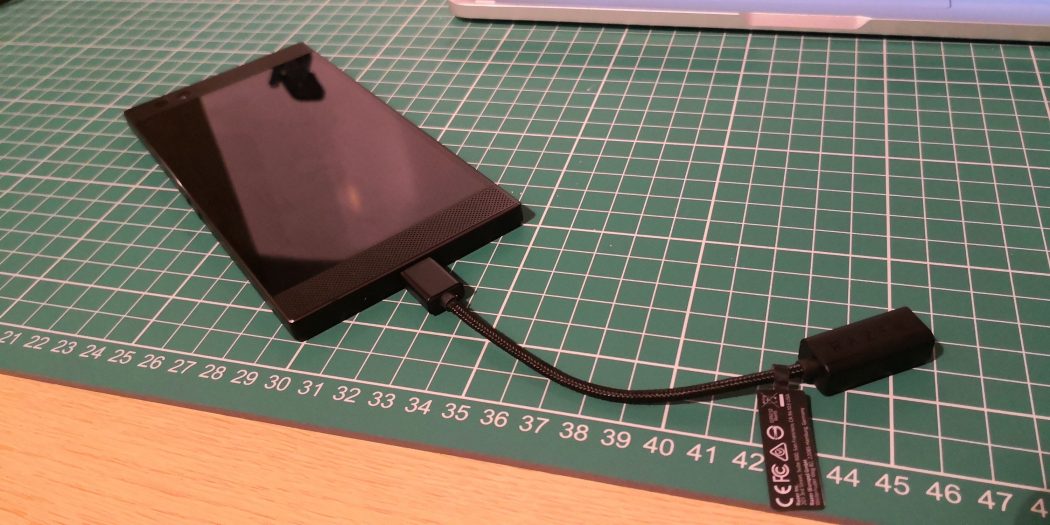 Included in the box you get a charger, a braided USB Type C Cable (on both ends), a braided THX accredited headphone dongle, and the coolest SIM eject tool I have seen in a long time!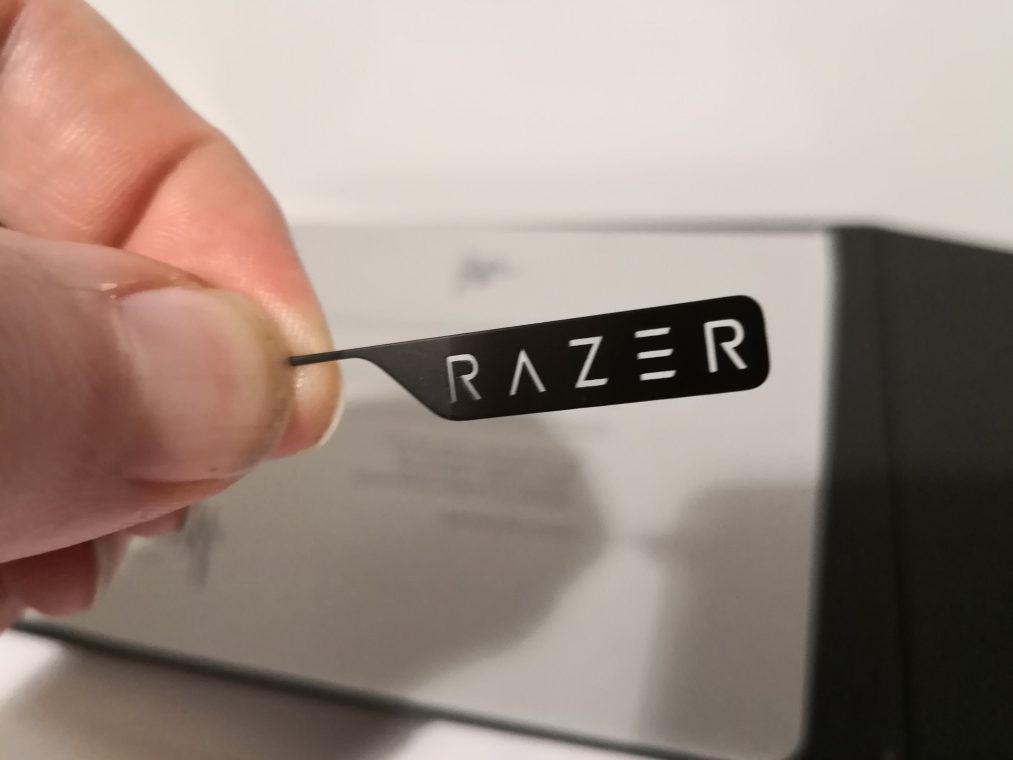 The phone itself comes clad in a beautifully dense aluminium body that feels great in the hand, and has that lovely reassuring heft to it that you associate with a well-crafted machine. It just has that feeling about it that it was built for a hardcore purpose. This is something that is also found on the display, as it just feels buttery smooth to the touch and it is a real joy to interact with. I can't quite place my finger on it but when typing on this display, it just feels good. In contrast to the recently reviewed Huawei Mate 10 Pro, I feel more at home here when composing emails, texts or blog posts. On that note, a large percentage of this review has been written on the phone itself while on my daily commute.
As to what is going on inside this dark and brooding interior then we've got some really special treats in store. Hiding inside the phone, you have got a large 4000mAh battery which will support quick charging using the new Qualcomm Quickcharge 4+ standard. You'll need to use the supplied plug. This allows for rapid charging with minimal heat build-up in the phone. The brains of this beast are powered by a Qualcomm Snapdragon 835 CPU. This, in turn, is paired with 8 GB dual channel (LPDDR4, 1600 MHz) of memory. You are unlikely to see this phone break a sweat, even with the heaviest of multitasking and gaming usage.
Onto the screen we as I have already mentioned we have a 5.7″ IGZO panel that has a resolution of 1440 x 2560 ppi. This can run at up to 120 Hz out of the box, however, it is preset to 90Hz. I changed this up to the max as soon as I could, and was not disappointed. To get a real appreciation of the quality we are looking at in terms of speed of the display, there is only one real equal in the mobile space, and that is the new generation of iPad Pros (I reviewed the iPad Pro 10.5 here). If you are able to take a look you should. This is something that really needs to be seen in real life, and I would actively encourage you to get to your nearest Three Store to check it out in person.
One area that did concern me is the effect that this beastly screen will have on the Razer's battery life. Thankfully I needn't have worried, as I was able to get a solid 24 hours use from it with very little issues. Admittedly, it is not up there with my current battery life champion, the Huawei Mate 10 Pro, which also uses a 4000mah capacity unit. I am not sure how Huawei has done this. but I suspect that the Kirin 970 chip with its integrated NPU has got a lot to do with it. Needless to say, I am still very pleased with the battery on the Razer Phone. I am also very impressed with the Quick Charge 4+ power supply that comes with the phone; it provides for very fast and heat-free charging which makes it great to be able to top up in a hurry. Its very similar to what we have seen from OnePlus on their most recent phones.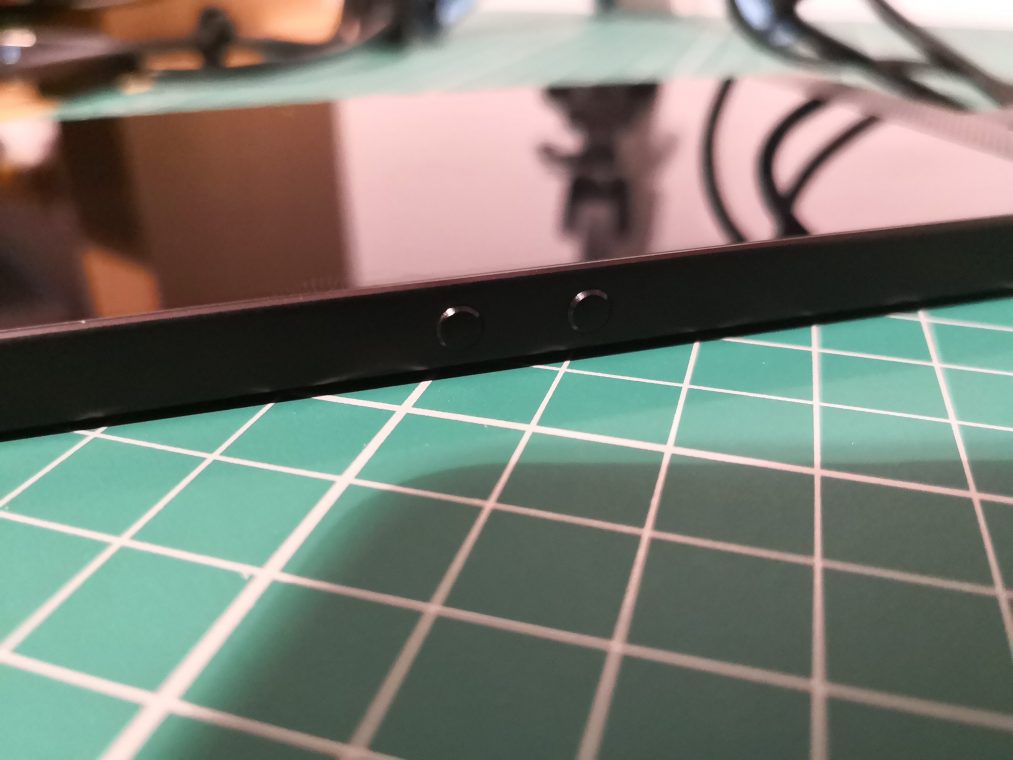 Lastly, a thought on the design of this phone. The few buttons that are present have a very good and positive click to them. You are very sure that they have been pressed, at least this is the case for the volume buttons. The power/sleep wake/ fingerprint reader is not as positive, as there is not a perceivable movement in the button itself and it does sit incredibly flush with the body of the phone. As I mentioned above, this is a little bit jarring at first, but you do get used to it. I just feel that a little more effort could have been made to fine tune this as it is a core and important feature of any device. Maybe if they had recessed it a little then it would be easier to find. One thing I will say is that it is very quick to unlock the phone and recognises my fingerprint 90% of the time with no problem.
Performance
Moving away from the design to the hardware. I have already discussed what is at the beating heart of the phone. However, what does this mean in terms of performance? Well, it is very simple to quantify as the phone is …fast. Very.. fast. I have not noticed any lag at all even with large games running in the background. When playing games the refresh rate of the screen is awesome and this makes for one of the smoothest and most enjoyable gaming experiences that I have ever had on a mobile device. Add this to the fit and feel of the phone in the hand and you have a phone that you will enjoy playing games on. In addition to this, it is a joy watching videos on the phone as well with the forward firing speakers giving a very pleasing experience.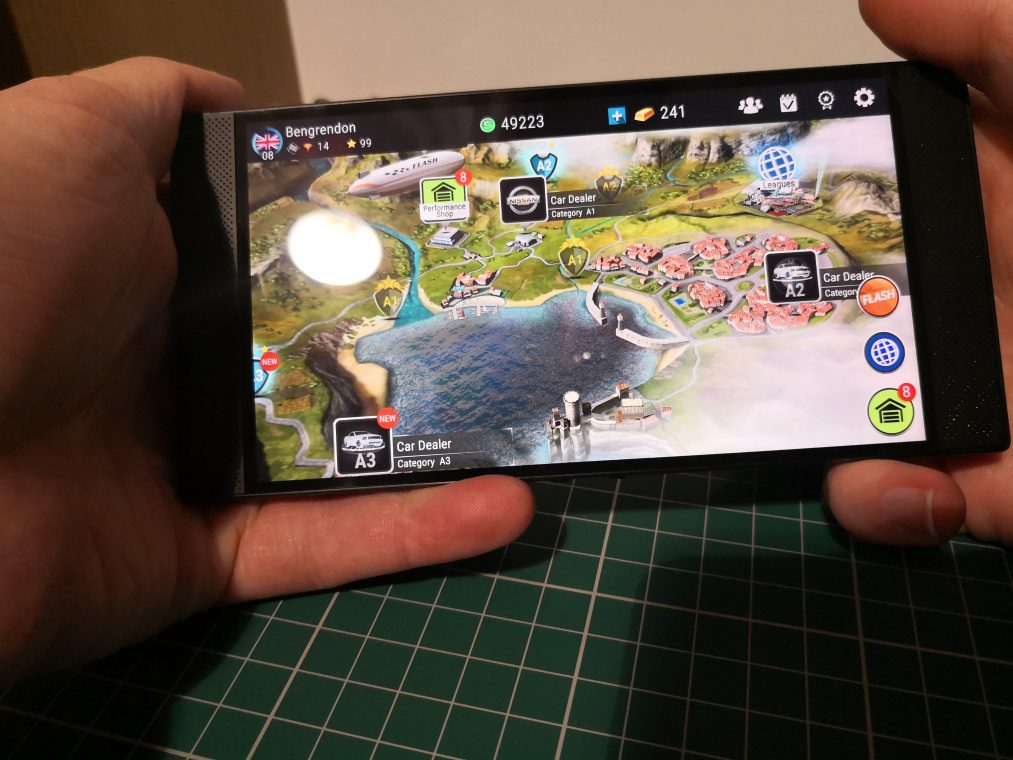 The gaming and video experience reminded me a lot of one of my favourite devices from a while back. The Xperia Z Ultra. Now, as we know, there is nothing more annoying than people using their phones on public transport without headphones. Here is another area where Razer have got you covered. It is, however, an area of contention amongst the tech community.
The reason for this is simple, the phone does not have a traditional headphone jack. What it does have is a very nice bundled USB Type C dongle that includes a 24-bit THX certified DAC. This provides a very pleasing listening experience when paired with my Sennheiser on-ear headphones. It is almost as good as the sound that my old iPod Touch provided!
Whilst it is inconvenient to have to use a dongle and it does mean that you cannot charge at the same time, it is a sacrifice I can accept in order to get the slightly larger battery afforded by this choice.
Back to those front facing speakers though. I use these when I am in the car and listening to podcasts. The speakers are brilliant, better than my car stereo! They provide a loud and clear sound with good highs and lows. The phone is also capable of producing a good level of bass due to the size of the speaker module, which is something that I miss on most phones I've tested. I was able to do a comparison with a few other phones with front firing speakers and it was definitely louder than any other device I tested.
What you are really interested in whilst reading this is how the gaming performance of this phone compares with some of the other devices on the market. I have take the Razer Phone and pitched it against one of the more popular phones on the market – the S8+. Let's see how it performs whilst playing Gear.Club – True Racing. This is a bundled title on the phone. For the purposes of this test, I have allowed gaming mode on both phones to give the best possible experience. Check out the video below….
You can see here that both the phones are performed well, however visually the Razer is more pleasing in terms of graphics. As for the audio, again I cannot fault the Razer. It makes the experience very immersive due to the Dolby Surround sound integration and the fact that you don't end up covering the speaker when gripping the phone. I found that there were slightly higher levels of detail shown on the Razer as well, which was to be expected.
Another thing that was noted during the gaming tests is that both phones were extremely thermally efficient – very nice to see. This is a common issue that can come from intensive gaming as the phones can only do so much to get rid of the heat from the processor and GPU. The heat pipes in both of these phones are very well positioned and manufactured. Both phones were hottest at the top of the phone where the motherboard is located suggesting that the lower two-thirds of the phone is mainly composed of battery and secondary circuitry.
I think it is safe to say that the Razer will not leave you wanting in terms of performance in both gaming an multimedia, but how does it fair in other areas such as connectivity and calling experience.
Calling and Bluetooth
This is where I had my first negative experience with the phone. I tend to get a reasonable signal where I live and for the most part, do not have any issues when placing or receiving calls in my home. So when I had a call from a company to discuss an order for a product I was very surprised to find that the person on the other end of the line was having difficulty hearing me. It was not until I went outside that this problem dissipated.
I decided to check my signal quality against that of my wife's phone (a Moto G4) as we are both on the same network. I was surprised to see that she had more signal registered than I did. When I put my SIM back into the Huawei Mate 10 Pro this issue did seem to disappear. I can only conclude that the issue is down to the use of the metal in the body of the phone and that the antenna bars are fairly small. It is not a deal breaker for me as I only saw this issue when using my phone at home and I do live in the countryside where the signal is a bit weaker. I only mention it as if you live in an area of low coverage then this could be problematic. When using the phone with strong signal there were no issues and I was able to get very good speeds with the phone tethered to my Chromebook. This is good as it's vital to me. On that note, it is possible to set up the hotspot as either a 2.4GHz band or a 5GHz band ..  nice to see (although I am sure this is possible on other devices I have just never checked!).
Another area where the phone displayed a weakness was in the Bluetooth department. I always set up my phones to pair with my car so that I can go hands-free while driving. Now on The Razer phone, this was hit and miss for pairing to the phone for phone audio. Oddly there was no issue pairing for Media as it picked up this without a hitch, just not for the phone side of things. This essentially made the phone useless for me whilst driving, I am sure this is just a software bug as it didn't happen every time. What was more annoying is that I couldn't find a sensible reason for this behaviour so in the end I gave up looking. If you were buying the phone and using it as a daily driver then this would be really annoying. I hope that it is something that Razer can address with a future update.
Speaking of future updates the phone needs a big update to one area, in particular, the Camera. So let's see why …
Camera
The camera on the Razer is very much like a double-edged sword. In the right conditions, it is sharp and clean, but as soon as the conditions become less optimal then problems begin. Pictures become dull and fuzzy quickly. I have seen these issues recreated by numerous other Razer phone users and even with a software update to the camera, I've not noticed this improving.
To their credit Razer have acknowledged that this is an issue and that they have promised a future update will go to resolve the issue. I can only hope that this happens as this is a massive downer.
Here are a few sample shots taken in good conditions…
Here are a few taken in lower light. You can see the problem…
As you can from the first batch of photos, the results are pretty clean, crisp and are visually pleasing. It is even possible to get a bit of a "Bokeh effect "without too much faffing around. I did find that sometimes I'd struggle to get the autofocus to actually lock into the subject, but you can override this by tapping on the area you want. So in good light, the camera is very serviceable.
However, much like my double-edged sword analogy, things take a turn for the worse when it comes to using the phone in low light. What we get is, to be honest, pretty shoddy. There's a very poor colour representation and blurry jagged lines with little or no definition. As a comparison I also used my recently acquired Honor 7X and Huawei Mate 10 pro to capture the same shot of the lights on my pagoda, here are the results firstly from the Honor 7X.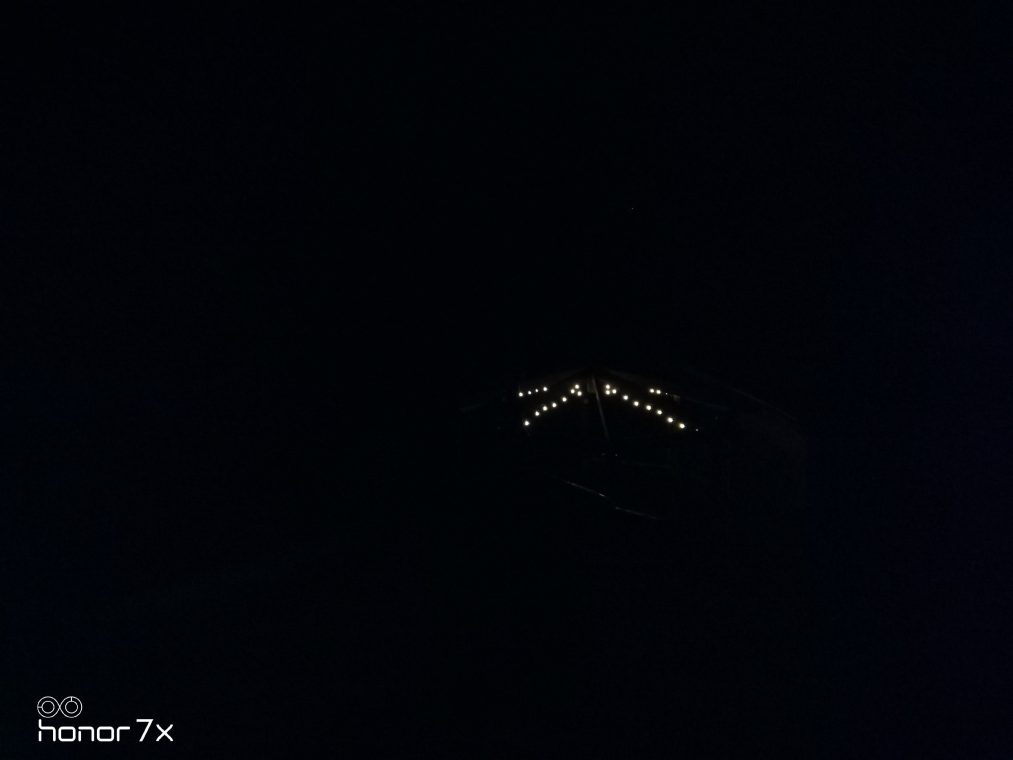 Here is the same image again from the Mate 10 Pro…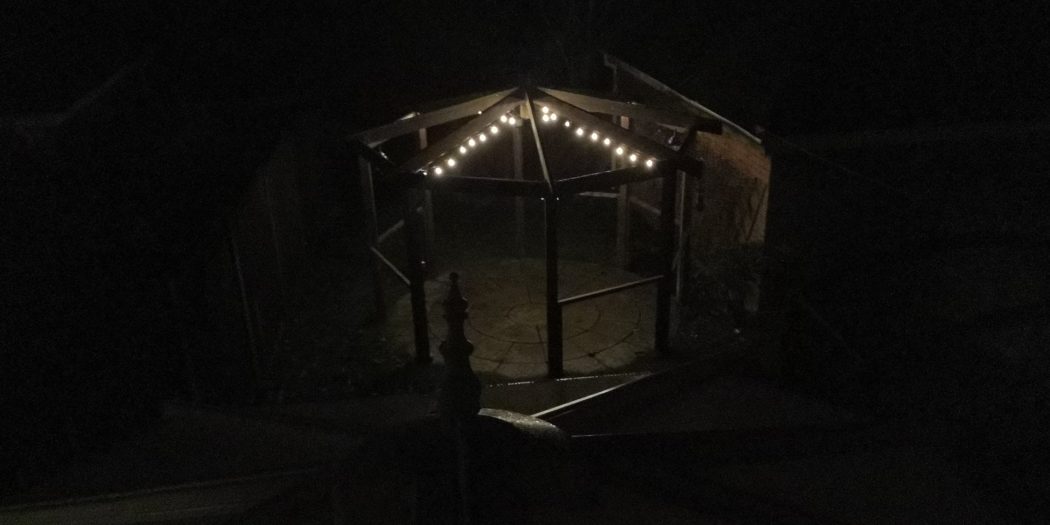 Lastly, I used the "Night Shot" option to capture this one again on the Mate 10 Pro, this is where the lens is kept open for longer to capture more light and also the ISO is adjusted accordingly during the capture.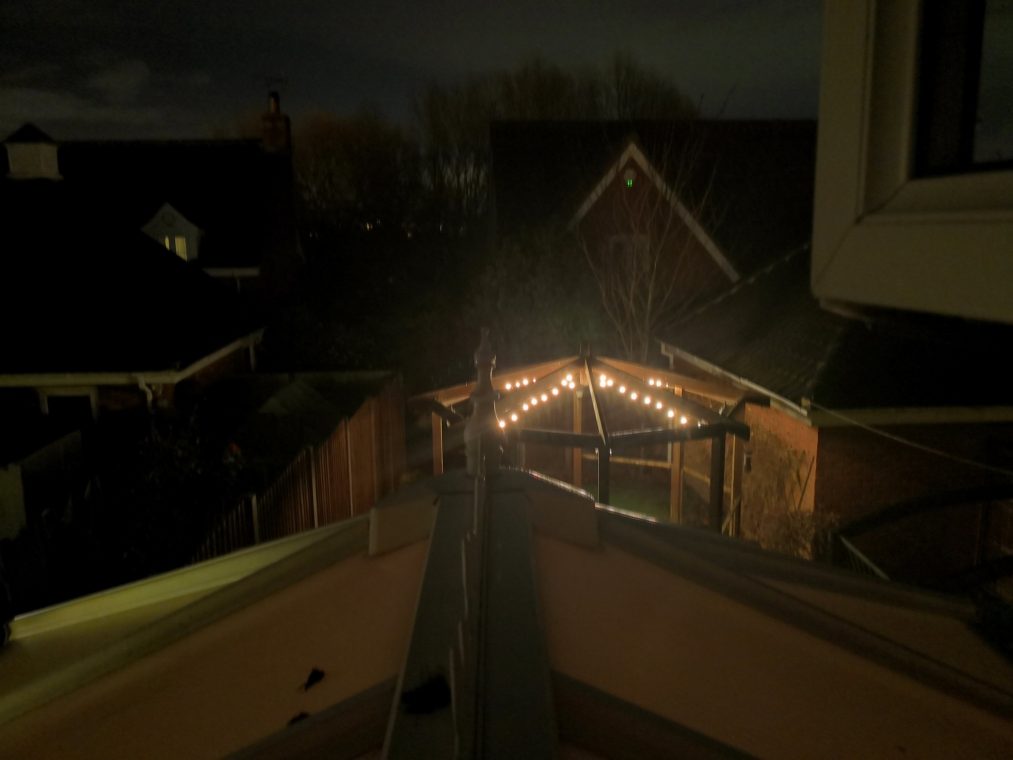 Just to remind you, here's how it turned out on the Razer…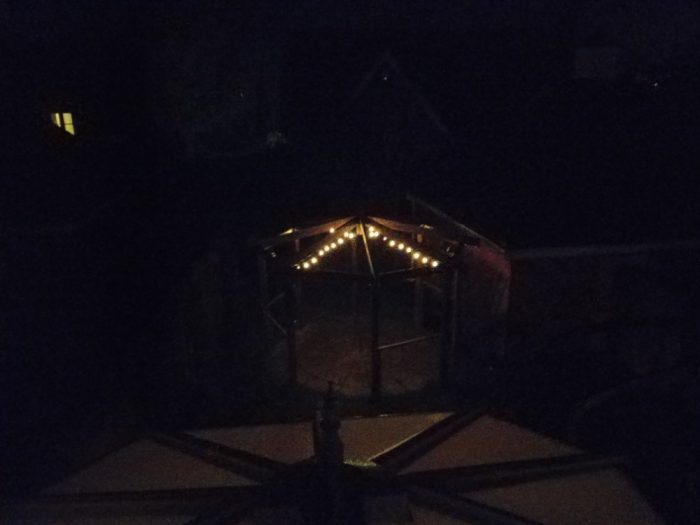 So in these images, you can the difference between a phone that is priced at £249 (Honor 7X), £699 (Mate 10 Pro)  and £594 (Razer Phone). I'll be honest that the Honor 7X is the most disappointing, but that being said it is also the cheapest of them all. The Honor 7X is at least half the cost of the Razer Phone. The Mate 10 Pro, however, is by far the best shot even before you look at the "Night Shot" mode. The real question is though …. is the Razer Phone worth spending twice the amount of cash on to get a marginal improvement in the quality of the image?
In simplest terms, no. If however, the Razer Phone had the option to do what the Mate 10 Pro can with regard to "Night Shot", then I may have been able to forgive its relatively weak showing in this area. Sadly it does not, so as far as a camera phone goes this cannot be recommended if taking pictures is high on your list of things you want to do.
The front camera is pretty good as far as a front camera goes. When the light is fair it's OK, but when the lights go down things take a turn for the worse. This though is the case for most phones, so I will not be too brutal here.
There are no fancy gizmos with the front camera. You will not get portrait mode or beauty mode. All you get is a flash off/on and HDR off/on.  If I am honest that is all I really need from a front facing camera. I like simplicity. All I mainly use my front facing camera for is if I am having a call on Skype or Hangouts, which doesn't happen very often for me.
Aside from the actual image quality, there is another issue that bugs me. That is the way that the software works to implement the Zoom functionality on the phone. So, as we saw from the specs, the rear camera is comprised of two lenses. Both are capable of shooting at 12.2mp. One of these lenses, however, uses a wide-angle lens. The other uses a 2x Zoom lens. When using this camera, unlike what can be found on other phones using this system, there is no way to discern which lens is taking on the primary focus role and which is the secondary camera for gaining depth of field.
I have used similar systems on other phones, in particular, the LG G5 and the Note 8. There it is very clear what you are doing and when you are doing it. I think the trap Razer have fallen into is that they have tried to make the camera interface too simple and in doing so they have just made it horrible to use.
Video recording is not too bad as it will record at 4K along with 1080P and 720P. No real mention of what frame rates though. The mic also picks up sound very well as can heard in this short clip from my inner sanctum/office.
Summary
Should you buy one or skip this phone and go for one of its competitors? If I am honest this is a quandary. I've worried about the wrap-up throughout the whole process of doing this review. This is a very compelling device and it certainly has a lot of potential. It could be one of the greatest phones on the market. It does, however, have a few glaring omissions for a 2017-phone.
When you look at what is being offered by the other manufacturers in the high-end flagship segment, the Razer Phone has got a lot going for it. However, there's also some big negatives. On the plus side, it is the most powerful devices on the market and the screen is a joy to behold. Sure, it isn't the brightest available, but the graphical performance is stunning. Likewise, the sound from the speakers and through the headphones is awesome. The design is appealing in a industrial sort-of-way and it will certainly tick some boxes for those who like the "boxy" feel. As a device for consuming content, it is brilliant. It will last quite some time thanks to the massive battery too. For creating written content it is a joy to use, but the camera is a massive let down (hopefully to be fixed in the very near future). The cons, however, are still there, the phone has no IP rating at all, the use of a dongle for headphones is a big turn off for some (it doesn't bother me) and, well … I have mentioned the camera.
So in conclusion, if you are someone who enjoys using your phone for media and gaming then this is definitely one to consider. If you are a keen "snapper" then I cannot recommend this at the moment.
There is also the price to consider. If you are able to get this from Three for a decent price then you might want to consider it. I just can't justify the price that Razer themselves are asking for it though. At £699 it is not worth it when pitched against the mightily impressive Huawei Mate 10 Pro or the S8/S8+..  both of which have better cameras and are IP rated.
As a first shot at entering the market, Razer has done a good job on this phone and I have high hopes if they can fix that camera. I am also hopeful as to what they have up their sleeves for the next version. They have certainly shaken up the industry and hopefully, this will spur other manufacturers on to think about the graphic and screen tech used in their own flagships. So kudos to Razer for trying something bold and making waves.
…..but for the love of god fix your camera!
This phone was kindly provided by Three UK who are the exclusive network retailer in the UK for the Razer Phone see their deals here
Razer Phone - Is this the ultimate gaming device?
Design - 88%
Hardware - 94%
Performance - 92%
Camera - 56%
Gaming and Media - 95%
This is a great device for multimedia and gaming but is let down big time by the lousy camera. A great effort by Razer with a bit more work needed.