The day has arrived….. That magic day when you get your hands on with the object you have been lusting after since it was announced in all the glitz and glamour that go with product announcements.

This device which is very firmly in the Phablet range with a screen that measures a whopping 6.4" supporting 1080p and with a PPI of 324. Sony are pushing that this is largest 1080p touchscreen and for now at least they have that one sewn up. It is however not all about the screen as unlike some of its recent monster rivals (Galaxy Mega 6.3") this has the horsepower inside it and you can really feel that when using the device as there was no noticeable slowdown or bugginess that I could see in my brief play.

The thing that really blew me way was how thin they have managed to get this device. If you have ever held the Xperia Z in your hands you will be close to being able to appreciate the thinness of this device. It makes the phablet so much easier to handle with it being so thin, it honestly felt more comfortable than the Galaxy Note 2. Gamers are going to love the way this devices feels and marry that to the performance and you have got a serious competitor to the Nexus 7 (version 2).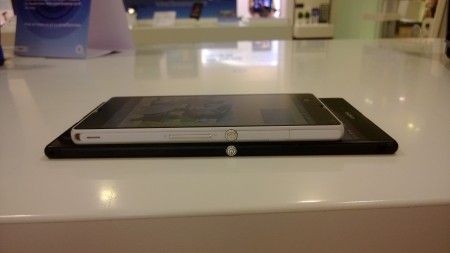 The one thing that I was not really a huge fan of was the use of a pen for a stylus as this just feel wrong on that glass screen. Don't get me wrong it works fantastically well but it just doesn't feel that I should be poking at my £600 phone with a piece of metal!
I am now even more smitten with this device and I can honestly say that it is now at the top of my list for which phone I will be buying in the very near future. Given that the unit I had a play with was not a final retail unit I am even more impressed as this can only mean that it will be getting better when it finally launches here in the UK later this year.
I think if you are on the fence about phablets then this may be the time to come off it and have a look at what they can really bring to the party even more so now that the great 4G Switch on is happening in a town near you very soon.
Feel free to sound off in the comments guys would really love to hear your thoughts