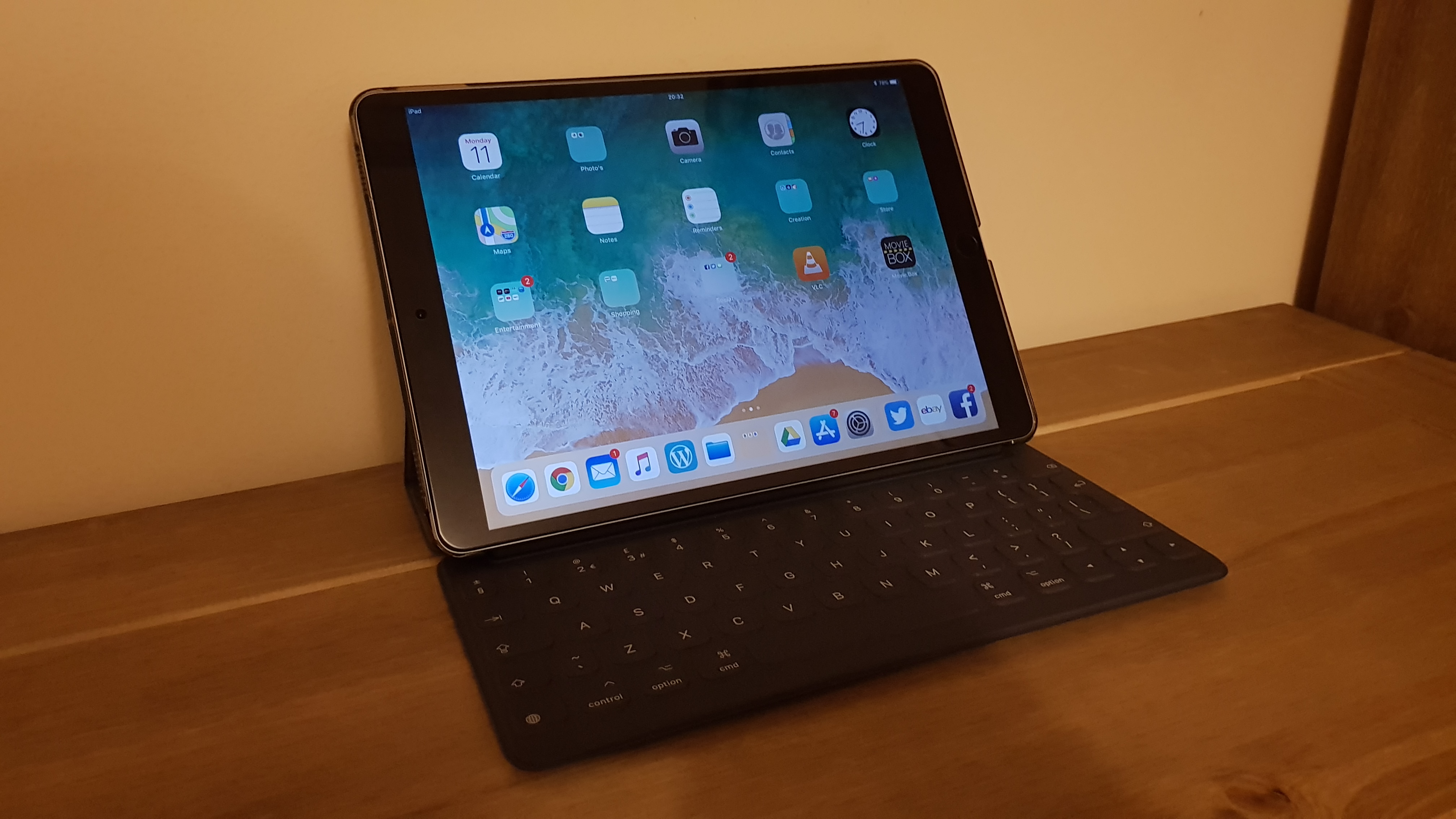 So the time has come for me to share my opinion of the iPad Pro 10.5".
I have been using the device for nearly two weeks now and, I have to say, I am happy bar a few minor niggles here and there.
Before I dive onto the full-on review, I am going to address the elephant in the room. Cost.
The latest tablet from Cupertino is by no means cheap. However, when it is stacked up against what is really the only competition (the Galaxy Tab S3), it is not actually that much more.
What you do have to do here is look at what the iPad ecosystem brings to the party compared to Android. If you are looking to use this as an intermediary productivity tool then it can be done. The same is true of the Tab S3, but more compromises have to be made in terms of software availability with that solution. On the flip side, in terms of hardware expansion, this is where the Tab S3 has the iPad beaten… at least in my book.
Now that is have got that out of the way, let's dive in and see what the latest and arguably greatest iPad has to offer.
Design and Hardware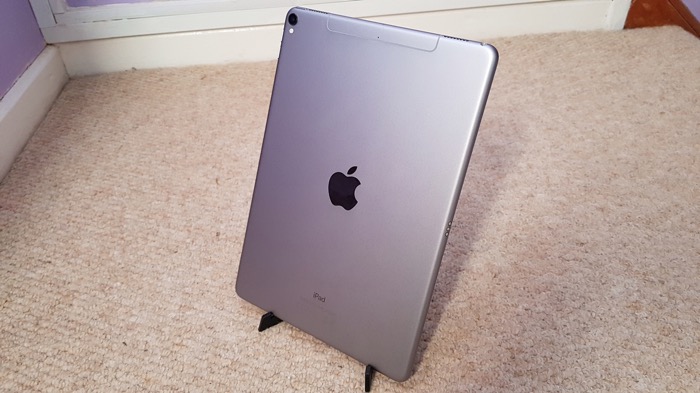 To say the design of the iPad Pro 10.5″ is not groundbreaking is a little bit harsh, but it has not really evolved very much. I was a bit disappointed initially when I first saw it. Yes, the bezels have shrunk a little, as have the areas at the top next to the camera and the bottom next to the fingerprint sensor/home button. However, I am slightly saddened to see that the home button is still a "thing". We have got the ability now to get rid of the home button and it is a shame to see that Apple did not implement this change. It would have allowed them to shrink the overall size of the device a little bit more, or make the screen a tad bigger.
That being said, the screen is a thing of beauty and I am very pleased with the colour representation. I couldn't really perceive any difference being made by the 120Hz screen refresh that has been spoken about in nearly every other review I have seen. This probably doesn't matter much due to the fact that I am not a gamer or indeed an artist. Two areas where this higher screen refresh rate will reap rewards. I do like the "Nightshift" mode as it does really make things better when using the tablet at night. I no longer feel like my eyeballs are being burnt as I read whilst in bed!
One thing that is very important on a mobile computer such as the iPad is the data connectivity. Once again it's an area where Apple has ticked all the boxes. We have more cellular and wireless connectivity than you can shake a very big stick at. You don't even need a SIM as Apple have got an embedded Apple eSIM solution. I do have a SIM though (I have got this as part of a network contract deal) and I have not had any issues with getting online where the coverage allows. I have noticed that the loading of web pages and apps that rely on data seem to be quicker than other tablets I have used in the past.
That brings me to speed of processing tasks and functions. Going from an iPad Mini 1st Gen to this is like stepping out of a Peugeot 105 and into a Bugatti Veyron. The difference is honestly like night and day. Would I say that's it is faster than my MacBook Air from 2015? Hard to say but it is certainly quicker than some of the other Windows and Android tablets I have been using over the past few years.
I also just love having the "instant-on experience" of the iPad back again, this is something that started to let me down on the Xperia. The amount of RAM and processor will have a lot to do with this as we are seeing double the RAM of my Xperia. There's also the newest A10X processor, which is rated at the same performance levels as an Intel Core i5. I have not done any benchmarking as such, but I am very happy with the swiftness of the tablet when it comes to opening apps and performing tasks.
There's no real lag when opening web pages and even when I am using multiple tabs on both Chrome and Safari things move along at a rapid lick.
For those of you who are not familiar with the specs of the iPad, I have put them into a table for you to see below.
| Tablet | | | |
| --- | --- | --- | --- |
| OS | iOS (10.x) | | |
| Dimensions | 9.87 x 6.85 x 0.24 inches (250.6 x 174.1 x 6.1 mm) | | |
| Weight | 16.83 oz (477 g) | | |
| Materials | Aluminum | | |
| DISPLAY | | | |
| Display size | 10.5 inches | | |
| Resolution | 1668 x 2224 pixels | | |
| Pixel density | 265 ppi | | |
| Technology | IPS LCD | | |
| Screen-to-body ratio | 78.27 % | | |
| Peak brightness | 600 cd/m2 (nit) | | |
| Features | Pressure-sensitive, Oleophobic coating, Ambient light sensor | | |
| Camera | 12 megapixels | | |
| Flash | Quad LED | | |
| Aperture size | F1.8 | | |
| Hardware Features | Sapphire crystal lens cover, Optical image stabilization, Autofocus, Back-illuminated sensor (BSI) | | |
| Software Features | Touch to focus, Face detection, Self-timer, Digital zoom, Geo tagging | | |
| Settings | Exposure compensation | | |
| Shooting Modes | Burst mode, High Dynamic Range mode (HDR), Panorama (up to 63 megapixels) | | |
| Video | 3840×2160 (4K) (30 fps), 1920×1080 (1080p HD) (120 fps), 1280×720 (720p HD) (240 fps) | | |
| Features | Optical image stabilization, Time-lapse video, Continuous autofocus, Picture-taking during video recording, Video light, Digital image stabilization, Video calling, Video sharing | | |
| Front-facing camera | 7 megapixels | | |
| Features | High Dynamic Range mode (HDR) | | |
| HARDWARE | | | |
| System chip | Apple A10X Fusion APL1071 | | |
| Processor | Hexa-core, 2380 MHz, 64-bit | | |
| Graphics processor | Yes | | |
| System memory | 4 GB RAM | | |
| Built-in storage | 64 GB | | |
| BATTERY | | | |
| Type Li – Ion | | | |
| Internet use | LTE 9 hours, Wi-Fi 10 hours | | |
| MULTIMEDIA | | | |
| Screen mirroring | TV-out | | |
| Speakers | Stereo speakers | | |
| Additional microphone(s) | for Noise cancellation, Video recording | | |
| CELLULAR | | | |
| GSM | 850, 900, 1800, 1900 MHz | | |
| UMTS | 850, 900, 1700/2100, 1900, 2100 MHz | | |
| LTE (FDD) | Bands 1, 2, 3, 4, 5, 7, 8, 12, 13, 17, 18, 19, 20, 21, 25, 26, 28, 29, 30 | | |
| LTE (TDD) | Bands 38, 39, 40, 41 | | |
| Data | LTE-A, HSDPA+ (4G) 42.2 Mbit/s, HSUPA 5.76 Mbit/s, UMTS | | |
| Nano SIM | Yes | | |
| TABLET FEATURES | | | |
| Sensors | Accelerometer, Gyroscope, Compass, Barometer | | |
| Notifications | Flight mode, Silent mode | | |
| Other features | Voice commands, Voice recordingFingerprint (touch) | | |
| Colors | Gold, Gray, Silver, Pink | | |
I think you can agree that this is a fairly comprehensive specs layout. It's going to more than cover your needs, especially as Apple have thrown in a massive 4GB of RAM. That may not sound big in the Android world (where we are now used to seeing phones with up to 8GB of RAM), and you are correct in that. However, Apple have a long history of putting lower amounts of RAM in their mobile devices as iOS is not as dependent on RAM as Android. Essentially, even though the Samsung Tab S3 has the same amount of RAM, the amount used by each OS is very different. So the iPad Pro will handle the load better. This rings true from my usage so far and makes me quite happy.
Inputs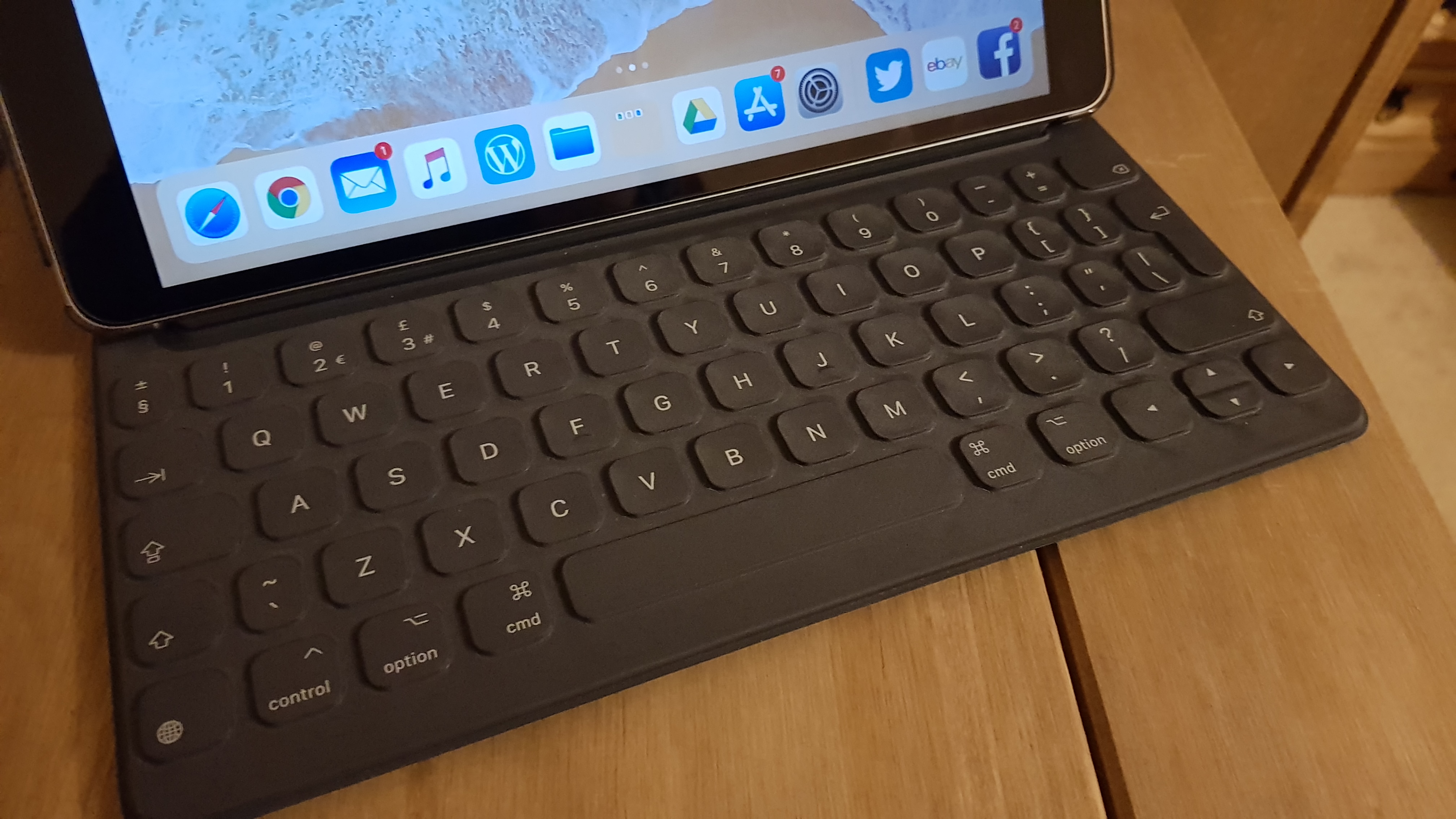 I don't normally cover inputs under a separate category, but I thought that it was worth doing in this instance. The reason being is that Apple are pitching the iPad Pro as a laptop replacement. This is really only going to be the case if you are to buy the additional Smart keyboard cover, or a similar keyboard (others are available).
Before we dive into the external keyboard though, let's have a look at the on-screen one. I have always been reasonably happy with the Apple keyboard and that's still the case. It is great for short typing session, but you wouldn't want to write long articles on it. I have also been playing with alternative keyboards, mainly the Google GBoard. With Gboard you do get slightly more screen real-estate, as you can make it a little bit smaller. I can achieve reasonable speed and accuracy on the screen partly due to the error correction that Apple provides.
I was intending on using the iPad Pro for more typing than the occasional email though, so I invested in the Smart Keyboard cover. For the most part, I have been happy with it. This is a well-built keyboard. The travel of the keys is good and it has a nice tactility to it. 
There are some things that concern me though. The keyboard does not feel particularly stable when using it on the lap and I am paranoid that my tablet is going to fall and smash into lots of small and expensive pieces. I also find that the "globe" button is just where I want to rest my hand when I am typing. This button is tasked with bringing up the language and keyboard switching tool, so if you hit it accidentally, which is easy to do, it can disturb my workflow significantly. The last bug bear is that for a keyboard that is that it's very loud to type on. I certainly could not be typing on this whilst working in bed, unless I want a black eye from the wife!
Outputs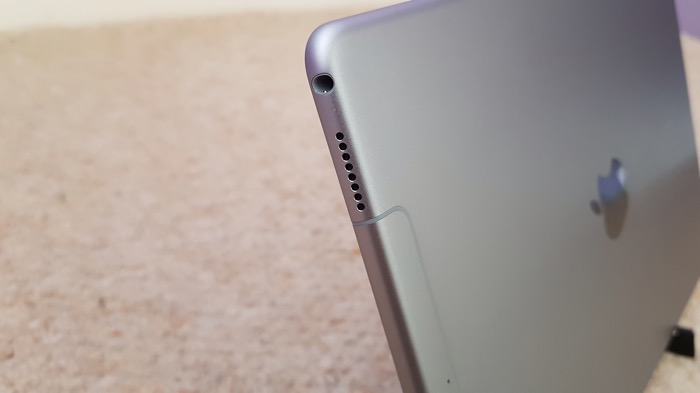 This is by far and above the easiest part of the review as there really are only two outputs to speak of. We have the quad speaker array and the headphone jack. Firstly the quad speakers, these are …. well, to be honest … just fantastic. They are far and above the best speakers I have heard on a tablet to date. 
I have been mightily impressed with the speakers, both in terms of the quality and volume. I was amazed at the amount of punch these were able to deliver. The sound is far better than that delivered by my Xperia Z3. Having four separate speakers does truly make for a great sound experience. Being able to turn the volume up withouth any discernible distortion also made for a very pleasant listening experience. I have tried the Tab S3, which has tuned speakers from AKG, and I'll be honest, the iPad is better in both quality and volume levels. Kudos to Apple here they have done a good job.
The other output is the headphones and these are pretty much what you would expect from any standard headphone jack. The tablet does not have any special audio processing software or trickery found on some other competitors. That isn't to say that is bad but it is not really anything to write home about. If you were to really require a bit more punch than you could hook it up to a DAC and get an improvement that way. For me, I am happy with what I have.
Software
This is something that I am not going to into in too much depth as I am actually using the iOS 11 beta. What I can say with some degree of certainty is that this makes the tablet much more useful.
I was quite impressed with the multitasking, and I can get much more work done now. I have used many Android tablets and I was able to work without much in the way of adjustment in my workflow. This is something that I have had to do on the iPad.
Anyone who has used an iPad before will be used to the locked down file structure. This is the biggest obstruction to me working on the device. Don't get me wrong it is not impossible, but it is harder than it needs to be. This is one area that I was hoping that the new "Files" app would help to address. Unfortunately, the "Files" app is nothing more than a glorified version of iCloud Drive from the previous interactions of iOS.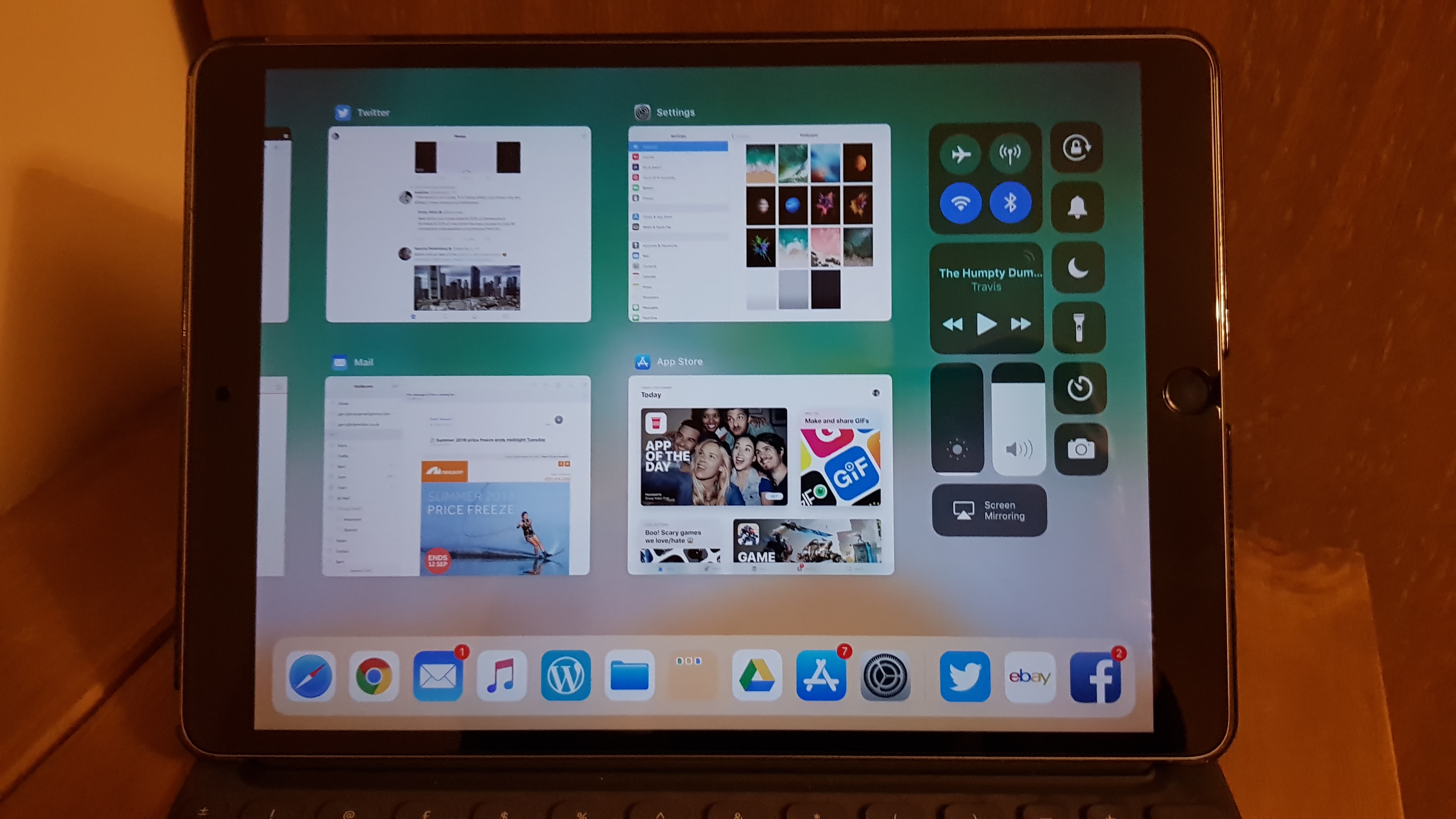 The multitasking functions are a massive improvement. This is mainly down to the inclusion of the new dock which has been brought over from MacOS. You can have your most frequently used apps sitting in the dock and the last 3 spots are taken up by the most recently used apps. In addition to the new dock, we also have the new control centre. This is where you are able to switch between your open apps. The actual process of switching apps or adding split-screen apps is now done via gestures instead of the home button. The best way to show these is to see them in a video. So here is the demo video below.. enjoy.
Camera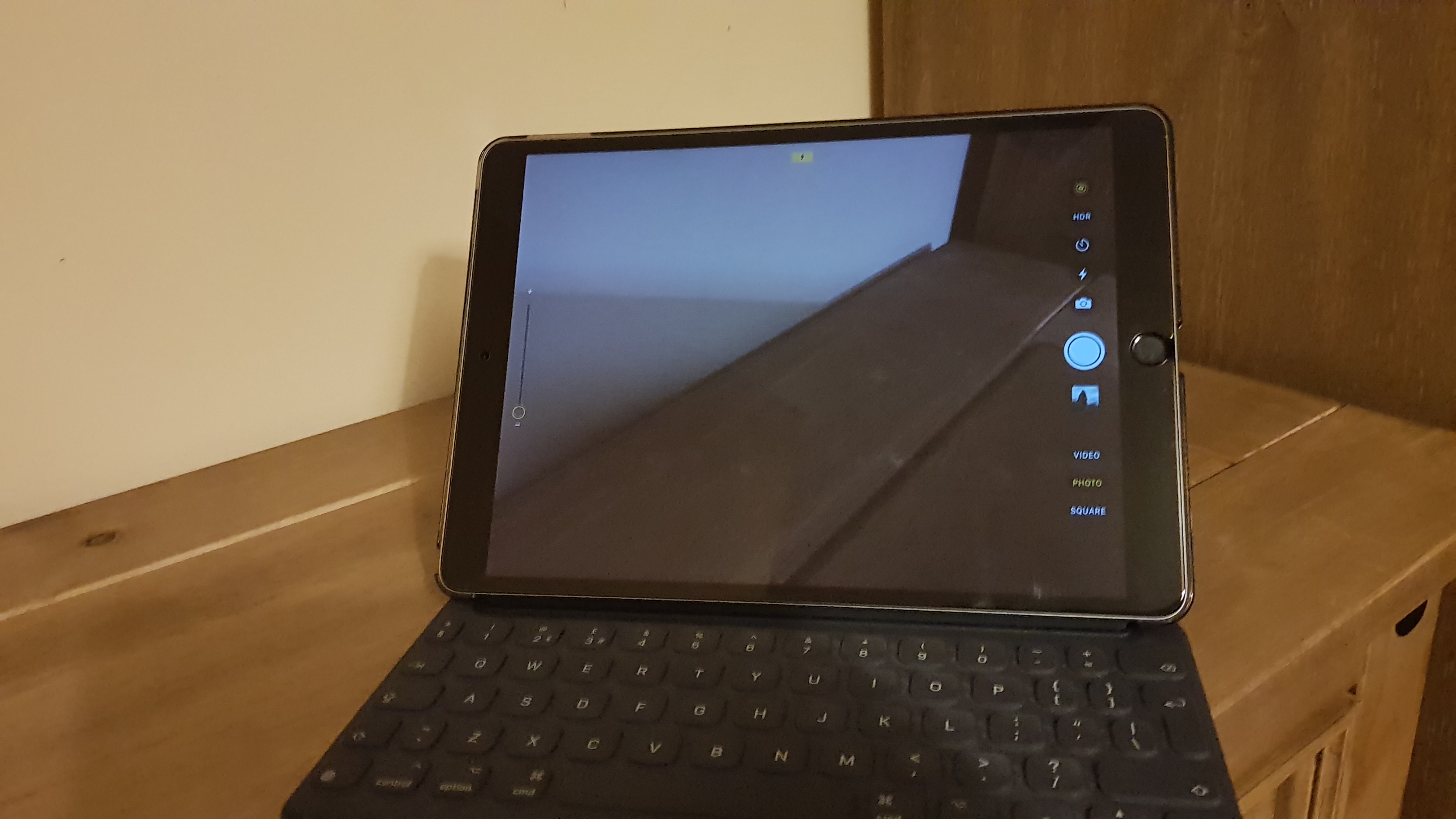 The camera on the iPad Pro is very good, however, it should only really be used for taking a picture as a last resort. This statement may seem confusing, so let me explain. The camera on both this and the iPad Pro 12.9 is the camera from the iPhone 7. This means that you are getting something that can compete with the big boys in terms of quality and speed to focus etc. So why am I suggesting that you don't use it to take photos?
The main reason is that the size of the iPad. In either version it's just not conducive to taking pictures as you will get the inevitable camera shake. That and you will be that guy / girl that people hate as you hold up your iPad to take pictures. 
Wrap Up
Now is the time to close the review and come to my conclusion. I will do this by answering two important questions. Firstly, is the iPad Pro 10.5 the best iPad I have used? Secondly is the iPad Pro 10.5 the best tablet for me?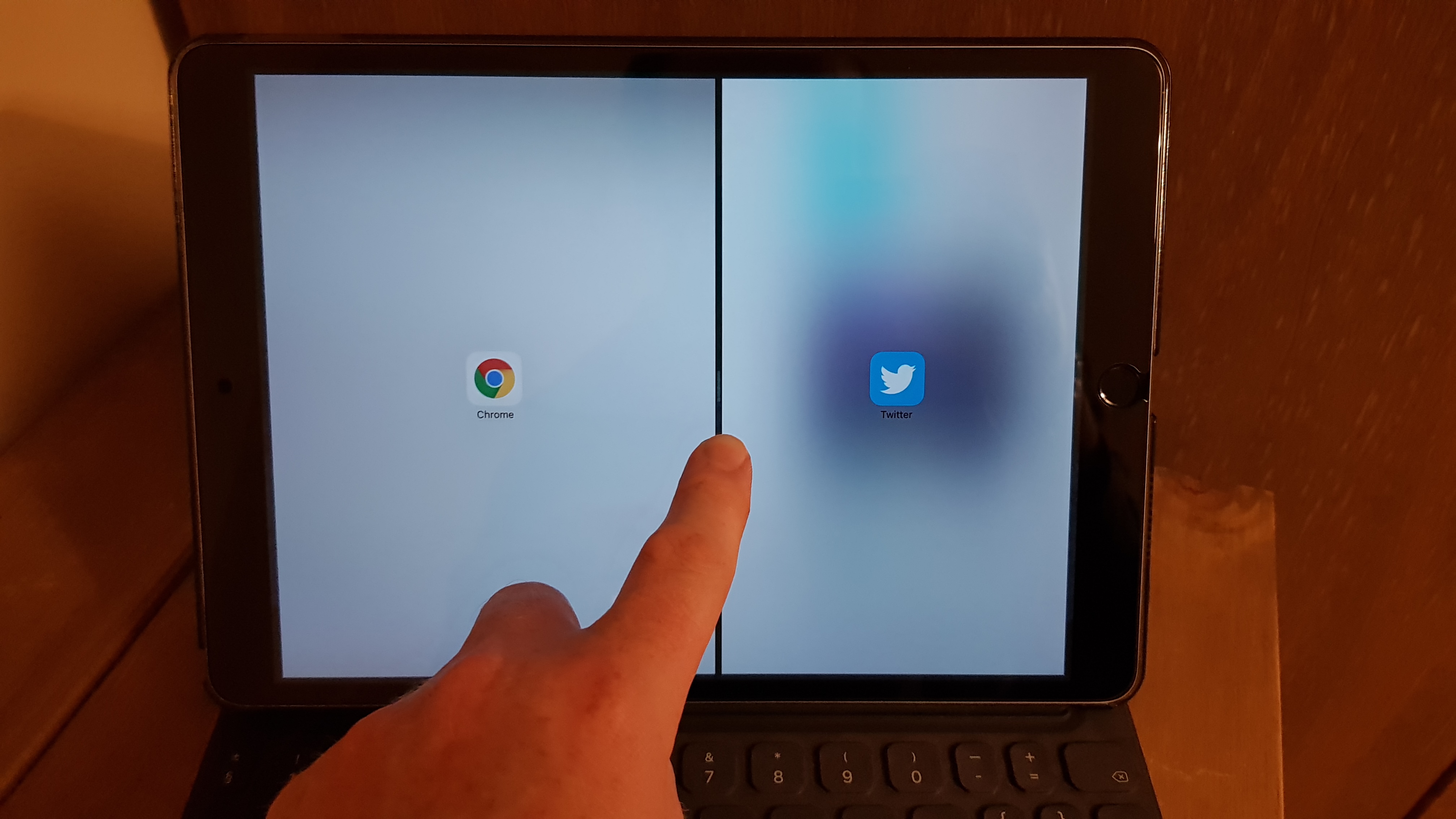 The first answer is an emphatic yes! The iPad Pro 10.5 ticks all the boxes on what makes an iPad good it is easy to use. It's lightweight and powerful. It is great for using for multimedia and it's a true powerhouse for productivity. Throw in the Smart Keyboard and this allows you to really work well on the go (with some caveats). Add in an Apple Pencil and you also have a (from what I have been told) one of the best drawing solutions on the market. I feel that for most people this will tick the box for what they need from a tablet.
The answer to the second question is a slightly trickier one. I have been a long time Android user. As such, I am very used to being able to do whatever I like with regard to customisation and file management. These are two areas that iOS is, in my opinion, still lacking. I would love to be able to get into the full file system of the iPad and save things where I want them to go and not where iOS thinks they should go. This is particularly true whilst I am working on articles for Coolsmartphone.com. I want to be able to pull files and images in from whatever source I see fit i.e. Micro SD card images downloaded from press releases etc. This is something that I cannot do as easily on iOS. Whilst I appreciate that it can indeed be done, it is a laborious process and is not really intuitive. I also like the flexibility of being able to test non-official apps without the feeling that I am "going against the grain". The other thing that I really miss is the lack of mouse control being available for finer detail adjustment.
Now I understand this may have a few of you screaming at this review. I also think that you are possibly under the impression that I am crazy, but I just like being able to do the things that I have mentioned above.
It is for this reason that I can conclude that I am unlikely to stick with the iPad Pro 10.5, and my quest for the perfect tablet will continue. I have already ruled out the Samsung Galaxy Tab S3 as it the keyboard is a bit too cramped.
So where does that leave me?
Well as frequent readers may know we have tested the Lenovo Yoga Book and the Xperia Z4 Tablet, and I think I will potentially revisit these as they have now received a Nougat Android update.
The other thing that I am looking at is the Chromebook segment. This is moving forward very quickly with the addition of the Play Store and Google seem to be poised to release a new Chromebook Pixel very soon.
So there we have it, my friend, the hunt continues…..
iPad Pro 10.5" - Review
Design - 90%
Hardware - 85%
Software - 90%
Performance - 93%
Value for money - 80%
This is a great tablet and it is definitely one of the best iPad's ever made. Definitely is one for Apple enthusiasts if you are more of a Google user then it will work but also check out what Android can offer you as well.