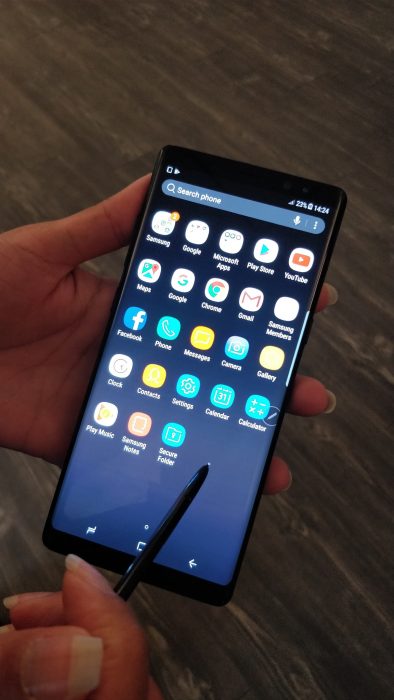 Did you see the Galaxy Note8 launch? We've got all the Note8 details and we've taken an in-depth look at the Note8 deals on offer too.
But how about seeing the thing in the flesh eh? Let's see. It's pricey. Very pricey, so we had to handle this one carefully. It's £869 SIM-free and has that familiar "Infinity" display. Other specs include a 12 megapixel dual-rear-camera setup at the back, 8 megapixel up the front, that 6.3″ Quad HD (2960x1440p) screen and an S Pen.

It has a 10nm mobile (octa-core 2.3GHz Exynos 8895) CPU delivering Gigabit LTE (4G) and Gigabit WiFi. Inside there's 6GB RAM, wireless charging and AKG headphones. For storage there's 64GB of storage on board and you can whack in another 256GB via a microSD card slot.
We've only had a really quick hands-on with this one, and we'll be back shortly with our thoughts when we've had more time with it. However, here's your chance to take a look at it. Don't forget to get all the specific details on this one, which includes a look at all the features, with our earlier Note8 overview for more.
A big thanks to Ant for helping organise this one. Much appreciated fella.
We also got to see the Samsung Dex in action. Pop the Samsung Galaxy Note8 into here and you get a PC-like experience, with the grunt provided by your phone. Plug the Dex into a monitor, keyboard and mouse, then plonk the Note8 into the Dex. Done.
Here's a tour of the phone itself..