The jury is still out on whether we should actually be calling it the Note8 or the Note 8, but either way you can get all the details here.
If you want one, we've got you a list of all the offers and deals, courtesy of the various networks, stores and cashback retailers who've been in touch with us so far. If you've seen a better offer, do give us a shout via the contact button at the top.
TopCashback.co.uk
This cashback site is offering £75 back on contracts and upgrades, plus they have a £25 saving on handsets. Don't forget, when pre-ordering, Samsung is giving away their Dex docking station, worth £139.99, for free.
That's a potential £214.99 saving.
For more information visit TopCashback.co.uk/carphone-warehouse. The site is free to join, then you click through the cashback site to Carphone Warehouse. Boom, done.
Three
– 100GB Data and All You Can Eat minutes – £79 upfront cost and £64 per month
– 12GB Data and All You Can Eat minutes – £79 upfront cost and £56 per month
Three are also offering 1GB of data along with All You Can Eat minutes on the "Essential" plan for £99 upfront cost and £48 per month. Head here to get it.
Sky Mobile
Prices on the Note8 with Sky start at £33 per month on their Swap24 plan. Sky offer the handset without an airtime contract if you wish, so you can just pay for the device at £33 per month.
If you wish to add an airtime / data package then it's an additional £5 for 500MB data, £10 for 1GB, £15 for 3GB, £20 for 5GB. You get unlimited calls and texts IF you're a Sky TV customer, otherwise it's another £10 on top.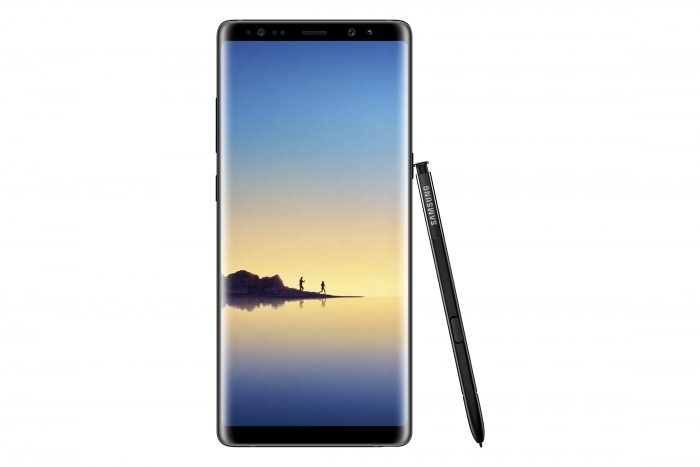 EE
The network is offering the handset with 4G Calling and WiFi Calling. Plus, if you go for a 4GEE Max plan, you get to enjoy free access to the BT Sport app and six months of Apple Music for free with inclusive mobile data.
The upfront cost is £49.99, then it'll cost you £62.99 per month for the 24 month 4GEE Max plan. This gets you 15GB of data. If you need even more data then, for a bit less upfront (£29.99) you can pay £67.99 per month for 25GB on the same package. If you need 40GB of data then the upfront cost is £9.99 and you're going to be shelling out £72.99 per month.
Head to the EE website here for further details.
Vodafone
Want a lower monthly cost? Well, Vodafone have a offer where you can pay £300 upfront and then £44 per month. That, though, will only get you 500MB of data. There's 500 minutes and unlimited texts too.
If you need more data, then the 8GB included in the "Red Entertainment" should suffice. This also provides unlimited texts unlimited minutes, plus a choice of Sky Sports Mobile TV, Spotify Premium or NOW TV for 24 months. The upfront is £100 on this and the monthly cost is £60 per month.
O2
Available to buy here on O2, prices start with a £49.99 upfront charge and £66 per month contract. That, over 24 months, gets you 10GB data and unlimited everything else. If you need more data, the 30GB package is £76 per month and the 50GB plan is a massive £96 per month, with the same upfront on all the plans.
WiFi and 4G Calling, plus free O2 WiFi, is included.
Get a case!
Also, you may remember the Galaxy S8 Tech21 cases we reviewed. Well, they're now available for the Note8 too, so head to the Tech21 website to protect your precious new gadget.
As always, if you do see a good deal, give us a shout via the contact form!