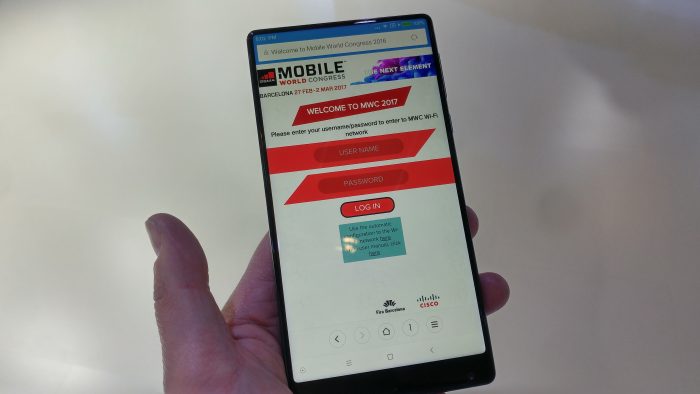 This morning I talk a walk to the China Mobile stand and there, amongst the robots and networking kit, was the Xiaomi Mi MIX we covered last year. This, though, was my first time seeing it in the flesh and .. woaha…
A 6.4″ display oozes right to the very, very edge of this phone. This corners of the screen are rounded too, just like the LG G6. Don't forget the Xiaomi also brought us a slightly-different-than-normal screen format. The LG G6 has 18:9, but this bigger 6.4″ 2040×1080 pixel screen is 17:9.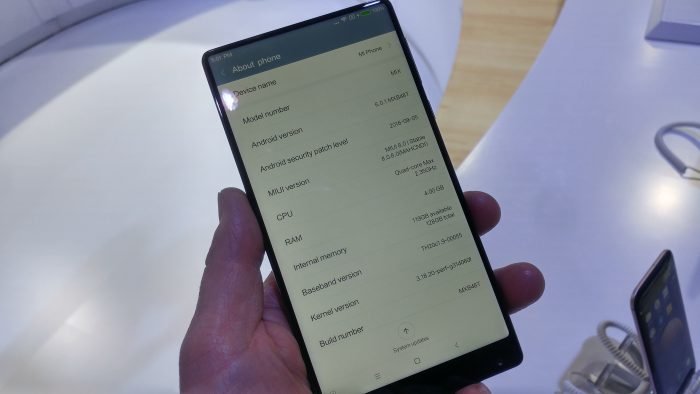 There's a couple of versions available, with the "18K" model packing 18K gold rims around the camera and fingerprint sensor. This is the "cheaper" model which you can buy online for $859.99 and .. it…is… stunning. To think that we've used tablets with 7″ screens – this screen is only a tiny bit smaller!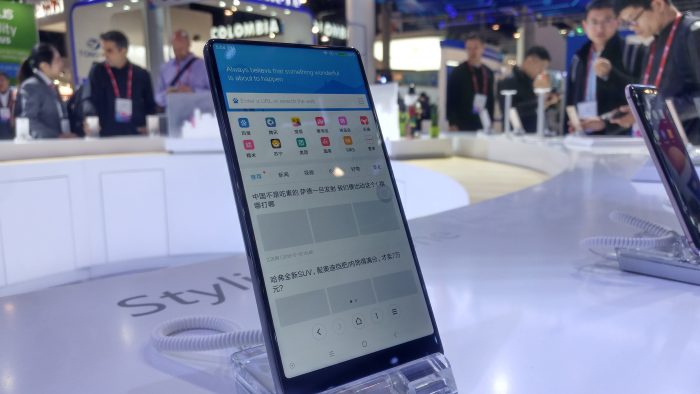 The Xiaomi Mi MIX is powered by a Qualcomm Snapdragon 821 quad-core CPU with 4GB RAM and 128GB storage. It's powered by Android 6.0 and there's a 16 megapixel shooter at the back plus a 5 megapixel front camera which is actually housed in the "chin". Other specs include 4G, GPS, WiFi and Bluetooth.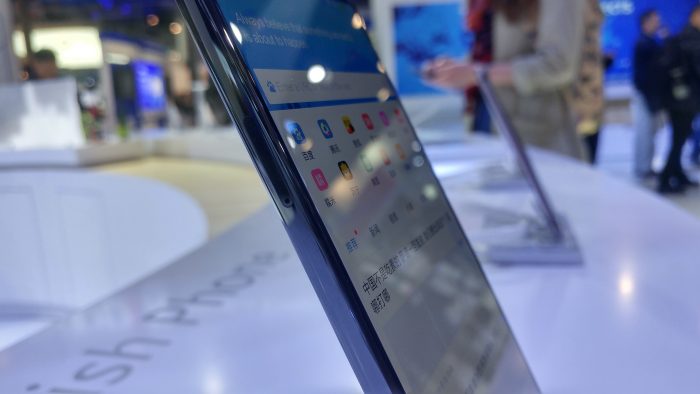 Why is the camera (which is 50% smaller in size than most cameras) at the bottom? Well, the screen uses all of the area up top – no room for a camera or an earpiece. Instead there's piezoelectric ceramic acoustic technology coming through the screen so that you can hear callers. Clever stuff, and our friends at Elliptic Labs have worked to on the ultrasonic proximity sensor, which sits hidden behind the display and replaces the traditional infrared sensor.
The handset has a ceramic frame, back cover and buttons. It achieves a massive 91.3% screen-to-body ratio. I want one! I want one now! Hardly any bezel, a stunning screen and a well-built handset which really doesn't feel big in the hand at all.