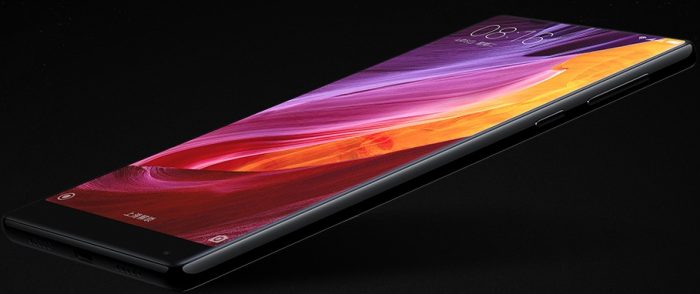 Overshadowing their Mi Note 2 somewhat is this, the Xiaomi Mi Max. It's packing some wizardry from our friends at Elliptic Labs and, if you've been following us for a while, you'll have known all about it way back in March. Before I go any further, you need to see the video of it, because it's all about that screen. The bezel around the screen is pretty much none-existent here, and you instead get a true edge-to-edge experience, like a pain of glass. Here, courtesy of Marques Brownlee, is an up-close look at it..
It's a phone, which we kinda hope won't be "concept" for long, with a massive 91.3% screen-to-body ratio. With a 6.4″ display it's mostly screen up front and is built using full-body ceramic technology for additional strength. The cost of the frame alone is around £120.

The Mi Mix has a bigger screen thanks to a lack of earpiece, no camera up top and there's no proximity sensor either. Instead, thanks to those clever people at Elliptic Labs, there's an ultrasound "BEAUTY" proximity sensor. This replaces infrared sensors and it was something that Elliptic Labs were really excited about back in Barcelona during Mobile World Congress. Have a read of our earlier story and you'll learn all about their clever ultrasound technology. It's very interesting indeed and this is something that we've been keeping an eye on for a number of years now.

Meanwhile, Xiaomi have reduced the front camera size by 50%, added "cantilever piezoelectric ceramic acoustic technology" for your calls and removed any capacitive front buttons. The result is a custom 17:9 display which gives a large 16.9 viewing area even with the on-screen keys up.
Full details on the specs are as follows..
– 6.4" edgeless display: Ultra-high 91.3% screen-to-body ratio—highest on any smartphone to date
– Full ceramic body: Ceramic back cover, frame, and side buttons, 8 MoHs hardness. Seamless connectors fuse Mi MIX's body without any external adhesives
– Cantilever piezoelectric ceramic acoustic technology replaces the traditional earpiece speaker, allowing you to listen to calls without the earpiece
– Ultrasonic proximity sensor hidden behind the display, replaces traditional infrared proc sensor
– Custom 17:9 display, large 16:9 viewing area even with soft keys
– Soft keys with auto-hide Quick Ball allow easy navigation and reachability while keeping Mi MIX sleek and minimalist
– Compact front camera, 50% smaller than traditional camera modules, imperceptibly located along Mi MIX's "chin"
– Custom round-edged display allowed us to create a more immersive, edgeless viewing experience
– Snapdragon 821 at 2.35GHz
– 4GB LPDDR4 RAM + 128GB UFS 2.0 storage; 6GB + 256GB (Mi Mix 18k)
– 4400mAh battery, Quick Charge 3.0
– Full NFC Functionality: Read, write, card emulation, P2P, Mi Pay ready
– HD audio quality, 192kHz / 24-bit resolution
– GPS high-precision positioning
– 16MP PDAF rear camera
– MIUI 8
– Mi MIX 18k with 18-karat gold rims around camera and fingerprint sensor; 6GB + 256GB
– RMB 3499 (4GB + 128GB, approx $516 or £423.60); RMB 3999 Mi MIX 18k (6GB + 256GB, approx $590 or £484.13 )


If you'd like to see more of it, head to www.mi.com/mix/. It's in Chinese but you can find video and a lot more imagery.