In reality the Nokia brand should be worthless. Microsoft grabbed the mobile arm of Nokia and then either..
(a) Performed a number of changes in order to make it more successful
(b) Completely destroyed the mobile side of the company after launching devices like the 930.
..it depends on how you look at it really 🙂 Either way, it all went bad last year.
Somehow though, after all the pain, people still remember the solid workmanship and the reliability of those Nokia phones. Indeed, new baton-carriers HMD Global have announced a remake of the Nokia 3310 just to bring back those warm and fuzzy memories of phones which could be dropped repeatedly and charged monthly.
Now, with Android inside, the new-old Nokia clearly has ambitions to become a major smartphone player again. Strong design and quality were key attributes before and are present in their new smartphone devices too. Here in Barcelona they launched the following…
Nokia 6 – This is their premium smartphone with distinctive design and immersive audio.
Powered by a 3000mAh battery, this will be available in Arte Black, Matte Black, Tempered Blue, Silver and Copper. It measures in at 154 x 75.8 x 7.85 mm and has a 5.5″ IPS LCD Full HD (1920×1080 16:9) screen sitting begind a 2.5D Sculpted Corning Gorilla Glass screen. It runs a Qualcomm Snapdragon 430 CPU and the Arte Black version has 4GB RAM with 64GB storage while the other colours get 3GB and 32GB storage. It connects via WiFi and LTE Cat 4. The unibody of the Nokia 6 is crafted from a single block of 6000 series aluminium.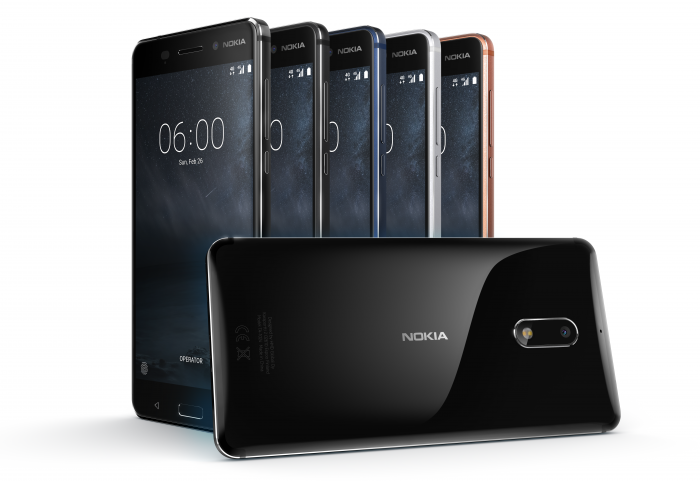 A microSD slot is also provided, plus there's dual speakers and a 3.5mm audio jack. That improved sound comes courtesy of a smart amplifier with Dolby Atmos. Nokia tell us that this will give you a louder sound, deeper bass and great audio clarity.
In addition to the 403 ppi screen and 450 nits brightness (with sunlight readability) theres a 16 megapixel rear camera (PDAF, 1.0um, f/2, dual tone flash) and a front-facing 8 megapixel unit (AF, 1.12um, f/2, FOV 84 degrees). It'll sell for €229, which is very cheap, and the Arte Black Limited Edition will be a bit more expensive at €299.
Nokia 5 – A simple, sleek and compact smartphone.
Again from a single piece of aluminium, this will be even cheaper at €189 but still comes with a lot of the features of the 6. Available in Tempered Blue, Silver, Matte Black and Copper, this one measures 149.7 x 72.5 x 8.05 mm but comes with 2GB RAM and 16GB storage. It runs the Qualcomm Snapdragon 430 CPU and will do Cat 4 4G, plus there's a microSD card slot.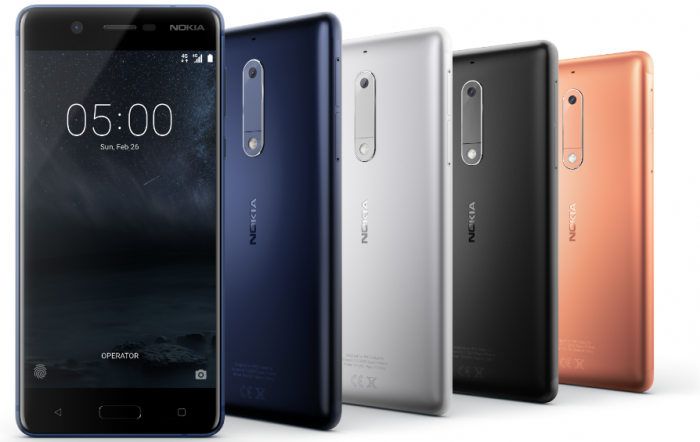 A smart amplifier is included here, but it doesn't deliver the Dolby Atmos sound by the looks of it. A slightly smaller 5.2″ 1280 x 720 16:9 screen features, although you do still get the 2.5D sculpted display and it's visible in the sun. Around back there's a 13 megapixel shooter (PDAF, 1.12um, f/2, dual tone flash) and up front you'll find an 8 megapixel unit (AF, 1.12um, f/2, FOV 84 degrees). It comes with a 3000mAh battery
Nokia 3 – A budget smartphone.
This one has a MediaTek 6737 quad-core 1.3GHz chip with 2GB RAM and will retail for just €139. It has a 5″ HD (1280 x 720, 16:9) screen and will be available in Silver White, Matte Black, Tempered Blue and Copper White. Measurements are 143.4 x 71.4 x 8.48 mm and it'll do the same Cat 4 4G. There's 16GB storage on board and a microSD slot for more. You also get a 3.5 mm audio port, the same 2.5D sculpted display (although not sunlight proof) and Bluetooth / WiFi etc. The battery is a 2650mAh unit.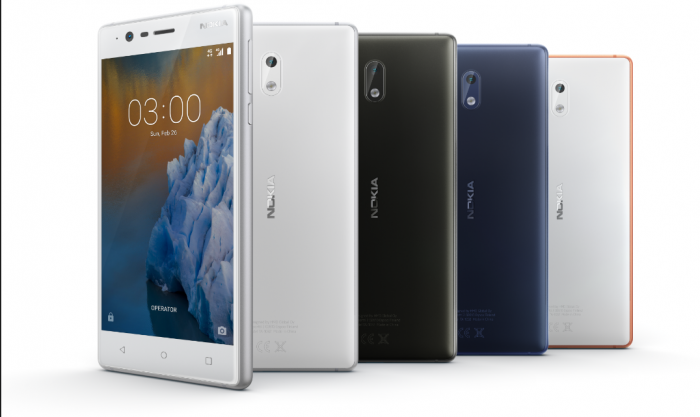 All phones come equipped with a fingerprint sensor.
Get the full details below or head to the Nokia website to get your name down to buy one.
We'll be coming back to the Nokia phones later in the week 🙂