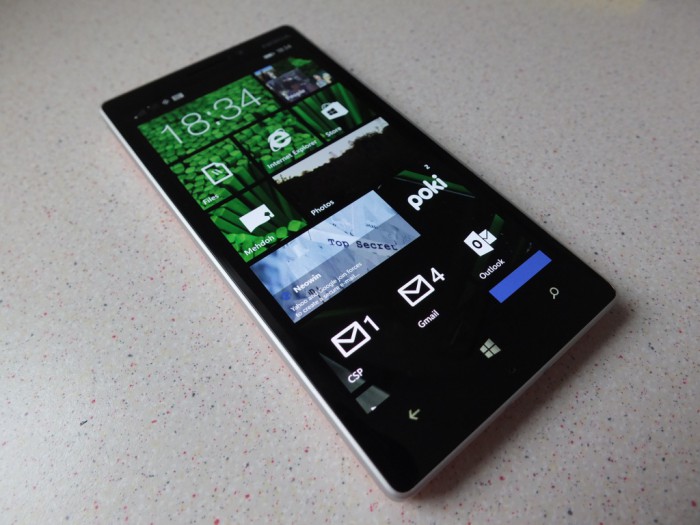 The Nokia Lumia 930 is possibly one of the last phones to be released under the Nokia banner, with future devices coming under the Microsoft banner. So it doesn't come as a surprise that the Lumia 930 is the highest spec'd phone they've ever released. But is it the best phone they've ever released? You'll have to read on to find that out. Starting of course with my good and bad points.
Good Points
Nice solid construction.
Great design that feels great in the hand.
Gorgeous 5″ 1080p display.
Decent 20MP PureView camera.
It feels really quick throughout the UI.
Qi Wireless Charging built in.
Wireless charging Pad included in the box.
Good quality sound using decent headphones.
Windows Phone 8.1 is almost fun to use these days.
Bad Points
No expandable memory.
Nano SIM isn't nice for serial phone swappers.
Slight overheating issue during gaming sessions.
No Glance screen makes spotting notifications fiddly.
Sealed battery makes longevity of the device a concern.
Design
The Lumia 925 marked a move away from Polycarbonate in the Lumia range as the edges were rounded metal with a coloured polycarbonate back plate, it was a nice phone. The Lumia 930 (Lumia Icon) continues that trend in that the edges are metal and the backplate again is coloured polycarbonate. Nokia has just refined the design a bit and in doing so have made quite a refined yet in your face phone. The bright colours of the backplate help with that.
The left hand edge as with most Nokia Lumia is totally devoid of things, leaving the right hand side to get the camera, power and volume rocker. As is always the way the camera button can be pressed and held to trigger the camera app, this is really handy when taking it out of your pocket to quickly take a shot. The buttons are made of the same metal as the frame and they rattle quite a bit if you shake the phone.
The bottom edge houses the Micro USB charging slot and what I can only assume is a insert strip in the metal frame, to no doubt keep the signal alive. The top edge of the phone has the headphone socket and the SIM tray. This SIM tray is possibly the worst I've seen on a Nokia in recent times, you have to prize it out with a fingernail and it's only plastic not metal.
The front of the phone has the usual Windows Phone stuff. Capacitive back, Windows and search button. There is also a microphone at the bottom and the front facing camera and earpiece. No doubt the array of sensors are lurking beneath the screen, it's just you can't see them on the 930.
The backplate is where most of the excitement about the Lumia 930 happens, the back houses the rear 20MP PureView camera, the dual led flash, the speaker and two microphones.
The model I was sent had the bright orange backplate and to be honest with you I'd have preferred a yellow one, not that yellow exists. The orange is bright but it just wasn't for me. Having seen the Microsoft advert on TV with the office boss extolling the virtues of the Lumia 930 I can see how a black Lumia 930 would be a really smart choice for a work device, it looks premium and business like. Pick the orange or green and you've got a fun looking phone. Personally I'd have made the backplates easily removable and allow users the choice of colours.
Overall it's a nice design that feels great in the hand, the screen curves slightly at the edges to meet the metal frame, which actually looks really nice. The 5″ screen is just about completely reachable using one hand, you'll have to readjust the phone to do that. Nokia have done well to cram the screen into a smallish chassis.
Here are a few shots of the Lumia 930 and also some comparison shots against my Lumia 1020 so you can see the size difference.
Hardware
Spec wise the Nokia Lumia 930 is the highest spec'd Windows Phone pretty much sharing specs with the Nokia Lumia 1520. There is so much to be happy about here for a Windows Phone fan.
Processor: Qualcomm Snapdragon 800, Quad-core 2.2 GHz.
Display: 5 inch, ClearBlack, OLED, Full HD (1920 x 1080), Super sensitive touch , 441 ppi, Sunlight readability enhancements, Corning® Gorilla Glass 3.
Internal Memory: 32 GB.
RAM: 2 GB.
Main camera: Sensor size – 20 MP 1/2.5 inch, PureView, Auto focus with two-stage capture key, digital zoom – 2 x, ZEISS optics, Aperture – f/2.4, Camera focal length – 26 mm, Camera minimum focus range – 10 cm, Dual LED flash.
Main video camera: Video resolution: 1080p (Full HD, 1920 x 1080).
Secondary camera: Resolution – 1280 x 960 pixels, Aperture – f/2.4.
Secondary video camera: Video camera resolution: 720p (HD, 1280 x 720).
Audio recording features: Nokia Rich Recording with four microphones, Nokia Rich Recording with Surround Sound.
Qi Wireless charging built-in.
Nano SIM.
Bluetooth 4.0.
Wi-Fi: WLAN IEEE 802.11 a/b/g/n/ac.
NFC: Pairing, Secure NFC for payment, Sharing, Tagging.
LTE network bands: 1, 3, 7, 8, 20. LTE max data speed DL: 150 Mbps, LTE max data speed UL: 50 Mbps.
WCDMA network: 850 MHz, 900 MHz, 1900 MHz, 2100 MHz, WCDMA max data speed DL: HSDPA – 42.2 Mbps, WCDMA max data speed UL: HSUPA – 5.76 Mbps.
GSM network: 850 MHz, 900 MHz, 1800 MHz, 1900 MHz, GSM max data speed DL: EGPRS 236.8 kbps, GSM max data speed UL: EGPRS 236.8 kbps.
Battery capacity: 2420 mAh non removable.
Power management: Maximum talk time (2G): 21.7 h, Maximum talk time (3G): 17.9 h, Maximum music playback time: 75 h, Maximum video playback time: 9 h, Maximum Wi-Fi network browsing time: 9 h.
Dimensions: Height 137 mm, Width 71 mm, Thickness 9.8 mm.
Weight: 167 g.
What's in the box: Nokia Lumia 930, Nokia DT-601 Black Wireless Charging Plate, Nokia AC-60 MicroUSB Charger, Nokia Charging and Data Cable CA-190CD, Quick guide.
Compared to other flagship devices the spec is a bit 2013 really. But as is always the case Windows Phone is highly optimised to work with specific chips and the Lumia 930 feels like the fastest Windows Phone I've ever had the pleasure of using. It even feels comparatively fast with my Snapdragon 801 equipped Android phones.
Sound quality with the Lumia 930 is great, I plugged in my favourite pair of headphones and was pleasantly surprised with the bass response and clarity of the sound. The Nokia Audio Settings allow you to tweak the sound even further. The speaker isn't as good though, it's loud but not HTC loud and it's placed round the back, so it's easily muffled.
The only place that the Lumia 930 is lacking is with expandable memory. If they had have included a Micro SD slot this would be the phone to outdo all other Windows Phones. But they didn't, so it isn't. There is also the weird issue of the screen not supporting Glance Screen, which shows you the time and some notifications whilst the phone is turned off. Whether Nokia just couldn't get it to work on a 5″ 1080p display or not remains a mystery, it's a shame it's not supported.
Software
The Nokia Lumia 930 is one of the first devices to ship with Windows Phone 8.1 and the Nokia Cyan update. Update 1 for Windows Phone came out whilst I had the Lumia 930 although I didn't flash it. The Snapdragon 800 chip used on the Lumia 1520 and the 930 really makes a difference. I've got a Lumia 1020 that has the older dual core Snapdragon S4 Pro chip and the difference in loading times and transition speeds is plain to see.
The 1080p display means that text is crisp, websites are readable whilst zoomed out, images shown on the screen look great and it actually does look better than the 720p on my Lumia 1020. Windows Phone has done well to utilise the hardware here.
Windows Phone 8.1 is great, but there are some issues still, I'll get to them in a bit. The things I like are the transparent tiles, which really allow you to create some great looking homescreens, the drop down notification area is really useful, the lockscreen customisations, the combined people hub and the ridiculously fast flow keyboard. It is all top notch stuff in my book.
My thoughts on Windows Phone 8.1 can be read in a slightly more in depth article here.
Windows Phone as a whole can work for most people, it's just a matter of accepting that some app developers just can't be bothered to create apps for the OS and also that now and again you're going to be looking at a screen that just says "resuming". Having used Windows Phone in a daily basis for several years now I am used to how it works and used to having to carry an Android phone as well to deal with those situations where my trusty Lumia just can't cope.
The app situation is improving, mainly down to third party developers. Such as Rudy Huyn who has created Instagram, Vine, Snapchat and Dropbox apps which seriously plugged a gap in the App Store. Things can only improve for Windows Phone, I just hope that Microsoft push it in the right direction and more big name apps appear on the OS.
Other notable stuff
Camera
The camera on the Lumia is the same camera on the Lumia 1520, which is good. You get similar options to the Lumia 1020 in that it can take three different size images. The screenshot below sums it up. I chose the middle option as it allows you to crop in on the 16MP Hi Res image to reframe the image. This doesn't work as well as the on Lumia 1020, but it's nice to have.
I was impressed by the focal distance on the camera, auto focus picked up a range of close up objects and focused nicely. I particularly was surprised with the photo of the slug, it really picked up the details on it well.
In day light the Lumia 930 is capable of taking some decent shots, using either auto focus or the manual mode in the Nokia Camera app. I don't use the default camera app anymore. In low light the camera struggles to capture moving objects, but stationary objects it'll capture in true Nokia style. Although saying that the pictures of the bridge took about half a dozen attempts on each to get them to focus properly.
Waking the Lumia 930 with the camera takes about 4-5 before it's ready to capture an image, the Lumia 1020 takes about 7 seconds so it's an improvement. For reference my Xperia Z2 takes about 2 seconds to do the same thing. Time between photos is also quicker on the Lumia 930 taking about 1-2 seconds instead of 3-4 seconds for the Lumia 1020. Again for reference my Xperia takes under a second.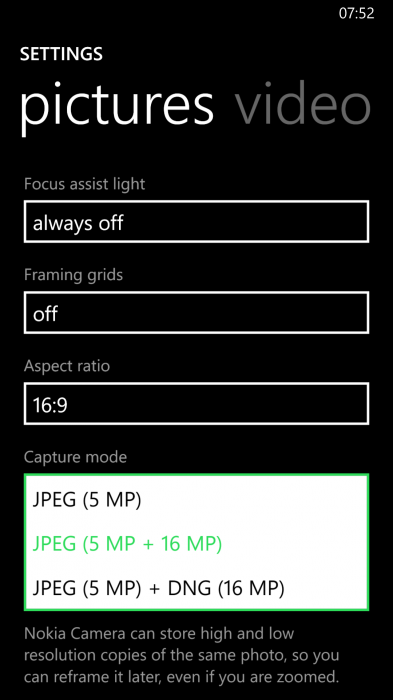 Here are a selection of shots showing some different modes of the camera.
Battery life
The 2420 mAh battery in the Lumia 930 performs well. The initial release firmware wasn't the best and had bad battery life and it tended to overheat quite a bit, thankfully they fixed this. I found I was getting a day out of the Lumia 930 with ease. However battery life did take a nose dive if I spent my lunch break playing Halo: Sparton Assault.
Benchmarks
Predictably the Lumia 930 comes out way higher benchmark wise than the Lumia 1020. The Quad Core processor delivers predictably here and in real life you can see and feel the difference in speed.
AnTuTu Scores
Lumia 930 – 26320
Lumia 1020 – 12168
Conclusion
Overall the Nokia Lumia 930 is a great device, decent specs, decent camera, great new software and some wonderful new colour schemes. What is there to not like about it?
Well apart from a few niggles about heating up whilst gaming, not having a Micro SD slot, having to order a Nano SIM to fit it and not really being able to tell if your phone has a notification. But most of these issues are just me nit picking and issues such as the notifications can be dealt with using one button push or a volume adjustment.
So should you get this over and other flagship at the moment? I can't say really, all I can say is that it is something different and if you're willing to really give Windows Phone a go it might be the phone for you.
Nokia Lumia 930 - Review
Design - 8
Hardware - 7
Software - 6.5
Battery - 7.5
Camera - 9
Screen Quality - 8
7.7
Overall the Nokia Lumia 930 is a great device, decent specs, decent camera, great new software and some wonderful new colour schemes. What is there to not like about it?