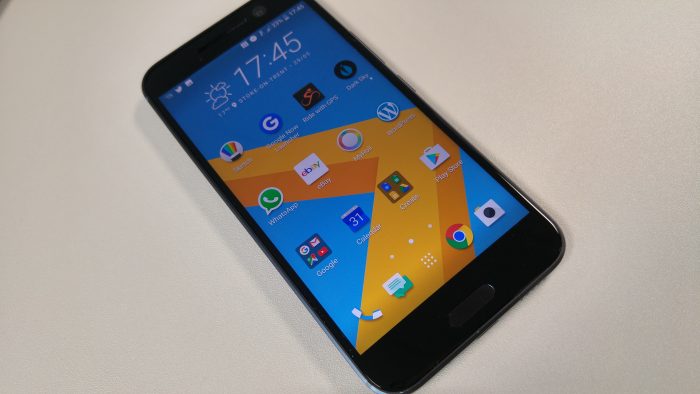 I write this shortly after reviewing the Huawei P9 and, I have to say, the first thing I noticed is how much heavier the HTC 10 is. The P9 is 144g and the HTC 10 is 161g. It might not sound much, but boy – I noticed it when I took it out of the box. It's fatter too, the HTC 10 is 9mm thick and the P9 is 7mm. The screen resolution on the HTC 10 is higher though (1440 x 2560 pixels and around 565 ppi compared to the P9's 1080 x 1920 pixel 423 ppi screen) and it's around the same screen-to-body ration – give or take a percentage.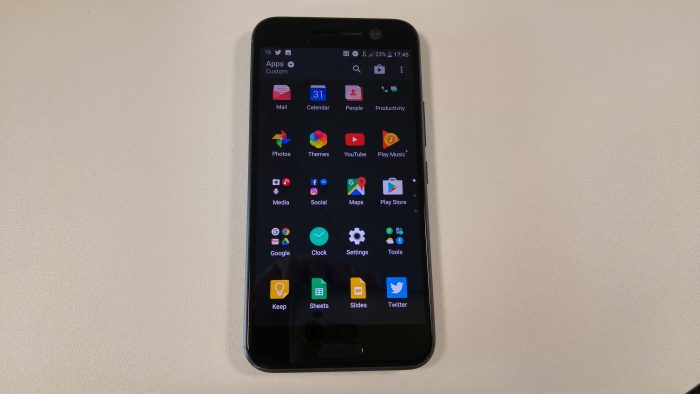 Out of the box things are a little … strange for me. I'm immediately confused. This is a network-free loaner from HTC themselves and there's no bloat. No frivolous apps and junk or an annoying GUI getting in the way. It's like having a Google Nexus handset. After powering on and going through the usual setup process, I stumble around trying to find the gallery. It's something I expect to be there, but isn't. Instead we've got Google Photos doing it's thing. I'm not a massive fan of Google Photos, so I instead install a gallery app simply called "Gallery" which is a pretty sweet and does the job.
It seems that HTC have got the message from the users about bloatware and have totally gone the other way – stripping the GUI back to a fairly standard Google Android setup. The Zoe system seems to have been split into a separate app and, although there's a HTC Zoe Camera mode (which shoots brief clips), it's all a little vanilla.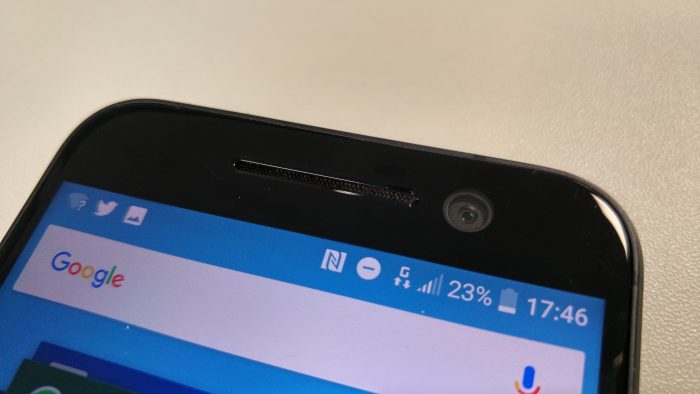 Wait though, I'm getting ahead of myself. Let's take a look at the specs of this thing. I've got 32GB of internal storage on this model, which I've added to with a 64GB microSD card (although you can add up to 200GB this way). There's also a 64GB version if you can get it (the 32GB one will be the most prevalent) but they both run Android 6.0.1 on a Qualcomm MSM8996 Snapdragon 820 CPU – that's two cores at 2.15GHz and two at 1.6GHz with an Adreno 530 GPU. The screen is that 5.2″ super LCD unit I mentioned a moment ago. It sits behind Corning Gorilla Glass 4 protection and there's a 12 megapixel camera at the back with laser autofocus, OIS and a dual-tone dual-LED flash. Up front, a 5 megapixel unit for your selfies. Both have an f/1.8 lens.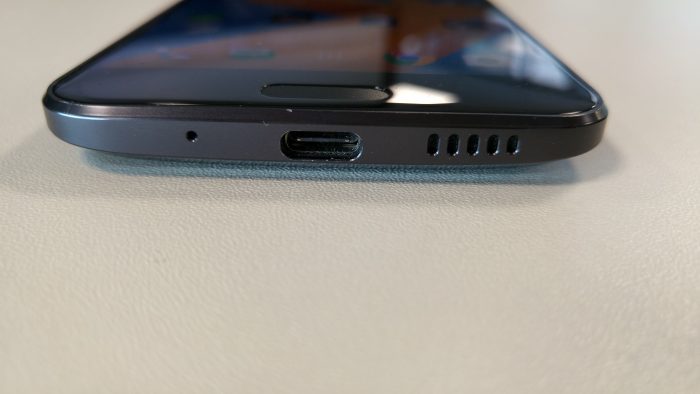 At the bottom you'll notice that the USB-C power port has been added, so time to upgrade your cables if you've got a stack of microUSB ones kicking around. There's also one of those two speakers. This is the "bass" one – the other up top acts as a tweeter and the sound output is strong and deep – no tinny audio here.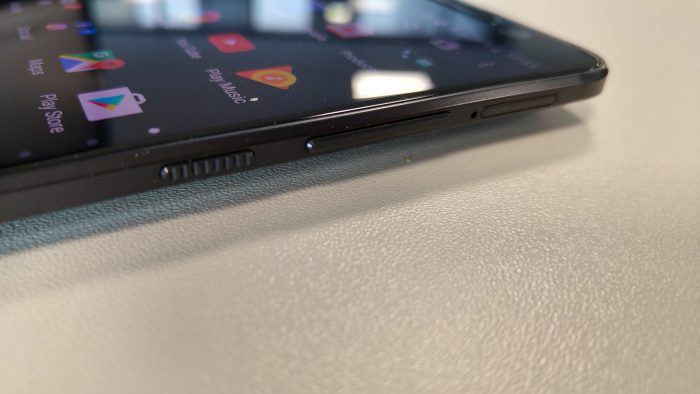 Here you'll receive Hi-Res 24bit DAC sound (if your source supports it) with HTC BoomSound acoustics and a dedicated amplifier for the "woofer" (at the bottom) and the "tweeter" (at the top). There's a couple of HTC BoomSound (Theatre and Music mode) profiles which include Dolby Audio.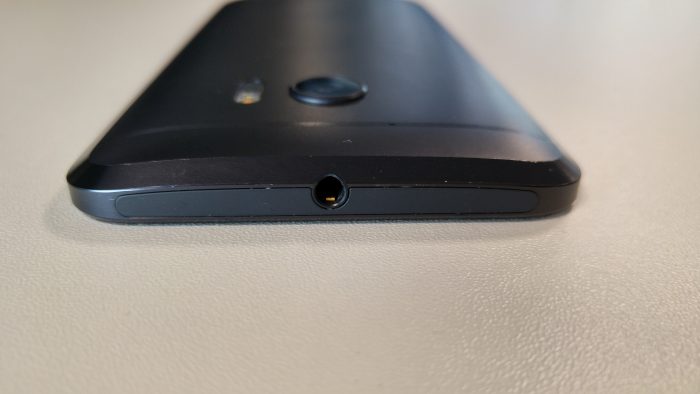 The usual WiFi, Bluetooth (v4.2) and GPS are included. You'll also get a lovely 100GB of Google Drive space when you unbox, which is rather nice and means that you can off-load media to the cloud. The HTC 10 also features quick battery charging, meaning that you can boost it to a 50% charge in just 30 minutes. I found the 3000 mAh lasted relatively well and was on-par with most other smartphones with a one-day lifetime under intense use. HTC have also added a battery manager so that you can go to a lower power mode when the charge is running low. By the way, that charger in the box is a Quick Charge 3.0 one and, when I charged it, there was no heat from the casing either. HTC tell me that you should be able to get two days if you're a little less "intense" with your usage.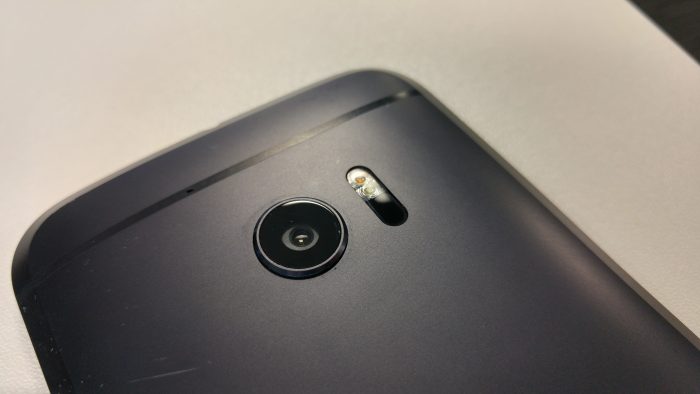 The design of the HTC 10, even on this unobtrusive grey model, shows through. There's chamfered, contoured edges and a very nice dual-layer finish. On the back you'll notice that the rather matt finish on the rear panel slopes off to a shiny curved edging, giving it a narrower feel at the corners of the phone where the volume and power buttons are located. Oh and yes, you can double-tap that screen if pressing a power button isn't your thing (although it does rock a little on a desk).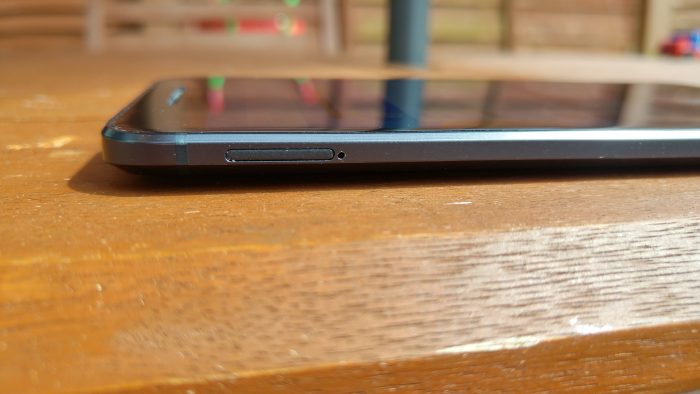 The metal chassis meets and fits into the glass frontage without any gaps and, with my usual aggressive testing (sans case) it's not shown any real signs of punishment or scratches. The HTC rep tells me that they stuck it in a freezer at -20 degrees C and then heated it up to 60 degrees just to test it. They tried to corrode it, they've dropped it and they've scratched it to ensure that your brand new HTC 10 doesn't wind up looking like a battered old phone after being next to your keys in your pocket.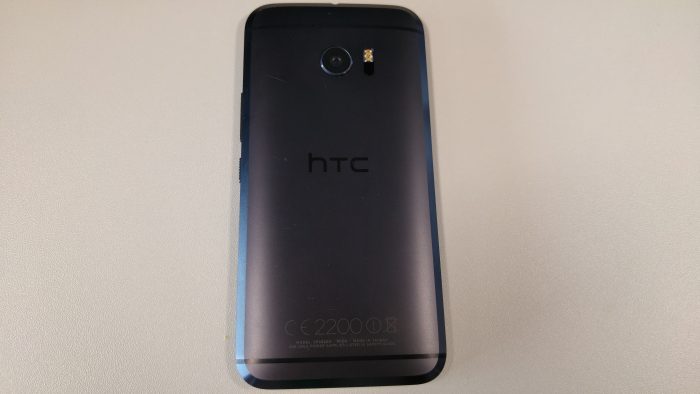 The fingerprint sensor works rather well although the jury is still out on whether a rear or front mounted sensor is better. Personally I prefer the rear one as I use the thumb that I hold the phone with on front sensors, and there's a real chance of me dropping the handset when I do that.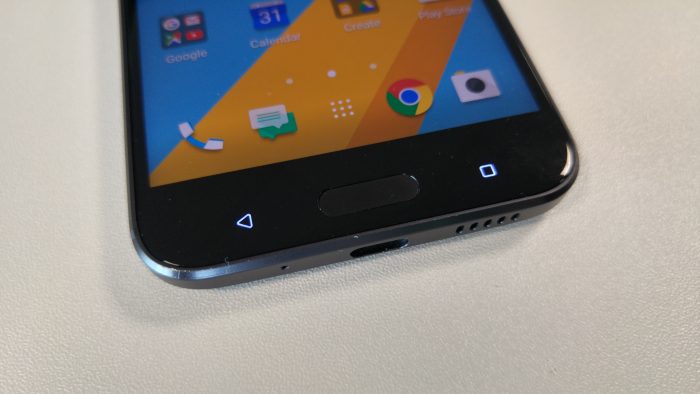 That rear camera has always been a bit of a sore point with HTC. It seems that the louder you shout, "This is the best camera in the world", the more criticism you'll no doubt receive. A few years back we posted an article about the new UltraPixel technology on the HTC One during Mobile World Congress and we had some rather "heated" email conversations about it. Here on the HTC 10 we've got an f/1.8 lens which will let in more light to that 12 million "UltraPixel" camera. This should mean high-resolution shots even in low light. It'll do 4K video too. More on that camera in a moment though.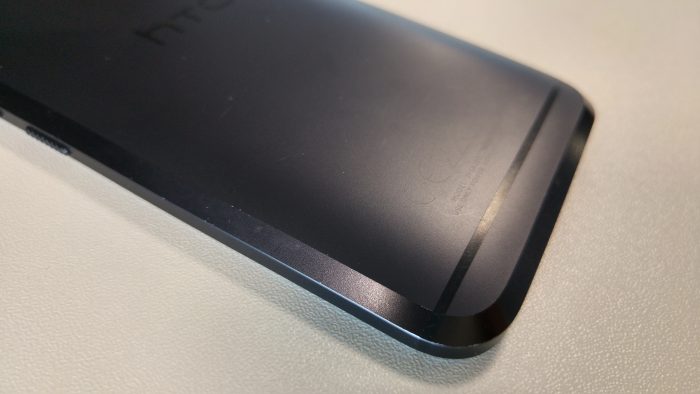 You'll have hopefully noticed the trays on the photos. One is for the SIM and the other for the microSD card. Sadly we don't have one of those clever "both cards in one tray" assemblies. Also you'll have seen the 3.5mm audio port sitting proudly at the top there. You get some nice HTC headphones in the box and there's a set "audio profile" for them, but what I did like (and want to highlight) is the rather clever audio setup that HTC have employed. It's been a bugbear of mine for many years that headphones might sound utterly brilliant with one phone, but then they'll sound a bit crap on another phone. Here HTC take you through a setup process and there's two pathways into saving your personal profile. Either ask some fairly quick questions about the sort of music you listen to (and how old you are, plus how loud you normally have the volume) or go through a more advanced setup. This second option is almost like a hearing test, with it asking you to adjust the faders until you can only just hear a tone in either ear. The results of this are rather brilliant I must say and, on the supplied Hi-Res headphones everything sounded rather brilliant. You can save multiple profiles for different people and different headphones so that everything is tuned perfectly to your eardrums and your tastes.
Inside everything is very quick and the screen is very responsive. There's a HTC Themes system which, via a store, lets you download and change the appearance and style of your phone. You can also create your own themes if you wish – alter the wallpaper, lock screen, the icons, the clock, the ringtone, font, alarm and even the background that appears on your messages.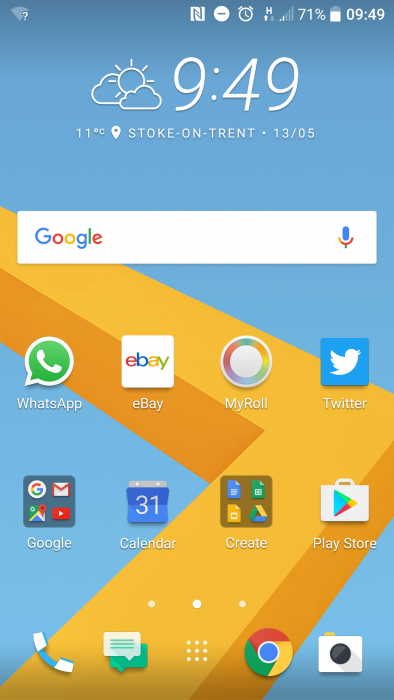 There's recommended themes that can be downloaded, classic ones and a collection of "Freestyle layouts" which let you put stickers, widgets and icons all over the place – even overlapping them. It's like an OCD nightmare but I guess someone out there will like it 🙂
HTC have also added an "App Lock" function to control the access into certain applications and it'll intelligently use the right amount of cores from the CPU so that the battery isn't drained unnecessarily.
All the Google Android apps are on-board – Maps, Gmail, Photos, Drive, Chrome etc. It'll of course sync with Google and pull all your contacts and appointments down as required. You get three panels but you can add more and change which one is your "Home". The app drawer is still there and, off to the side of the homescreen, you get the "Highlights" system which appears to pull stories from Twitter and other social media sites to give you interesting and informative news that you probably want to read.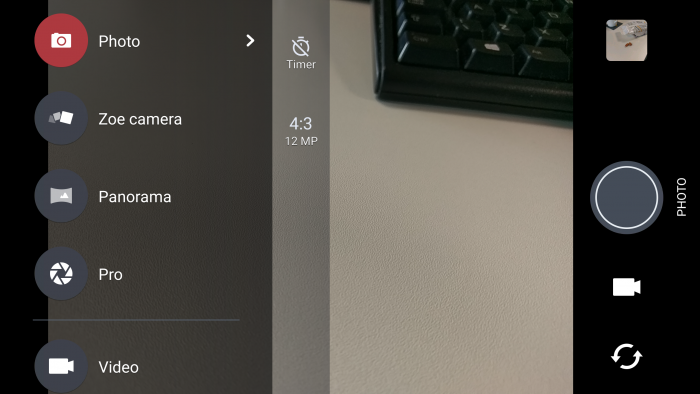 The camera is simple, easy to use and has a HDR mode plus a "Pro" mode if you know your ISO and your WB stuff. I liked the fact that the HDR mode stayed set to whatever I'd left it on previously and the laser focus really helped with the setup of a photo. Again (and this is a critique of many smartphones) the 12 megapixel top-quality figure is based on a 4:3 photo and, if you want to take a widescreen shot (16:9) you'll have to switch it down to 9 megapixels.
The camera also included that Zoe Camera mode, Hyperlapse, Slow Motion, a timer, selfie options plus you can geo-tag shots and enable voice capture, smile capture and switch around how the volume buttons work in the camera app (zoom / volume or just plain shoot). Below you'll find some examples from it…
Overall
This has got everything and the kitchen sink. WiFi calling, a great build quality, a fantastic design, brilliant screen and a robust finish that keeps it looking new even if you dare to go "bare". The fingerprint sensor works well, the audio quality (both through the speakers and the headphones) is right up there and the camera is very good indeed. The feel of it, using it and the ease with which it got through the daily grind was very impressive. I was confident with it. I knew it would perform. I knew it would work faultlessly and it would charge quickly when needed. It would take great snaps and great video too.
It's for these reasons that I've got to give it a high score, as I have done with the HTC One phones that came before. All are stellar examples of what a smartphone should be and this, along with the (I think, relatively underrated) HTC One A9, this is HTC on top form.
I need to say something though, and it's going to hurt a bit. Let me circle back to that comparison between this and the Huawei P9 (which you can get for £300 on Pay As You Go). The HTC 10 has a list price of £569.99. The Huawei P9's official list price is £449 (although you can get it cheaper). Sure, there's a difference in screen resolution etc but.. I think the problem we're hitting now is that there's fewer great "leaps" and innovations that smartphones can take. People are becoming aware that a phone shouldn't have to cost £550-£700, and there's less and less that smartphone makers can do to validate that high price point. The top of the market with those ultra-high spec phones – it's starting to plateau a bit (in my opinion). Now manufacturers are coming onto the market with very, very good phones that are – give or take a few pixels – just as good as the top-of-the-tree smartphones. Trouble is, those phones are selling for £100, sometimes £200 less.. and in the mobile industry things don't stand still. I see clouds on the horizon my friends.
HTC 10 Review
Design - 91%
GUI - 87%
Audio - 92%
Battery life - 91%
Value for money - 81%
Another top-class smartphone from HTC with leading-edge design and capabilities.