I've become a bit of an evangelist for KitSound over the last couple of years, their pragmatic approach to providing good sound quality at a high value for money has struck a chord with me, and I really like the KitSound 'sound'. Currently my 'goto' Headphones are my KitSound Manhattans, my preferred party speaker is the KitSound Glow and my favourite lawn mowing companion is the Kitsound Trial ear buds, so its fair to say I'm personally invested in their range. However, whilst being well built, KitSound devices are often criticised for not having a 'high end premium' feel and finish. Enter then the KitSound Malmö, a Bluetooth Sound System aimed at turning a few heads with stylish looks.
The Look & Style of the device
At £100 the Kitsound Malmö is slightly more expensive than some of the other Kitsound products I've reviewed but the brushed aluminium finish of the speakers, along with the nice black cloth, hints at a slightly different target audience, as these speakers look the part and would certainly fit into a living room environment rather than being aimed at a more ruggedised or party environment.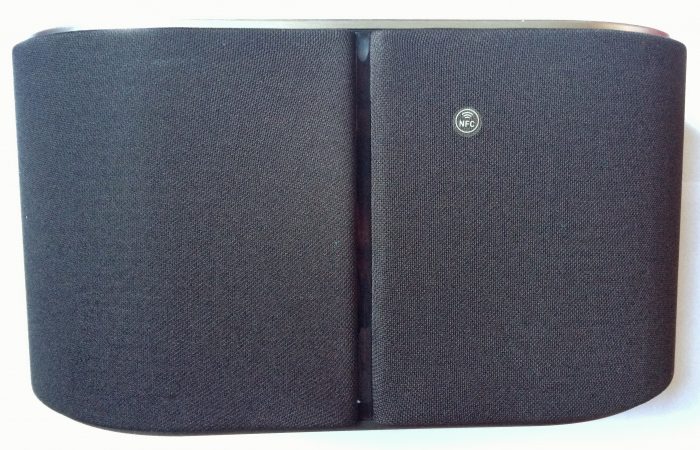 The KitSound Malmö Sound Quality
The sound output of the KitSound Malmö is powered by its two three inch 30 Watt drivers and the extra power provides a slightly different sound compared to other KitSound Devices, it still delivers a powerful base heavy sound with a slight echo but that extra output gives an extra punch, which is a double edged sword. Find that sweet spot between source and speaker volume and the quality is great but push the source volume to high and you get a slight but noticeable distortion.
After you find the right levels though you'll find an enjoyable sound for your music.
Connectivity and Control
You can connect your devices easily using either Bluetooth (complete with NFC pairing) or through a standard 3.5mm AUX input jack, which should pretty much cover most of the devices that you may own.
Control over the device is provided through a smart looking  battery powered remote control or through a control panel on top of the device.
Unlike other KitSound Devices there is no internal battery in the Malmö so you'll need a power source but a USB port is provided allowing you to charge your portable devices whilst listening to music.
In Summary
In Style and Looks the KitSound Malmö is a step forward compared to some other KitSound products and certainly looks the part. After a little experimentation the sound quality is high, although it's a shame that my initial impressions were that of unmet expectations but stay with it, listen to music on it, and you will start to love it. A great addition to your living room.
KitSound Malmö
Audio Quality - 75%
Looks and Style - 88%
Connectivity - 80%
Value - 90%
Effort is required to find the audio sweet spot on the smart looking KitSound Malmö but stick with it and it's worth it.