Here's a neat option of those who like to listen their music whilst they exercise; the Trail Sports Wireless Earbuds from KitSound.
The Age Old Problem
I was cautious when approaching this review as I generally don't get on well with earbuds, but in for a penny, in for a pound and all that.
You see, I normally have problems with earbuds as they just don't seem to stay in my ears and fall out far too easily. But it soon became apparent that the KitSound Trail buds are different, the angled buds really help form a good connection in the ear helped by a supportive stabiliser which stops the buds moving around during exercise. These really are the first buds which stay in my ears.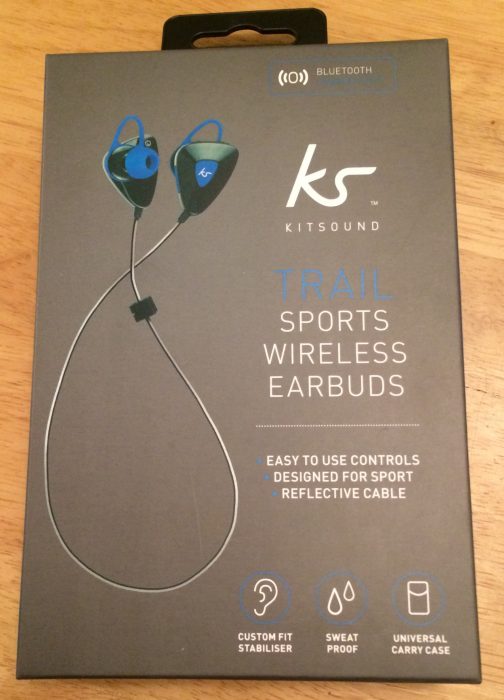 So I can wear them, but do I want to?
Earbuds can sometimes sound a bit tinny, but I was really impressed with the sound quality from the KitSound Trail buds and their 10mm drivers which provided plenty of bass, along with a rich sound, ideal for providing a pace to work out to.
Let's be honest, wires get in the way when you are exercising, but these are wireless buds and with Bluetooth providing a 10 metre connection range you may wish to leave your smartphone in your bag. This doesn't mean that you can't control your music, as the Trail buds provide on board controls for changing volume and skipping tracks.
For those who like to take their music on the road whilst jogging, a neat feature is included as the cable linking both buds is reflective and helps to keep you safe in the dark. And, whilst I would like to see slightly longer battery life, four hours playback from a two-hour charge will last longer than your exercise session… well, mine anyway.
As well as the buds, in the box you will also get a nice carry bag and replacement bud covers and stabilisers.
The KitSound Trial Wireless Earbuds are a nice proposition for those who like to listen to music whilst working out, one less excuse for not exercising – thanks Kitsound. Check them out at the Kitsound site, or take a look on Amazon where they come in blue, allegedly green (yellow to my eyes), and pink.
Kitsound Trail Wireless Buds
Sound Quality - 88%
Comfort - 89%
Battery Life - 77%
Great sounding buds that actually stay in my ear.