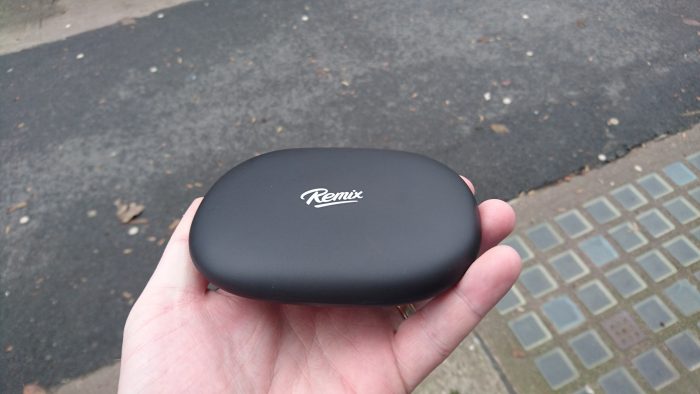 Mini PC's are quite the thing at the moment and seem to be popping up everywhere. Now for a while, these were nothing more than Netbook components being shoved into a small box. However, with the recent developments in Android and, to a lesser extent Chrome, there has been a shift to using better components and lower prices. Lots of different vendors have tried this approach with notable mentions coming from Roku and NVIDIA. These machines, on the other hand, seem to be more focused on being Media PC's.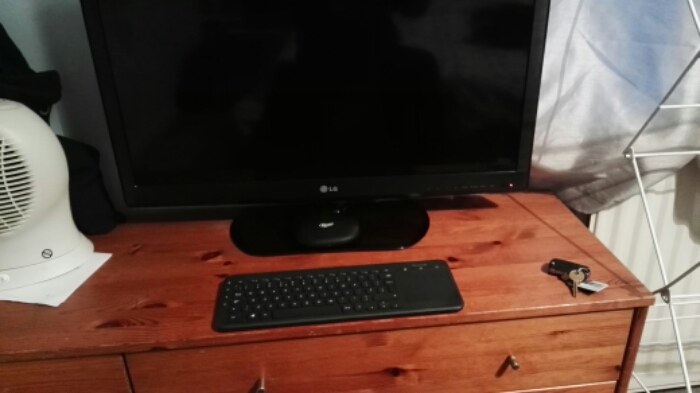 So when the guys at Jide Technology set out to make a Mini PC they were determined to do things differently. They did not just want their box to be used as a Media PC – they wanted it to work with as a full Android PC. They already had a base to work from in the form of the Remix OS that we saw on the Remix Ultra Tablet earlier this year. Whilst that was targeted at those wanting a productive tablet, the Remix Mini is aimed at a more generic market. Obviously, this meant that some changes needed to be made to the hardware. They were also trying to get the cost down to something that could be palatable for the mass consumer. As a result, we have an Android Box "PC" running Remix OS 2 costing £45 that will support up to 4K resolution outputs.
The kind people at Jide sent me over a review unit, but I was so impressed by the concept that when it was being crowdfunded on Kickstarter I also actually bought one. I have now been using it for a week or two and have formulated my opinion of it which I will share with you below.
Design
I have already posted Jide Mini Unboxing video, so check out that earlier article if you want to see my first thoughts. Here is the unboxing video for you to watch..
As you can see, this thing is small and very well designed. The designers have opted to try and recreate a Pebble shape and tried to make sure it is unobtrusive. They have certainly done this as it fits into either my bedroom or my office with no issue. On the front, you will see that the unit is completely devoid of any buttons with there only being the LED power/standby notification.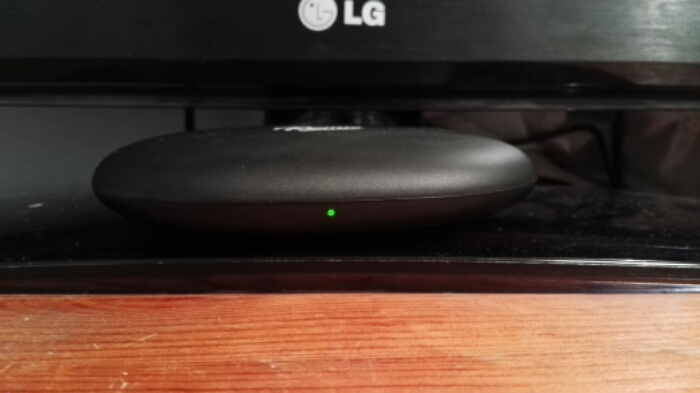 This continues around both of the edges too. It is not until we get the to rear that we see any form of I/O ports. This is where it gets quite busy to be honest, Going from left to right we have a proprietary power input…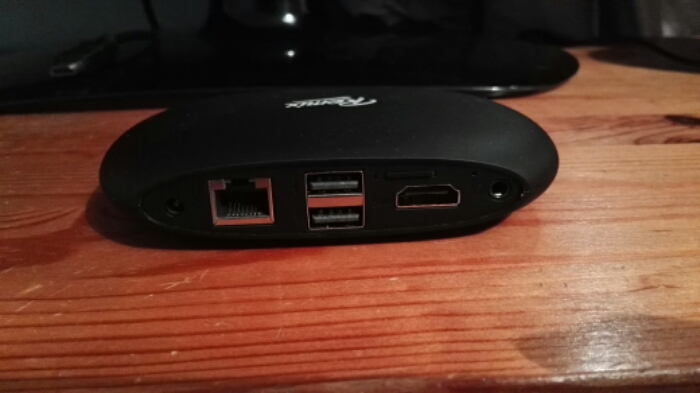 Next to this we find the RJ45 port which is well worth using if you are intending to use this as a media streaming device (less latency etc). Next are two USB port's stacked on top of the other. Both are USB 2.0. You're not going to get USB 3.0 at this price point.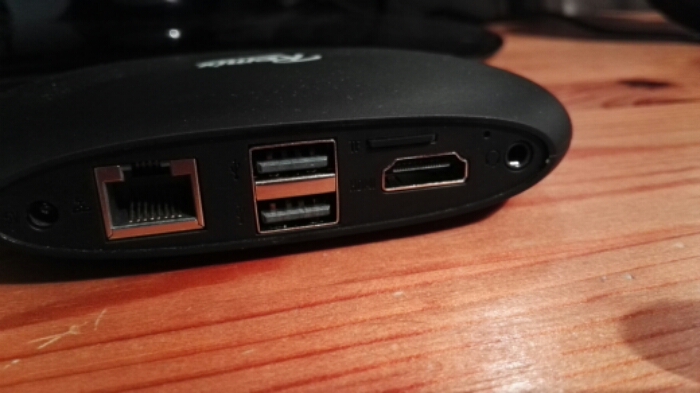 Above is a microSD card slot that is is good for up to 128GB. Then comes the HDMI port which is capable of outputting a 4K signal and sound meaning that it is not vital to use the next port – a 3.5MM audio jack.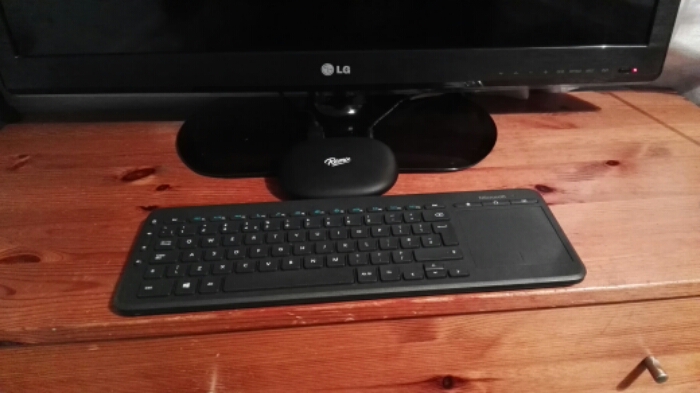 As for my setup, I have it hooked up to a 40″ HD TV outputting at 1080p. I have also hooked up a Microsoft Combo Touchpad and Keyboard which transmits to an RF receiver that is plugged into the rear of the Remix via USB. This is not ideal as it uses a USB port up, but I am planning on streaming most of my content to the remix so it's not the end of the world. I also have a 32GB microSD card if I need local storage for any reason.
I know that some other "Remixer's" are using things like Logitech remote controls that integrate with Kodi (what was XBMC). Some have hooked up XBox Controllers for gaming purposes. Really, if it works on Android as a peripheral then it will work here.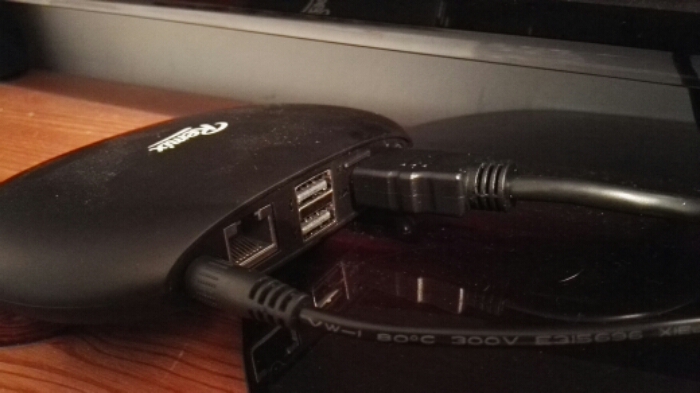 The design is elegant and simple and when I have showed it to non-geeks, at first, they are taken aback as to what it is. Then after I explained it's a mini computer they are a bit shocked. If you then hook it all up and show them what it can do then they become a bit awestruck.
Specifications
Processor: Allwinner H64 1.2 GHz Quad-core Cortex-A53
Storage options: 8GB eMMC or 16GB eMMC
Memory available options : 1GB RAM or 2GB RAM
Size measures: 1.0in (2.6cm) x 4.9in (12.4cm) x 3.5in (8.8cm)
Connect to HDMI monitor with Support for 4k x 2K resolution screens
Connectivity: Wi-Fi (802.11 b/g/n), Ethernet Port, & Bluetooth (4.0)
A lot of the above is possible because of the way Remix OS works, so let's dive in and find out more about what you can do with the operating system.
Software
So to go through the software, I could just list all the things that this machine can do, but that would be well very dull both for me to write and for you read, so let's go with a video demo instead.
As you can see the hardware performs admirably with most tasks that I throw at it. In fact, most of the slight lags that I experienced are due to my WiFi not quite reaching my testbed – the shed! Using this for Google Docs was easy and also allowed me to be very productive. I was even able to do a basic video edit on it (the video above was edited on the Remix), however, it was a lot slower than say my Z4 Tablet — not to mention my Macbook Air.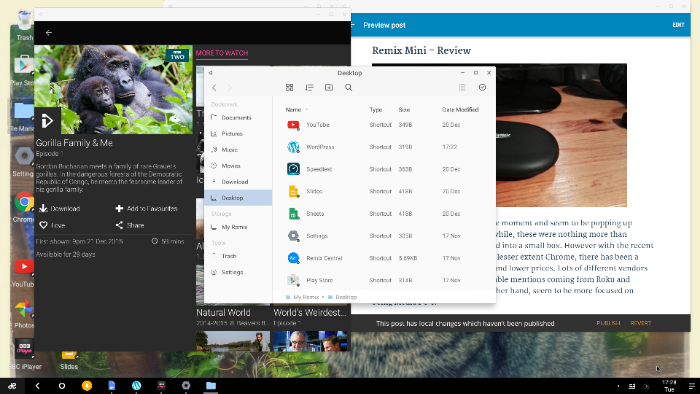 The approach to multitasking is an interesting one and, whilst it does work to a certain degree, it is not as smooth as that of a "real" computer. We are talking about an Android machine here, so compromises have been made in part by the use of Android code and then within the Remix OS itself.
One thing that I really do like here is that Jide is aware that the OS is not perfect and are actively engaging in the Kickstarter community to help them take it to the next step.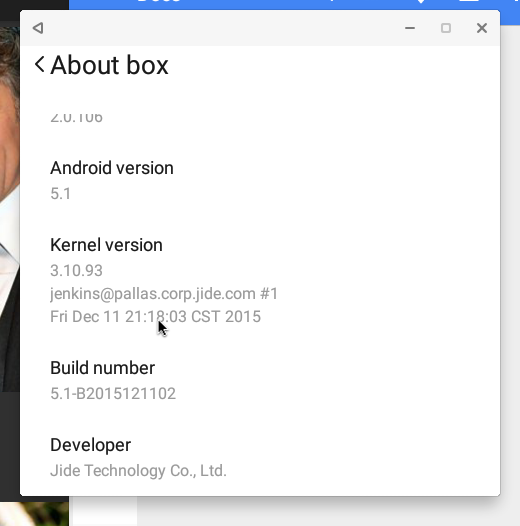 There is already some talk of Android 6.0 being developed and the potential for some more powerful hardware in the near future. I have written before about the Jide focus on customers and how they try to get things right. This is just another example of the drive and determination that they have to make Remix OS the go-to option if you want to run an Android Desktop.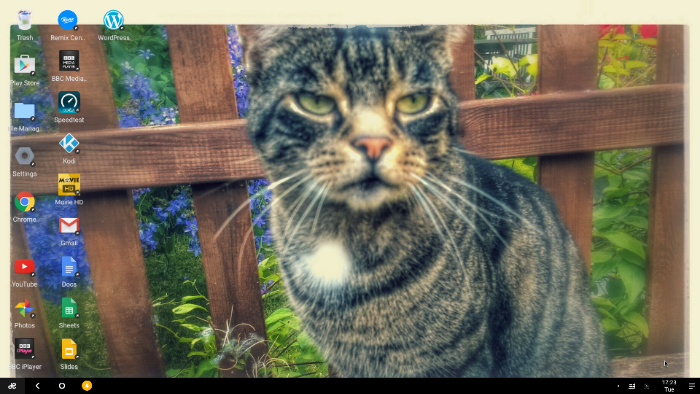 Where I was really interested to see if this would work correctly was in the Media Streaming role. For all my inherent geekiness I know very little about streaming media from one computer to another, so this was a voyage of discovery for me. I ended up using the Kodi app on the device to connect up to my Seagate NAS, which has a built in XMBC streaming service. The link was made by universal Plug and Play and all I needed was to point the Videos folder to the appropriate place on the NAS and – boom – streamable video content. Kodi also has a wide variety of add-ons to enhance you media experience, so I added in the Youtube client and also the BBC iPlayer client.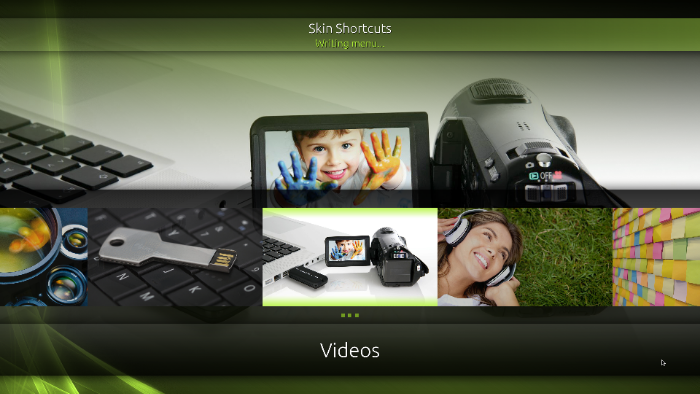 How does it perform ?
We will cover locally streamed content first. I found that I was able to get largely jitter free streams of movies and TV Shows from the remote drive. however when I was using movies that were purchased from iTunes these did jump around a little. It was a shame but I'll be honest, I can't see me using it very much, so I am not too concerned.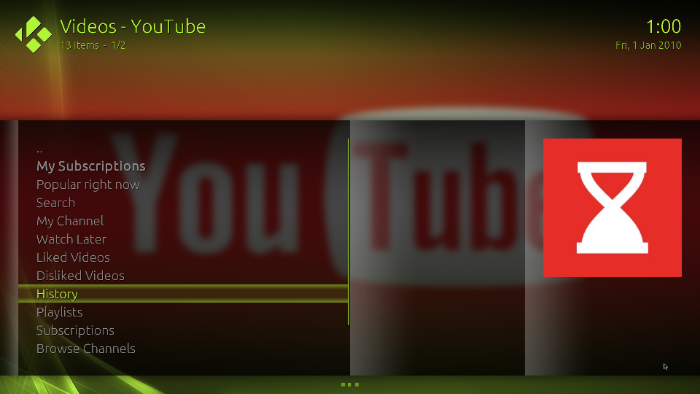 YouTube content was, for the most part, very good and again jitter-free. It did take some time to buffer the longer videos, but this is really down to my WiFi connection and would be improved by running the box via LAN cable (which I can't test sorry). The BBC iPlayer plug-in was annoyingly the worst performer as it was pretty much unwatchable. I did try watching a Rick Stein cooking programme, but it just looked like he had been on the wine a bit more than usual. Again though I am putting this down to my WiFi.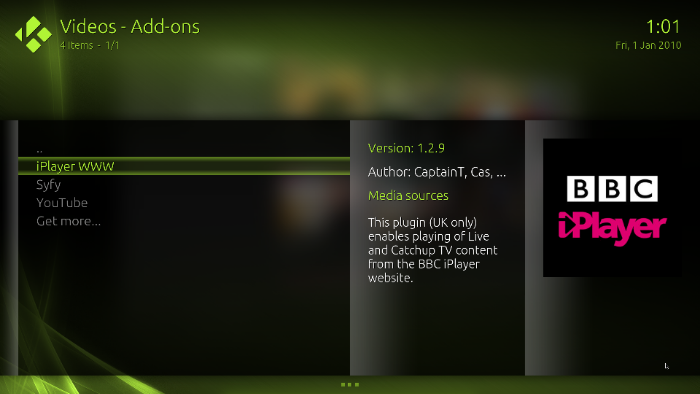 Now some of you may ask why did I not just use the full BBC iPlayer app. The Jide, after all, has access to the full Google Play store. I did try this at first, but the problem is that BBC iPlayer would not actually work as the Remix Mini because it's not an approved device. Initially, my movie streaming source did not work but that issue seems to be resolved now.
Performance
Normally I would be using a whole load of benchmarks here to give you an overview of the performance of this machine, but in this instance, I have not got anything to do a comparison against. We need to think a bit differently about what performance means to you. This really comes down to what you plan on doing with the device. If you plan on using this as a media player from a remote server then, as you can see above, the experience is satisfactory. It is not brilliant and the Apple TV, Roku and NVIDIA Shield devices will all undoubtedly perform better. However, the machines I have mentioned are only capable of working as a media machine.
We have seen that the Remix Mini can go well beyond being just a media streamer unlike the others I have mentioned. I can honestly say that I was very happy working on this PC for my Video and other work including the very writing of this review. It has handled every task I have thrown at it and having the ability to have two screens on one display at any time is really useful. I also love that you can resize the windows to virtually any size allowing you to be working on a document while researching too. Split screen multitasking who'd have though Multitasking on Android in this day and age!
Hear a few glamour shots of the Remix in hand on a muggy day in Glasgow.
Conclusion
Back when I did the unboxing of the Remix I posed a question to myself. Will this be a suitable replacement for a home media centre such as Roku? Can it go as far as replacing an actual PC?. So I am now going to try and answer both of those questions for you. First up is this suitable as a Media PC Yes but with some requirements. firstly I would recommend going with the higher spec machine (which is incidentally the only one yo can currently buy) Secondly, if possible, run an ethernet cable to the room you intend to use it in as you reap the rewards. Thirdly make sure you are comfortable with setting up a local network and remote server. To be honest, this is relatively simple with the availability of good quality inexpensive UPNP NAS drives these days (I am using this one). If you can tick all these boxes then the Remix will fit in really nicely into your home entertainment setup albeit with some tweaking to your personal file structure on your server/NAS.
To answer the second question is a bit harder. Yes, the Remix Mini will absolutely fulfill its role as a computer and as I have mentioned it did so admirably. However you need to be realistic as to what you ask of it, please remember we are talking about an Android Box here albeit a very good one. if you can do what you need on an Android Phone/Tablet, you can do it here. This is where the problem begins, though. If you are being limited to using what is essentially a slightly trumped up Mobile OS, then why would you when you can do the same on your phone.
To conclude if you are looking at a cheap media streaming solution then the remix Mini fits the bill very well. For those who are looking for this as a cheap PC replacement that you are able to use for productivity and powerful PC esque services, you will need to look elsewhere sadly. If however you want a PC for light use such as web browsing, email and Facebooking, this will fit the bill. The future of the Remix OS as a Software platform looks good especially when more OEM's get on board it is easy to use and intuitive.
You can buy the Remix Mini through Amazon right now and they include Prime Shilling if you want it before Christmas.
Remix Mini - Review
Design - 80%
Hardware - 67%
Software - 75%
Performance - 60%
A great option for media streaming with the ability to work as a PC if needed but only for light usage really.