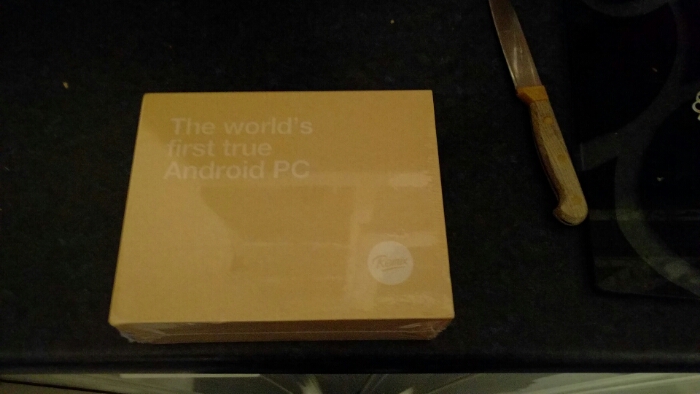 You may recall a little while ago I was raving about an Android PC Box that came from the Far East. China to be precise.
Well, the time has come for the unboxing to happen and I'm of course talking about the Remix Mini. I have already had the opportunity to write about the Remix Ultra tablet and I was very impressed with what it offered.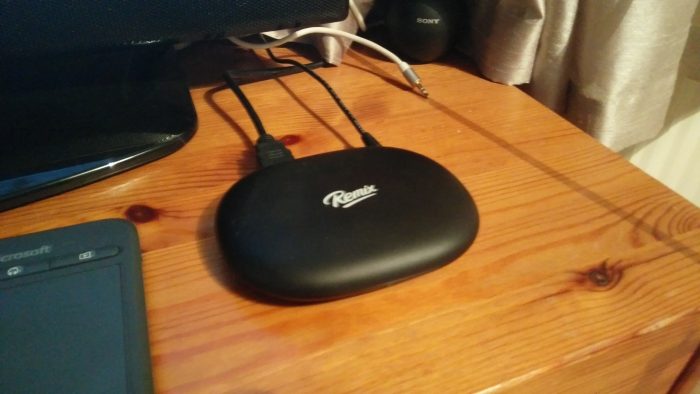 The kind chaps at Jide Technology have sent me a unit to review as well. Will this be a suitable replacement for a home media centre such as Roku? Can it go as far as replacing an actual PC?
I will be answering these questions in the full review, but for now let's concentrate on the unboxing…
As you can see this thing is tiny, but it crams some good specs into its diminutive body. The unit I have here is the 16GB model and comes with 2GB of RAM. It will output easily via HDMI via the bundled cable.
Jide also sell a lower spec model (I have actually bought one of these). The rest of the specs are not too shabby either.
Specs
Processor: Allwinner H64 1.2 GHz Quad-core Cortex-A53
Storage options: 8GB eMMC or 16GB eMMC
Memory available options : 1GB RAM or 2GB RAM
Size measures: 1.0in (2.6cm) x 4.9in (12.4cm) x 3.5in (8.8cm)
Connect to HDMI monitor with Support for 4k x 2K resolution screens
Connectivity: Wi-Fi (802.11 b/g/n), Ethernet Port, &  Bluetooth (4.0)
It runs a "Windowsesque" OS based on Android 5.1.1 called Remix OS 2 and it will support multiple peripherals, either via Bluetooth 4.0 or USB 2.0. I have it hooked up to a Microsoft keyboard with an integrated trackpad. This paired seamlessly via a 2.4GHz USB Dongle that was plugged into the USB port.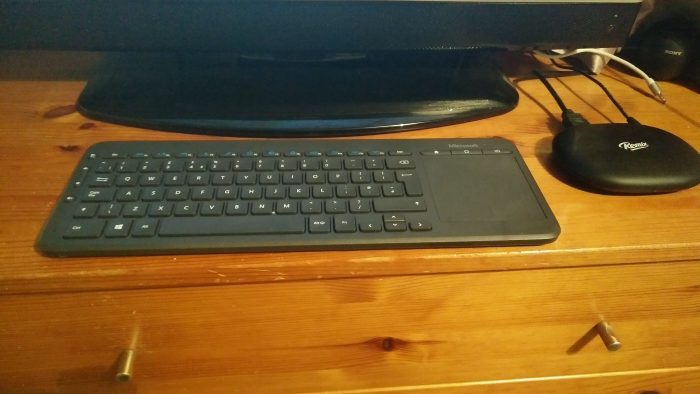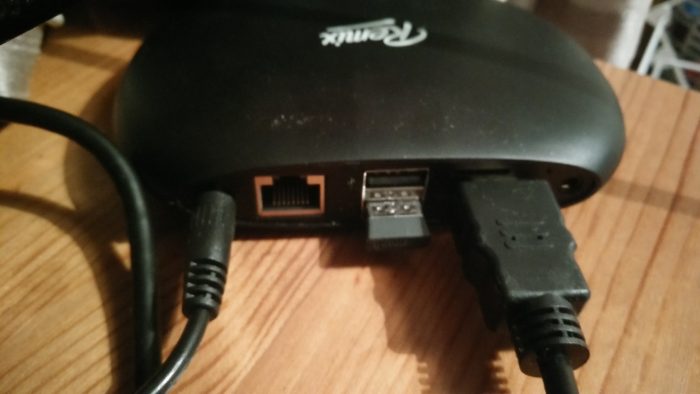 On the top of the device, where the logo sits, you find a touch sensitive button that acts as the power and sleep / wake button. This is the only "button" on the sleek pebble-like shell. There is a power LED up front to show that it's alive. Around the back, we have two full-sized USB ports, a HDMI port, 3.5mm speaker/headphones socket, and a microSD card slot which is good for up to 64GB I believe. It even has an RJ45 port if hard wiring is your thing, and propriety power socket. The PSU the same size as the average smartphone power supply.
Here is a pic of how I have its setup in my bedroom.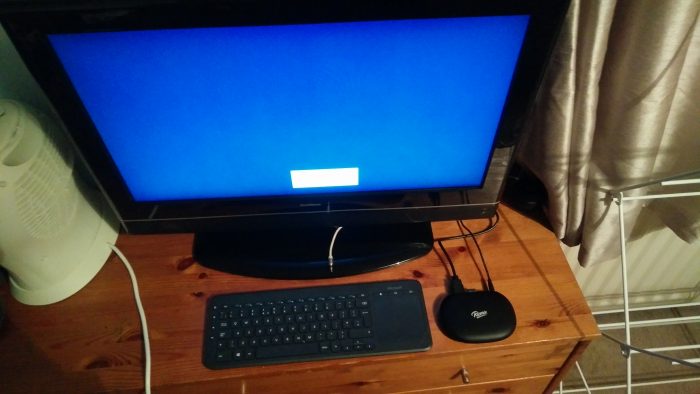 Why do I have it in my bedroom I hear you ask? Well, I am testing it as a media PC right now, however, I will also be putting it through its paces as a productivity machine and I will be writing and editing the full review on the setup once I transfer it to my office.
That is all for now, but please check back next week for the full review.
If there is anything specific you want me to test then pop it into the comments and I will try my best to test it for you.
In the meantime here is a video overview of Remix OS 2.0 to tide you over for a few days….