I have now had this tablet for a few weeks now and I was holding back on the review until a few software updates had been delivered. Since I did the unboxing video back in April it has been a very busy time for the Remix as it has now shipped to all the Kickstarter backers including the Infamous KS 155 (the group that broke Kickstarter). Jide Technology (the makers of the tablet) have also been busy pushing out tweaks for the OS including a couple of keyboard fixes. There has also been the announcement that Lollipop will be coming to the device in late June. So they have been busy and I have been busy testing the tablet out as my daily driver.
Hardware
I am not going to spend too much time covering this as I have already covered it in the unboxing and first impressions piece. Here is a quick montage of some hardware pics for you to check out.
Here is a gallery showing off the tablet's hardware
I have been very impressed with the hardware and I have not experienced a huge amount of issues unlike some of the other Kickstarter backers. The biggest issue's I have had with the hardware have been with the keyboard and these were rectified in the first round of software updates that came out at the same time as the backers tablets started shipping.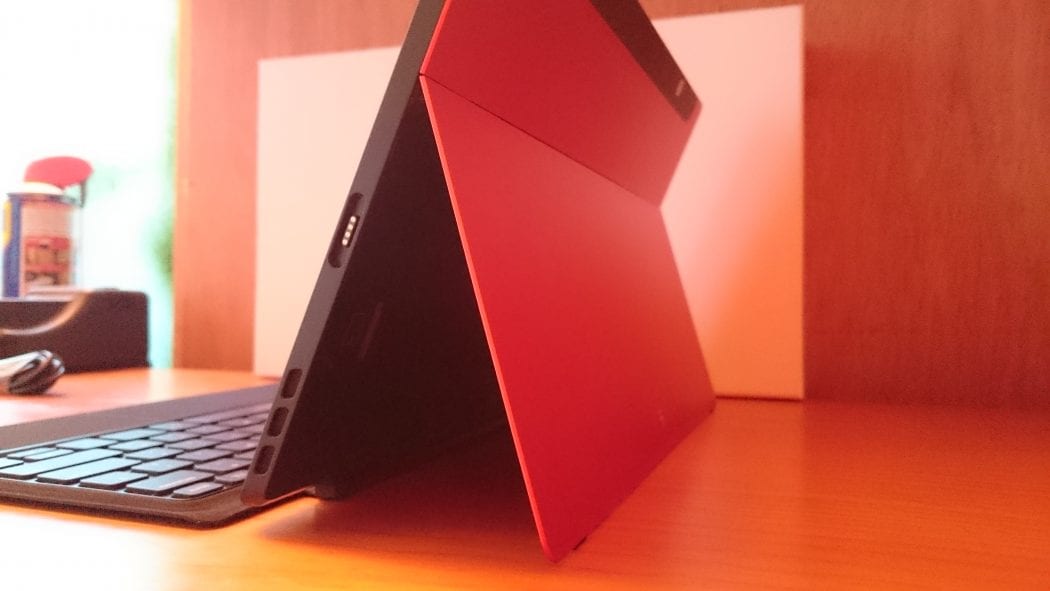 I am still not hugely impressed with the kickstand as it feels like it will break away from the tablet. I don't actually think that it will break off but it is just an niggling thought that sits at the back of my head. What I have found when I compared it in size with my other machines is that although the screen is 11.6", the device actually takes up the same footprint as a Surface Pro 3. This is due to the relatively large bezels, whilst these allow you to hold the device fairly well I think they are too big. I can only hope that they are reduced slightly on the next version which I am sure is being worked on.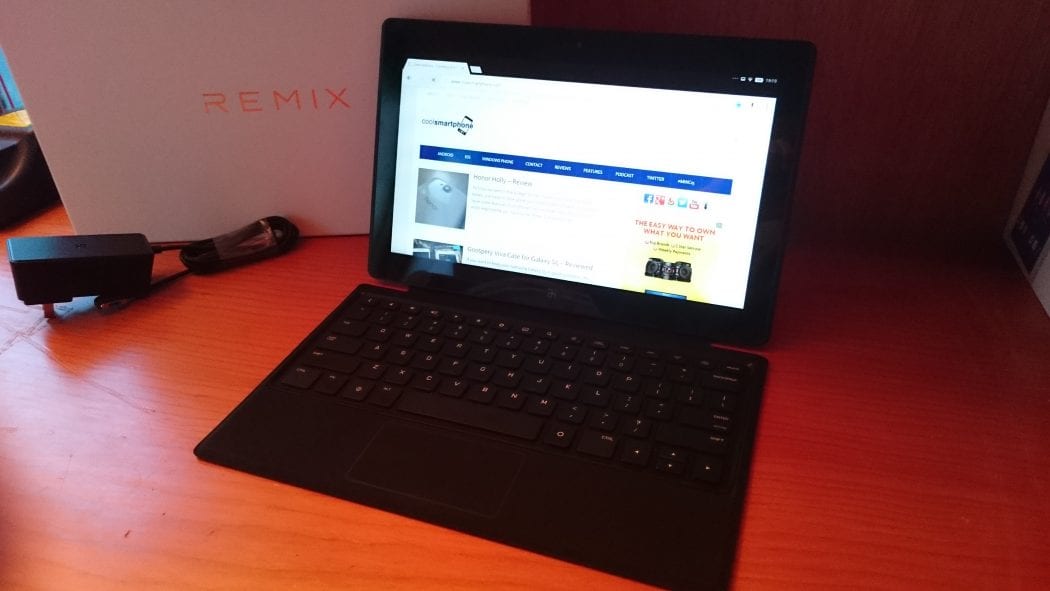 I do find that 11.6" is a bit too big for me and if I was going to be buying a new tablet device the biggest screen I would be going for is 10.1" as this is really the sweet spot for me. I like to be able to use my tablet for reading as well as video and I feel that the 11.6" screen is too unwieldy in portrait as the centre of gravity is just in the wrong place.
Software
This is the real point of the device these days as it offers the user a very different experience from that of a normal Android tablet. The Remix OS kinda feels like someone put a drunk Chromebook and an Android KitKat tablet in a room and let nature take its place!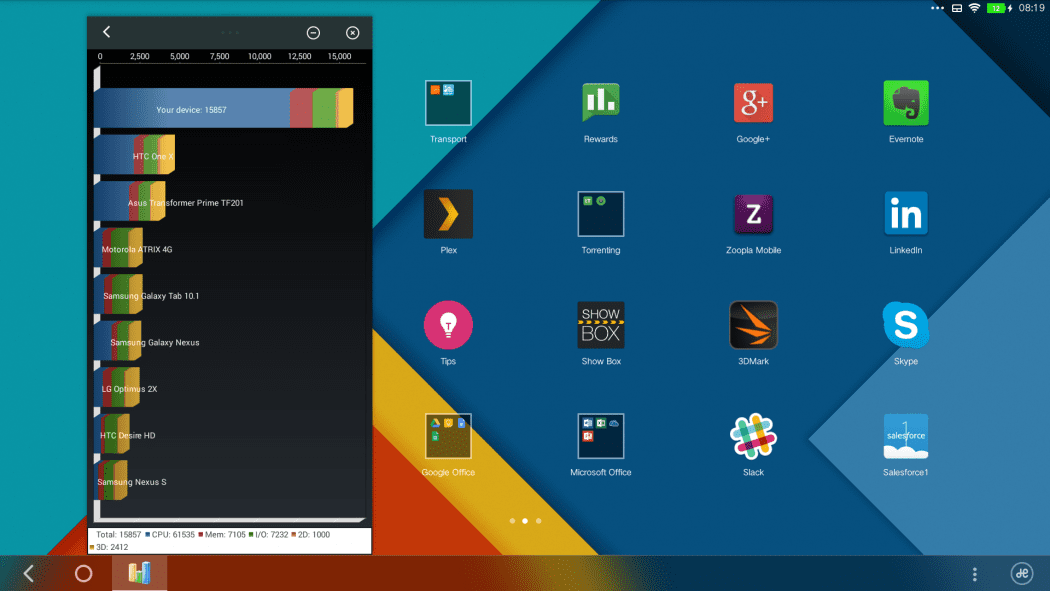 Let me explain what I mean, imagine using a launcher that doesn't allow you to have widgets on the display and that has no app drawer and you are halfway there. Then you need to bring the Taskbar from Chrome OS and the fact that you can pin the most used apps to the task bar. The next little item on top of that is that the multitasking is done in the same way as Chromebooks.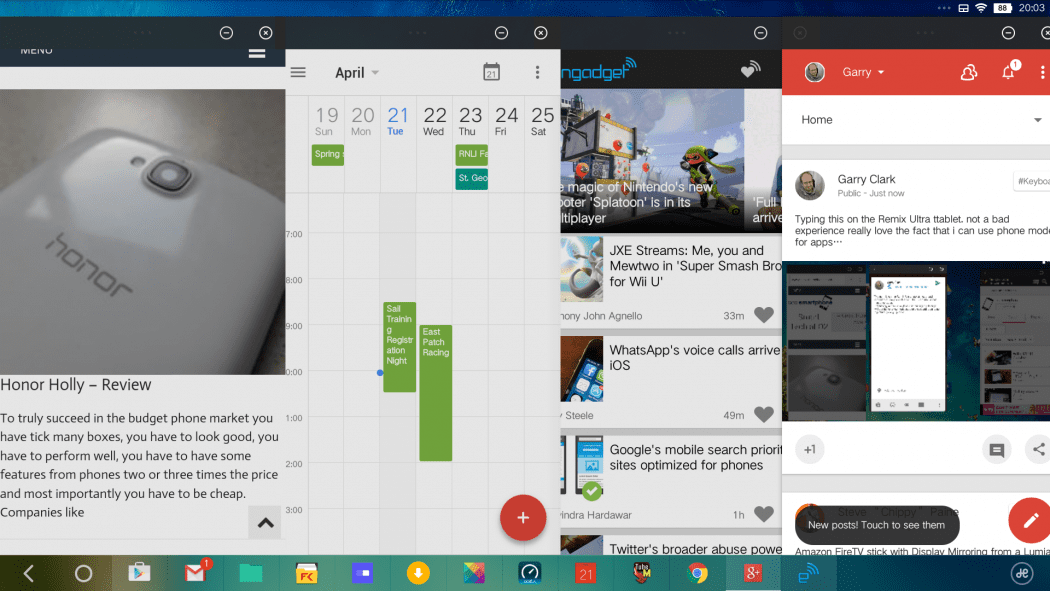 So you have all your active apps in the task bar and then you click on them as and when you need them or even Alt-Tab to change them as you do on Windows. The next unique thing that can be done here is that you can run apps in either phone mode or fullscreen mode. When running in the phone mode you are able to have up to 3 apps side by side(four is possible with overlaps).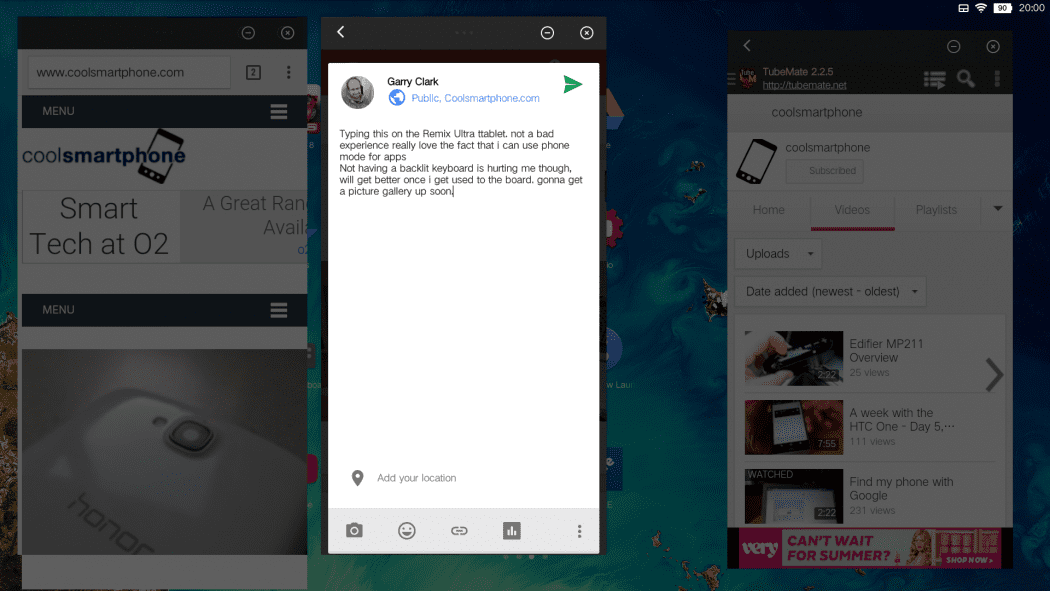 This makes for a much neater and better multitasking system which sounds great. However in practice it is slightly jarring, I find myself wishing for the split screen functionality that you see on Windows 8.1 instead of the phone mode. I think it is because for me I just prefer working in the full screen version of apps instead of windowed phone representations. This is of course a personal preference and some of you may love the idea, but it does take some getting used to. A nice touch is that you can copy and paste between the phone mode apps without any issue which does work wonders for editing content and collaborating between two apps. You are also allowed to have an app in a phone mode in front of an app in fullscreen mode but it does not "stick" which I think is a missed opportunity as that would be immensely useful. Imagine having Hangouts open with Word underneath in fullscreen mode but that being the active window which you are working in. To be fair to Remix OS this is something that cannot be done on either Windows or OS X.
Remix OS does come with some custom preinstalled apps which are designed for the tablets screen size and to best make use of the modes concept. If I am honest I have barely given them much notice as I am heavily invested into the Android OS as it is and I have my apps working the way I want them to. On my device I also had the Chinese App store and Chinese feedback App, this is purely because I was using a prototype device and I have had it confirmed by other Kickstarter backers that this is not the case for them.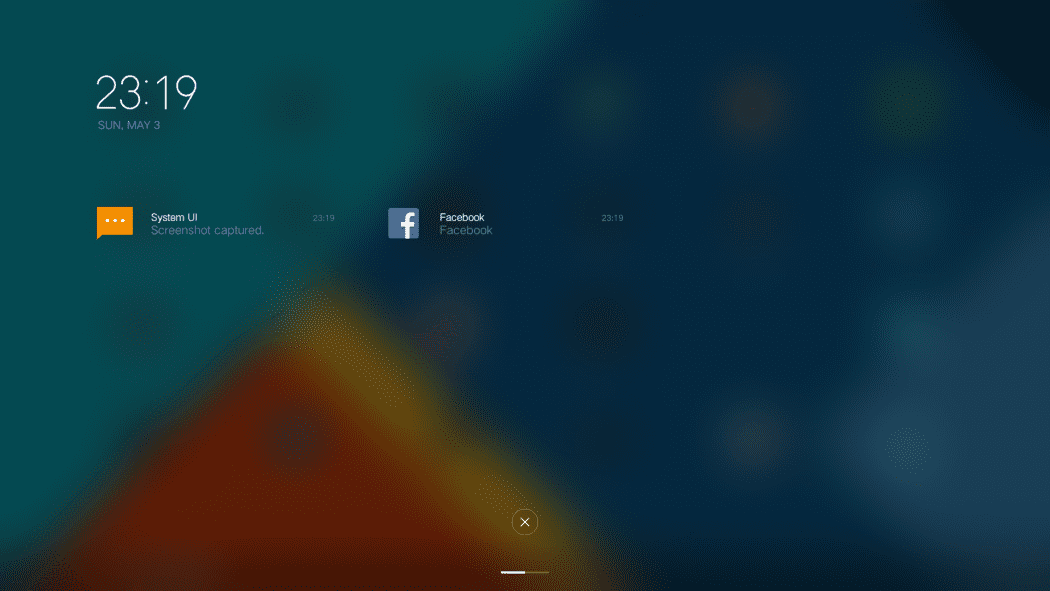 The notifications area is a bit different from what you will have seen on any other Android device, in that when you drag down from the top of the device you will see your missed notifications grouped on a per app basis. Until you tap on the apps name you will not see the information within. This seems illogical to me as to why it is a good thing as it requires an extra unnecessary step to access your information.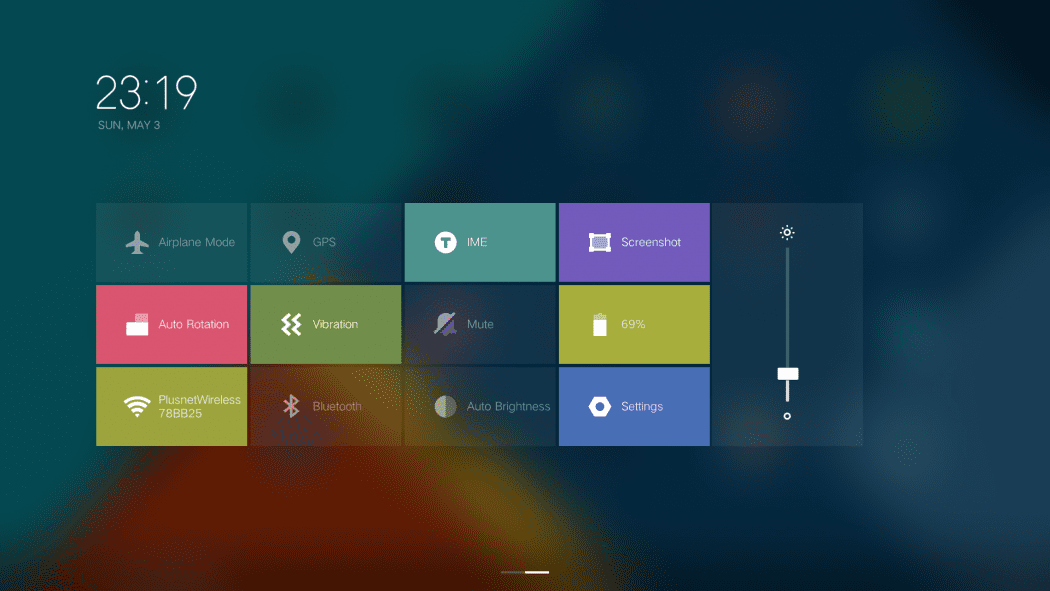 Alongside this you have the option for your settings which are laid out in a screen those accustomed to the Windows 8.1 tiles will find familiar it allows you to get to all the main things quickly and easily enough. To be honest I will normally just use the settings icon on the desktop.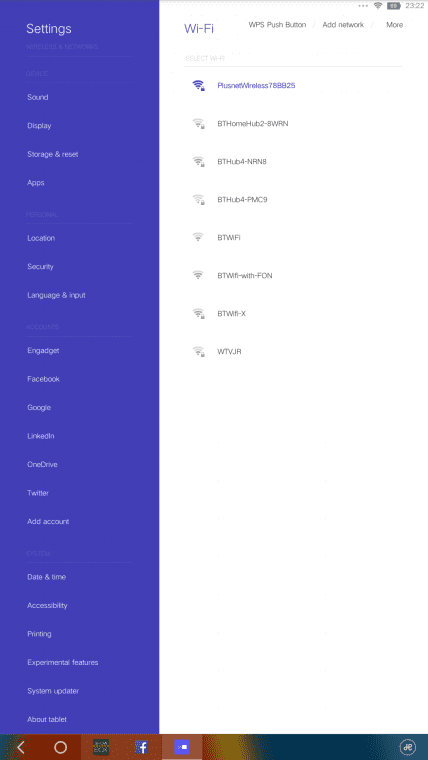 Once you get into settings the layout is familiar to any Android 4.4.4 device, although some things are not present but that is because they are not really needed. One thing I would have liked to see is the option to invert the scrolling direction on the trackpad but alas no it is not there I am not sure if this is android specific thing or not.
That brings me onto the software keyboard, which you will hardly ever see if I'm honest it is pretty good as it is using the the AOSP layout but for those wanting swipe input you will need to download the Google keyboard which I have done.

Like on any other tablet the soft keyboard will take up half of the vertical display which make sit largely useless for any real work. But with the hardware keyboard you shouldn't really need to use it. One thing to note is that if the hardware keyboard is connected the soft one will not appear unless it is folded flat against the back of the tablet. In this position it will most likely come off anyway due to the magnets not being able to hold it in place properly so you might as well just remove it for that scenario.
Overall I like what Jide are doing with the software I just think that there is a large amount of work to be done to polish it up and I am pleased to say that this is being done as we are currently getting updates more or less every week all of which are in response to customers feedback. This is really what the Remix Ultra tablet s about in its current form, a testbed to develop the OS for future endeavours, but more on that later.
Performance
For those of you wanting an all singing all dancing powerhouse PC replacement then this is not going to be for you in fact it is not even close. However if you are looking for a fluid and functional machine to work on then this might be a worthwhile investment. The device is running on a Nvidia Tegra 4 chipset with a 4+1 configuration allowing the machine to dial back to one core when it is needed i.e. in sleep state. That being said I have used slower tablets that have cost more so I am still impressed. I have run some benchmarks on the Remix and I am going to be using the Xperia Z Tablet as my comparison. The reason I have chosen them is I have owned it and it is similar in specs albeit with different processor manufacturers. Here goes;-
Remix Ultra Tablet
Antutu  32694
Quadrant   15857
Sunspider 1.0.2.   1155.6ms
Xperia Z Tablet
Antutu   20216
Quadrant  7215
Sunspider 1.0.2.  1629
So we can see that the Remix is performing much better than that of the Xperia Z Tablet however this is not surprising considering the different generation processors involved.
I also played Asphalt 8 on the Remix to test for lag and frame dropping here is a quick video showing this off.
It performed pretty well and I didn't have much issue with frame dropping and lag but there was some in there. However for any one considering using this for games get a gamepad as otherwise it is very awkward as 11.6" plus bezels is a lot to wield as a gamer.
Battery Life and Power
This is one of the area that the Remix is a letdown as it should have a great battery life as it has a whopping 8000 mah battery but it just doesn't last.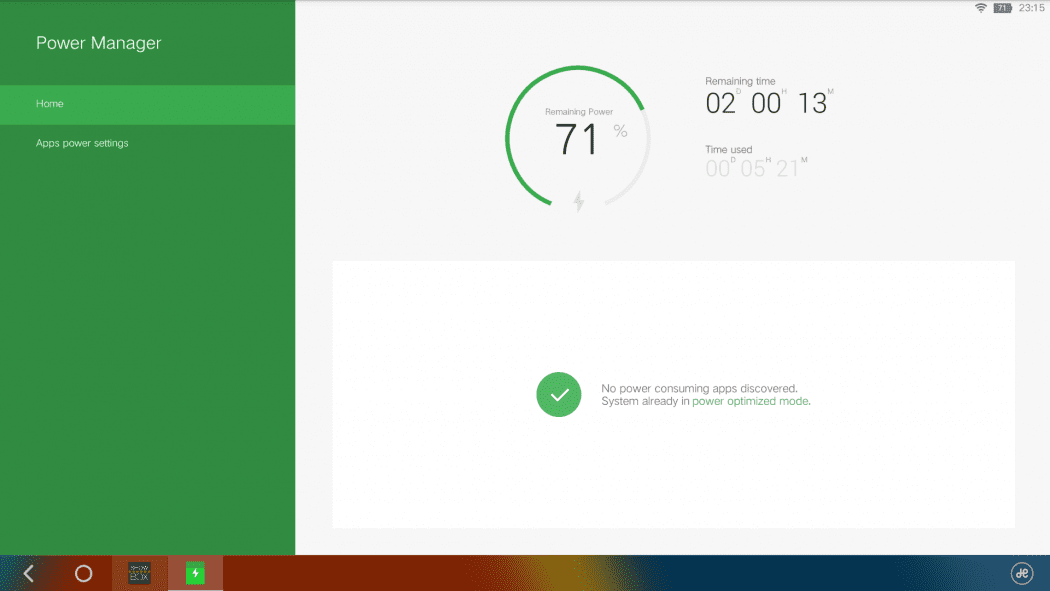 I am uncertain as to the cause of this issue but the guys at Jide a very busy trying to fix it and optimise it for longer life. I have been slightly spoiled by battery life due to my Xperia device over the years but that rate of decline is just not normal. Another handy feature is that if you connect a phone to the Remix it will actually allow it to be charged albeit very slowly. This can be done via the included Micro USB to USB break out adaptor take note Apple and others it was included for free!

The tablet can be charged wither via the proprietary connector or via a high ampage Micro USB charger. The charging times are not that different. What this does mean is that you can have a peripheral connected to the Remix whilst you charge it. Nice touch as this is something that is missing from most tablets other than the Surface range.
Other things of note
As I have mentioned a few times this tablet is very much a development tool to allow Jide to test things fro the next platform. It is very much like the a Nexus product in that respect, albeit one that is running CyanogenMod on it with the nightly updates being weekly. Jide recently attended CES Shanghai which was run in the last week or two and during that time they were there they showed off Remix OS on a variety of different form factors ranging from Tablets to All In One style devices. They are very keen to experiment and play with what can be done with the Remix OS and have made it open or OEMs to use it as the OS they ship tablets with.
Those who backed the Kickstarter Campaign after the tablets all sold out may have put a pledge of a few pound. This means that you will be getting sent a copy of Remix 1.5 when it is made final for free. Jide are looking to have this in place by the end of the year. What is Remix 1.5? Well in short it is Jide's interpretation of Lollipop. This is great to see from such a young tech company and is doing it better than some of the bigger names out there.
UPDATE
I have been invited to test the Remix 1.5 beta and I have got it running on the Remix as I type. I will add an article in the next few days once I have done some testing. It is a big improvement so far. More to come soon…..
Remix Ultra Tablet
Hardware - 61%
Software - 82%
Design - 74%
Value for money - 83%
This is a great tablet for those who want productivity on the go but want to use Android instead of a full desktop OS. It can only get better with more development coming every week from Jide