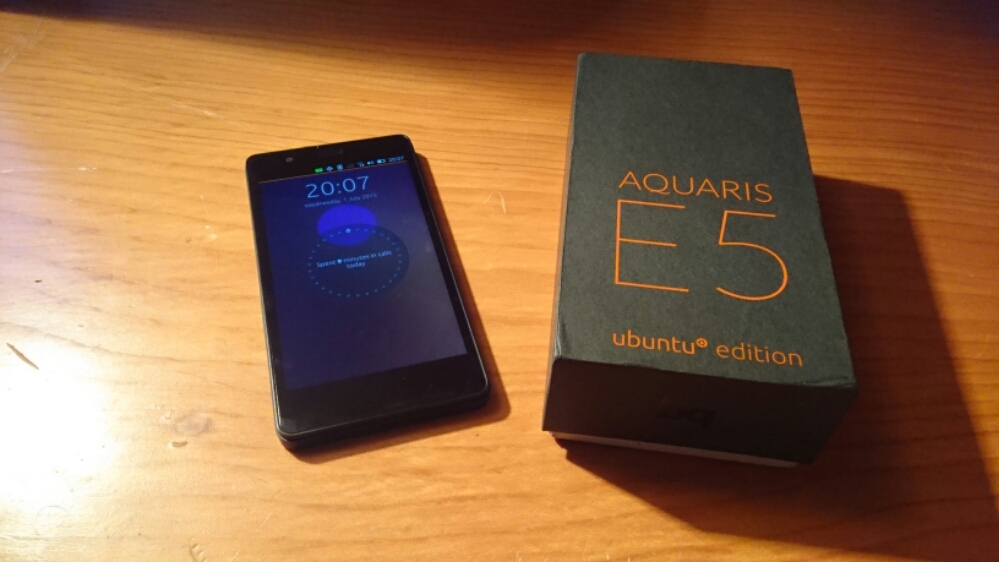 For the last few weeks I have been using an unusual phone. It's this, the BQ Aquarius E5 Ubuntu Edtion.
Now, I wouldn't be surprised at all if you weren't aware of this device as it's not a widely known manufacturer in the UK. Add to that the fact that the OS itself is only known to a select few (insert suitable geek stereotype here).
The reason I wanted to try this out was the fact that it's a new and upcoming OS that actually has some good things to offer.
For those of you who follow the site and and also listen to our podcast you will be aware that this is infact the second phone I have had from BQ to review. The first one was the Aquarius E4.5 and was the first ever Ubuntu phone. It didn't really garner much interest apart from within the aforementioned geek circles. This was completely deliberate as it was almost an experimental phone for the platform. There was nothing wrong with the phone per se, but when I was asked if I wanted to test the new E5, I jumped at the chance. The 5″ screen feels much more natural for me to use.
I've done an unboxing video in a previous article and I would encourage you to have a look at it for a better idea of what we are talking about from a hardware perspective.
Before you get carried away, this is not a "Flagship Killer". It was never intended to be. That comes in the shape of the Miezu MX4 Ubuntu Editon that was announced recently (we hope to get one for testing soon). What this is, is a viable midrange alternative to the mid-tier Android and Windows Phone devices that are currently flooding the market place. It has some nice little touches that make it unique and that's why I liked it. So, let's have a look at in more detail.
Hardware
Dimensions – 142 mm x 71 mm x 8.65 mm (H x W x D)
Weight – 134 g
Screen – 5″ IPS multi-touch screen, 5 capacitive points. Protective Dragontrail display
Resolution – qHD 720 x 1280 – 240 ppi 16×9 Aspect ratio
Processor and GPU – Quad Core Cortex A7 up to 1.3 GHz MediaTek, Mali 400 up to 500 MHz
Internal memory – 16GB RAM, 1GB
Battery LiPo 2500 mAh
Connections – Dual micro-SIM, 3.5 mm headphone jack, Micro-USB OTG slot, MicroSD™ slot, up to 32GB Connectivity
Wi-Fi 802.11 b/g/n, 3G HSPA+ (900/2100), 2G GSM (850/900/1800/1900),
Bluetooth® 4.0,
GPS and A-GPS
Operating system – Ubuntu
Languages – Spanish, English, French, Portuguese, German, Italian and many more
Camera Rear – 8 Mpx (Dual flash and autofocus) Aperture ƒ/2.2,
Front – 5 Mpx Video resolution Full HD (1080)
Sensors – Brightness sensor, Proximity sensor, Accelerometer, eCompass, Gyroscope
When you get the phone out of the box the first thing you'll see is the fact that the phone is very square and utilitarian in design. This actually works in its favour as it makes it nice to use and gives some reassurance in the build of the product. The body is one piece and on the front is a slab of glass stretching just over 5″ across.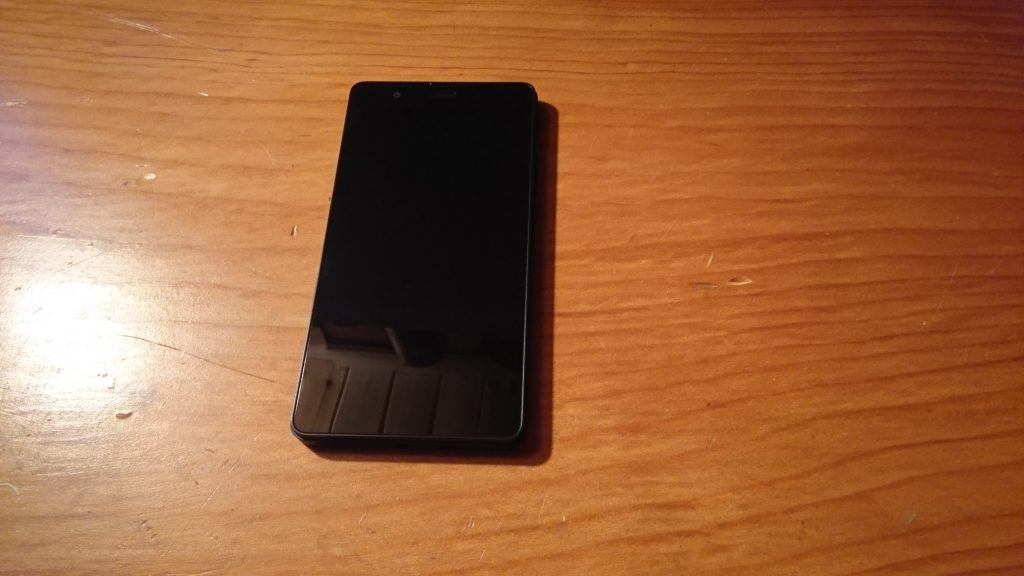 The edges of the glass are slightly inset from the body to offer some drop protection. This works well and means that there is not a nasty seam between the body and the glass which can be seen on other devices at the this price point. The glass is Dragontrail so will stand up to scratching pretty well. In the time I have been using it I can not see any marks to speak of.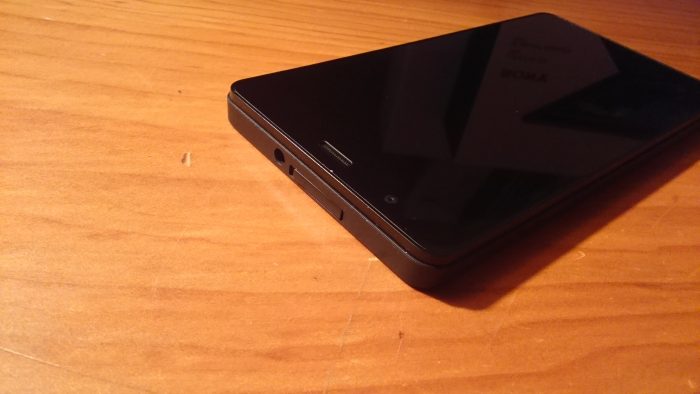 We have the headphone jack up top which will support 3.5mm headphones. However, when connected to my headset I found that it did not work at all so something to factor in if you plan to use a headset for in the car. The phone does not have any headset included either so I am not sure if this is something that Ubuntu doesn't support yet. We also have a rather fiddly door which opens to reveal the SD card slot.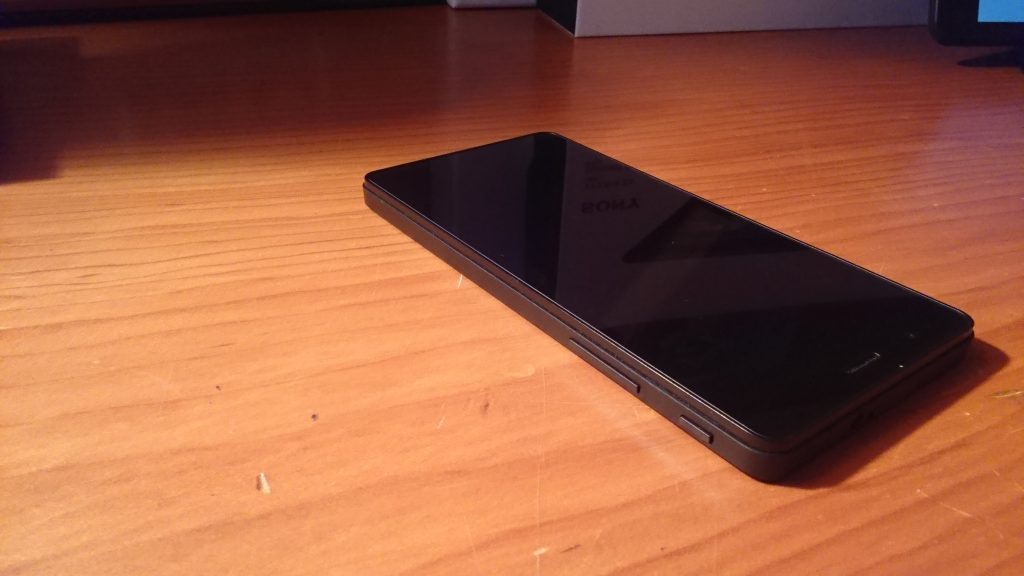 On the right side we find the sleep/wake button. This will also lock the device and then below the volume rocker, which I did find a bit too small and fiddly. There is nothing else on this side.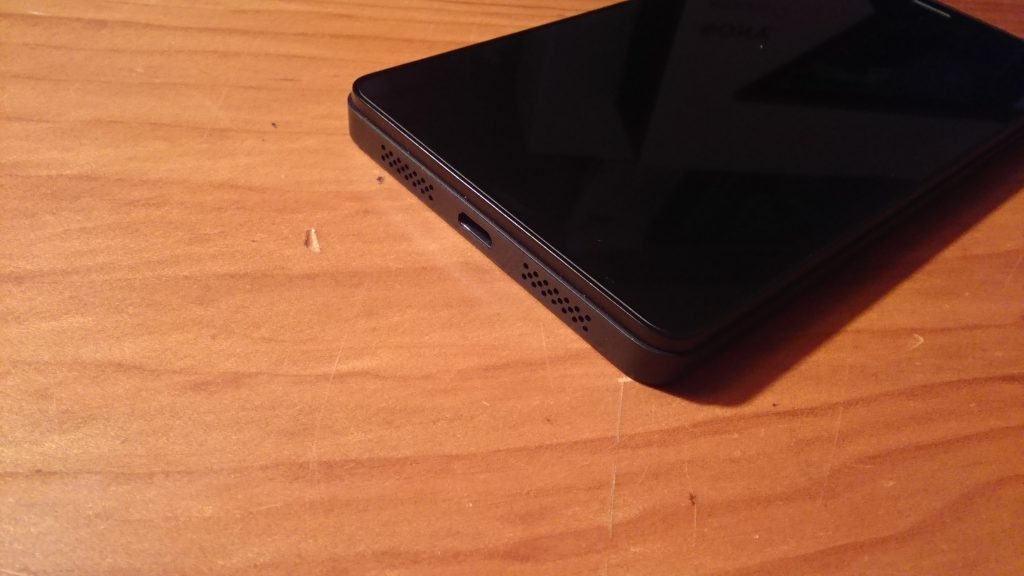 On the base we find the speaker grills. This do the same trick as on the iPhone, in that one is actually a mic and not a speaker. In the middle of this is nestled the micro USB port for charging and data sync.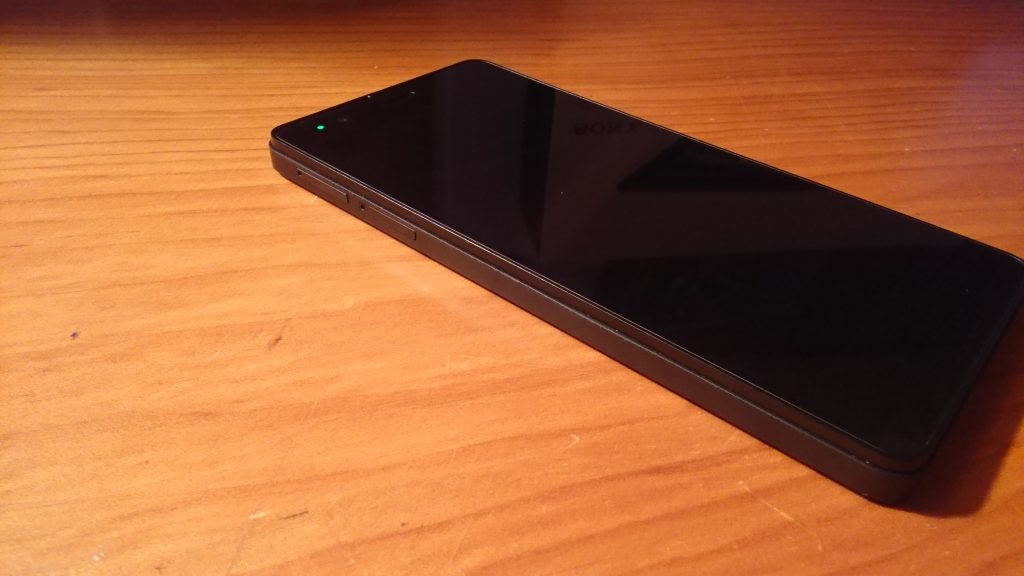 Last but not least, on the left we have not one but two micro SIM slots which use a pin to eject the sim trays. These are easy to use but can sometimes don't feel flush to the case.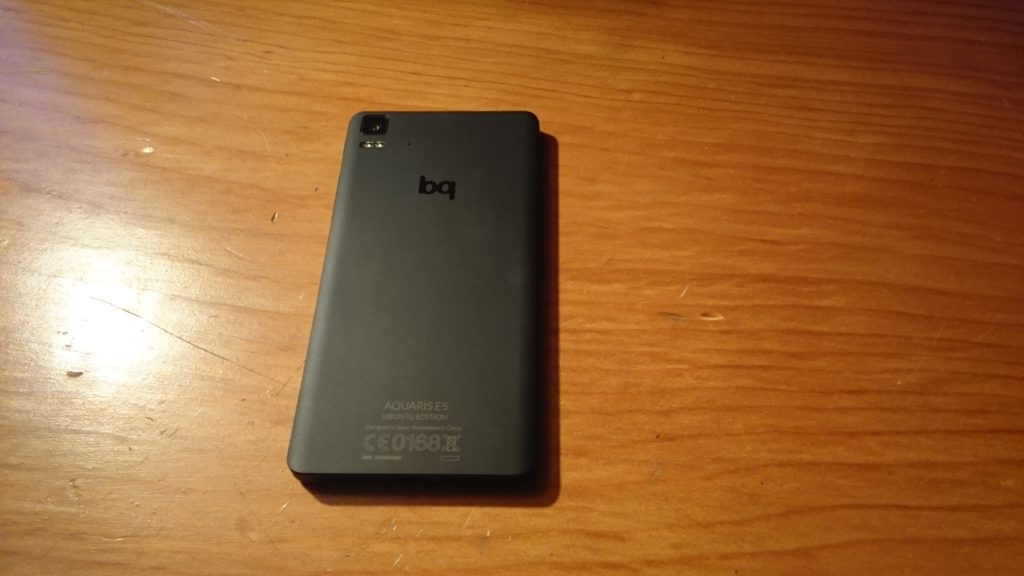 Around the back is where we can find the 8 megapixel camera. This is also capable of shooting 1080p video. Nuzzled up to it is a dual LED flash that well does its job ….. just! We also have the various logos that you would expect to find, but these are quite subtle in a silvery font. This were we will also find the second mic for noise cancellation.
On the front of the phone we have the screen as already mentioned, but we also have the earpiece and the the front camera which – in this case – is a 5 megapixel shooter (take note Samsung, Sony, LG, etc). We also have a proximity and brightness sensor. One thing you will not find is any presence of a home button or, indeed, any buttons, which we will come back to later.
The build feels good but there are just a few hints of where this sits price-wise. These show on the openings, for example the SIM slots and the card holder. This is acceptable at the price of 199 Euros, but only just. I have enjoyed using the phone and it does feel okay in the hand. At no time did it get hot, but I wouldn't expect that as the brains are a relatively low-powered Mediatek Octacore 1.3GHz supported by 2GB RAM. The battery is respectable at 2800 mah and this would last for about 2 days with average usage.
Software
This is really what is important on the phone as it is a platform which is being used to launch the relatively new OS – Ubuntu Touch Edition. The basic UI is good with a easy to navigate interface, once you have got to grips with the various gestures that are needed to get about. Beyond that is a where the bread and butter of Ubuntu sits.
There are three ways in which you can use the phone and, to be honest you will end up using all three in order to allow you to get anything done. I am going to try and break down what these three things are…
Scopes – The easiest way to get your head around this is to think of a categorised collection of your useful info. It looks and feels very much like Blinkfeed on a HTC. However, it is more than that. Scopes actually form the base layer of the UI, so you will always be using at least one of them. The "All Scope" works in a similar manner to the app drawer on Android. There are many other Scopes available and several of these come preloaded onto the phone for you. The "Nearby" one was useful as it allowed me to pull in all the relevant details about my immediate area, but only if I was not on WiFi.The reason for this is that Scopes will don't purely have to rely on GPS for location info. They can also work with your IP provider to try and pinpoint you before using the GPS for that final fix. This is not an uncommon practice as Google use the same tools to do this for products like their Google Now service. Using pure IP isn't always brilliant but this isn't an issue when using 3G. Yes I said 3G. This device does not have 4G on board sadly.

Apps – So, like all the other platforms out there you can indeed download apps onto Ubuntu. However they are just very basic apps and don't have as much of a rich experience as they would do on an iPhone or an Android device. They even lag behind that of Windowss Phone! Most of the apps I saw came in the form of games, which doesn't surprise me at all.Lastly we have something not seen since the days of the iPhone 3GS..

Web Apps – Ubuntu Touch supports HTML 5 extremely well, so why not take advantage of that and allow web apps? Unlike the web apps that you may be thinking of from the early iPhone days (where the app is nothing more than a shortcut to the a website) these are largely pretty good and are very useful. I have one handling my Coolsmartphone email account and it certainly is better than the default one.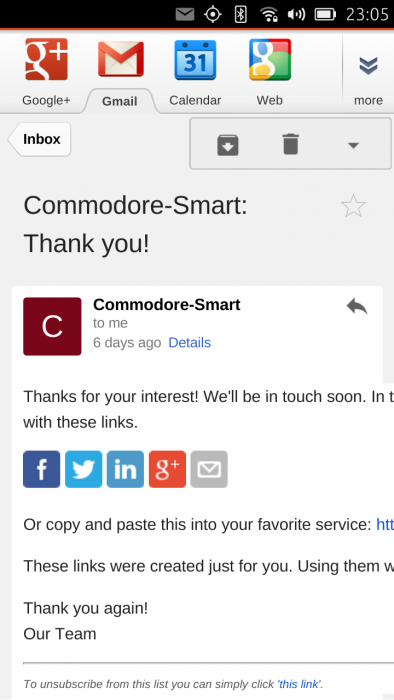 Whilst this is a good way of dealing with "apps" it does create confusion. Plus the web apps really do look ugly in comparison with the native alternatives on Android and iOS. Realistically people now expect a good quality experience and this is just not the case with Ubuntu Touch… yet.
I add that in because there is no reason why it apps shouldn't come to the platform as, lets face it, most of the other platforms are based on the same core Unix base that Ubuntu is based upon. With that in mind, if you look at what's on offer, Cannonical could have a winner here. It just needs a lot of spit and polish to get it there.
With preinstalled apps we have a good array of content. HERE Maps, along with Google Maps, are included for navigation purposes – although these are both in their web app forms. For gaming we have "Cut the Rope" and "Pathwind". There are some very basic media apps that are fully serviceable but nothing to write home about. A basic file manager and a tool for external storage mounting / unmounting as USB OTG are supported. The phone has few productivity apps in the form of Notes, Tasks and a Calculator.
Lastly we have the UI's Quick setting options which are available by dragging down from the top of the screen here is a gallery of what is available.
Nothing too outstanding really, they are very similar to what you would see if you were using some Android phones, but useful nonetheless.
I have to say that one thing I did really like was the gesture driven UI, hence the lack of buttons. It is something we are beginning to see more and more of across all platforms and it is even starting to encroach into desktops. I believe that this is a good thing as long as they are kept simple. The one company that lagging in this area is Apple. Yes, I know gestures can be used on their iOS devices to a certain degree, but it is on their laptop and desktops where they are missed the most. I liked that all four sides of the screen were used for gestures and even though it took some getting used. It was intuitive but it was just let down by unintuitive apps.
Ubuntu Store
The Ubuntu Store claims to have over 8000 apps available for download and, whilst this is a good looking figure, for the press team to flaunt it is really not cricket. Yes there may be over 8000 downloadable titles but these are not all full-on apps and, from my limited time, a lot of them are web apps.
There are different categories for the various genres available and also there are the top rated and most popular filters. Searching is supported and your ubuntu Account will be what the apps are associated with. This works well as when you are switching between devices it will allow you to re-download previously downloaded apps. My biggest issue with downloading apps it that if you search for an app anywhere other than the Ubuntu Store it will give you the Google Play option for that app and not the Ubuntu one, it is almost like they want to make it hard to find the apps. Please fix this Cannonical!
The browser is what you would expect and it does perform very well. It feels very like the AOSP browser that you find on Samsung devices. Unfortunately Chrome was not available which is a big shame as it is my browser of choice these days (at least until I have had a chance to play with MS Edge on a mobile).
Camera
The E5 has two cameras – one on the front and one on the back. The former being a 5MP unit and the latter being 8MP. Both can capture 720p video and the rear has a F2.0 aperture allowing reasonable low light performance. The camera interface is a simple affair in a similar way to the stock Android and iOS one. You've got the controls you need on the screen and other things are hidden away from sight until you swipe in from the side to bring in the extra tools. There is not any quick launch function built into the hardware (no button) and it does take a few moments to open and then a few more to then focus on the subject.
Here are some samples of the E5 against the Nexus 5 that were taken over the past few weeks.
As you can see from the images above there are some pretty big differences but the biggest and most glaring issue for the E5 is the low light. Even with HDR turned on you are getting next to nothing, whereas with the Nexus 5 you can see at least some of the subject. In all the images you can see that Nexus captures a wider field of view than the E5 as well. The E5 does seem to be produce slightly brighter pictures than the Nexus 5
These images were taken with default settings and unless stated auto mode.
Wrap up
This is strange one to call. On one hand it is great little device that is just begging to be used and (dare I say it) abused. On the other hand the lacklustre apps do drag it back down to the ground. The phone just has so much potential to be something that is truly great but I don't think that it will get there, and that is nothing to do with the actual hardware as BQ have done a cracking job there. The problem lies with Connonical.
The one thing that would have put Ubuntu Touch on the map and got all us at Coolsmartphone very excited when it was first announced way back when is not present here and I don't see any indication that it ever will be.
What I am talking about? It's the potential for the Ubuntu Phone to be the one device for all your computing needs or, as Matteo put it on the recent podcast, "the one Phone to rule them all". I have seen this being demoed when I was at MWC earlier this year and it works really well but it's just is not here.
Now, with the upcoming release of Windows 10 and Continuum, which is doing the same thing, you would think that Cannonical would be wanting to get out of the blocks early. However, they have not done it here and – from what I can tell – it will not be present on the Miezu either.
If they can get it to work on mobile then it may be worth a punt but, as it stands, for all the nice little touches, it is just not enough to drag me away from Android just yet.
BQ Aquarius E5 Ubuntu Edition
Hardware - 90%
Build Quality - 80%
Software - 23%
Camera - 75%
A great pice of hardware let down by some flakey software but it has great potential for improvement.