It's fair to say that KAZAM are the new boys on the block. We were almost buried in their range of handsets at MWC last year but they've since got Tulisa promoting their ultra-thin Tornado 348 which, we have to say, is rather nice.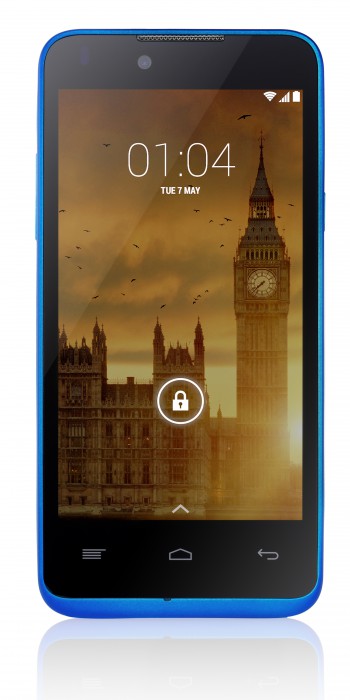 Today they've introduced six new handsets to the Trooper range including an entry-level 4G phone. The models, which are the Trooper 440L, 445L, 450, 451, 450L and 455. They're powered by Android 4.4 KitKat and, as an example, the 455 has dual-SIM and includes a quad-core 1.2GHz CPU, microSD slot, 5 megapixel rear camera, VGA front, WiFi, Bluetooth 2.1, GPS, 3.5mm audio and that 5.5″ 854×480 screen. Any model with an "L" after it indicates LTE (4G) and CPU / screens and other specs alter depending on the model. The 445L, for instance, features a quad-core 1.3GHz CPU, 8GB storage and 1GB RAM. There's a microSD slot for another 128GB storage, 4G, a 4.5″ 480×800 screen, 5 megapixel rear shooter, VGA front, FM radio, WiFi, GPS and a 1980mAh battery.
Also announced today are three Windows tablets and two new Windows Phone handsets – the KAZAM Thunder 450W and 450WL. Powered by quad-core 1.2GHz CPU's with 8GB storage, 1GB RAM, microSD card slots and a 5″ 720×1280 screen, these also have 8 megapixel rear cameras with flash and 2 megapixel front shooters.

There's Bluetooth 4.0, WiFi and a 2200mAh battery. The only difference between the two is the fact that the 450WL has 4G whereas the 450W doesn't.
As for the Windows 8.1 tablets, the KAZAM L10, L8 & L7 are "reliable, easy to use and affordable" devices. The KAZAM L8 has a quad-core CPU, 16GB/32GB of storage (plus microSD expansion), 1GB RAM and an 8″ 1280×800 screen with 2 megapixel rear and front cameras. The L7 and L10 differ on screen size inches.
All of these new KAZAM devices will be available in Europe, but keep an eye on their website for more information.