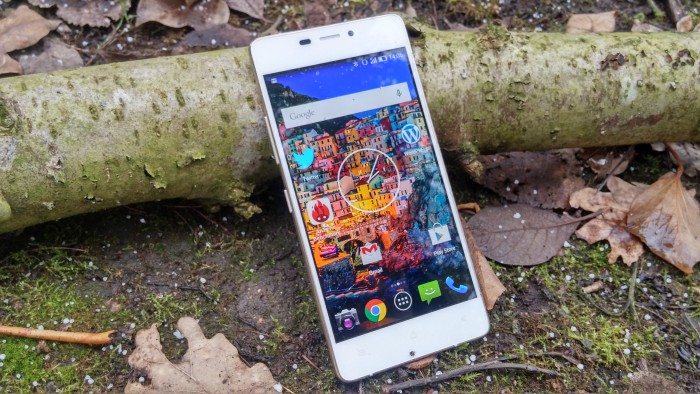 Those models you see prancing up and down the catwalk are sometimes pretty thin. Here, KAZAM have decided to do the same with their latest mobile offering – the Tornado 348. It's a handset which is just 5.15mm thick, which makes it the thinnest smartphone around.
Wait though, I should talk about the company, because you're probably going to be saying, "KAZAM? Who are KAZAM?" Started by a couple of ex-HTC executives, they've been releasing quite a number of smartphones (have a look at the earlier range here) and, apart from the octa-core device, it was all fairly mid-or-low-range Android handsets.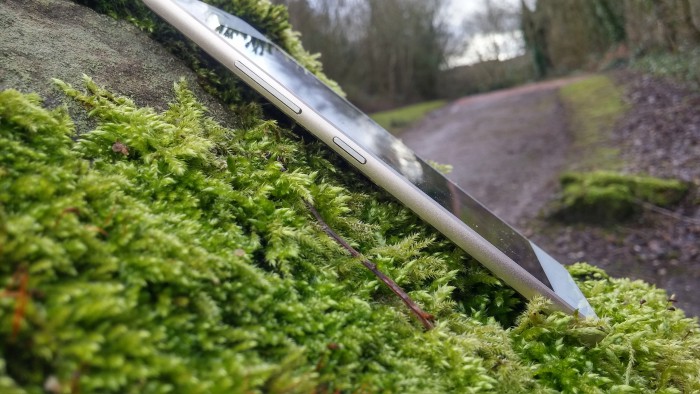 In the last few months this all seems to have turned a bit of a corner though. They've got Tulisa fronting their brand and this, the positively twiglike 348, has raised more than a few eyebrows with everyone I've shown it to.
Initial impressions are positive. Yes, it's thin. It's scary thin. Not only that though, but it's also incredibly light. The design of this handset isn't too bad either, with simple and clean lines and a pretty polished design. Despite the waif-like dimensions there's no sense that this could bend. Sure, if you sat on it hard enough then (like any phone) it'll break, but this has been in my cycling shorts and right jeans without any warping whatsoever.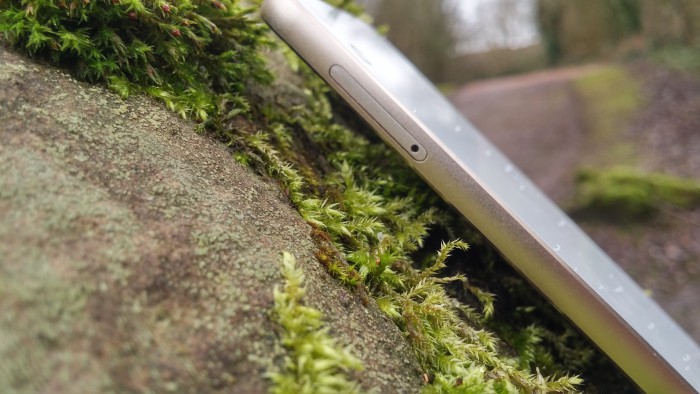 My thoughts
I always jot down my initial thoughts when I first unbox a handset on a piece of paper. A bit "old school" perhaps, but that bit of paper gets extra notes added in the first few days of my usage, and I always ensure that review handsets become my "daily driver" while I'm reviewing them, just to ensure that I'm using them as you guys would – not just noting down specs and taking a few shots. This, I think, will be my new feature in reviews because these first impressions and highlights really matter.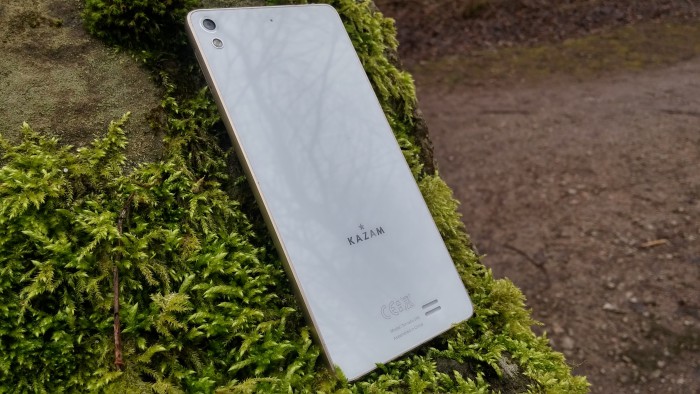 The thing moves by itself. Yes, that sounds weird but the rear panel is so flat and so shiny that it really does slide off chairs, cushions and car seats all too easily. Also, despite my grubby sweaty mitts, it didn't seem to attract any greasy paw-prints despite that clean and lustrous backside. I've lost count of the amount of times it's slid off the sofa and onto the floor. Not a serious problem, but it's like a block of ice on a worktop.
The battery life was also pretty impressive. The other day, after using it for recording a cycle ride (read "lots of GPS use") and then to check a few articles and listen to music on my return it had a whacking 40% battery remaining at the end of the evening, which is pretty shocking for me and my hefty usage patterns.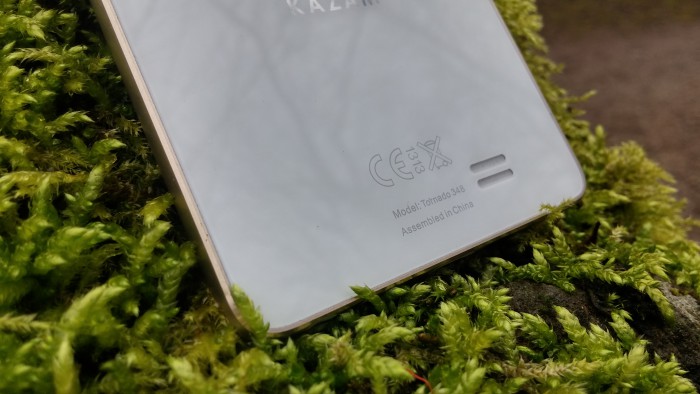 The external speaker is well loud. I don't know what the heck they've put in there, but it's noisy as chuff. I had to turn it down to "pretty much off" when I had the TuneIn radio app playing a radio station in the shower (yes, I know that's a horrible image for you all).
The signal strength was also very, very good. My usual LG G3 got GPRS on O2 but this phone, with the same SIM on the same network, managed to hold onto 3G a lot longer. I can only presume that the antenna setup is better or perhaps the thin body means it'll get a signal easier. Who knows, but it really performed in terms of signal connectivity.
It almost felt like this handset was designed for left-handed people. I operated this one as a right-handed person (because, err.. I am), in that I held the phone in my left hand and interacted with my right, but the call / drop icon was on the lower right (you can move that) and the power / volume buttons were on the left side of the handset, which is a little different to most other phones I've experienced. Not a big thing this, but it had me a bit confused at first as I'd got so used to the main buttons generally being on the right.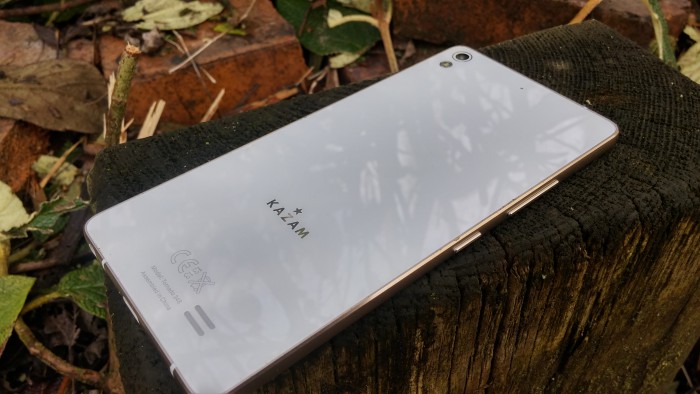 My final mention must be about the price which, at £249, really isn't bad considering the quality feel, solid build quality and spec.
AHh – the spec…
Spec
Android 4.4.2 Kitkat
1.7GHz Octa-core MT6592 CPU
16GB on-board storage
1GB RAM
Micro SIM
No microSD
No 4G
4.8″ AMOLED 1280×720 (HD) screen
8 megapixel rear camera with flash
5 megapixel front camera
3.5mm audio
Bluetooth 4.0
WiFi / GPS / GM Radio
2050mAh battery
Video tour
Outside
The handset, as I mentioned below, is really light and probably weighs no more than a couple of CD's in their cases (old reference now, I know, but I'm going with it). The front has there touch-sensitive buttons which are backlit. Press the centre one to go "home" or press and hold for the Google Now interface…
..aggh.. it's just slid off the sofa again as I'm typing this..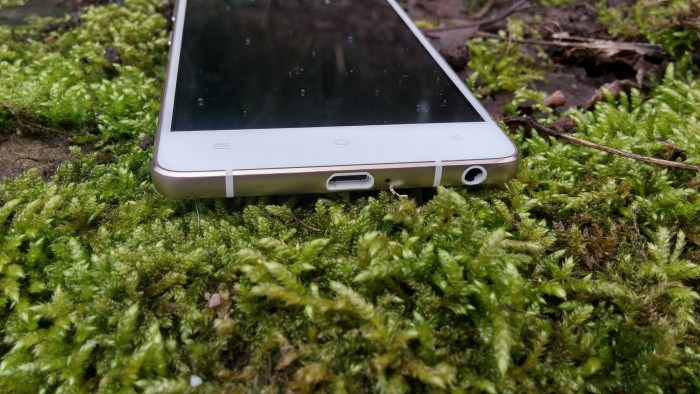 The left "menu" button will go into the relevant menu when you tap it or, if you hold, will let you switch applications. The back button will do just that.
Up top a very clear earpiece and a front 5 megapixel camera performed reasonably well for selfies and, to the left of the earpiece, the light and proximity sensors.
That screen is a 4.8″ 720×1280 unit at 320dpi. It's not the full HD experience but there was no element of blur or scaling here and the colours and icons were sharp and vivid. Very nice. Can't complain.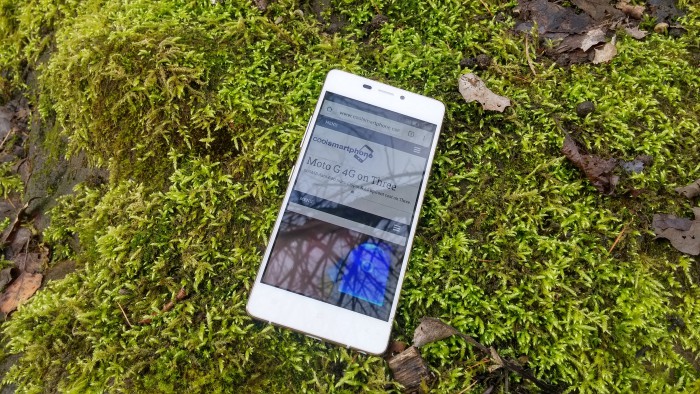 The front panel is a smooth polished white, much like the rear. Around the edge is a soft gold metallic finish which is broken up by small indents as you'll see in the shots. Presumably this is for some sort of signal reason.
On the left, your volume controls and power. That power / wake button is nice and easy to locate.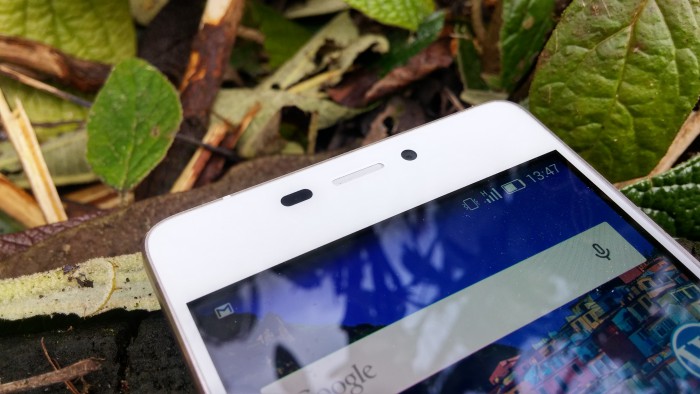 Meanwhile there's nothing on the top and just the micro SIM tray on the right whic you pop out with the supplied pin tool device. The bottom has a microUSB port and a 3.5mm audio, so all your cables will be coming out the bottom of the phone.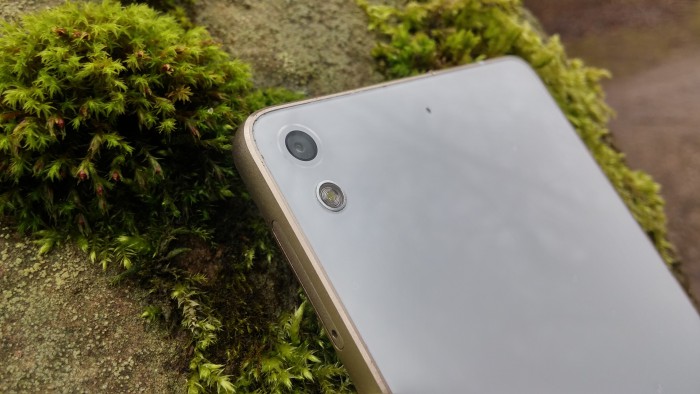 The rear has the camera in the very top corner, which did present a few issues when snapping photos. Not a huge issue, but I had to ensure that my finger was out of the way and not covering the lens when snapping a photo. The photos, as you'll see in a moment, weren't overly brilliant.
The KAZAM logo is silver and quite classy with this finish. Overall the design is good and people were impressed with what they saw when I gave them a look at it.
Camera
The rear camera didn't perform well when I engaged the flash, and blurred a few shots as it refused to focus on anything in the lower light. In the daylight it was passable but not fantastic and the front shooter was pretty ordinary too.
The camera options and the interface was, however, very good. HDR mode added a boost to all the darker areas of the shot (although you did have to stand pretty still when snapping shots) and there's features like "smile shot", "auto scene" and "panorama". You can also enable / disable flash and use the timer to take a shot for you.
Here's a few examples..
Interface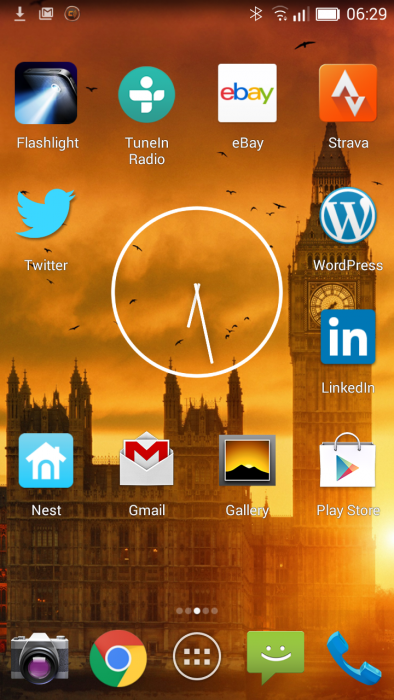 This is a fairly clean install of Android, with all the usual bits you'd expect. Indeed it is, all the Google magic is there and all the usual applications are available too – YouTube, Hangouts, Gmail, Play Music, Books, Google Now etc etc. There's a certain flair and polish to the interface that is hard to describe. Little tweaks like an animated "missed call" reminder when you wake the device, or tidy menus popping up from the rear of the screen in a uniformed manner. It's all very nice indeed.
You can engage Guest Mode if you wish and the pull-down notification menu at the top will quickly get you into Bluetooth / WiFi and other settings, plus screen timeout, sound profiles and all your usual notifications.
As is usual with Android, you can alter your desktop experience in all manner of ways, tweaking the scroll direction, change effects, alter the wallpaper, add widgets, folders, apps and shortcuts. You can also adjust the font size and ringtone, alert tones, screen lock type and a whole lot more besides.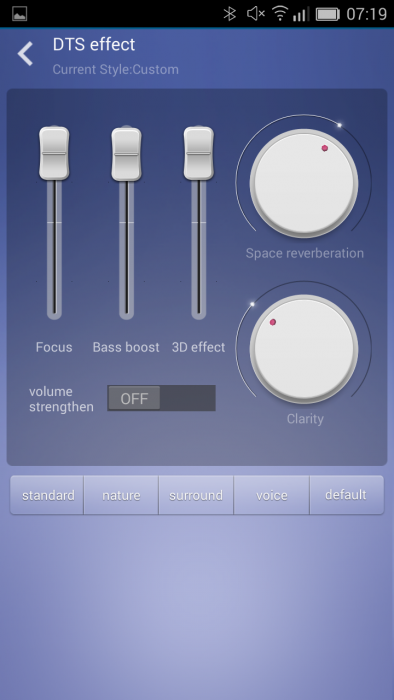 I was impressed by the DTS effects, which were tucked away in the settings screen quite deeply but really did enhance the audio experience through the supplied headphones. Bass, reverb and clarity could all be adjusted here and it really did make a difference.
Apps like the web browser responded well when checking out content-heavy websites and rendered speedily. Text messages displayed in a bright and clear threaded system and I didn't really experience any slow-down during my time with the device.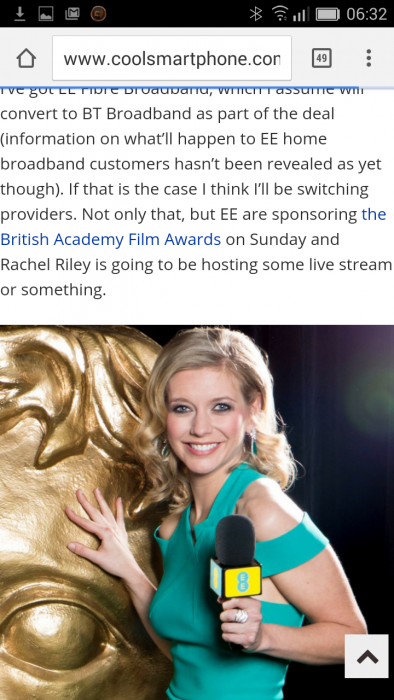 The UI, I must admit, was a great place to be. There doesn't seem to be any news on when Lollipop will land for this device, but the KitKat flavour we have here is a fluid, tidy, speedy and precise experience.
Additional services
Many of your won't have heard of KAZAM, however they are keen to differentiate themselves from other manufacturers and suppliers with their additional services. There's less "gimmicks" on there handsets (as you can see, I'm pretty glad that there's no bloatware on this 348) and a focus on customer support. As an example, they have a free screen replacement, which is something most people are going to need at some point, especially if you're not just sitting in your office all day. There's also a system called "KAZAM Rescue" which, following your approval, will let the KAZAM support people access your handset and resolve any issues you have. Just call their contact centre (on a standard landline number too), launch the pre-installed Rescue app, stick a PIN number in and they can get your phone working or help you out with a problem in no time.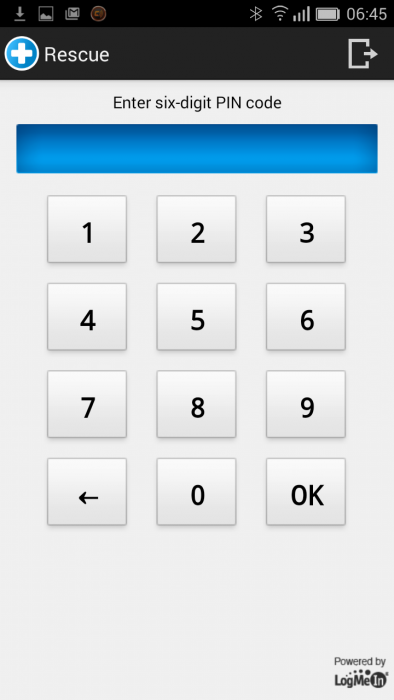 Not only that, but there's a standard 2 year warranty which is upgradeable to 3 years if you wish.
Overall
Initially we saw the massive range of handsets KAZAM were selling and many thought that they were just "box shifters". However, with this more premium model (which is well thought-out, I must admit) they're definitely pushing things on a step. OK, so the cameras aren't fantastic and don't work fantastically in low light. OK, there's no 4G and no microSD slot, but this does have a solid and professional design, a painfully thin appearance (which does attract attention, let me tell you), a great battery life, a speedy experience and a very good price.
With the rise in popularity of SIM-free handsets, at £249, the KAZAM Tornado 348 is a great example of a well-crafted phone running Android brilliantly. No extra gubbins, no bloatware, no faffing about with fingerprint sensors or mind-reading capabilities – just a solid handset with great battery life and performance and a great price.
Get more details at kazam.mobi
Handset gallery
Click the relevant image to see the handset close-up..
KAZAM Tornado 348 Review
Battery life - 9.3
Design - 9.3
Value for money - 9
Performance - 8.9
Camera - 8.1
8.9
Thin it definitely is. but it's still got power under the hood and performs well in most areas.