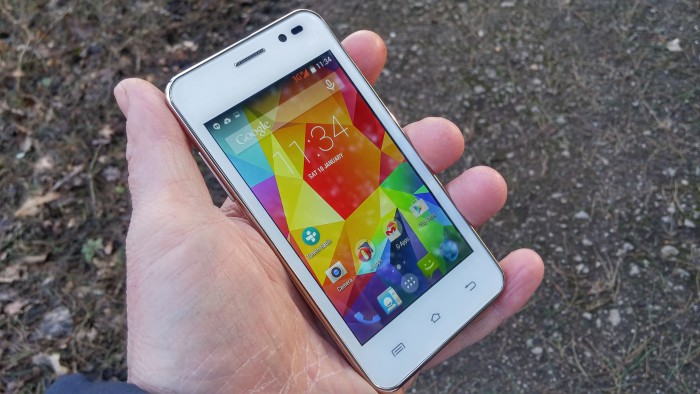 It's only been a month since we spotted the Karbonn A5S on Amazon. This smartphone, just to set your expectations right here, is around £70 SIM-free, and you can stick two SIM cards in (one standard size, one micro SIM).
Wait though, who the heck are Karbonn Mobile? Well, they've actually been around for a little while already and you may have seen them selling the £26 Karbonn A50S in India. Yes, £26. Now this slightly better spec handset, the A5S, is available to buy here and Karbonn have launched a new UK website to go along with this and their other handsets.
I'm spoiled with very high-specification handsets. So to my "snobby" eyes this seems to look and feel a little low-to-mid-range with a rather "individual" rear battery cover and a questionable feeling of quality.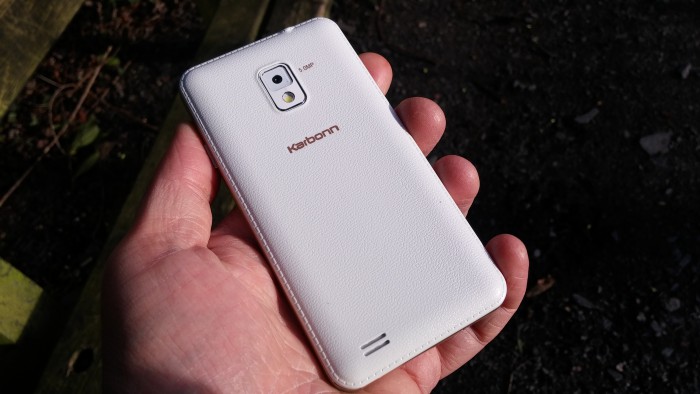 No matter, I thought, this is cheap, and for cheap you shouldn't expect a Ferrari. After a short while I did realise that it didn't bend or twist as much as the cheaper Android handsets I've tested in the past.
Inside there's Android 4.4.2 (KitKat) and it's powered by a dual-core 1.2GHz CPU (MediaTek MT6572). This is the same CPU we saw in the Acer Liquid Z5 Duo and seems to work reasonably OK, although I wouldn't want to push things too much with lots of multitasking and stacks of open apps. Running something like TuneIn Radio along with a browser and my Gmail seemed fine, although there was a little wait while things completed and the 512MB RAM limit made its presence known.
That screen, by the way, is a 4″ 480×800 pixel unit.
On board you're supposed to get 4GB storage but I ended up with the following – about 1GB to play with. Quite a bit had been eaten up although you can add to it with a microSD card for another 32GB …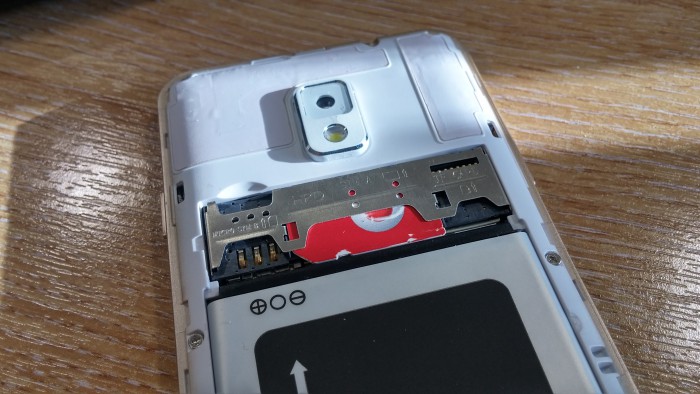 After you first turn it on and go through the Android setup process you'll realise that pretty much every sound and "click" is enabled. Keyboard sounds are on, as are screen-tap sounds and vibration too. Luckily this is quickly disabled in the settings but it's something I'd rather not have as default. I also found the keyboard a little trick to use, but this could be due to my fat fingers on the 4″ screen. I quickly swapped the keyboard so I could use the Swype-style interface, which I find much better, especially on a 4″ screen. That screen, by the way, isn't too bad. It has a 240dpi and, although it's 480×800 it doesn't look at all bad and performs well in direct sunlight.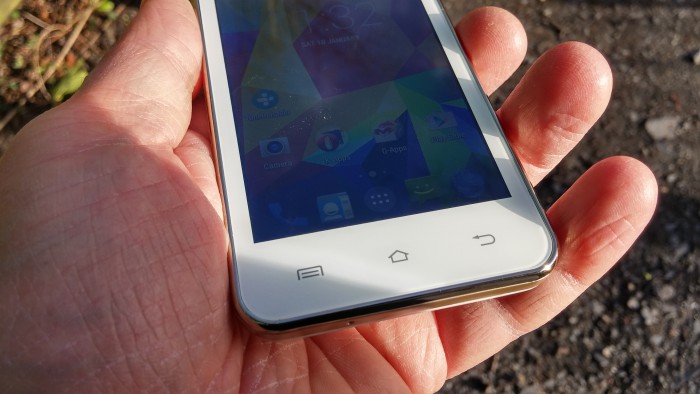 Product tour
Up front there's a reasonable amount of white space above and below the screen, which is on the limit of what I'd like. There's always a danger, especially at the cheaper end of the smartphone spectrum, to have a tiny screen on the front of a handset which almost feels "lost" compared to the size of the frontage. Here it's right on that line, with three touch-sensitive keys at the bottom which are back-lit in a soft white. Menu, Home and Back.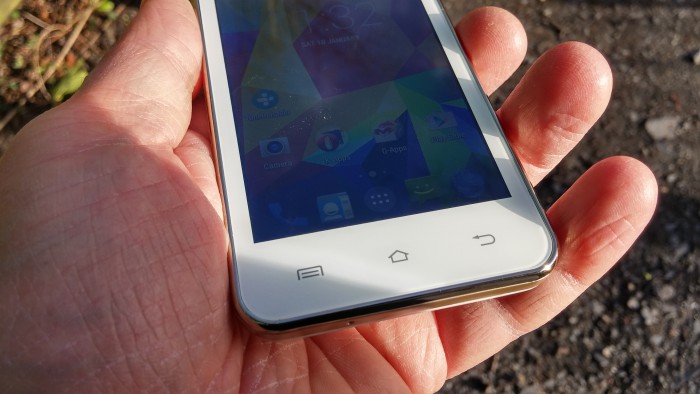 Double-tap the "Home" key on the main home screen and you can switch applications quickly. Hold it down and you'll get into Google Now so you can get all that clever "OK Google" stuff you've seen on TV.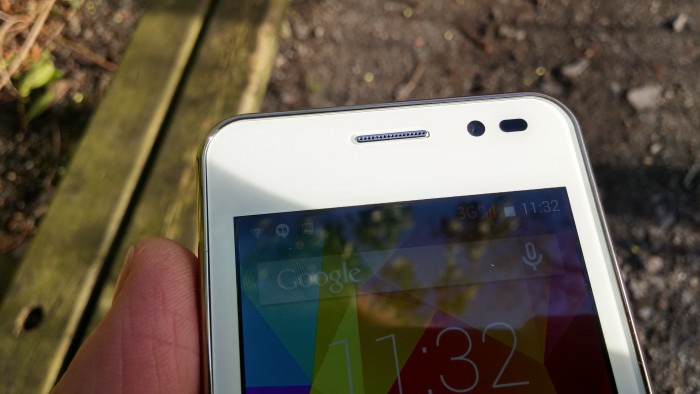 Up top, a neat and nice-looking earpiece, VGA front camera, proximity and light sensor.
Around the edge there's a matt gold plating which is perhaps up to you whether you like it or not. It wraps all around, including the top, where you'll find the 3.5mm audio port and USB charging point, the left spine where the volume controls are, the microphone at the bottom and the chunky-but-easy-to-locate power button on the right side.
The back. Now… the back. Again, I'll leave it up to you as to whether this is your "thing" but the rear panel was something of a surprise to me. It, like all of the phone, is plastic, but the panel has some sort of "skin" pattern on it, almost like a plastic leather effect. Around the edge is some mock stitching, which makes it look like a cheap handbag. Perhaps they're trying to target the ladies with this one, I'm not sure, but it's a design that'll divide opinion.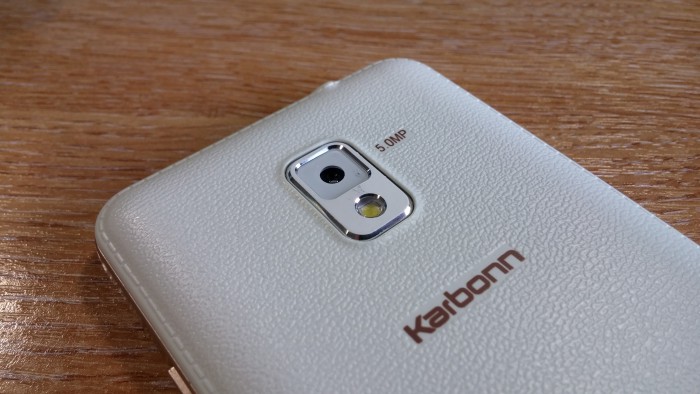 The 5 megapixel camera and is housed here and flash. There's also the usual external speaker on the base.
Pop the cover off, via a small groove in the corner, and you'll find the 1400mAh battery and SIM / microSD slots. You can pop a standard "full size" SIM card in the middle as shown, plus a micro SIM on the left and your microSD on the right. Stick all these in for extra storage and the flexibility to have your work and home line on the same phone or to perhaps one SIM for data and the other for texts and calls.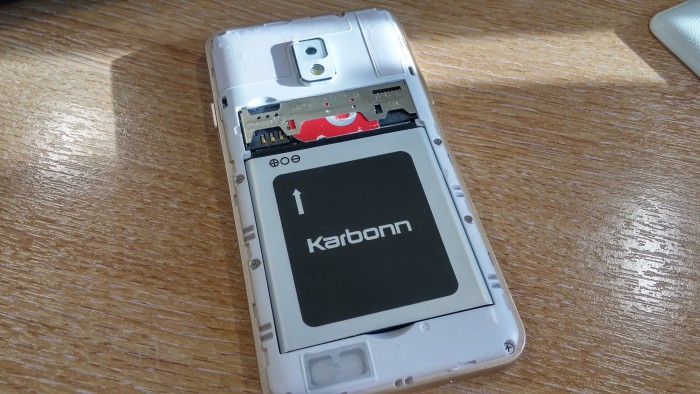 However, I must take you back up to the top section of the phone for a moment, because there's a bit of a problem. When I first got the phone I put it on charge, but after a few hours I checked and it hadn't charged. After giving the USB plug a firm push it did indeed start charging, so I presumed I'd not inserted it right. However, when I went to test the headphones the music started blasting out of the external speaker. I couldn't figure out and again, after a firm push, everything seemed fine. On closer inspection it looks like the holes are actually almost too far away from the edge of the outer shell. It means that the microUSB port only just connects and the headphones only just inserts. The smallest knock or jolt and it'll pop out. I've tried to show it in this hands-on video below. It's a bit tricky to replicate but, if you have it charging in your car and perhaps go round a corner sharply, merely having the cable moving from left to right will knock it out.
Fortunately, or unfortunately depending on how you look at it, is seems that Karbonn know about this. I, like many others, had simply used my favourite headphones and the nearest available charging plug. I used my standard desktop USB cable got the same "just connected" problem.


However, as you can see from the shots below, the USB cable and the 3.5mm audio headphones that Karbonn provide with this phone are ever-so-slightly-longer than the norm, meaning that there isn't a problem when you use those cables.
Yes, I know what you're going to say. This is all great if you carry around the Karbonn-supplied USB cable with you everywhere or you only ever charge once a day, but it does present a problem if you're running low on juice and have want to charge from another random USB cable. With a bit of care (and without moving the phone too much) you can get away with using standard USB cables, but if you've got a favourite pair of headphones then you may have to hang them up in favour of the ones supplied in the box.
Check out the difference here. Here's the microUSB cable. Obviously the one showing more metal is the Karbonn-supplied one.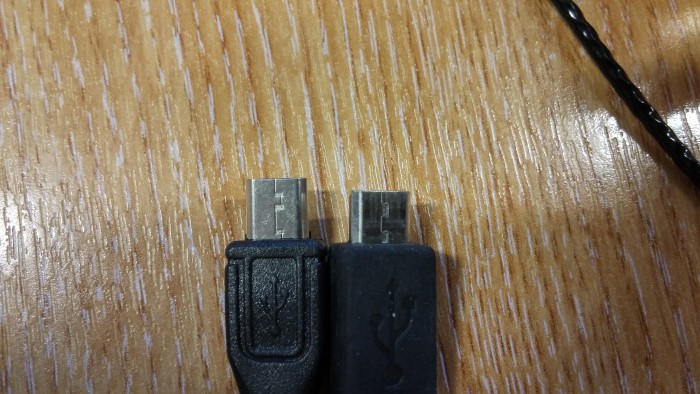 Here's the 3.5mm audio plug comparison. The one on the left is the Karbonn one and the one on the right is my normal headphones, but I compared with other headphones and the difference was there too..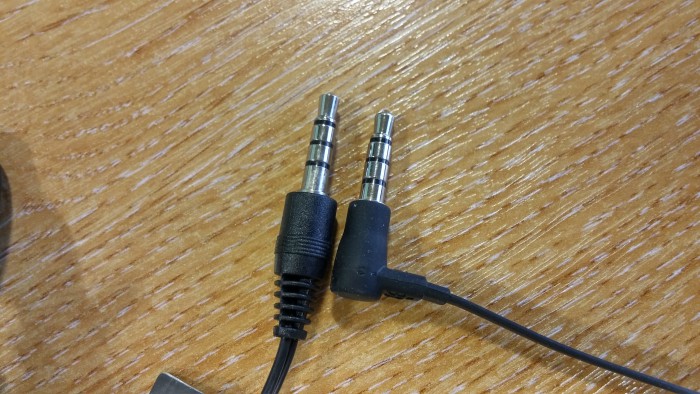 At least Karbonn have got around the problem, even if it is via slightly longer plugs.
Inside
Inside is a thankfully fuss-free and pretty standard interface from Android KitKat. Karbonn haven't messed around at all with any internal UI or apps, and the official Google Play store plus all the other Google apps like Maps, YouTube, Gmail, Play Music, Google Photos, Hangouts and Google Now are included.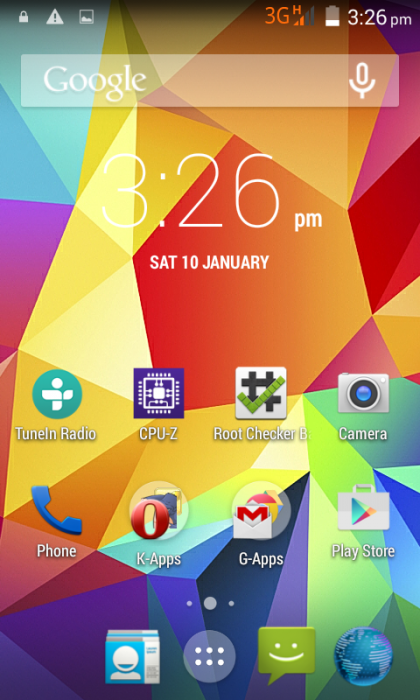 At this price point it's not too surprising to see a lack of 4G, but you do get WiFi, Bluetooth (albeit 2.1), an FM radio, GPS and the battery seems to work well with fairly long usage times.
Opera Mini and two games were the only non-standard apps I could find. Other than that there's the usual suite of Android apps including the standard browser, which seems to use Yahoo! search for some reason. Thankfully this is changeable.
You also get plus Google Chrome, so along with Opera Mini that means there's three browsers included out of the box. As usual these will all render websites perfectly well and will make them readable, even on your pocket-sized device.
There's also a calculator, Calendar, Google Drive, Contacts and Gmail (these four will of course sync with your Google account to store everything in the cloud). You also have a File Manager, POP3 email system and a threaded text messaging system. There's also QuickOffice, so you can edit and create documents on the move – Word, Excel and Powerpoint documents on your mobile.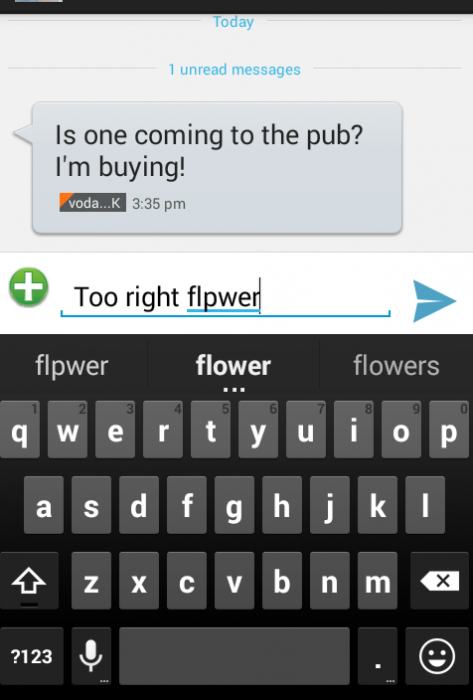 The on-board keyboard has text prediction and you can type even easier by swapping it out for a Swype-style interface if you wish. Also, this being a dual-SIM phone, it's incredibly easy to switch the SIM roles and define what does what. In the example of text messaging, I told it to use the main Vodafone SIM as default, but I can change it to a second SIM or get it to ask each time. Same with calls. It'll also let you know which SIM is being used when you receive a call, so you know if it's a work call or a private one etc
Camera
Actually this wasn't terrible. The HDR mode, however, wasn't worth turning on. You literally had to stand completely still and wait at least 3-4 seconds while the photo got snapped. Best keeping it on the standard capture mode, and don't try zooming in on anything, because you'll be in a world of pain there. There's a Panoramic setting alongside Face Detection, Smile Shot, a Self Timer and picture modes including Sunset, Sports, Portait and Landscape.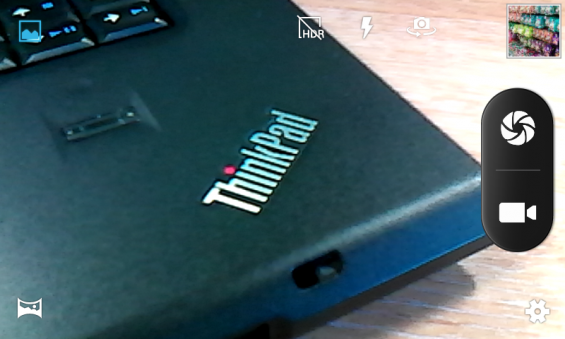 Here's a few example shots. They're not awful, but likewise they're not the best in the world.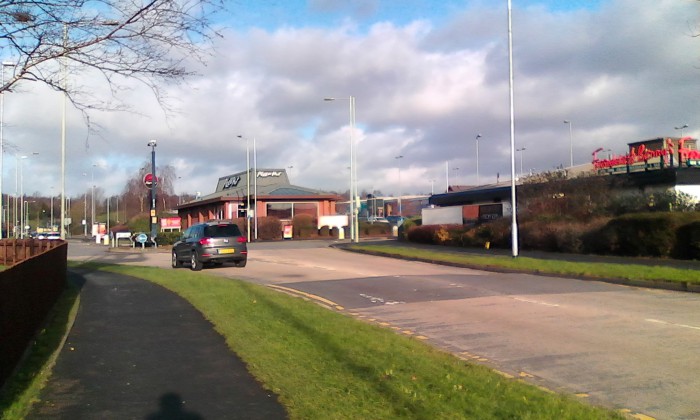 Overall
Let's get the bad stuff out of the way shall we? Audio quality on calls was a tad echoey and, for reasons I'm not sure, the phone lost the time and date settings if I popped the battery out – even for a few seconds. I had to wait for the network to provide the time.
I can perhaps forgive the sluggish HDR mode, the lack of 4G, the fairly standard OS speed and I can even forgive that cabling / port problem on the USB and 3.5mm audio holes.
Why do I forgive?
Well, if this was a £500 or even a £200 phone I'd be more annoyed. I'd want my special Beats headphones not to wobble out of the port. I'd be angry if I couldn't used normal "fairly stumpy" micro USB cables.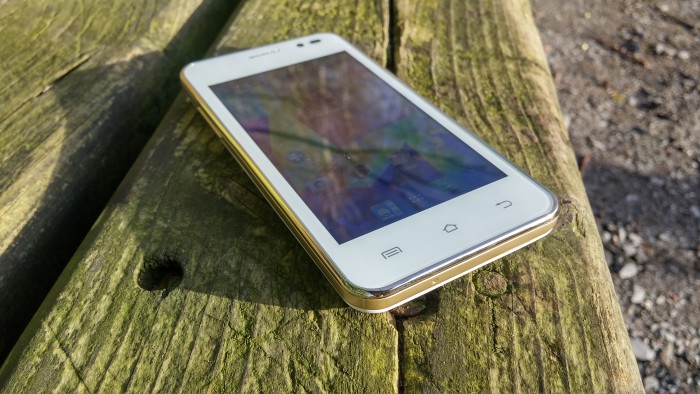 But this is £70, and £70 (in smartphone terms) is nothing.
So no, it's not going to speed along like an octa-core smartphone with 32GB on-board storage and 2GB memory. I'm trying to set expectations I guess. It won't be running lots of apps flawlessly, but it'll handle a fairly light smattering of apps.
However, I say again, this is £70. For £70 you're getting a phone with two SIM slots, a fairly decent camera, an OS that hasn't been meddled with, a decent design (at least from the front. The jury is still out regarding that back panel) and the usual Google services you've come to expect from an Android handset.
Buy the Karbonn A5S on Amazon.
Pricing - 7.9
Build - 8.2
Camera - 6.8
7.6
Karbonn A5S Review
For the price, it's an OK handset and a decent foot on the ladder for those first smartphone buyers.