Now, let's admit it. You've probably not heard of Karbonn Mobile. They are, however, entering into the lower end of the Android smartphone market and, right now, you can get their flagship – the Karbonn Sparkle from Amazon for just £129.99. That'll get you Android 4.4, 5 megapixel camera, a 1.3Ghz quad-core CPU, 4.5″ screen, 4GB ROM, 1GB RAM and a microSD slot for up to 32GB.
Not only that, but this is part of the Android One programme – making phones aimed at first-time smartphone buyers. It targets the developing world, but that doesn't mean the people in Walsall can't get one of these Sparkle handsets SIM-free for less than £130.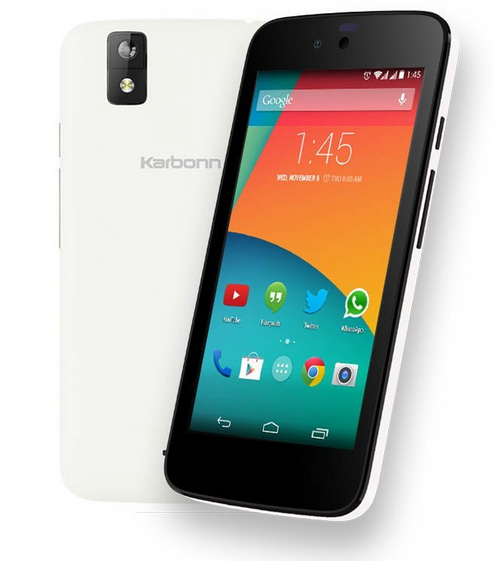 We're getting wind that this price is due to drop to £99 today, so keep an eye on Karbonn Sparkle going even cheaper.
Karbonn mobile seem to be making a big push into the UK, launching right now to give us a "wide range of superior quality and stylist smart devices".
They've got other handsets too, including the £119 Karbonn S6, which is dual-SIM and has a 1.3GHz quad-core CPU (8 megapixel camera, 5″ screen). There's also the Karbonn A19 at £89.99 (dual-core 1.3GHz CPU, 8 megapixel shooter, 5″ screen) and the Karbonn A5S for just £69.99. That one has a 1.2Ghz dual-core CPU, 5 megapixel shooter and 4″ screen.