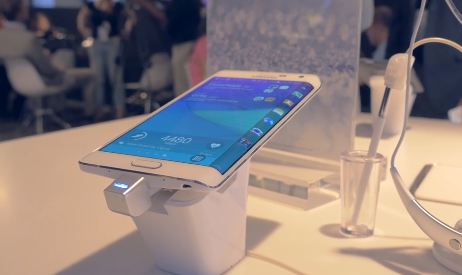 A phone with a screen that wraps around the edge of the handset? The Note Edge does just that, and although the edge is getting used as a notification area for the most part, it's a sign of what's possible. Something to Note though (see what I did there?), the screen only wraps along the one edge – not both.
The device gives me a few mixed feelings. Firstly, with so many slate handsets it's good to see something different. Every device that appears in the Coolsmartphone office has the same design – it's a rectangle with a big screen up front. The LG G Flex was an innovative design, but sadly we were let down by the screen, so let's hope that this Note Edge tickles us in that special spot.
You have to wonder – apart from the initial "wow, that's a bit different" moment – whether you'd really get any massive additional benefit from your flashy curved section along the side.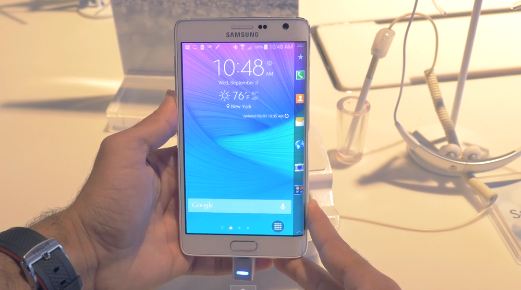 The Galaxy Note 4 Edge is powered by Android 4.4 (KitKat) and has a quad-core Snapdragon 805 CPU running at 2.7GHz. It also comes with a 16 megapixel camera plus a 3.4 megapixel one up front, 4GB RAM, WiFi / GPS / Bluetooth 4.0, NFC stuff and there's a 3220mAh battery. The S Pen is here too of course, and there's optimized features including Action Memo, Screen Write, Image Clip and Smart Select. If you're worried about battery life then there's the Ultra Power Saving Mode and if you want more download speed there's the "Download Booster" for grabbing files super-quick.
You can get extra details on the Samsung Galaxy Edge, which has a 5.6″ QuadHD panel, in our earlier story, but here's a hands-on from our friends at PhoneDog..