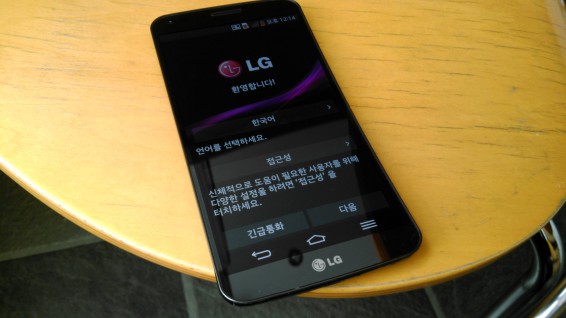 "Have you sat on that mate?"
It's an interesting first reaction to the LG G Flex when people see it sat on the desk. The curved appearance of the handset is like nothing else on the market and, despite what people might think, I've not sat on it.
The G Flex actually does flex too. We saw it getting bent out of shape into shape in Barcelona and, although I didn't try it with this loan handset, it can cope with getting flattened.
I should just say that the version we have here is the Korean version (as you can perhaps see in the above shot) but you can pick up a "regular" one from MobiCity. In this review you might see some software and hardware additions that you might not see in the European variant. That said, it'll still attach to the 4G networks here.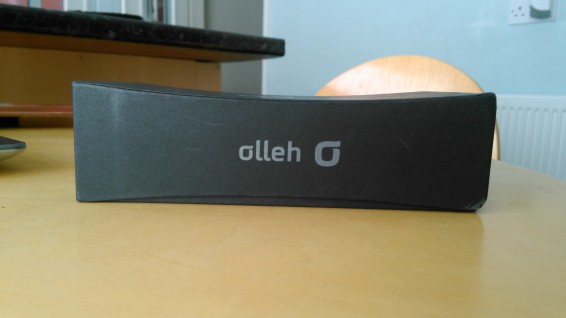 This is definitely sitting bang in the middle of "phablet" territory. There's no chance of you using this one-handed and your thumb will only go about half-way up the screen if you try. The curvature of the handset, which let's be honest is the key selling point here, is fairly gradual but still fairly obvious and eyebrow-raising to confused on-lookers. It will, apparently, mean that the microphone is closer to your mouth when you're making a call and it'll match the curvature of your face. That it does, I must confess. It felt really comfortable when on phone calls and there was a certain amount of confidence when conducting a conversation in a windy high street.
In your pocket it doesn't dig into your thigh or feel as uncomfortable as you might think, even in fairly tight jeans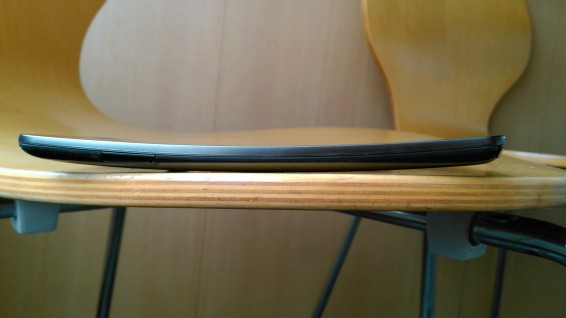 Right, that screen then. Confused I am. In direct light, or when the screen brightness is cranked up to the maximum it looked like any other high-quality 6″ OLED panel, but when the screen brightness drops a little (to adapt to lower lighting conditions) there's a certain amount of screen burn-in that seems to occur when switching from a bright white box on one screen to another darker screen. It's pretty hard to describe, so I've added a photo / video to show this below..

.. you can work around this by turning the brightness up a little. That curvy plastic OLED panel isn't all bad, it was just a little unexpected. The 245 ppi (720×1280 pixels) 6″ panel won't take up too much extra juice if you crank up the brightness, especially given the default screen timeout settings, which was 15 seconds on our review model. In practice this was quite short, but can be adjusted of course.
Something else I should mention about the display – there's a stack load of settings. You can choose the screen-off effect and set it to either fade, go to a "black hole" effect or a "retro TV" effect. Not only that, but you can set the screen mode (I chose "vivid" which helped a little) and that infamous "Daydream" setting, which is what gets displayed when the phone is charging or in a dock. You can chose the clock, photos and more.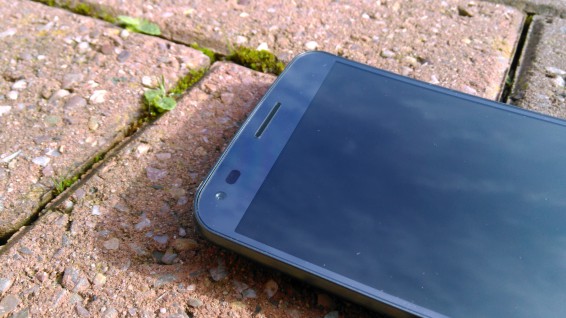 There's also a couple of "Smart On" settings which Samsung fans might be aware of. The first setting will keep the screen on when your face is detected, whilst the second will pause videos when your face can't be seen. Clever stuff, but off as default so it's up to you to play. The fonts can be altered and you can tweak the "auto-adjust screen tone" setting, which I'd recommend you disable to eliminate those screen burn-in effects I saw out of the box.
 At the bottom edge is the microUSB port and 3.5mm audio port. I'm quite liking the audio port down the bottom actually. The TV aerial comes out here if you've got the Korean version too..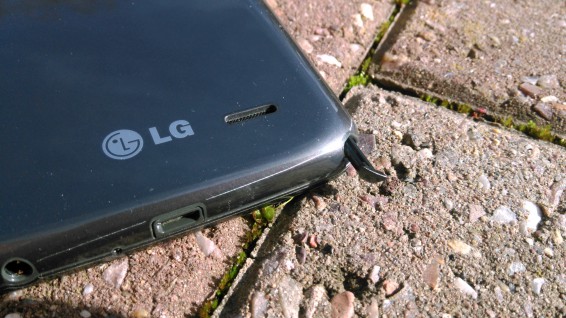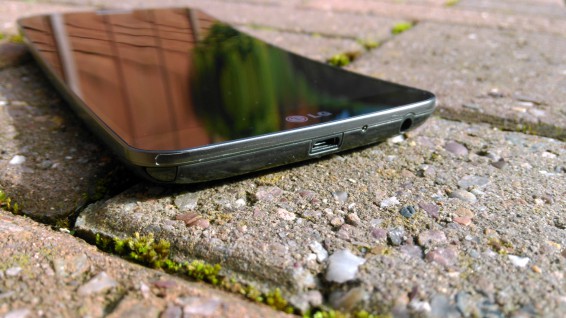 On the left, the pop-out SIM tray.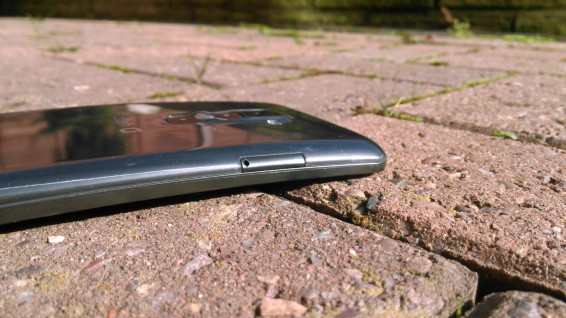 There's also a huge array of options for the notification LED on the back. Yes, the back. I should perhaps mention at this point that there's a few buttons and controls on the rear of this phone and absolutely no other buttons anywhere on the phone. This is comment number two from people, just after they've asked if I've sat on the phone.
"How do you turn it on? Where's the power button?"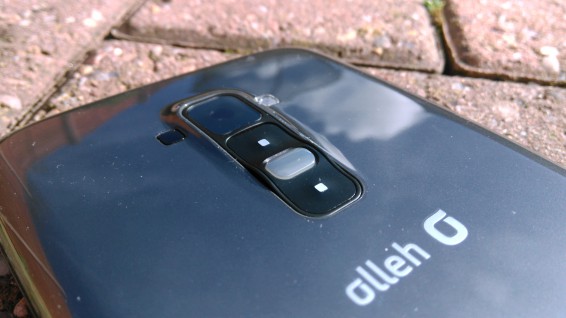 For most people there's a few minutes of furious searching as they attempt to find a power button somewhere on the spine of the handset, which is exactly where it isn't. There's a couple of ways to wake the device, either press the silver button on the rear (which also doubles as your LED notification light) or double-tap the screen. The latter method, which can be a little hit-and-miss when the phone is busy, shows if it has successfully received your "wake up" taps by briefly showing the smaller front LED, which also shows charging / network status etc. The settings option for the LEDs will let you choose what LED does what. From the box the front one will flash blue for a calendar notification, red for a voice mail, green for email and a whole lot more. The back shows incoming call status (and shows green when you're making a call), alarm notifications, camera face detection status and.. well, here's a screenshot.
It's fair to say that the LG G Flex is brimming with toys for you to play with. The settings options will keep you busy for quite some time. The gestures section, which is where the switch for that "double-tap to wake" option is, also has options to snooze the alarm or mute an incoming call alert by flipping the phone and moving home screen items by pressing the icon and tilting the phone. LG, by the way, call this "double tap to wake" feature, "Knock On", for obvious reasons. 🙂
Powering all this is a 2.26GHz quad-core Snapdragon 800 processor. It has no issues powering the myriad of apps and junk I've installed over the last few weeks, and the 2GB DDR3 RAM along with the 450MHz Adreno 330 GPU has cranked everything up to 11. Games, hefty browsing sessions and multitasking hasn't really phased it, which is how it should be really. Android 4.4.2 runs with 32GB storage but alas no microSD card slot. There's a very tidy 13 megapixel camera along with what the kids call a "selfie camera" up front for snapping pouting images of yourself at 2.1 megapixels.
Other settings include the ability to enable the app panel when the earphones are connected, whether to enable the "QuickWindow" case option if you've got one, a huge amount of sound profiles, multitasking settings (dual window is cool) and well, put it this way, there's a lot for you to twiddle with here. I was also impressed with some of the little additions, such as the fact that a little picture of a microUSB connector pops up when you insert it, and the same thing for when you plug in your headphones – it'll also suggest apps you might want to start, such as music etc. It also warns you if your charger isn't really pumping that many amps.
In use the curved 3500mAh battery really had no issues. I spent a day listening to streaming audio and had enough charge in the evening to browse the web – no battery low warning at all, which for me and my usage is a big achievement.
Other features
– A special rear cover
That rear cover, by the way, is an interesting one. It's "Self Healing", which is always a big boast. It does feel soft in the hand, but I doubt it'll stop all scratches, especially when the phone gets caught in my pocket with some keys. 🙂 That said, this one has remained pretty untouched from what I can make out.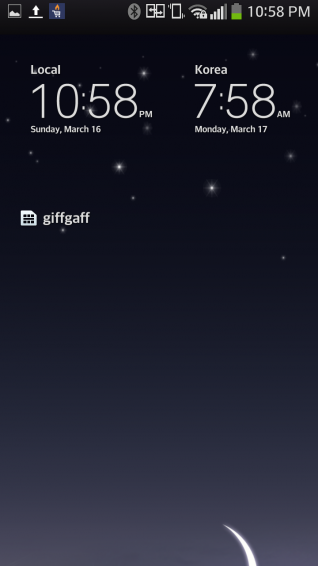 – "Swing Lock" screen
The lockscreen isn't just a page with a clock any longer. Now it's almost like another home screen, with the G Flex offering a rather cool tilt system on this which let you move up and down the virtual sky by moving the handset up and down. It'll also show some pretty waves whilst charging and, if you use two fingers to unlock (ahem) it'll fire straight into your movies / photos / YouTube and any other video content you may have.
– Dual Window multitasking
You may have seen this before, and it's almost a progression from my day job where I need two monitors to do my job. To activate it you simply press and hold the "back" button on the screen, then select two apps you'd like to use side-by-side. So, if you want to watch or listen to a YouTube video while you're composing an email, you can. Here's me shopping on Tesco while I'm browsing around YouTube..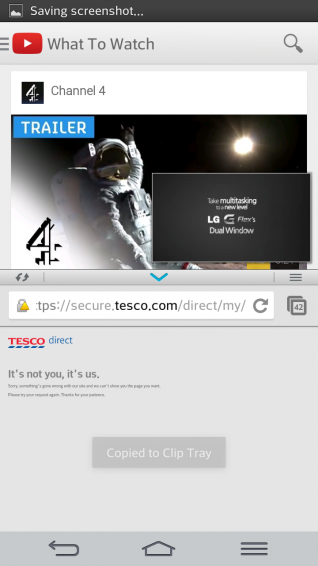 – Guest Mode
Handing your phone to someone is always a "oh no" moment, especially if you've got some slightly offensive texts / emails / pictures about them. Now you can simply use "Guest Mode" and, when you activate it, it'll drop your friend / relative into a different "profile" which lets them use your handset for a bit without you worrying about what they might see.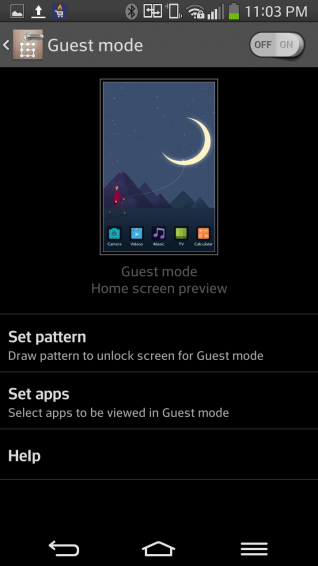 – Answer Me
This is a call-answering system, and is great if you've got gloves on. Turn it on via the Settings and it'll auto-answer calls, or you can turn the phone over if you don't want the call.
– Quick Remote (QRemote)
This didn't seem to like my Sky TV box (again I'm assuming it's because I'm using a Korean version of the G Flex) but worked fine with my Samsung TV. It'll basically mean that your phone acts as your remote for multiple different devices – your TV, cable / satellite box, your stereo and so on. There's an array of buttons and settings here and it'll drop down from the top of the screen so it's always at hand. You can enable / disable quickly through the appropriate button at the top of the screen. Slide down from the top and you'll get a cut-down remote instantly, complete with those regularly-used volume up / down keys and channel changers. Open it up fully and you can a whole load more options including mute, menu, inputs, favourites and so on.
Camera
Activated from either the OS or the rear button assembly (press and hold the volume down button), you can also have the camera detect your face and shoot just at the right moment. The rear LED will flash while it's doing all this.
There's a huge range of options on the camera. You can choose to capture fast-moving objects with "Sports", a "Time Capture" option, a "Dual Camera" for shooting both yourself and what's in front of you and a "Shot and Clear" option for removing objects out of photos after you've taken them. Helpful hints and tips will pop up, as they do when you first use the phone, to guide you through everything. I liked playing with the "VR Panorama" option, which created Streetview-style images.
Images were pretty tasty if I'm honest, and I had it set to "Intelligent Auto" for most of these shots (which takes care of almost everything for you). The gallery system will let you beam shots and videos over DLNA, share them (via Bluetooth, email and anything else you've installed), upload, rotate, crop, copy and print. There's also a slideshow option with music (if you wish) and a range of options.
Inside
I've already covered a lot of the LG enhancements and they do work rather well. You can, as with many Android devices, drag widgets, shortcuts and apps onto your homescreens or change the wallpapers. There's a neat little feature which lets you add multiple images and blend them into one background image too, which I rather liked. As usual, you merely need to bang in your Google credentials to get all your contacts, calendar details and so on. You get everything piped through the cloud, so it's all sync'd with the cloud. You can use regular POP3 email too, or perhaps have Google pick that up for you to eliminate the spam.
Messaging is tidy and threaded, with the standard LG keyboard doing a good job of translating my ham-fisted jabs at the screen. You can, as usual, install your own keyboard if you wish and you can switch to a more regular "Inbox" style if you don't want messages to appear in a conversation view. You can also insert smileys, forward contacts, register spam numbers and even schedule texts, which I rather liked.
The QVoice system, like the SVoice system on Samsung handsets, should translate your speech into some meaningful result or action by the phone. I wasn't able to fully test it on this Korean model sadly.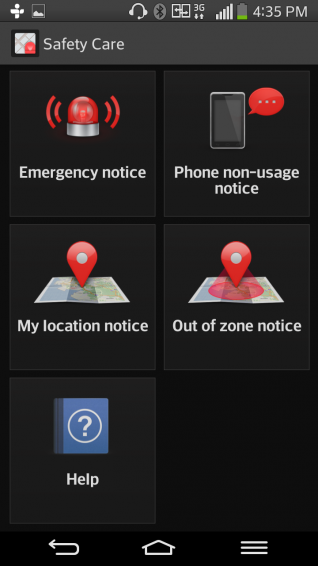 A video editor, Office suite (Polaris Viewer), Voice Recorder, alarm clock and a "Safety Care" app is also included. Whether this is on the European model I don't know, but the Safety Care app sought to protect you from leaving a certain area (good for kids if they've been told to stay close to home) and to stop others using your phone if it's taken out of a specified zone. It's a really cool idea and something I'd like to see put into every Android device.
A calculator, notebook, memo system, dictionary and calendar (which stays in sync via Google) is included, as is the afore-mentioned media app which can be activated via a double fingered unlock. It's called "QTheatre" and basically lumps your media content into one place so you can easily hop into the video or film you need..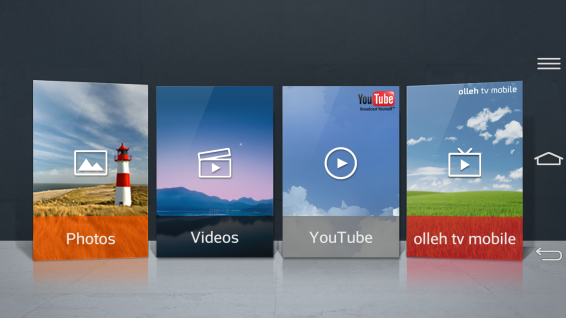 If you are considering buying this Korean version (which is unlocked and available from Mobicity), you will get a lot of pre-installed "olleh" apps which I couldn't really understand due to the language barrier. They can all be removed easily though.
The usual Google apps are installed – YouTube, Gmail, Google+, Navigation and Play Books to name just a few. It also comes with Chrome out of the box, which became my default browser very quickly.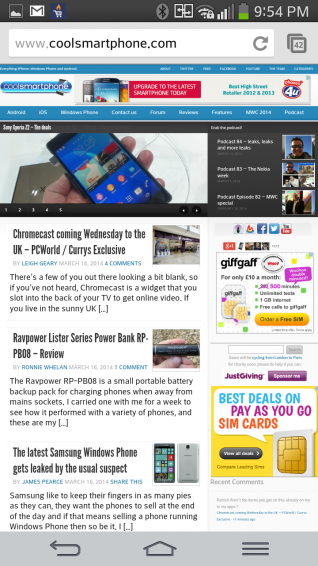 Overall
If you're going to get one of these, go into Settings->Display and tweak the brightness up a bit (but keep it on "auto"), then set the screen timeout to more than 15 seconds, change "Screen mode" to vivid and turn off the "auto adjust screen tone". It doesn't fix the strange screen bleed / burn-in effect totally, but it makes things a tad more bearable. There's a definite "matt" appearance to the screen which, I assume, is due to the plastic OLED unit.
Other than this gripe, this is a hugely capable handset with bags of power (both in terms of battery and CPU), a quite brilliant and different design plus some rather clever LG additions which, on the whole, I loved.
I'll be honest here and admit that – due to the design of the handset – it got a lot of interest from the ladies in the office. My curved 6 incher seemed to be doing the trick, even if it took two hands for maximum enjoyment. They were pretty impressed, although some did tell me it was a tad too large for them.
The G Flex has a good external speaker, a good camera, lots of onboard features to play with and, although taking a screenshot (with the volume down and power button combo) was a nightmare, I quickly got used to the rear button arrangement. The curved design didn't spoil my two-handed thumb typing either, and the capacious screen meant that mistakes were few and far between.
Fast, well designed and with a battery that out-lasted all my other phones, I have to rate this highly. It definitely stands out from the pack and definitely pushes LG up the ladder in my estimation. That screen, at least on this model, was a bit of an issue for me, so I'd advise giving it a try in-store if you can to see if it's a major problem for you.
Thanks to Mobicity for the loan device. You can purchase the G Flex and many other devices from their website.
LG G Flex Review
Design - 9.9
Build - 8.6
Features - 9
Speed - 9.2
Camera - 9.1
9.2
A powerful, feature-packed handset with a brilliantly attractive design. Sadly the screen seems to have suffered as a result.