Some good news and some bad news here folks.
First the good:
Last week I bemoaned the lack of any alternatives to the monster Lumia 1520 or Glance-less Lumia 930 for top end WP 8 phones.  Clearly someone was paying attention as it would appear HTC are about to unleash a Windows Phone version of the HTC One (M8).
The One (M8) has an impressive list of specs, so we can only hope that these are transported onto the Windows Phone version, dubbed the HTC One (W8).  How I would dearly love to be an overly paid advertising executive whose job it is to dream up such dim names.  Back in the real world, just as the online rumour mills were reporting what 'trusted sources' were confirming, HTC sent out an invite to an unspecified launch event in New York on 19 August: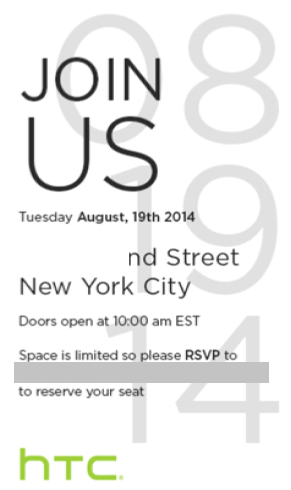 Of course, this could be anything, but the timing sort of fits, not least with the news the same day of the Windows Phone 8.1 Update 1, which will include provision for smart cases, coincidentally like the one on the HTC One (M8).
Now the bad:
This is an event in the US for Verizon, meaning that there is no guarantee that the HTC One (W8) will be destined for the UK at all, let alone anytime soon.  That presumably will not be the case, particularly as Windows Phone has stronger sales in Europe than it does in the US, but it might mean a delay.
So, in the meantime, all we can do is W8 for the Windows Phone M8 (Oh, how I hate text talk).