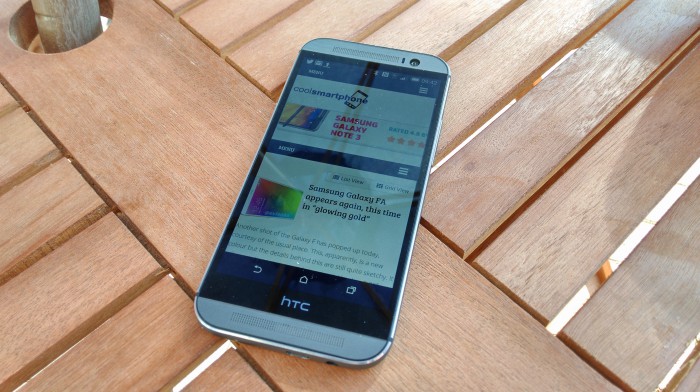 I've used the HTC One M8 for a week now. It's been my primary phone, so it's had to put up with my daily abuse. As a heavy smartphone user, that's no small ask.
First up, I'm an existing Android owner, so out of the box I loved the fact that the HTC One M8 simply dragged the app and backdrop settings from my old phone.
Now, I know I've played with this before. I know that I've seen the previous model and I've been to the launch events, but those speakers still knock me for six. I just loved the sound quality.  The BoomSound really does work and you don't need Bluetooth speakers with this.  Crisp and clean. Yes, I do miss the Beats technology, but there's no need to faff about pairing your Bluetooth speakers because the on-board ones really are that good.
OK. I thought I'd finished that paragraph, but I haven't. Every phone should have speakers like these. I mean it. Every phone. Every single smartphone out there should, by law, have these BoomSound speakers. No "tssk tssk tssk tssk" tinny nonsense. Proper, meaty, earthy, banging, loud, sound.
When you start using the phone there's helpful hints that pop up on the screen. These subside as you learn new tricks, such as turning the phone on with a double-tap on the screen whilst holding the device up, or dragging icons onto the homescreen to make it your own personal space. I liked them. Not too "in your face", but just the right balance for new users.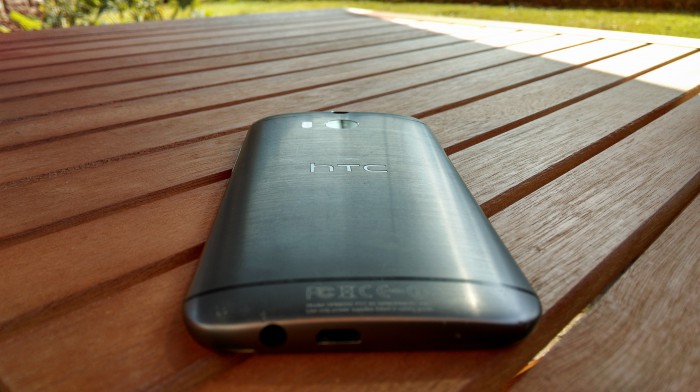 I also need to talk about the build quality. There's no plastic nonsense and the rigidity of the device is matched by a solid but in-no-way-heavy weightiness. The coolness of the metal when you've left it on a table and the pure presence of the tough but stylish all-metal construction. Honestly, I never thought I'd talk about a phone this way but it's a delight to pick the thing up. I mean, I'm not having a go at the Samung Galaxy S5 here, but the quality and natural feel gave you a confidence and a smile. This is a quality piece of engineering. Craftsmanship. Style.
I used almost every feature on this phone too. There's no features added just for the sake of headlines. Take today as an example. I woke up, checked what was happening via BlinkFeed, I got in the shower, I put my music on (using those fantastic speakers that I might've mentioned), I went out for a bike ride with my son (recording it on Strava), snapped some photos, then I came home and watched the rather beautifully created montage that the HTC Zoe system had created of our day. The brilliant Google Now told me what the weather was going to be like too, and yesterday it told me how long it was going to take me to get to work, and what the weather was like there, and where I'd parked my car. All the thing needs to do now is tie my shoelaces and I'm set.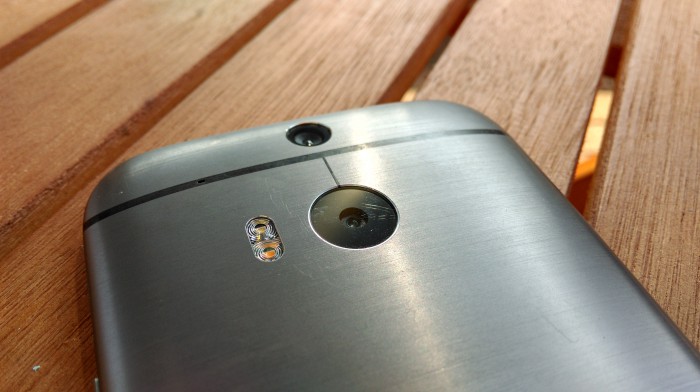 Taking pictures. Brilliant. Good quality, sharp and clear. You can adjust them after, you can play with them, you can create and edit daily video footage on the fly. It's playtime baby. Videos were awesome. The IR blaster is a great addition and Sense TV cleverly learned shows that I wanted to watch. The sheer fact that I can pick the thing up and there's helpful hints to guide me through. You can double-tap to wake the device, you can shortcut a lot of your daily tasks and that screen, oh that screen. Love that screen.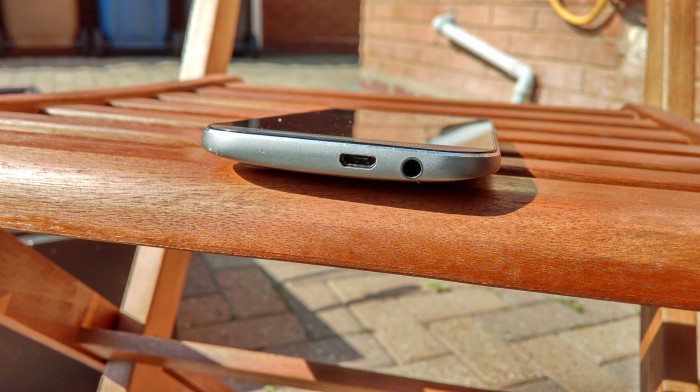 Don't get me wrong, I'm the ultimate nit-picker. The battery life out of the box is indeed epic, but that (as you'll find out) is mainly because the Bluetooth is turned off, as is the GPS. Turn those things on and you're quickly in "one day recharge" territory if you're a "never put the thing down"-user like me. But, and this is a big but, I do use my phone A LOT, so a day of usage is pretty staggering for me – normally I'm on charge by 4PM. Oh, and let's not forget that "Extreme Power Saving Mode" which really does get a colossal standby time out of your phone if you need it for emergencies. Yes, it'll shut pretty much everything down, but you can adjust when or if it kicks in and it's good to know that it's there.
The size of the handset, with the clear 5″ screen, is just perfect for one-handed operation. Your thumb stretches across to the side of the screen so you can type with the new Google Swype-style keyboard by merely sliding across the letters you need.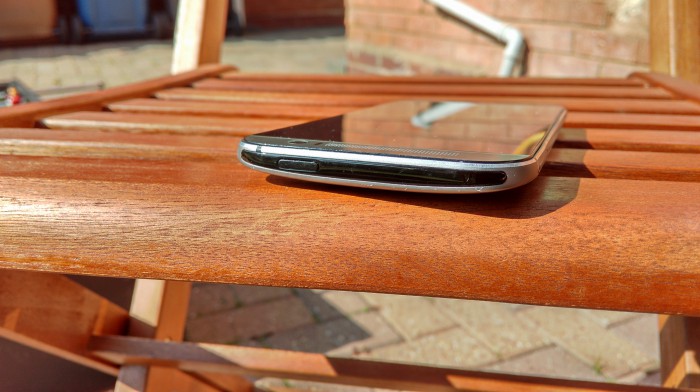 I could prattle on about this phone quite a bit, but I'd bore you. I could go on about the reassuring weight I feel in my pocket. I could mention how I love the metal construction, the way it sorts my images and videos into "Events" and the clever Duo Effects and UFocus that allow you to create new and exciting images.
People will write comparison stories between this and the Galaxy S5 from Samsung. For me Samsung did something which I hadn't expected by adding that heart rate monitor on the back. I just didn't see the point of it. It's perhaps something that'll actually get used by less than 5% of their owners. Here, on the HTC One, there's features within the software – like the post-focus technology in "UFocus" that I might not use instantly, but they are actually useful and I think it'll get used by more people.
UFocus in action
Am I going to use those Duo Effects? Am I going to fiddle around with the post effect tweaks to add new backgrounds or add a seasonal effect? Maybe not straight away, but when I have found it and start playing with it, I love creating with it. Doing something useful. Something fun. Something new.

Zoe, the video montage feature, might not always get things right first time, but you can alter the images it chooses and you can turn a regular trip to the park into a fun movie adventure. You can upload it, send it to relatives and share the fun – all in seconds and without you even having to think about it.
Likewise, Motion Launch is something I didn't really get into to start off with, but the helpful prompts gave me the gentle nudges I needed to try it. Pick up the phone with the screen off, swipe up and you've unlocked and turned on the screen instantly. No power button needed. Swipe right and you're into HTC BlinkFeed, swipe left to go to the widget screen or swipe doing to do a voice call. If a call comes in on this, I just pop the phone next to my ear to answer it. No need to swipe or anything – it'll figure out that you want to answer it merely by the fact that it's next to your head. Tap the screen twice to check the time, tap it twice again to send it to sleep.
Want to take a photo? Just turn the thing into the landscape position and press the volume button – boom, there's your camera. No dedicated camera button needed really. Smart.
Combine all this with Google Now, which is something I'm rapidly depending on, plus BlinkFeed, which I'm learning to love more now that I can actually put Coolsmartphone content in there and .. well, this is a staggering bit of kit.
Camera examples
Playing around with the refocus, which lets you change the focal point after you've snapped an image, is proper cool, but there's some pretty nifty additional special effects too which are far better than any Instagram ones.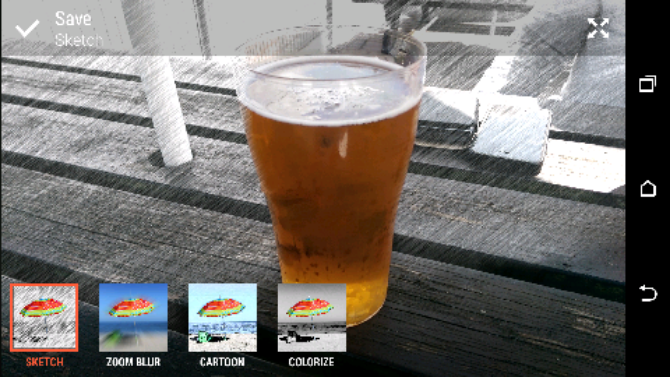 Final thoughts
Now I'm not just blowing smoke up HTC's bottom here. I've been writing for Coolsmartphone since 2002 when the Orange SPV (HTC Canary) came out. This is without doubt the best smartphone I've ever used. Actually, let me correct that. This is the best phone I've ever used. The outer shell is a brilliant example of precision engineering which has an almost industrial and craftsman-like quality to it.
The camera, regardless of megapixels, ultrapixels or whateverpixels, is just plain brilliant. I loved taking landscape shots in HDR mode, I liked fiddling with the various modes and I really did smile when I saw how everything re-appeared in the gallery system.
The 5″ screen is just stunning to look at. It has a clarity and sharpness about it that makes pictures look life-like. The whole Android and HTC UI seemed to get a new and refreshed look purely due to the quality of the screen.
The phone itself whizzed along and I appreciated the fact that I could whack a microSD card in. It's a clever and fast phone that never lets you down. Heck, it can even control your TV and bring you programmes you might enjoy. The Tips and Help system guides you through everything and also helps you find new features.
Little things like "Do not disturb" were really welcomed during my week with the HTC One M8. The phone would automatically switch to this mode when I was at work – but I could tell it which contacts to let through. I liked this. Sure, there's probably an app out there that does this already, but to have it "out of the box" was really beneficial and it was in the UI too. The only thing that I didn't like was the fact that Coolsmartphone wasn't listed under the "Technology" in the HTC BlinkFeed system which, well, it's just unforgivable.
I think to a degree I've got used to Android now. My weekly tasks were performed effortlessly. I used GMail (I have all my mail via Google Apps), I piped video content via DLNA and over to my Google Cast HDMI stick on the back of the TV, I set my Sky box to record with the help of the Sky+ app. I also checked Twitter, shared photos over Dropbox and Facebook, plus I took a whole load of photos.
Just to hammer this point home. There is absolutely no area where this handset is lacking. One absolutely stunning handset which I will, and I mean this, be very sad to hand back to the boys at Vodafone (who loaned this particular device).
If you're in any doubt about whether to get this phone, don't be. It. Is. Fantastic.
Check the Vodafone website for the latest deals on the HTC One M8
HTC One - A week with
Battery - 9.2
Camera - 9.6
Build quality - 9.9
Screen - 9.9
Software - 9.9
9.7
A beautifully-created handset which has a sense of craftsmanship. The OS, the new Sense UI and the combined package is absolutely top-notch.