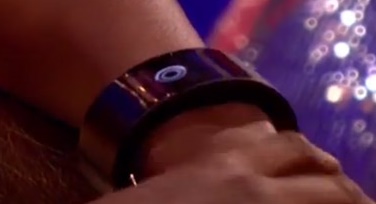 Stand aside Pebble, Toq, Samsung and all you other smartphone wannabes, a true technological genius is about to rip up your business plans and take the market by storm!
That's right, Will.i.am, a musician who previously failed to revolutionise the iPhone camera with the i.am+ megapixel enhancer, is about to bring out his very own smartwatch!
Will (his friends know him by his second level domain name) chose to reveal this technological breakthrough on Channel 4's two-bit comedy show Alan Carr: Chatty Man. He demonstrated that the large bangle shaped device with a spinning logo on the screen could make dial tone noises and play music (which sounded suspiciously like it was coming through the studio sound system). He claimed that he no longer needs a phone, just the watch, because he can make calls on it, see Twitter, Instagram and Facebook, and use it in the gym with Bluetooth headphones.
See for yourself in this video:
I'm sold! Right, who wants to buy my LG G2?
Mr. Am currently has an appointment at Intel as their director of creative innovation, and you can see why from this demonstration. They seem so impressed with it that he's had to use "his own money" to fund the project.
OK, maybe I'm being a little harsh on the guy. After all, he's the multimillionaire jetsetter and I'm the guy that sits at a computer in Swindon all week to fund my mildly disturbing obsession with mobile phones.
His smartwatch might not be much more than a cross between an iPod Shuffle, an HTC ChaCha and a Casio calculator watch, but it's getting people talking about him (including me) and that almost certainly boosts his record sales, but come on Will.i, you could make more of an effort than that. It was cringeworthy, even Alan Carr seemed to be struggling to be impressed.
Music is your forté, Will.i.am, why not stick to what you're fans really want – songs.
Source – Engadget