The HTC ChaCha was announced back at Mobile World Congress in February and we were there live to get hands on time with is but as always at these events, with so many people rushing to get hands on time you do not get a chance to really test the phone out or get a good impression of what it can do.
Thankfully we were invited to a special HTC ChaCha event by ThreeUK (#ChaChaonThree) and in a group of about 15 bloggers we had time to sit down with the device with both a rep fron HTC as well as Brendan who works for Three in the handsets team and have a proper hands on session with the new Facebook phone. We were also able to bring it come for a few weeks to put together a proper review.
[yframe url='http://www.youtube.com/watch?v=lzpN6yjRq3A']
Here are some of the specs of the HTC ChaCha:
Android 2.3 Gingerbread
800Mhz Processor
512MB RAM
Front Facing Camera (WiFi Video Calls)
5 Megapixel Camera
HSDPA 7.2mb/s
Bluetooth 3.0
802.11 B/G/N WiFi
GPS
The HTC ChaCha is all about Facebook and keeping your friends up to date with your every move. We recently got hands on time with the other recent Android QWERTY, the Samsung Galaxy Pro and thankfully the ChaCha is in a different class all together and with the build quality being very high as we are used to seeing with HTC handsets, the ChaCha is also a great all-round device.
Featuring the latest version of their HTC Sense software you are looking at a seriously up to date phone with some great features including that all new handy lock screen allowing you quick access to your most used applications which you can personalise in the Settings panel on the phone.
The ChaCha also comes with a 2GB MicroSD memory card with support for up to 32GB but this all depends on what you want to use your phone for. For a lot of people 2GB is plenty, but if you add apps like Spotify for large music collections then a larger card is highly recommended .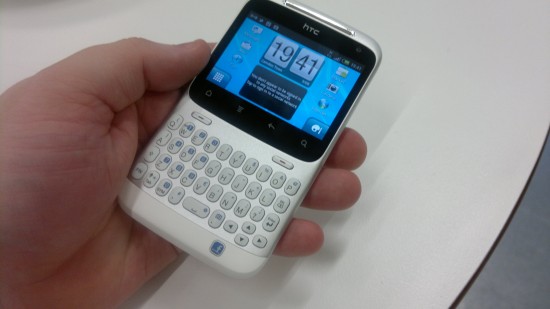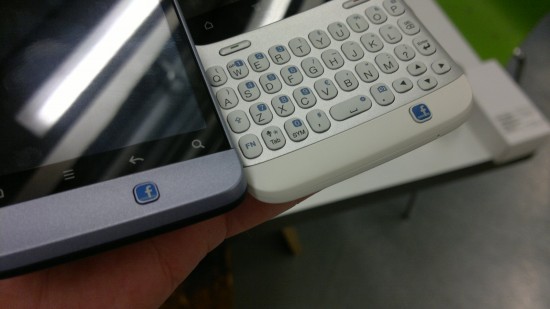 If you look straight on at the ChaCha at the top you get a very large speaker, not that makes any real difference when in use, it just adds to the overall design. Below that is the HTC logo and the front facing video calling camera which is standard VGA quality, not spectacular but more than acceptable for video call use especially over a 3G connection using a 3rd party application.
You get a landscape style 2.6 inch touch screen with a resolution of 480×320 and the screen is also made of Gorilla Glass which makes it REALLY strong, we are seeing a lot more phones using this new screen technology and it is nice to see it on mid-range phones as well as top end ones.
Below the screen are the standard Android buttons as I have pointed out on other phones, these are for HOME, MENU, BACK and SEARCH.
Below these are two spaced buttons and these are for calling and ending a phone call, very welcome additions to the phone as they make the simple task of making a phone call really easy.
Then you get the great QWERTY keyboard layout which is very well spaced and allow really fast text entry, in fact as soon as I got my hands on the device from Three I put my own One Plan sim in there so I can install Twitter and WordPress to start bashing out content and because of the keyboard I was able to sent out tweets and Facebook updates within seconds. Out of all the QWERTY phones I have used this has to be up there as one of the best keyboards on a phone I have used and that includes BlackBerry and Nokia devices.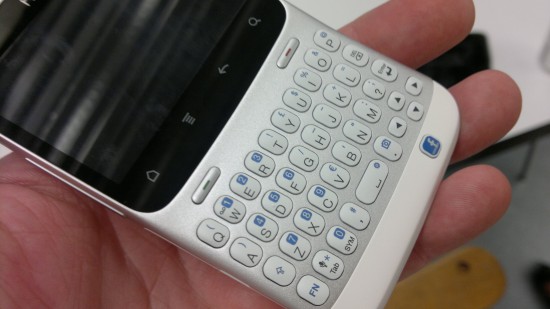 The letter takes over the normal press of the key, if you want a number of a symbol just press the FN button in the bottom left corner, the shortcuts are for symbols, numbers but also for loading the camera by pressing FN and then the full stop.
Just below this is a single small square with a Facebook logo and that is the main reason for this phone, take that off and you still have a fantastic phone but the small Facebook button is what is being pushed as a main feature. In reality it does not do too much, tapping this once lets you update your status, holding onto it loads up Places and lets you check yourself in so friends and family can see where you are.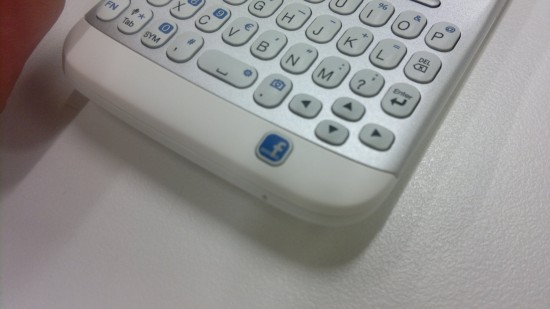 The ChaCha also comes with FaceBook Chat as an icon on the main menu but also as a widget you can add to a home screen meaning you can also send and receive quick messages to friends of family who are online either on another handset of a desktop computer.
A great free way to communicate.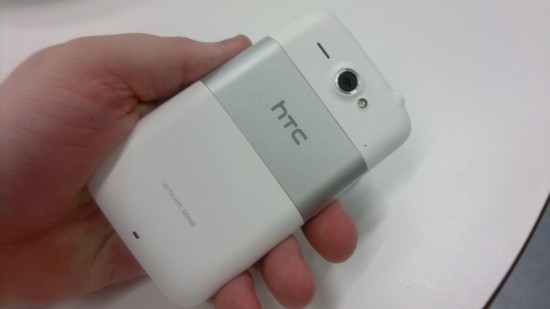 The back of the ChaCha looks very much like a shrunk down version of the HTC Flyer, it is made up by two white sections and a small silver part in the middle. The top of the back has the speakerphone which is actually good quality compared to a lot of other phones we have used recently, there is a 5 megapixel camera and a LED flash. The camera is very hit and miss as with a lot of HTC phones, most times I tried to snap an image but the on screen shutter was a bit fiddly and either I missed taking the picture or it came out slightly blurred. A simple camera shutter button would have really helped but a lot of phones are lacking this feature now which is a shame. However a good online friend Danny (Hands0n) who was also at the Three event took a picture which is below and he noticed when he pressed to take the photo it looked blurred, but then when viewing it back again it looked ok,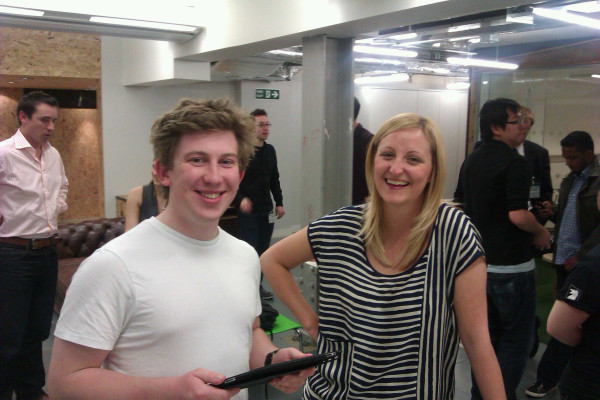 (TwitPic from Handson)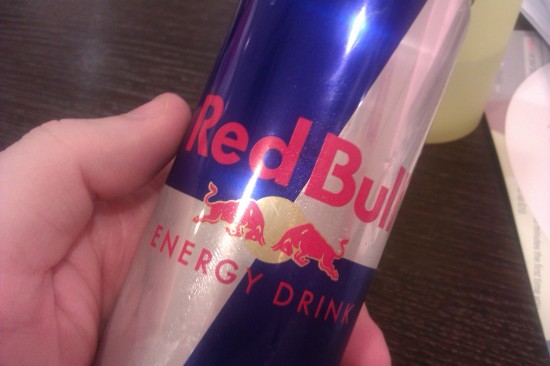 The above picture was taken in quite poor indoor lighting in a shop but at least the quality is good enough for quick point and shoot photos and considering this phone is mainly about Facebook the most common use for this will be to take snaps on the move and upload for friends or family to comment on, it is quite rare to have these pictures printed they are normally just shared online so the camera is ok for this.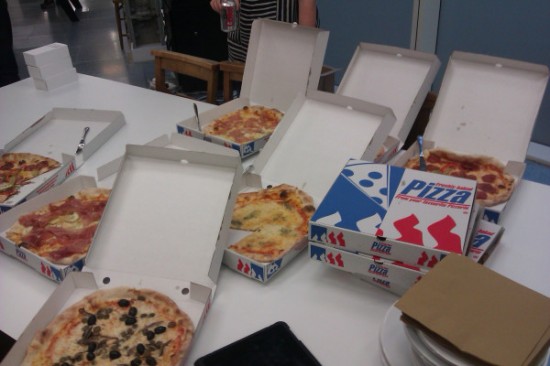 Video is at 720p HD quality and in general with good lighting is decent quality but again the lack of an actual button to start and stop the recording makes it just that bit more difficult to use but the results from the camera for video are reasonable and more than good enough for uploading to sites like YouTube and Facebook.
Below this is the HTC logo which is only there to enhance the design but it does look very nice. Below that is the 'With HTC Sense' catchphrase printed.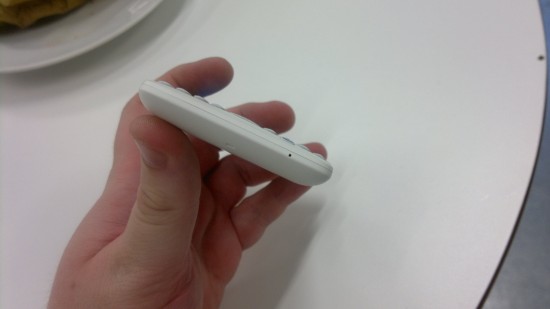 Looking at the bottom of the phone you just get the small hole which picks up your voice during standard calls, nothing else, in fact the bottom of the phone is very plain but then again there is no need to have anything else there. Call quality seems really good both on speakerphone and on the normal earpiece.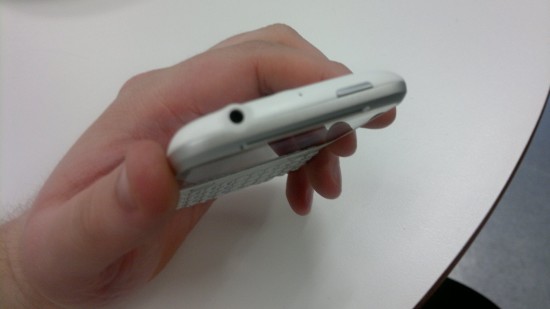 The top of the phone has the on/off button which also puts the phone into a standby mode. There is also another microphone which is used for noise cancelation and the now standard 3.5mm headset port for the supplied headset.
The left hand side of the ChaCha has the Up/Down volume keys which are used for controling in call volume but also to switch the phone onto vibrate mode or control the system volume. If you have used a recent HTC this is the same on all of these too so will not be new to you. There is also a Micro USB port used for data transfer using the USB cable and it is also used to charge the phone
The right hand side of the ChaCha is plain, the biggest let down was there is plenty of space for a physical camera shutter key to help with taking pictures or recording video but it has been left out.
Final Thoughts
Being someone who is always on the move and needs to check twitter and post news within minutes of finding it, having a keyboard for text entry is a real bonus for me and thankfully the HTC ChaCha does not let down in this department. Running 2.3 Gingerbread means all the new apps work including Twitter and WordPress which allowed me to update on the move with no problems and thanks to the ChaCha being on Three I had All-You-Can-Eat data so did not have to worry about checking how much data I had used and could even post pictures on Twitter live from the Three event in London to share to the world.
There are quite a few plus points to take from the ChaCha, the highlights of these being:
+ Great keyboard for text input
+ High resolution screen keeps quality high
+ Customised UI for the landscape factor

+ Nice and compact for an Android smartphone with QWERTY
+ Great build quality
+ Front facing camera for video calls
There are also some negative points to take into account when looking to purchase a phone and these are
– Poor battery life, does not last a day even with a 1025mAh battery
– Facebook integration seems to be quite limited for a 'Facebook Phone'
– Average camera quality for a phone these days
– Some apps only work with phone on it's side due to screen format
Looking at the ChaCha as a overall package you get a very well built phone, a fantastic QWERTY keyboard, a nice landscape screen with Gorilla Glass technology and the most up to date Android OS in Gingerbread.
The ChaCha is available on some great plans using the Three network, £249,99 gets you the phone on PAYG where a £15 topup will get you 300 Minutes, Unlimited Texts and All-You-Can-Eat Data or for £29 on a 24 month contract you can get The One Plan which gets you 2000 Minutes, 5000 Texts, 5000 Three-to-Three Minutes and All-You-Can-Eat Data.
Being an existing customer on Three and a very heavy data user I now really appreciate the flexibility of not needing to worry about data use and you can just use your phone as you like including as a modem using the WiFi Tethering built in as this phone has a built in 7.2mb/s HSDPA modem just like normal modems.
There are a lot of portrait QWERTY phones out at the moment but this has to be one of the best, and by far the best of the QWERTY Android phones which have this style (so not including slide out landscape QWERTY).
When announced at Mobile World Congress the ChaCha had a 600Mhz processor so it was nice to see just before launch HTC decided to give it a little boost to 800Mhz which was enough to make it more than usable in every day conditions for multitasking such as listening to music whilst browsing the internet.
Because of the landscape screen there is an annoying bug with quite a few apps which means that a lot of applications rotate 90 degrees which makes it like a normal portrait application but when you have a phone with a physical keyboard this is pointless (see the image below)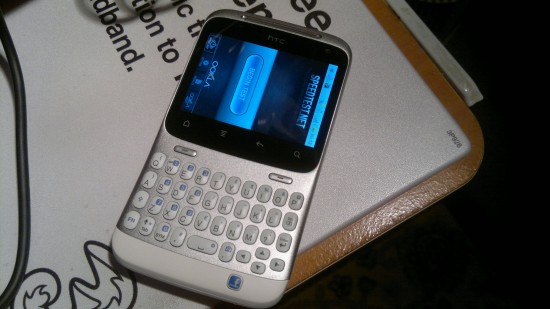 This only seems to be on some applications and is definatly not enough to be a deal breaker on getting a ChaCha…. it just is rather annoying at times.
Many thanks to Three for the loan of the ChaCha and also for inviting us to the launch event in London to share thoughts with you and for letting us take the phone away to share with everyone.
Link: Three ChaCha Page